Planned Parenthood: pro-choicers should go on the offensive
Stop apologising for providing an essential service for women.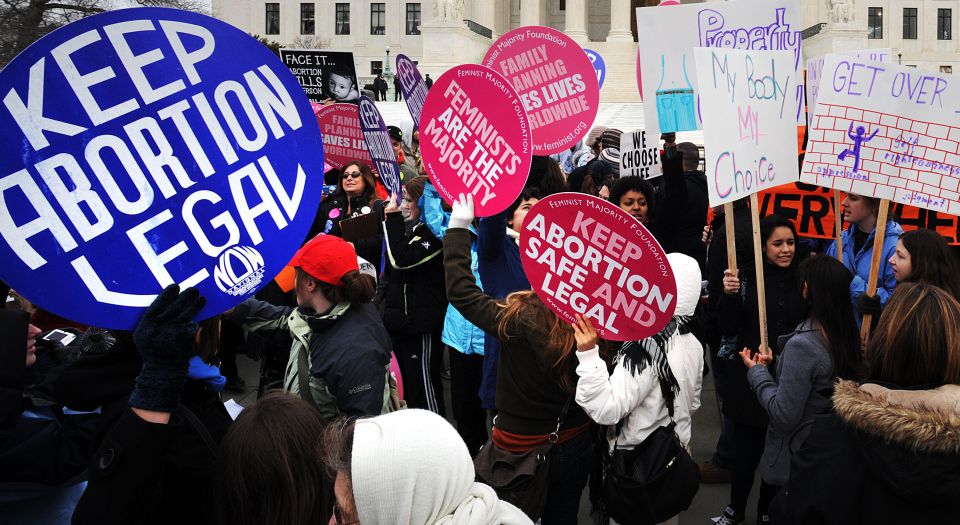 Last week, the Republican-dominated House of Representatives voted to defund Planned Parenthood, which currently receives more than $500million in federal funds to provide a variety of healthcare services to poor women throughout the US. This week, a majority of the Senate voted to restrict access to abortion after 20 weeks' gestation. Next week, there may be a government shutdown over funding for Planned Parenthood, unless the Republican leadership brokers an eleventh-hour deal to keep the government funded.
The recent interest in abortion in general and Planned Parenthood in particular can be explained by two things. The first is the presidential primary season, where even to get a look in for their party's nomination, Republican candidates have had to out-abortion all their opponents. The second is a series of videos alleging that Planned Parenthood has been selling fetal body parts for research. The latter is nonsense. But the former is all too real: the small proportion of the electorate that chooses the Republican nominee have made opposition to abortion a litmus test to beat all other litmus tests.
In the middle of all this, you wouldn't know that Planned Parenthood is more popular than the lobbying titan sine qua non, the National Rifle Association; Planned Parenthood has launched a defensive campaign that ignores the importance of research using fetal tissue and seeks to downplay the excellent work it does in providing abortions.
It's worth noting that the two Congressional votes were largely for show. With an ostensibly pro-choice president in the White House, even if they passed both chambers of Congress, President Obama would have vetoed them and they would not have become law. But, in a show of how abortion has become a party-political issue, in both votes only five members crossed the aisle to vote against the majority in their party.
Republican leaders have counselled caution on the government-funding issue. They note correctly that the president will not sign a budget that does not include funding for Planned Parenthood, so a vote removing it from the budget would be an exercise in gesture politics. Senator Ted Cruz, a candidate for the Republican nomination, has said that continued funding for Planned Parenthood is a serious enough issue to warrant shutting down the government, something that last happened in 2013 and was widely blamed on the Republicans.
The vote on funding for Planned Parenthood was sparked by the release of a series of videos by an anti-abortion group, misleadingly named the Center for Medical Progress (CMP). The videos, of which there are 10 so far, involve CMP operatives claiming to represent a medical-research company and seeking to gain supplies of fetal tissue for research. The videos, in which CMP surreptitiously recorded conversations with Planned Parenthood staff about procuring fetal tissue, naturally ignore the fact that the research is legal and vitally important.
Planned Parenthood is adamant that its staff follow the law, and one can certainly make the case that it does. In one video, the Planned Parenthood representative is very clear that the fees that are being paid are administrative and related to dealing with specific requests for fetal tissue.
It's fair to note that some of the taped conversations show a certain lack of self-awareness and restraint. We shouldn't have to live our lives with the thought that we're being recorded, but people who work for such businesses should show a little more tact and reserve than we see here during business meetings.
It's also important to note that medical professionals do speak to each other very differently than they speak to the public or their patients. A doctor would describe an abortion procedure in graphically different ways if he or she were addressing a medical conference than if he or she were discussing it with a woman before carrying one out. And that's the way it should be.
There is no doubt that the videos are selectively edited, in a manner that obscures if not completely misrepresents what actually transpired during the taped conversations. The CMP has been entirely disingenuous in defending itself. While avowing that its footage and transcripts are accurate, it has stated that it will plead the Fifth Amendment if called on to testify, meaning that its staff will not testify for fear of incriminating themselves. Hardly a ringing endorsement.
Unfortunately, much of the response from Planned Parenthood and its allies has been defensive and has avoided making the central point: Planned Parenthood does a great job providing hundreds of thousands of abortions, which is a legal medical procedure, to women who want them.
After a few days of saying it did nothing wrong, and that providing fetal tissue for research was perfectly legal, Planned Parenthood pushed to the fore the old argument that abortion is actually a very small part of its work. It has used this argument before, to no obvious affect; and now it is trotted out again when what is really needed is a more robust case for fetal-tissue research and access to abortion services.
To see what a ridiculous argument it is, it's worth examining it briefly.
In August, the Washington Post exposed how both sides of the argument give credence to the most cynical interpretations of statistical analysis. As Planned Parenthood's opponents tried to claim that abortion represented 94 per cent of its work, Planned Parenthood argued that it was only three per cent. We therefore were exposed to a petty argument about figures, rather than a discussion about the morality of abortion.
Planned Parenthood claims that of the 10.6million individual services it provided in 2013, 327,653 of them were abortion procedures. But if we accept that, then, as Rich Lowry of the National Review pointed out, 'The sponsors of the New York City Marathon could count each small cup of water they hand out (some two million cups, compared with 45,000 runners) and say they are mainly in the hydration business'.
The Susan B Anthony List, an anti-abortion lobby group, says abortion makes up 94 per cent of Planned Parenthood's pregnancy-related services. And if we only count the number of prenatal services (18,684) and adoption referrals to other agencies (1,880), the 327,653 abortions Planned Parenthood provides does represent 94 per cent. But Planned Parenthood does a lot more than just provide pregnancy services.
One way accurately to measure what Planned Parenthood does, according to the Post, is by counting the number of patients. 'Planned Parenthood health centres saw 2.7million patients (men and women) in 2013. If the 327,653 abortion procedures were given to individual patients, patients who received abortions would account for 12 per cent of total patients.'
How you slice and dice the figures, however, misses the point. It was worse than useless to get into a numbers argument with people who oppose everything you do.
A more helpful approach might have been to go with the slogan, 'More popular than the NRA'. The National Rifle Association is widely considered to be one of the more effective lobby groups in Washington, countering any number of attempts to regulate guns – even after shootings that horrified the nation, like the one at Sandy Hook Elementary School in December 2012.
A recent poll shows that Planned Parenthood came highest on a favourability-rating contest, ranking higher than any other group or individual tested – including the NRA, the US Supreme Court, President Obama, both political parties, and every Republican candidate for the party's presidential nomination. (Planned Parenthood, in publicising this poll, failed to note that it topped the National Rifle Association, which came narrowly second.)
Planned Parenthood is a very popular organisation generally, especially at a time when established organisations tend to be pretty unpopular. A poll from Hart research found that '64 per cent of voters, including 72 per cent of Independents, disagree with attempts to defund Planned Parenthood', with only 28 per cent supporting such efforts. The fact is that almost everybody uses or has used contraception, and many millions have used Planned Parenthood at some stage in their lives.
Rather than pretending abortion is only a tiny part of its work, and that fetal-tissue research is an even tinier one, Planned Parenthood must make a robust case for the importance of its abortion services to low-income and middle-class women and their families; that would give the pro-choice movement the boost it needs. The medical-research field could have been drafted in to make the case for why fetal tissue research was so important, and that Planned Parenthood was in the business of helping to cure disease and save lives. But that opportunity was also squandered.
The movement does need a boost. There has been a long drawn out assault on access to abortion services. Carrie Levi noted on spiked earlier this year just how widespread this assault has been. However, counting the number of clinics in low-population states, or the exact number of laws that have been passed in the past 10 or 20 years, may not reveal the whole story. Several Republican presidencies and majorities in Congress have done little to challenge the legality of abortion. There are numerous dedicated and very brave doctors providing vital services in very difficult circumstances. The movement is very well funded. And as recent events in Virginia have shown, elections have consequences.
When Virginia recently installed Democrat Terry McAuliffe as governor, a raft of clinic closures that had been slated to occur were stopped. After McAuliffe appointed two new members to the Board of Health, it voted to overturn a series of Targeted Regulation of Abortion Provider (TRAP) laws, 'which required existing outpatient abortion facilities to meet building standards for new hospitals'. Some existing hospital facilities are not held to these standards.
A robust promotion of the importance of abortion will have an impact because the US is not as divided as many people like to claim.
On the surface, it would appear that Americans are bitterly divided on abortion, with around 50 per cent describing themselves as pro-choice and a similar number as anti-choice. But that only tells part of the story. Once you ask people about abortion in specific circumstances, there is much wider support for abortion, with up to 85 per cent supporting it in some circumstances.
Yes, it's true that most Americans don't like later abortions, but when the circumstances behind the small number of later abortions are explained, that changes. As a well-received and very poignant story in the Washington Post at the weekend noted, 'I mourn the loss of my baby every day. But I have no doubt that I made the right decision for myself and my family, and I am grateful that it was my choice to make.'
The ongoing attacks on abortion in particular and access to reproductive-health services in general, at both the federal and state level, mean that a small army of lawyers are employed, on both sides, to drag cases through the courts. This is where the debate is currently being played out – in the courts rather than in the court of public opinion.
Perhaps it's unfortunate that this is where we are now. Rather than a thoroughgoing promotion of the benefits of abortion services and the rights of women, we have to elucidate women's personal stories to help people understand why access to abortion services is a key factor in enabling women to play a full role in society. Leading abortion providers shying away from the argument does the pro-choice movement no favours.
David J Nolan is a communications professional in Washington DC.
To enquire about republishing spiked's content, a right to reply or to request a correction, please contact the managing editor, Viv Regan.