Kids need the freedom to play
Children lose out when their every pastime is supervised.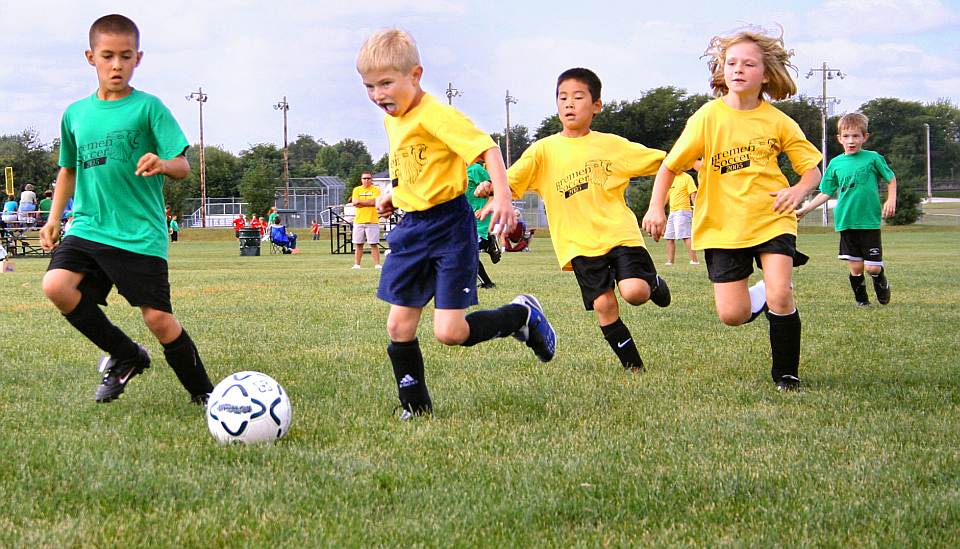 I was surprised to see Nottingham named 'City of Football' by Sport England. Nottingham Forest have recently sacked their local hero and manager Stuart Pearce, and their brand of hoofball doesn't compare to the skilful passing game of their far superior rivals 15 miles down 'Brian Clough Way', Derby County.
However, it turns out that the designation has nothing to do with football. Sport England, the state-backed sports-provision body, has awarded £1.6million to get more 14- to 25-year-olds playing football, or modified versions of the game. For example, it aims to add a football focus to the city's Game City videogame festival. Nigel Cooke, head of city partnership organisation One Nottingham, says: 'Our basic logic was you start at the place where people are, so if young people are interested in culture, technology, apps and gaming, well, let's find a way we can actually use those to encourage people to play.' (1)
One initiative in the bid is Playbook, which pulls together city-council, venue, transport and socioeconomic data to assess who is playing what, when and where. This is in line with the government's extensive Active People Survey, which informs policy on obesity and social inclusion.
The competitive side of sport is downplayed in the name of getting people involved. Sport England research shows that a lot of young women and young people don't like the competitive side of games. Cooke argues: 'They want to play sports that are fun and easy to do. So we thought we could develop other forms of football. You could play a form that's based on keepie-uppies and ball skills.' (2)
The aim is to get 25 per cent more people playing at least 30 minutes of football per week, which would contribute to the government's physical-activity goals. The Football Association has recently lost funding for the amateur game, after failing to reverse a decline in participation. According to Sport England, the number of people participating in amateur football stood at 1.84 million at the end of December 2013, having fallen by 100,000 over the preceding nine months. Plans are afoot to roll out the Nottingham scheme nationally.
The Sport England scheme is typical of many other projects around the country, organised through schools, councils and sporting bodies. To be worthy of funding, sport must contribute to social goals, from improving health to the reduction of anti-social behaviour. This trend began in the 1990s, when government social policy began to focus on the issue of social exclusion. The idea of social exclusion meant that disadvantage was no longer defined as an economic phenomenon measured objectively in terms of poverty and unemployment; instead it was recast as a multidimensional issue taking in anti-social behaviour, health and culture generally. The solutions on offer became multidimensional, too. As a result, sport and culture were increasingly discussed as functional and worthy of funding insofar as they promote wider social agendas.
This is now the norm. But does it work?
First, the evidence base for it is not reliable. The government's physical-activity survey, alongside many other similar surveys, purports to gauge the nation's sporting- and physical-activity profile with a view to increasing it. Inevitably these and the attendant policy debates focus on formal activities such as supervised coaching sessions, after-school clubs and club membership. After all, participation in formal activities can at least be measured.
But such an approach misses that which can't be so easily measured, but which is also so important: young people's freedom. Today's threat-conscious culture, in which children are seen as either a risk to or at risk from society, means that children are less likely to play football (or play at all) informally, away from home. The Policy Studies Institute published One False Move… A Study of Children's Independent Mobility (3) in 1990, showing how a combination of unjustified fears of strangers and violence hemmed children in, and increasingly subjected their leisure to supervision and monitoring. Helene Guldberg's Reclaiming Childhood: Freedom and Play in an Age of Fear (2009) shows the extent, and deleterious consequences, of this trend.
There is an image of park football that many dads of a certain age reminisce about, involving 'jumpers for goalposts'. No projects, no supervison, no safeguards… just freedom. The rough and tumble of park life seems to have been replaced by 'initiativitis' and supervised clubs, 'safe spaces' in a dangerous world. The impulse to contrive new games for children to make them active assumes they can't make up their own games. Plus it isn't much fun for kids looking to do their own thing and make their own decisions.
City of Football is as likely to excite the kids of Nottingham as Nottingham Forest are to get promotion to the Premier League.
Jim Butcher is a lecturer at Canterbury Christ Church University, specialising in tourism and conservation, and author of The Moralisation of Tourism: Sun, Sand… and Saving the World?, published by Routledge. (Buy this book from Amazon (UK)).
(1) Sport and Physical Activity Professional, issue 16, p12
To enquire about republishing spiked's content, a right to reply or to request a correction, please contact the managing editor, Viv Regan.