Oxford, abortion and the closing of the Western mind
What the Oxford debate scandal reveals about modern censorship.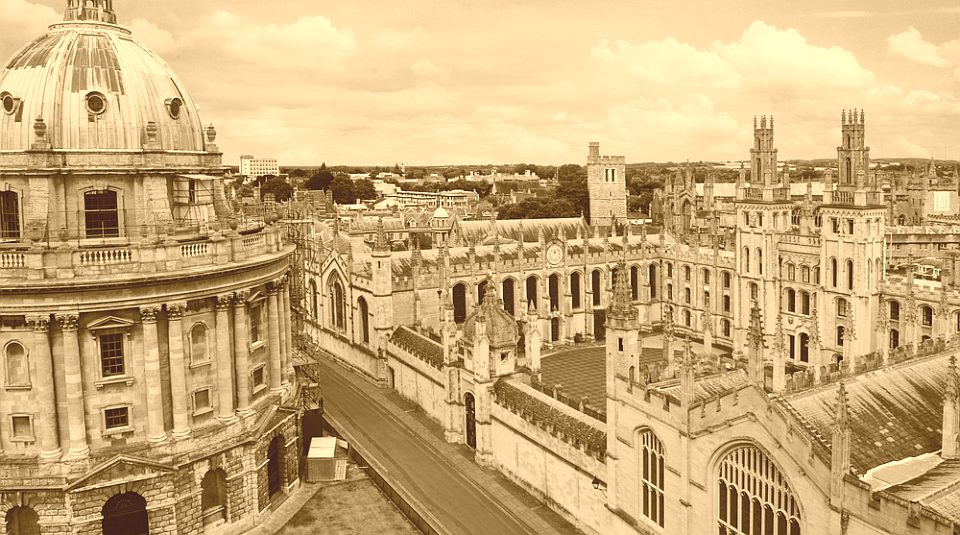 'Oxford triggers national row over free speech by cancelling abortion debate.'
It was an accurate headline. In November, spiked editor Brendan O'Neill was due to speak at Oxford University's Christ Church College at an event organised by the pro-life group, Oxford Students for Life (OSFL). He was going to speak in opposition to the motion 'This House Believes Britain's Abortion Culture Hurts Us All'. He was going to champion people's bodily autonomy. He was going to make a humanist case for women's right to choose. But, thanks to a mob of Twittered-up Oxford students, some acting for Oxford University's Student Union Women's Campaign, others for self-styled feminist vanguards, he never got the chance. The debate was cancelled. Shut down. Silenced.
As Buzzfeed recounts, feminist students threatened to 'take along some non-destructive but oh-so-disruptive instruments to help demonstrate to the anti-choicers just what we think of their "debate"', before adding: 'We are still hoping this gets shut down by the college (Christ Church).' They were successful, too. Christ Church's student committee, aka the Junior Common Room, voted to 'inform College Censors about the mental and physical security issues surrounding the debate'. And it seems the College Censors agreed, stating that they were keen to ensure 'students' emotional wellbeing' by 'avoiding unnecessary distress, particularly for any residents who may have had an abortion'.
And just like that, a debate organised by a private society was shut down by an external authority. Some publications, such as the New Statesman, thought this was hunky dory; others, such as the National Review and the Christian Post, issued laments. But what was truly jaw-dropping for anyone with a residual sense of the meaning of liberty and freedom was that those trying to prevent the debate from happening, those 'hoping this gets shut down by the college', those exerting pressure on college authorities to do 'the right thing', posed as free-speech warriors. That's right – they weren't preventing unfashionable views on abortion from being aired; they were just using their free speech (albeit to oppose the debate's existence). As one of the Oxford non-censoring censors, Niamh McIntyre, put it in the Independent: 'Cancelling the debate is not a violation of free speech… Pro-life groups have plenty of platforms to air their views — and in light of the cancellation I'm confident that OSFL will not fail to do so.' (OSFL failed to do so, being unable to find a new venue at incredibly short notice.) She continued this train of contradictory thought in a piece on Left Foot Forward: 'We did not originally call for the event to be shut down by the college – we had intended to implement the No Platform ourselves by popular protest.' That no-platforming speakers, whether by popular protest or unpopular protest, is still censorship seems to have evaded the illiberal illogic of our intrepid campaigner.
O'Neill, writing in the Tab, noted the whiff of doublespeak about statements like 'Cancelling the debate is not a violation of free speech': 'Orwell must be kicking himself in his coffin for not thinking of putting such doublespeaking words in the mouths of his tyrannical characters in 1984. Just as they insisted that "war is peace", so today's Big Sisters on campus claim "censorship is freedom".' 'Pretty appalling, but unsurprising' was the verdict of a writer for the Washington Post.
But the prattling prelates of contemporary censorship are not sustained by doublespeak alone. Still more worrying is that they genuinely believe that what they are doing is right, that their censoring ambitions are justified. And little wonder. As the cancelled Oxford debate highlighted, these righteous plonkers are sustained by a diet of retrograde ideas, from the latest, jargon-packed instalment of identity politics, complete with 'cis-sexism' and 'non-binary people', to its correlate, the cult of vulnerability. People need protecting, goddammit.
Here's the president of the Cambridge Union Debating Society, Tim Squirrell, explaining in the Tab why free speech isn't very important: 'I'm proud that we've started to consider the social impact of debates on those that they concern, rather than believing them to be academic exercises which happen in an intellectual vacuum… It's about time we recognised that and started thinking responsibly and considerately about freedom of speech.' Here's McIntyre making a similar free speech-qualifying point: 'The idea that in a free society absolutely everything should be open to debate has a detrimental effect on marginalised groups.' And here's Squirrell again, this time on his blog: 'We, as students, are beginning to realise that there is more to life than just discussion. We're beginning to realise that we don't need to be ashamed of our weaknesses and vulnerabilities. We're beginning to realise that sometimes we have to prioritise the emotional, mental and physical wellbeing of our friends and colleagues over the ability of privileged people to come in to our homes and say whatever they like.'
This is why they believe censorship is justified. And this is why they view free speech as a threat rather than a precious opportunity. People, you see, particularly those to whom subordinate identities (from women and non-binary people to disabled and trans people) have been attributed, are not strong enough, not resilient enough to hear challenging arguments. They are too traumatised, too liable to 'triggering', too morally weak, too susceptible to harm… in short, their feelings will be hurt. And so those good campaigning students are silencing debates on their behalf, on behalf of their right not to be upset, offended, or discomfited. After all, their 'comfort' is paramount.
Andrew Sullivan was struck by this strain of thinking in the students' arguments on the Oxford scandal. 'Let me put this simply enough', he responded: 'Once free speech is made contingent on no one's feelings being hurt, we no longer have free speech. Once that applies even within a university – the one space in our culture where free speech should be absolute – we have left liberalism behind on the march toward progressivism.' Writing in the Telegraph, Tim Stanley, who was due to speak alongside O'Neill at the debate, issued a similar rebuke: '[The students argue that] you are free to speak so long as it doesn't offend certain sensibilities, which of course amounts to no real freedom at all. I'm reminded of the old Puritan ethic that a human being had liberty only in so far as that liberty led them to salvation.'
O'Neill, writing the cover story in a November issue of the Spectator, went further, noting that 'students have been rebranded as fragile creatures, overgrown children who need to be guarded against any idea that might prick their souls or challenge their prejudices.' He continued: 'This is what those censorious Cambridgers meant when they kept saying they have the "right to be comfortable". They weren't talking about the freedom to lay down on a chaise longue — they meant the right never to be challenged by disturbing ideas or mind-battered by offensiveness. At precisely the time they should be leaping brain-first into the rough and tumble of grown-up, testy discussion, students are cushioning themselves from anything that has the whiff of controversy.'
This paternalism goes hand in hand with a spectacular philistinism. Ideas outside the mainstream, ideas that might unsettle the cosy, homespun consensus, ideas that might draw students out of their comfort- or safe-zones, are effectively being jettisoned. Little wonder Cambridge Union's current president had not read John Stuart Mill's On Liberty – it would certainly make him feel uncomfortable.
But this paternalism doesn't just impoverish righteous campaigners and dunderheaded debating-society presidents. It impoverishes those in whose name they pressurise authorities to ban and prohibit. It assumes that many students just won't be able to cope with a difficult or unsettling idea. O'Neill's recourse to Tom Paine is apt: 'Censorship, [Paine] said, is always "more a sentence on the public than the author", because it tells the public "they shall not think, they shall not read".' And in a university, that is tragic.
Tim Black is deputy editor at spiked.
To enquire about republishing spiked's content, a right to reply or to request a correction, please contact the managing editor, Viv Regan.