UVA scandal: fight for the right to fraternise
Frats are taking the rap for the non-crime of rape culture.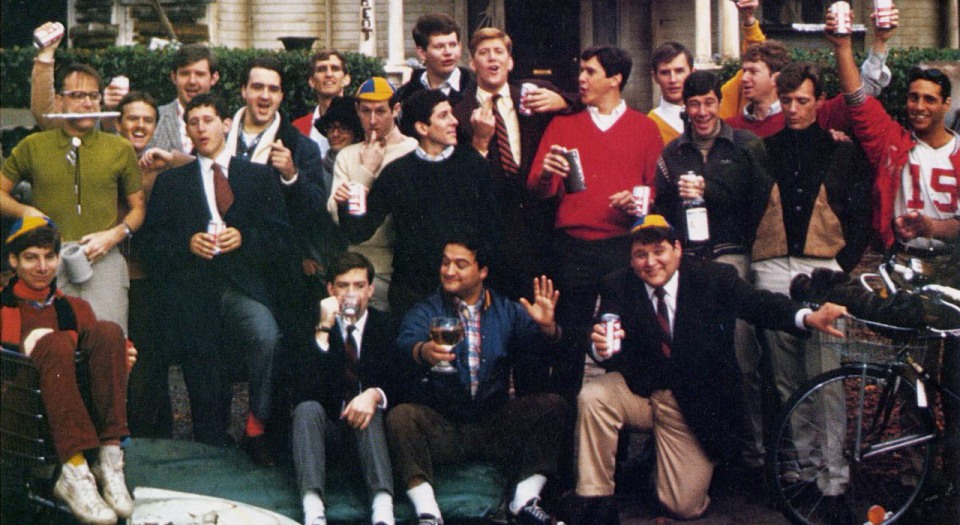 For those who think American universities are in the grip of a rape epidemic, fraternities are the living embodiment of a rampant 'rape culture'. In an essay published earlier this year, Caitlin Flanagan referred to fraternities as having a 'dark power'. Members engage not only in binge drinking and hazing (humiliating initiation ceremonies), but also in 'manslaughter, rape, sexual torture, psychological trauma'. It's quite a turnaround: until recently, high jinks at frat houses were widely considered the subject of lighthearted comedy (see Animal House); today, frat houses are seen as breeding grounds for sexual assault. Little wonder calls have grown to ban fraternities outright.
Fraternities (and sororities), otherwise known as Greek-letter organisations, are long-standing institutions in the US. They started in the 1820s, and nearly half of US presidents have been members of one. They remain influential today, encompassing about 370,000 male students in roughly 800 colleges. So, when today's critics denounce fraternities en masse, they are vilifying thousands of young men in one fell swoop, and setting up frat members as the targets of public condemnation.
That's just what the president of the University of Virginia (UVA), Teresa Sullivan, did. In response to a Rolling Stone article that alleged a gang rape on campus, Sullivan suspended all UVA fraternities. Her presumption of guilt was extremely damaging to members of UVA's fraternities. Sullivan effectively accepted at face value Rolling Stone's claim that members of Phi Kappa Psi were guilty of a horrific crime. With a green light from the top, protests were held outside of the Phi Kappa Psi house. Vandals threw bricks through the windows and spraypainted on the walls: 'SUSPEND US' and 'UVA centre for rape studies'. On campus, students yelled 'rapist' at Phi Kappa Psi members. Eventually, they were forced to move to a motel.
Sullivan's decision to ban all fraternities also suggested that every fraternity at UVA, not just Phi Kappa Psi, was to blame. Her collective punishment was certainly unjust. Furthermore, Sullivan's ban gave support to evidence-light claims that a pervasive 'rape culture' existed on campus. It's worth recalling that the Rolling Stone piece not only told the (now discredited) story of Jackie, the alleged victim of the gang rape. It also painted a picture of frats at the centre of a party scene where mass sexual assaults were commonplace, as if Boko Haram cells were operating in Charlottesville. By banning all fraternities, Sullivan therefore lent credence to Rolling Stone's wild claims about social life at UVA.
As we now know, Sullivan rushed to judgement, based on a fabricated story. Despite the harm done to fraternity members' security and reputation, Sullivan has not apologised, and insists on maintaining the suspension until at least January. She announced the establishment of an 'Ad Hoc Group on University Climate and Culture' that will review how UVA can 'create a culture of student safety'. First and foremost, she initiated a review of 'student behaviour, Greek life, alcohol and other drug use'. Fraternities will need to draft new fraternal-organisation agreements to 'provide greater safety for guests'. But this is hardly an impartial process: the group's objectives already assume fraternities are unsafe and need to be reformed. Once again, fraternities are presumed guilty.
Thus, we can see how fraternities at UVA face double jeopardy: at first they were wrongly accused of Jackie's alleged attack, and now they are charged with promoting a mythical rape culture. With Rolling Stone's allegations crumbling, you might have thought fraternities would now be exonerated. But no – they are still on trial.
For rape-culture zealots, UVA has been a case of heads, I win, tails, I still win. An anonymous letter claiming responsibility for the vandalism of Phi Kappa Psi house set out its demands, which included a 'thorough review of the entire fraternity system' and the 'immediate implementation of harm-reduction policies at fraternities, such as policing, university supervision, or permission for parties to be held in safer environments such as sorority houses'. And, lo and behold, that's exactly where UVA's Ad Hoc Group is heading. The vandals win.
Membership of the Ad Hoc Group is stacked with rape-culture advocates. It includes two male students, one of whom is president of the campus One in Four group (a reference to the debunked statistic that a quarter of women are raped on campus), and a female student who runs the sexual-assault advocacy group One Less. The two faculty members are a 'specialist in gender stratification' and Bonnie Gordon, a music professor who denounced UVA's rape culture in Slate, citing a 'wildly inappropriate' mural (that 'no one has been particularly horrified' about), and the fact that Thomas Jefferson, UVA's founder, had sex with a 14-year-old slave. This group will declare war on 'Greek life', yet it has no formal representation from fraternities. In other words, the administration is effectively saying: feminist students and faculty whipped up a frenzy on campus on the basis of a hoax, and to show our gratitude we will appoint them campus-culture dictators.
Three national fraternity organisations have called for UVA to reinstate its fraternities, but UVA's Inter-Fraternity Council (IFC) has not backed the call. Immediately after the Rolling Stone article was published, the IFC supported the suspension, stating: 'We hope that this jarring account will spark reflection and discussion about the gender norms, power structures, and issues of sexual violence.' Unfortunately, its deployment of gender-studies lingo means it comes across as a hostage saying what its captors want to hear in order to stay alive (Stockholm syndrome). Sadly, such concessions are unlikely to save fraternities.
As Samantha Allen explains in the Daily Beast, fraternities at UVA and elsewhere have only two choices: reform or be banned altogether. Allen chooses to highlight fraternity members who have decided to join the rape-culture evangelists. She applauds Scott Ellman, who decided to leave his fraternity at Wesleyan. In his 'ex-frat' confession, Ellman says he now sees the light: 'I realise now that the minute I pledged myself to a band of brothers, I became a silent participant in the systematic denigration of women.'
Yet today's attack on fraternities should be seen as part of a wider cultural onslaught on private associations, especially male-only groups, which are viewed as inherently suspect. The ability to associate privately is a key freedom, one which sits alongside the freedom of speech and assembly. This includes the freedom to form associations limited to one sex. In their own defence, fraternities emphasise how they encourage leadership, community service and philanthropy. That's fine, but it is also okay if they, and other groups, simply get together to have fun. Outsiders have no right to demand that fraternities justify their existence.
In pushing the idea of rape culture, activists and academics endorse the worst stereotypes of males as Neanderthals. They stress the importance of 'teaching boys how not to rape', as if boys are naturally inclined to rape. They promote the prejudice that fraternities are hotbeds of violence, or 'rape centres'. Fraternities are taking the fall for the non-crime of rape culture.
But, as prejudiced as the activists may be, more of the blame lies with college administrators. It is they who actively support or acquiesce to the activists' demands; it is they who give the feminists leading roles in campus committees. If administrators, like UVA's Sullivan, want to investigate campus culture, how about examining a culture that rushes to judgement, blames fraternities for everything, and denies the accused due process? It seems we can't examine that culture, because it is one that implicates university administrators themselves.
The suspension of UVA's fraternities is an outrage, and should be lifted immediately. And the witch hunt against fraternities across the country must stop.
Sean Collins is a writer based in New York. Visit his blog, The American Situation.
To enquire about republishing spiked's content, a right to reply or to request a correction, please contact the managing editor, Viv Regan.