Rosetta: another giant leap for mankind
Landing a spacecraft on a comet millions of miles away is a human triumph.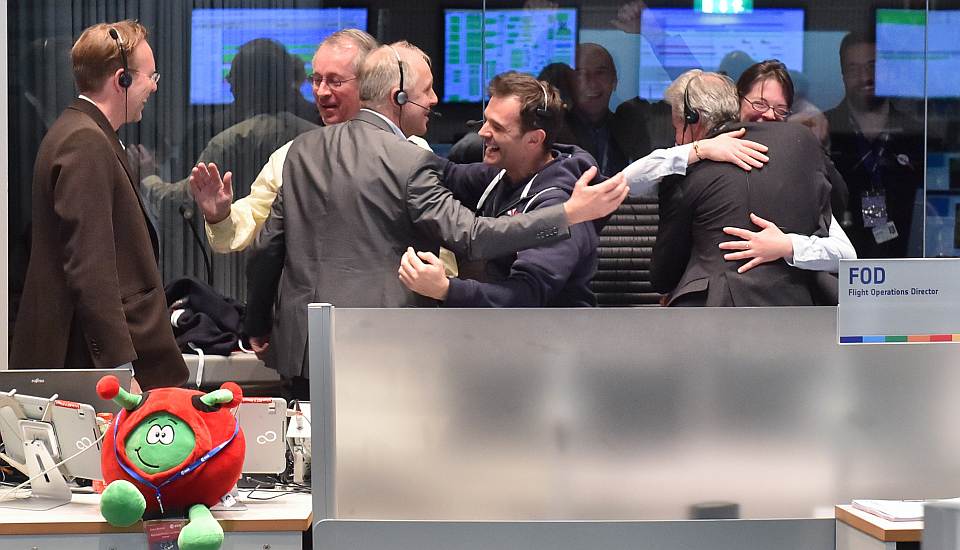 In 1998, the Hollywood blockbuster Armageddon asked us to believe that it was possible to land a spacecraft on an asteroid hurtling towards Earth – too far-fetched, right? Not so. Today humanity just achieved the seemingly impossible.
Earlier this afternoon, scientists from the European Space Agency's (ESA) Rosetta mission successfully landed the unmanned Philae lander module on comet 67P/Churyumov-Gerasimenko. The complexities of this mission are such that a short article cannot do justice to the men and women who made this mission a success, but here are a few of the mind-boggling highlights:
The Rosetta probe launched in March 2004 after years of careful planning. Since then, it has travelled 6.4 billion kilometres through the solar system to get into the orbit of the comet 67p, which itself is just four kilometres in diameter. Comet 67p is orbiting the Sun at speeds of up to 135,000 kilometres per hour and is currently about 500million kilometres from Earth. After a period during which it successfully orbited comet 67p, the 100 kilogram Philae lander then separated from the Rosetta orbiter, descended slowly and landed safely.
At the time of writing, the latest reports from the ESA suggest there may have been some problems with the lander's anchoring mechanism. The lander was designed to fire harpoons into the surface of the comet to ensure it stayed in place – this may not have worked. But to be fair, no one has tried harpooning a comet before, so a few glitches are understandable.
Now that Philae is on comet 67p, it will be carrying out a range of experiments to help us better understand the origins of our planet and of the universe. The lander carries cameras, spectrometers and sensors in various wavelengths, which will provide us with high-resolution images, details of the chemical composition of the comet and information on its temperature, shape and density.
As I watched the drama and excitement unfold this afternoon on ESA's live feeds, what struck me, and what makes this mission all the more exciting and inspiring, were the emotions of the scientists – that is, the humans who made it happen. Rosetta may be an unfathomable distance away, but this is not an autonomous robot let loose on the galaxy. Men and women here on Earth, some of whom have committed much of their professional lives to this project, stood together in anxiety, fear and excitement, before erupting into unbridled, tear-filled joy when the lander sent back its first signal. This was a human success story and one that should be up there with putting man on the moon in terms of its brilliance. Like the moon missions that inspired past generations, young people today should be inspired by this incredible feat and the promise of manned expeditions to Mars and other comets to come.
Never mind all the miserablists denouncing humanity's every move as a negative for the planet and the universe; the Rosetta mission represents what we can and do achieve, and for that we should be proud and excited. As Dr David Parker, chief of the UK Space Agency, put it: 'Hollywood is good, but Rosetta is better.'
Neil Ross is US programme director at spiked.
Picture by: PA images.
To enquire about republishing spiked's content, a right to reply or to request a correction, please contact the managing editor, Viv Regan.