After Joan, who'll slaughter the sacred cows now?
Peculiarly in this PC era, Rivers treated her audience as grown-ups.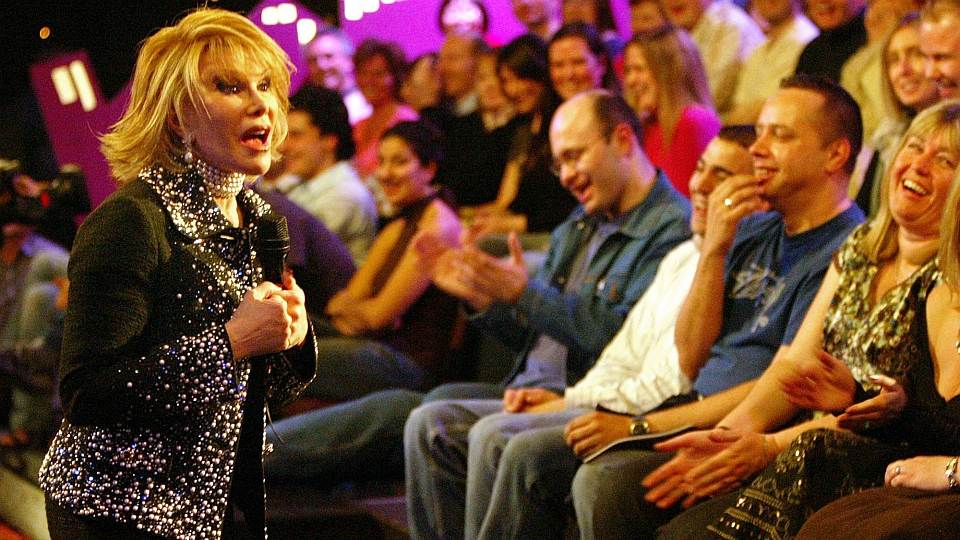 Joan Rivers' face, or perhaps her 'faces' ('I've had so much plastic surgery, when I die they will donate my body to Tupperware') was a constant fixture on American TV since the mid-Sixties. She appeared on The Ed Sullivan Show, in The Hollywood Squares, hosted late-night chatshows, The Fashion Police, and, most recently, Joan & Melissa: Joan Knows Best?, a programme with her daughter made for WE TV.
Like most Americans, I first started paying attention to Joan, who has died at the age of 81, when she was guest-hosting The Tonight Show in the 1980s. She was one of a small number of female comedians, and one of even fewer who did stand-up. Unlike her male contemporaries, who had no problem making jokes about blondes or (in the early days) Polacks, her barbs were usually aimed at herself ('My best birth control now is to just leave the lights on'… 'I was such a dog, to get me down the aisle they threw a bone'). They were almost painful to listen to, but oh-so-funny.
Over time, she shifted her focus to celebrities, and though her jokes were biting ('Is Elizabeth Taylor fat? Her favourite dish is seconds'), they never seemed unfair. Rivers never did anything at celebrities' expense that she wasn't willing to do at her own. And, besides, as she was quick to point out, we weren't the butt of her jokes – it was multimillionaires with better things to worry about.
No one and nothing was off-limits for Rivers. She seemed to have an uncanny instinct for slaughtering sacred cows. She called Anne Frank overrated ('One book. One book! I've written 12 books… Did you ever read the book? There's no ending'). She joked about her husband's suicide: 'If he was alive I'd kill him.' She called Kanye West's baby 'ugly' ('I've never seen a six-month-old so desperately in need of a waxing'), and referred to Brad Pitt and Angelina Jolie as 'child-hoarders'. With a few famous exceptions (Kim Kardashian, Kristen Stewart), most celebs laughed along with her.
Irreverence like Rivers' has become increasingly rare as comedy has retreated into ideological niches where comics can preach to the choir without giving offence. The political correctness Rivers poked fun at through most of her career has slowly hardened into a climate of conformity in which it is not permissible to say certain things – not even in jest. This shift was not lost on her, and it made her irritable.
Over the past year or so, she seemed to go out of her way to wind up prudes and the press. She upset the PC brigade with her quip about the model Heidi Klum: 'The last time a German looked this hot was when they were pushing Jews into the ovens.' In a facetious response to a reporter asking about same-sex couples in the White House, she said, 'We've already got one!' (because, she quipped, 'Michelle is a tranny'). Then she refused to condemn Israel for attacking Gaza, and even worse, committed the modern sin of supporting Israel, igniting a Twitterstorm that is raging even now.
Perhaps this is why her death seems like the end of an era. Rivers' ruthlessly unsentimental treatment of everyone and everything seems incomprehensible to many today. In a July interview with CNN presenter Fredericka Whitfield, for instance, Rivers lost her temper when instead of allowing her to talk about her latest book, Diary of a Mad Diva, Whitfield called her out for being 'mean' and making people feel uncomfortable. Rivers tried repeatedly to explain the point of her humour to the clearly clueless Whitfield.
'Life is very tough and so if you can make a joke to make something easier, and funny, do it!', she said. She continued: 'Maybe you take the worst thing in the world and make it funny… it's a vacation from the horror.' When Whitfield still could not grasp the point, and continued to press Rivers about 'offending people', Rivers finally lost her temper and walked off the set.
What Whitfield and others don't understand is that Rivers' lack of sentimentality came from a deep understanding and respect for her audience. She used humour to shine a light on the horrible and the sacred alike. She made us laugh at what she found, and never doubted for a second that we could take it.
Thanks for the trust, Joan; thanks for your courage; and most of all, thanks for the laughs.
Nancy McDermott is a writer and mother based in New York.
Picture by PA images.
To enquire about republishing spiked's content, a right to reply or to request a correction, please contact the managing editor, Viv Regan.