Kate is great, but she isn't a god
A Kate Bush fan marvels at Before the Dawn but is irritated by Kate's canonisation.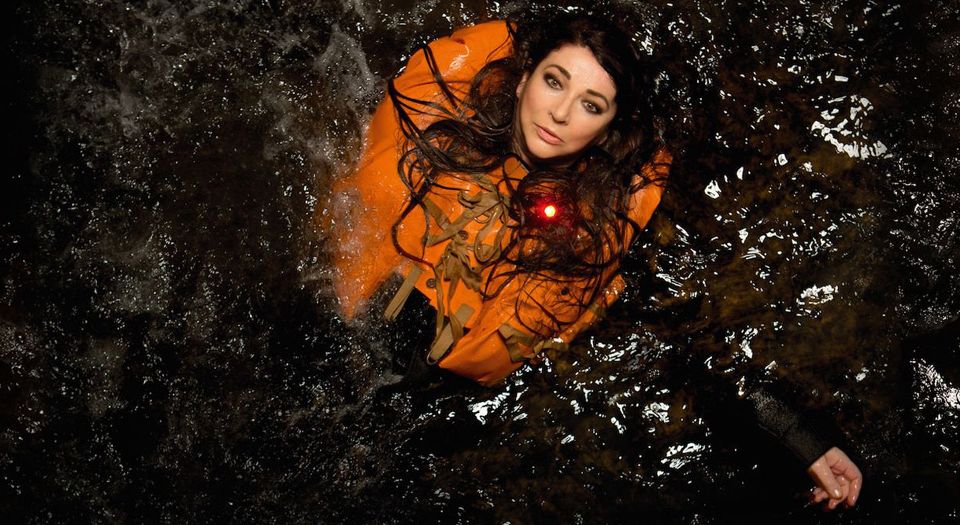 For me to evaluate Kate Bush's London stage show Before the Dawn is difficult, having loved her and her music since I heard The Sensual World aged 14. I am far from impartial; I am a diehard fan. For me, the concert demonstrated perfectly, in one evening, everything I love about her and everything that maddens me about her. It also came freighted with a weird weight of expectation, mostly external to Kate and her work, but still clouding the event.
It is not really necessary to go into the backstory of the show, repeated everywhere ad nauseam. The unilluminating, recycled, off-the-shelf anecdotes (She is a recluse! She is a genius! She takes ages between albums!) are also redundant. It is enough to say that when I learned she was to perform live again, I was excited by the possibility of seeing her on stage. When I made it to the Eventim Apollo on a Friday night after a long day at work, I was nervous with anticipation.
It was an odd, pleasing shock to see Kate herself stroll on stage, smiling and with little fanfare, and get stuck into a fierce version of 'Lily'. Having spent so long with recordings of her songs, it was unsettling to see the process, the music being made, watching how she acts out the songs, as much for her own benefit as ours. This was no longer a serene, disembodied voice but a flesh-and-blood woman working hard to communicate.
She has assembled a fantastic band that articulates her songs perfectly. Her son Albert, instrumental in getting the show on the road, is a talented performer and charming presence on stage. Kate's voice is brilliant and powerful. It was a joy to be made to hear afresh, as if for the first time, how wonderful her singing and her songs are: 'King of the Mountain', with its elaborate, syncopated percussion; 'Top of the City', with its impassioned melody and delivery; the uncanny 'Under Ice'.
The staging is also spectacular: a 'helicopter' searches the audience for a drowning woman; a wonky room slides back and forth and showers sparks during 'Watching You Without Me'; a gigantic moon revolves in the infinite dark of the stage; a tree falls and spears a grand piano; a three-man choir hangs off a buoy during 'Hello Earth'; a child-size artist's mannequin comes to life and runs around the stage; Kate grows a blackbird's wing; Kate flies off stage.
It is not surprising that, given the ambition of the show, some passages overreach and do not work as well as others. This is where her work can be become exasperating, a phenomenon with which Kate fans are familiar. There is a definite Bush school of hammy playacting (think of the difference between Kate's performance in The Line, The Cross and the Curve and Miranda Richardson's) that bubbles up between songs in the 'The Ninth Wave', one of the two song suites that comprise the show. 'Watching You Without Me' is set up with a protracted skit that has the charm of Albert's performance but, dramatically speaking, does nothing but slow down the show.
Lyrically, the second suite, 'A Sky of Honey', is deliberately understated and artless. It reflects Bush's occasional but maddening habit of mistaking banality for directness. 'An Architect's Dream' is bogged down in washy synths. While never boring and satisfyingly climactic, the second act lacks the coherent urgency and focus of the first. Kate hints at this herself in the programme notes – providing an honest assessment of the show, her working processes and her frustrations.
The show also demonstrates her charming, idiosyncratic lapses into literal-mindedness. The spectacle works best when it offers a visual counterpoint to the music; it is less meaningful when it is a straightforward representation of the musical content. Do we need to see a little light when she sings of a little light?
Of course, the show, for a fan like me, is fascinating, satisfying and rewarding. I loved it and would not have missed it for anything. But perhaps the oddest aspect of Before the Dawn is not anything in the show itself but the attention that surrounds it. When did Kate Bush become so massively popular? Growing up a fan, I experienced her – with her decidedly odd persona, divisive style, often bizarre and edgy material – as a fairly niche proposition. She is a wonderful but acquired taste, and there is nothing wrong with that.
The volume of adulatory reviews, press coverage and gushing celebrity fan endorsements are unnervingly disproportionate when taken as a whole. I say this even as the Kate fan in me is pleased she is getting the recognition.
Her first performance in 35 years is a noteworthy event, particularly given her mystique, but it is only really noteworthy for Kate fans. She is unique, but her work is not holy, and shouldn't be made holy. There is a risk of this happening in the rush to enjoy her work and collectively agree how great she is. Let's not forget, she dedicated a whole album to re-recording material she was not satisfied with, including a very clear pisstake of her own song 'Rubberband Girl'.
Something changed in her absence between The Red Shoes in 1993 and Aerial in 2005, and that was not Kate, but everything around her. She resurfaced in a new context; she no longer meant the same thing. Her protracted absences are the perfect void for nostalgia, her sudden return the perfect focus for massive, shared collective experiences. This, I think, does her and her work a disservice. They cannot carry this weight of expectation.
I'd rather have Kate's ambitious musical excesses, with their necessary occasional failures and lapses, than most other musicians' timid successes. But I would also prefer a more clear-eyed assessment of the things we love and why we choose to put them on a pedestal.
Alex Dale is a designer based in London.
Picture by: Trevor Leighton
To enquire about republishing spiked's content, a right to reply or to request a correction, please contact the managing editor, Viv Regan.