Free speech doesn't end at the doors to an abortion clinic
Anti-protester buffer zones around abortion facilities are illiberal.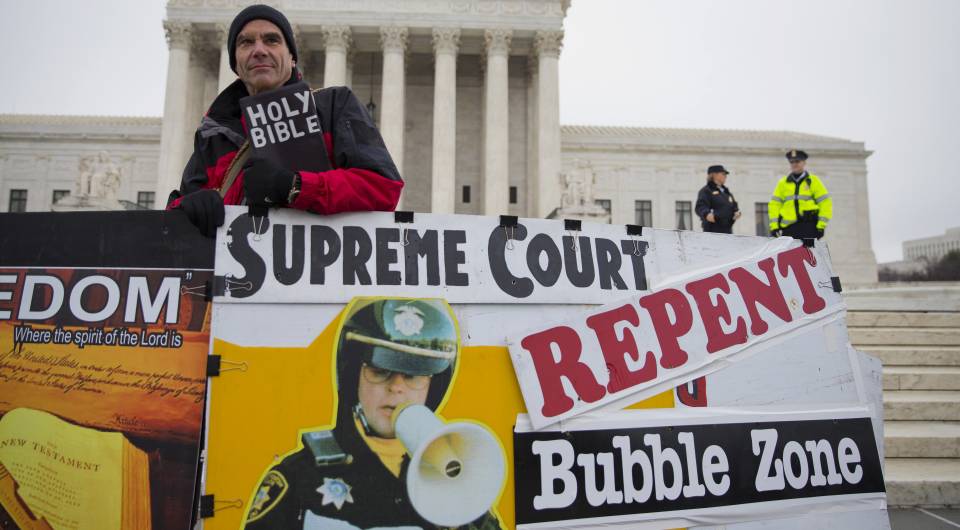 'A person who objects to abortion has a right to express that view', Massachusetts governor Deval Patrick acknowledged after a unanimous Supreme Court struck down the Massachusetts Commonwealth's 35-foot buffer zone around abortion clinics. 'But a person seeking healthcare also has the right to feel safe.' Not exactly. People seeking healthcare — in this case, women seeking access to abortion clinics — have a right to be safe, regardless of how they feel. In a relatively free society, laws are supposed to govern and respond to conduct, not feelings, or thoughts and ideas.
In other words, my subjective, emotional response to your language or behaviour, however disconcerting, should not be the business of law. The power to protect our emotional wellbeing is the power to regulate it, arbitrarily. We'll be protected or persecuted by regulation depending on the biases of people in power.
Freedom of speech and conscience depend on a laissez faire approach to 'feelings', but in progressive circles, freedom of speech and conscience are sometimes subordinate to recently constructed 'rights' to 'feel' safe, or merely respected and un-offended. Campus speech and harassment codes testify to the increasing pre-eminence of these 'rights', and so, to some extent, does the debate over abortion-clinic buffer zones.
The Commonwealth of Massachusetts defended the recently invalidated buffer zone as a public-safety measure, with only an incidental, unintended effect on anti-abortion speech. It was, the Commonwealth asserted, not an outright ban but a reasonable time, place and manner restriction on speech, which courts have long considered constitutional. The history of the buffer zone lent credence to this defence. It was a response to fatal attacks on two Boston-area clinics in the mid-1990s, suffered during a wave of murderous assaults on abortion providers.
But violence against clinics and providers has abated since then. These days, the anti-abortion movement is focused on political combat, lobbying with some success for laws shutting down abortion clinics and restricting individual reproductive rights. Still, pro-choice activists and clinic workers were traumatised, understandably, by the violence of the 1990s. So while anti-abortion violence is in the past, fear of violence is ever present. It is, however, increasingly subjective and liable to be sparked by non-threatening, if extremely annoying, peaceful protests. Buffer-zone advocates strongly believe that the zones are essential public-safety measures, but when they talk about public safety, they're talking about feeling as well as being safe.
So the buffer zone was intended to shield women seeking abortions from legal as well as illegal protests, to ensure that they would not have to pass within 35 feet of someone pleading 'please don't kill your baby'. That was the law's fatal constitutional flaw.
Writing for the majority, the Supreme Court's chief justice John Roberts accepted the Massachussets Commonwealth's description of the buffer zone as a time, place and manner speech regulation, motivated by public-safety concerns. Nonetheless, the court held that the zone violated constitutional rules governing time, place and manner laws. It was not 'narrowly tailored' so as to avoid imposing unnecessary burdens on speech. 'The buffer zones burden substantially more speech than necessary to achieve the Commonwealth's asserted [safety] interests', the court ruled.
Besides, the buffer zone was not the only means of regulating conduct outside abortion clinics. Other state and federal laws prohibit blocking clinic entrances or criminally harassing prospective patients. These laws were difficult to enforce, local law enforcement claimed, and, in fact, the buffer zone was designed to function as a prior restraint of speech that might or might not threaten public safety. As a Boston police captain testified to the state legislature (in remarks cited by the Supreme Court), buffer zones 'make our job so much easier'.
No doubt. But easing the job of law enforcement is not a good excuse for suppressing speech. 'A painted line on the sidewalk is easy to enforce', Justice Roberts dryly observed, 'but the prime objective of the First Amendment is not efficiency'.
Pro-choice advocates loudly lamented the buffer zone's demise, and some regarded the court's ruling hyperbolically as another foray in a 'war on women'. But as they rarely, if ever, acknowledged, the court's three female, feminist justices joined in overturning the law's overbroad restrictions on speech. And, in striking down the buffer zone, the court gave its advocates almost as much as it took away. To the chagrin of Justice Scalia (who filed a concurring opinion), the majority rejected claims that the buffer zone was an intentional, content-based attack on anti-abortion speech. (Content-based speech restrictions are generally unconstitutional, except when applied to categories of speech deemed unprotected by the First Amendment, like obscenity or child porn.) Characterising the buffer zone as a content-neutral time, place and manner restriction, Justice Roberts practically invited Massachusetts to enact a new, narrowly drawn law that would not pre-emptively outlaw peaceful anti-abortion 'counselling' outside clinics.
It didn't take long for pro-choice legislators to accept the invitation, with the strong support of retiring Massachusetts governor Patrick and the current state attorney general running to replace him. The legislature quickly drafted a new bill empowering police to order protesters impeding clinic access to remain outside a 25-foot buffer zone for at least eight hours or until the clinic closes for the day. The bill's supporters are likely to succeed in passing it by the end of July when the current legislative session ends. The bill is currently on governor Patrick's desk and he says he plans to sign it into law.
Not surprisingly, anti-abortion activists strongly oppose this new, more narrowly drawn law and promise to challenge it. Whether they eventually succeed will likely depend, in no small part, on how police define 'impeding access' to clinics and how they exercise discretion to disperse protesters. On its face, the bill arguably follows the guidelines offered by the Supreme Court when it struck down the categorical 35-foot buffer zone. But if arbitrarily and abusively enforced to suppress anti-abortion speech, the new bill could be vulnerable to an 'as applied' challenge.
I don't envy the police. This will be a difficult law to enforce in a way that balances public safety and unimpeded clinic access with freedom of speech. Balancing entails compromise, which will limit everyone's rights and interests. Advocates on both sides should expect to suffer a measure of defeat. Clinic protesters and sidewalk counsellors will not be at liberty to approach patients wherever and however they choose. Women seeking abortions will not be shielded from all protesters and counsellors along the way. Some clinic workers and patients are bound to feel a little unsafe, while protesters will feel a little unfree.
Wendy Kaminer is an author, lawyer, and civil libertarian. She is the author of Free for All: Defending Liberty in America Today. (Buy this book from Amazon(UK).)
To enquire about republishing spiked's content, a right to reply or to request a correction, please contact the managing editor, Viv Regan.