Russia-baiting reveals its Wurst side
Anti-Russian Westerners have turned Conchita Wurst's Eurovision winner into a weapon in the culture wars.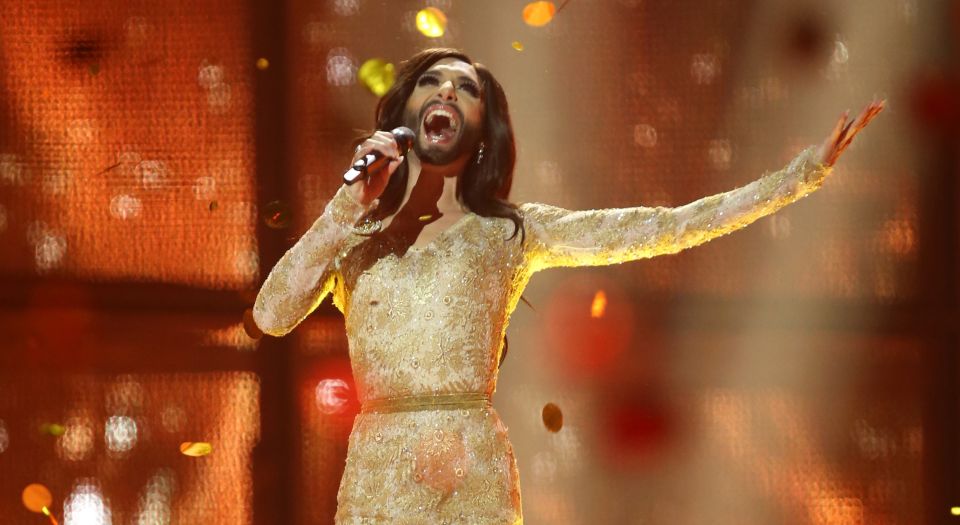 Conchita Wurst, the Austrian drag-act winner of this year's Eurovision Song Contest, can certainly belt out a tune, as his numerous Shirley Bassey-invoking supporters have pointed out. Yet even he would have struggled to be heard above the braying self-congratulation that accompanied his triumph on Saturday night.
This would be fine if those rigorously slapping themselves on the back were simply fans of the song and performance of Herr Wurst (Mr Sausage). After all, it was a decent bit of Eurovision kitsch impressively sung by a 25-year-old man in an evening dress, his face, feet deep in foundation and mascara, set off by a distinctly ironical beard. It was the kind of thing devotees of Eurovision seem to enjoy.
But it hasn't really been Eurovision fans cheering Wurst's success. Instead, it's been Western commentators and politicos who see in Wurst not just an Austrian light entertainer with a nice pair of lungs, but a symbol of everything that makes Western Europe superior to the East, especially that lightening rod for all that is backward and retrograde, namely Russia. One columnist at the Telegraph even went so far as to declare: 'With her Eurovision victory, the Bearded Lady from Austria unwittingly fired the opening salvo in this culture war.'
It's not hard to see why Wurst has been weaponised by establishment voices looking for a way to say 'the West is best'. Wurst, whose real name is Tom Neuwirth, is a gay man, who dresses as a woman, but persists with a hairy legacy of his machismo on his prettified face. He (if such a pronoun is still viable) is a play on identity, a figure who has wrapped the Byzantine nomenclature of gender identity around his tiny waist. He is a violation of tradition, a two-fingered salute to custom, a smiling rebuke to prejudice. He is, in short, a sign of progress, a corrective issued to people who hold the 'wrong' views. Or as the Austrian president, Heinz Fischer, put it: '[This was] not just a victory for Austria, but above all for diversity and tolerance in Europe.'
More importantly, Wurst, post-tradition, post-gender, post-just-about-bloody-everything, can be created in the mind of Western elites as the embodiment of what those backward types in Russia despise. Which is exactly how Wurst has been rendered – as an affront to the prejudiced and bigoted over in Russia. Wurst even seems to have embraced his role in this culture war. Speaking in Vienna yesterday, he explained that his post-victory slogan, 'We are unity and we are unstoppable', 'was obviously meant for certain politicians whom we all know'. Asked if it was directed at Russian president Vladimir Putin, Wurst gave a knowing nod, replying, 'among others'.
Nothing Wurst said was surprising – he was merely speaking from the script prepared for him by his political support act. In the run-up to the contest, the International Business Times gave two main reasons why Wurst should win: 'It will upset the Russians' and 'It will upset homophobes in Eastern Europe', before it then went on to explain that 'protesters in Armenia and Belarus have created petitions asking their national broadcasters to edit Conchita out of the live broadcast, though the European Broadcasting Union wouldn't allow that'. A prominent self-styled left-wing blogger agreed that regardless of the song, Wurst's victory was the 'most positive possible outcome'. He continued: 'There is an ugly homophobia abroad at the moment, particularly in Eastern Europe and Russia. Much like the new misogyny, I believe it's a reaction to the normalisation of same-sex relationships and "non-traditional" ways of living.' The New Statesman propagated the same pro-gay, anti-Russian line: 'Whatever you think of the song, a vote for Wurst on the night is another vote against Russian homophobia and transphobia, and a win would send out a strong message of defiance eastwards.'
Given the language, you'd think Wurst's political fan club was talking about the next strategic move in a military conflict, not a camp show-stopper performed by a man in a dress. But, then again, that for them is Wurst's principal function: to demonstrate why the West has the beating of Russia not in a hot, or even a cold war, but in a culture war in which lifestyle battalions fight to the death over who lives the most virtuous, the most rainbow-coloured, environmentally aware life. There is no compromise possible here, no treaty on the horizon. Rather, the intolerant logic of the culture war demands moral conformity or coerced obsolescence. That's one reason why it's so dangerous – Russia really is being transformed into the moral enemy of the West, the antithesis of all that is deemed good and progressive.
Incredibly, Wurst hasn't just been used on the Western front against Russia. He's also been rolled into action against the so-called bigots and backward types in Britain's own backyard. Citing a tweeting Mirror journalist who was roundly condemned for saying Wurst was 'a bloke', one Guardian critic complained that, unfortunately, 'it summed up what many people thought. It may well have summed up what UKIP's leader, Nigel Farage, thought.' Continuing the backward masses-bashing, she wrote: 'It isn't, I'm afraid, the drag queens of the world who are "unstoppable". It's all the people who are planning to vote for the joke politicians fielded by UKIP, whose names they don't know, just because they're feeling a bit fed up.'
There, in that assault on those who might not share the same values as those ostentatiously trumpeting their love of Wurst's gender-bending brilliance, is the problem with a culture war. To affirm the moral righteousness of its elite protagonists, it constantly needs its UKIP voters, its Russian rednecks, its parochial stereotype types, in short, its people to be tackled, challenged and changed. It needs a section of society, a set of values, of attitudes to be cast as the enemy to be combated. Despite the veneer, despite the high-sounding rhetoric of virtue, there is nothing progressive about this culture war. Indeed, there's nothing very democratic about it, either. As it turns out, in the public vote, British viewers actually voted for Poland's entry, featuring buxom milkmaids shaking their Slavic charms at the audience. Perhaps, for people who enjoy Eurovision, some things are more important than Russia-bashing.
Tim Black is deputy editor of spiked.
To enquire about republishing spiked's content, a right to reply or to request a correction, please contact the managing editor, Viv Regan.