1965: the year everything (almost) changed
The Sixties offered more questions than answers, but the optimism of that decade is worth celebrating.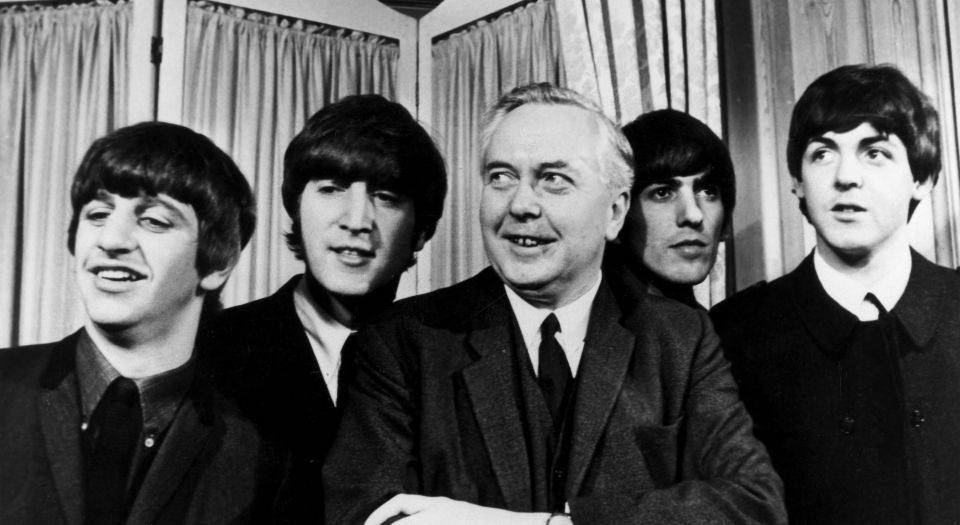 In 2014, the Sixties are firmly out of fashion. Where even a few years ago young trendies donned flares and beads in homage to a decade their parents were barely around to witness, now that period is patently uncool. To today's arch, asymmetric-haired hipsters, the music sounds too twee, the beards were too shaggy, and the flower-powered politics too lamely optimistic. In response to recent scandals, even liberal-leaning commentators have had cause to call into question the gains of the Sixties, parroting Thatcher and then Blair's old line about the moral corrosiveness of the 'permissive' Sixties and wondering if the summer of love led to the sordidness of Savile.
Nostalgia for the Sixties was always a strange and troubling phenomenon – not least because it was the post-Sixties generation who were the ones getting all misty-eyed. But for all its flaws and drum-circle foppery, the optimism of that era, the notion that anything was possible, stands in stark contrast to our own miserable, illiberal times. The hippies may have been too bombed to organise a revolution, too enamoured with spirituality to forward a principled and systematic challenge to the real world order, but they at least believed they could change the world – a far cry from the bandana-donning nostalgists of a few years ago, and even further from the sneering, skinny-jeaned cynics of today.
With this in mind, it's refreshing to read this new entry into the already swelling pantheon of Sixties cultural histories, 1965: The Year Modern Britain Was Born by Christopher Bray. Bray is unashamedly nostalgic. He was only three years old when the events of 1965 unfurled, but as he came of age in the Seventies, watching old Bond films and hearing his older brother bang on about Bob Dylan, he became 'conscious of the feeling that I had just missed out on the greatest party ever'. Still, he walks a fine line masterfully, offering up a rich and discursive history which is celebratory yet wary of easy myth-making. There's been quite enough of that already, on both sides of the Sixties debate, and Bray seems to know this all too well.
His chosen year is in itself a provocation. Forget Kennedy's assassination at the decade's beginning, forget the summer of love and the student uprisings at its close:1965, for Bray, was where it was at. Away from the student-radical fringes and the distant throes of civil-rights-era America, it was the year that pop culture, art and politics came together and began to change British society from the bottom up.
In his introduction, Bray dispenses with the sentiment best articulated by the decade's most-loved photographer, David Bailey, that the Sixties was 'great for 2,000 people living in London, a very elitist thing' but had little effect on the day-job grafters, suburban housewives and home-county teens, studiously taking their O-levels while the illusory 'change' was going on elsewhere. Of course, Bray reflects, 'not everyone was a psychedelic painter or a pop-star poet', or, heaven forbid, an active participant in the whacked-out counterculture, 'that balmy cocktail of New Left Marxism, Eastern mysticism, Left Bank existentialism and whatever drugs you could lay your hands on'. Still, the establishment of a truly mass culture meant the vanguard was making its presence felt: '[T]he reverberations of what they made happen that year were heard and felt by everyone in the country… You can hymn or hate those changes, but you can't deny that they took place.'
Bray's history begins with the fall of two mighty oaks of the old order – Winston Churchill and TS Eliot. Both men shuffled off in January 1965. For Bray, their deaths marked the formal collapse of the old political and cultural elites. Churchill's stalwart imperialism and paternalism, so comforting during the uncertainties of the Second World War, had ceased to hold any weight. Eliot's 'mythic-method' modernist poetics, a despairing attempt to reconstruct some solidity from the rubble of the old Western tradition, gave way to a sense of play and creativity in a culture that was increasingly looking to the masses, rather than the upper echelons of society, for validity. Both men were trying desperately to hold together Western traditions that had gone rotten at their foundations. After their passing, the vanguard was almost pushing at an open door.
Politicians, increasingly visible and accountable to the population, no longer felt comfortable dealing in the language of authority and black-and-white ideology. Instead, they took to PR tactics to shore up their legitimacy, some of which they keep deploying to this day. In 1965, Edward Heath became the first non-aristocrat to lead the Conservative Party, initiating the boy/girl-done-good routine they continue to trot out whenever Michael Gove upsets some lefties. Meanwhile, Labour prime minister Harold Wilson could be seen mugging next to The Beatles at every given opportunity, putting one in mind of recently resigned Labour hag Tom Watson tweeting from Glastonbury or Labour leader Ed Miliband discussing the political potential of grime on SBTV.
That said, politicians were making purposeful moves, and ones that would, for better and worse, fundamentally change British society. Labour's domino-rally of policies aimed at creating a more 'permissive society', from the Abortion Act of 1967 to the decriminalisation of homosexuality, were set in motion when Wilson appointed Roy Jenkins as home secretary in 1965. But, as Bray notes, while these much-celebrated pieces of legislation were coming into being, policies related to public infrastructure and education would have a disastrous and long-lasting effect.
The Beeching Report, commissioned and adopted by the Conservative Macmillan government, saw one third of the British railways cut in order to balance the books and refocus infrastructure spending towards motorways. After pledging to halt the cuts, Wilson's Labour government quickly backtracked after the 1964 election and ploughed ahead with Beeching's second wave of measures – leaving behind the patchy rail network we all know and loathe today.
However, it was the ensuing culture war over education that, to Bray's mind, had the most deleterious and longstanding effect on British society. In 1965, Labour education secretary Tony Crosland declared war on the then-tripartite public education system (made up of grammar, technical and secondary-modern schooling), and introduced the comprehensive, non-selective system.
Crosland, no doubt seeing bootstrap meritocracy as a damnable pillar of a new-wave Conservatism, was reported to say he hoped to destroy 'every fucking grammar school in the country'. But with comprehensive education came child-centred learning, a non-judgemental, anti-authority, relativistic mode of pedagogy that loony public-sector educationalists still insist is 'progressive' today. Bray sees it differently: '[T]his was nonsense… akin to telling a promising young tennis player that it doesn't, after all, matter that he serves in front of the line or returns the ball within the court, or even hits it with his racquet. All that matters is that he's having fun!'
Bray holds no candle to the old tripartite system, but, in waging war on grammar schools, Crosland threw the baby out with the bathwater, he says, offering up free and open education with none of the rigour that made grammar schools such an important, if limited, mechanism for social mobility. '[W]ithin 10 years of the comprehensive/progressive experiment, any parent with the wherewithal to buy their children out of state education was doing so… in 1965, our education system became once again one of the bulwarks of class division in our society', he writes.
Bray is a keen observer of some of the key political trends of the time, but is most in his element when he explores how pop culture both heralded and codified the seismic shifts that were taking place. His droll reflections on the changing face of spy thrillers is exemplary: the self-assured, macho nationalism of the early Bond films giving way to the self-mocking camp and whizzbang gadgetry of Thunderball, while John le Carré's The Spy Who Came in From the Cold exploded the boys-own myth surrounding what was in reality a grubby and morally dubious world. After the Churchill-buttressed certainty of the Second World War, who the good guys were on the world's stage was never quite as clear.
As the book goes on, Bray illuminates a time in which art and popular culture were actively working to challenge orthodoxies, with the flailing elite left all too feeble to defend them. The infamous scene of a back-alley abortion in Ken Loach's televised play, Up the Junction, ratcheted up the abortion debate and launched the career of one Mary Whitehouse. Yet, with Whitehouse in mind, Bray's chapter on censorship is fascinating in explaining how compromised Britain's cultural/moral gatekeepers had become.
This is perhaps clearest in the story of when Lord Cobbold, at the time serving as the Queen's Lord Chamberlain, attempted to prosecute everyone involved in the production of what he perceived to be a morally reprehensible play – Edward Bond's Saved, which included, among other coarse moments, a scene in which a baby is stoned to death. The newly appointed home secretary, Roy Jenkins, allowed Cobbold to proceed, purely because he knew the case would rebound and show up what had become a clearly backward institution. Today, a time in which sensibilities are all the more sensitive, a time in which 'Blurred Lines' has become the most controversial song for a decade, this episode in the history of censorship is all the more fascinating. The very point at which artists began really to test the boundaries, to push the buttons of polite society, was the point at which the establishment all but rolled over.
In this lively book, Bray sets about a well-worn subject with both intellectual clarity and polymathic verve. Like the Sixties itself, it leaves more questions dangling than it answers. Having torn down a hollow establishment, is there a better one we could construct in our image? Where sits the dividing line between high and low culture? And, seeing as we're far from there yet, what would a truly 'permissive' Britain look like? You needn't be an unashamed nostalgist to recognise that in these downbeat, conformist times, the experimental spirit of 1965 is well overdue a revival.
Tom Slater is assistant editor at spiked.
1965: The Year Modern Britain was Born, by Christopher Bray, is published by Simon & Schuster. (Order this book from Amazon(UK).)
To enquire about republishing spiked's content, a right to reply or to request a correction, please contact the managing editor, Viv Regan.