'When Hamas attacked Israel, it was a beautiful day'
Thomas Osborne reports from last night's anti-Israel protest in London.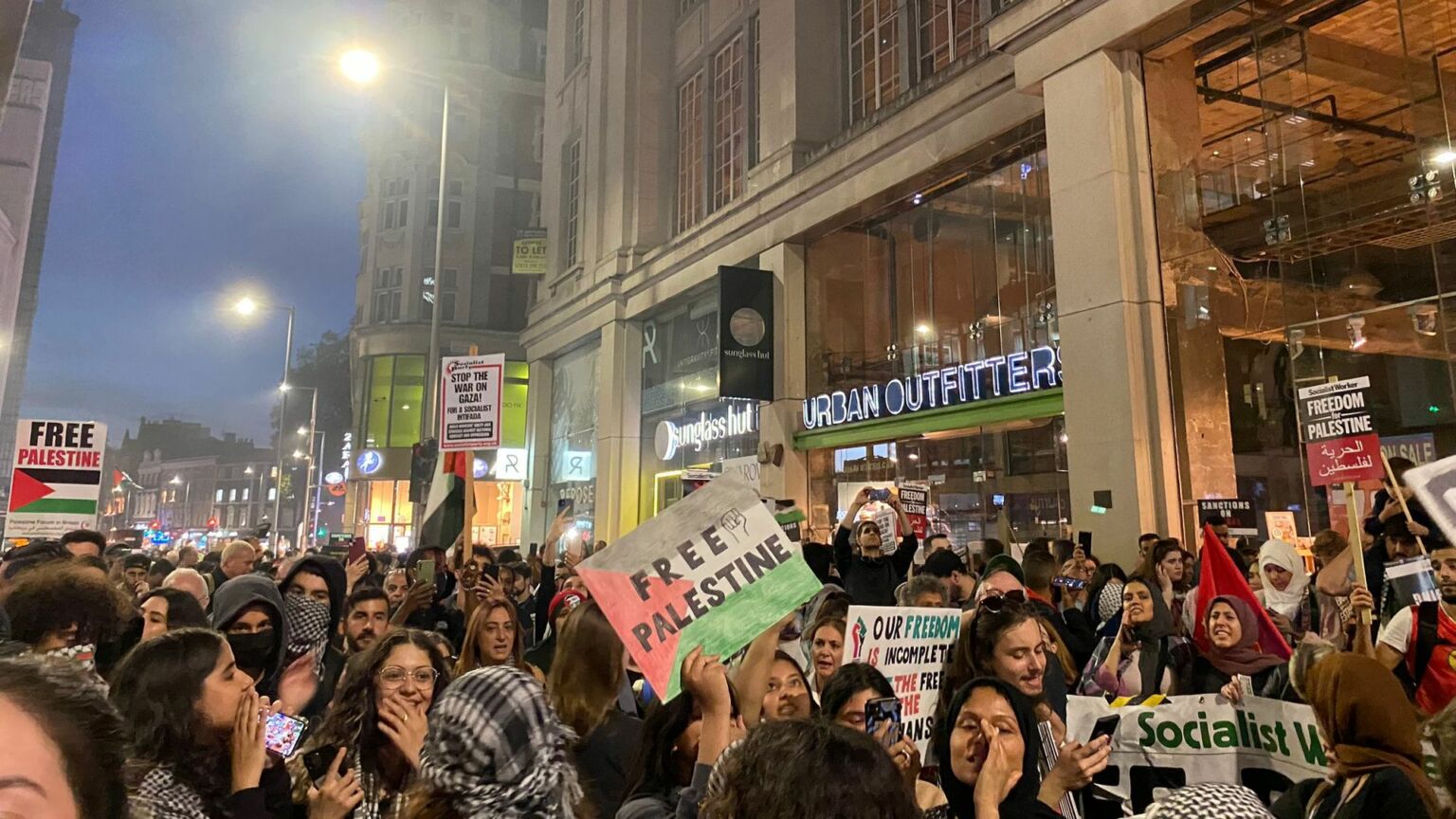 'Hamas conducted a very successful operation. It was a beautiful day. I was very happy to see it.'
This is how Laith, a student who attended Monday night's 'pro-Palestine' demonstration in London, described last weekend's slaughter of hundreds of Israeli civilians to me. It was a moment of celebration, he said. Sadly, he wasn't alone in thinking this. His view was apparently shared by many among the 5,000 or so who gathered outside the Israeli embassy.
The atmosphere was festival-like. There were blaring horns, clouds of colourful smoke and frequent chants of 'Allahu Akbar!'. Amid a sea of Palestinian flags, and an occasional Pride flag, placards screamed anti-Israel slogans. One even indulged in a spot of Holocaust relativism: 'The Zionist Jews have done to the Palestinian Arabs what the Nazis did to the Jews.'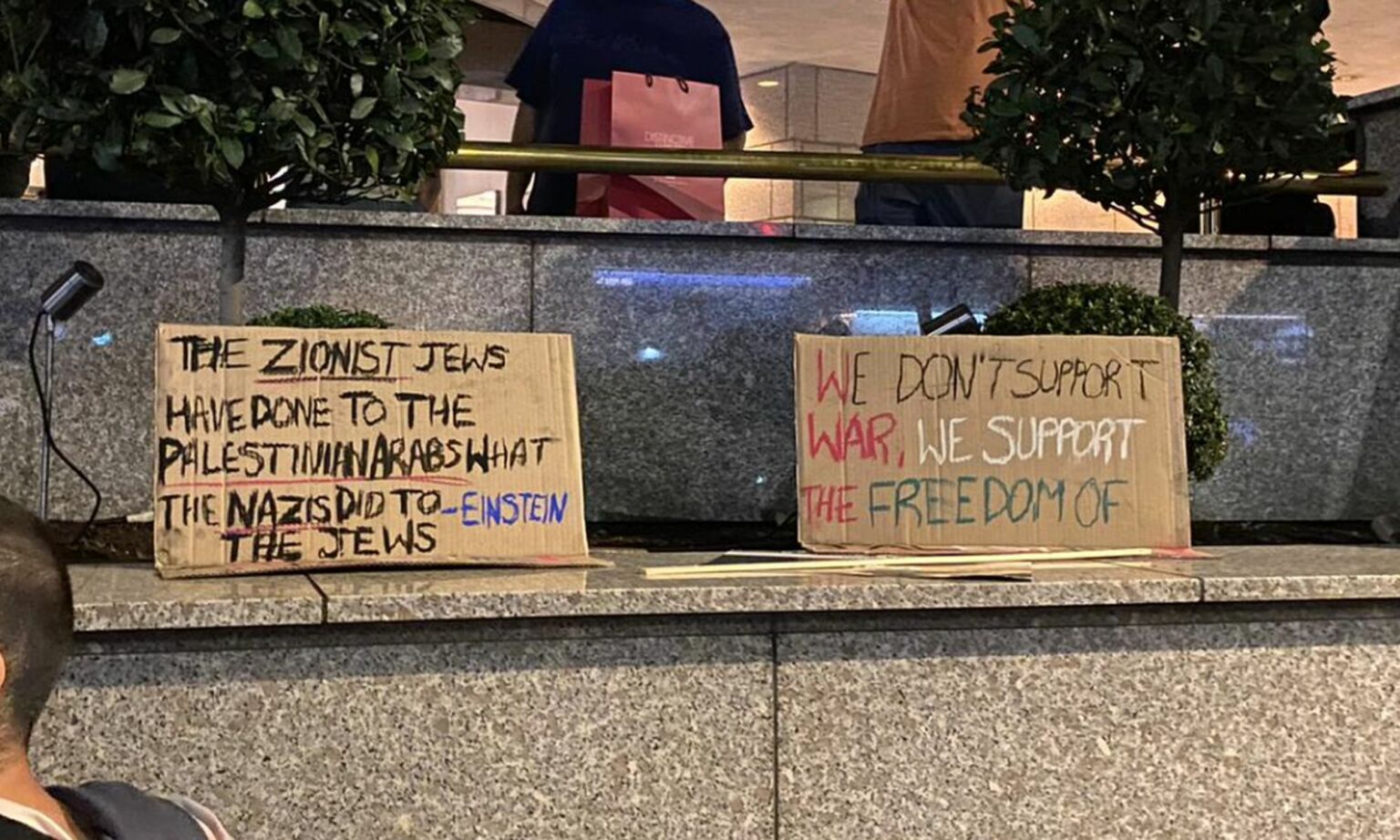 Placards trivialising the Holocaust were on open display.
Just days before, Hamas had massacred hundreds upon hundreds of innocent men, women and children, as part of its brutal incursion into Israel on Saturday morning. But no one I spoke to at Monday night's protest felt the need to condemn this barbarism. 'I don't care if the West calls Hamas terrorists', Laith told me. 'One man's terrorist is another man's freedom fighter. There is no liberation without violence.'
Others agreed. 'We know that [Hamas] are not the real terrorists', said Sophia, a writer. 'The Israeli government is.' Another protester, who didn't want to be named, told me that 'any resistance movement has to use some terror tactics', before absurdly likening Hamas's actions to those of the ANC in South Africa.
Few seemed to have much of a problem with the attacks, and fewer still seemed bothered about the anti-Semitism they have since sparked in London, including the vandalism of a Kosher restaurant in Golders Green. 'Anti-Semitism is such an easy label to apply', said Sophia. 'The Israeli government wants you to believe that this is a religious conflict, but people of all faiths are here showing solidarity.'
Quite how cheering on Hamas, a group committed to the eradication of Israel and the murder of Jews, shows solidarity with Jewish people is unclear. But those shouting anti-Israel slogans didn't seem to care. 'Brick by brick, wall by wall, Zionism has to fall', they chanted, as more fireworks exploded overhead.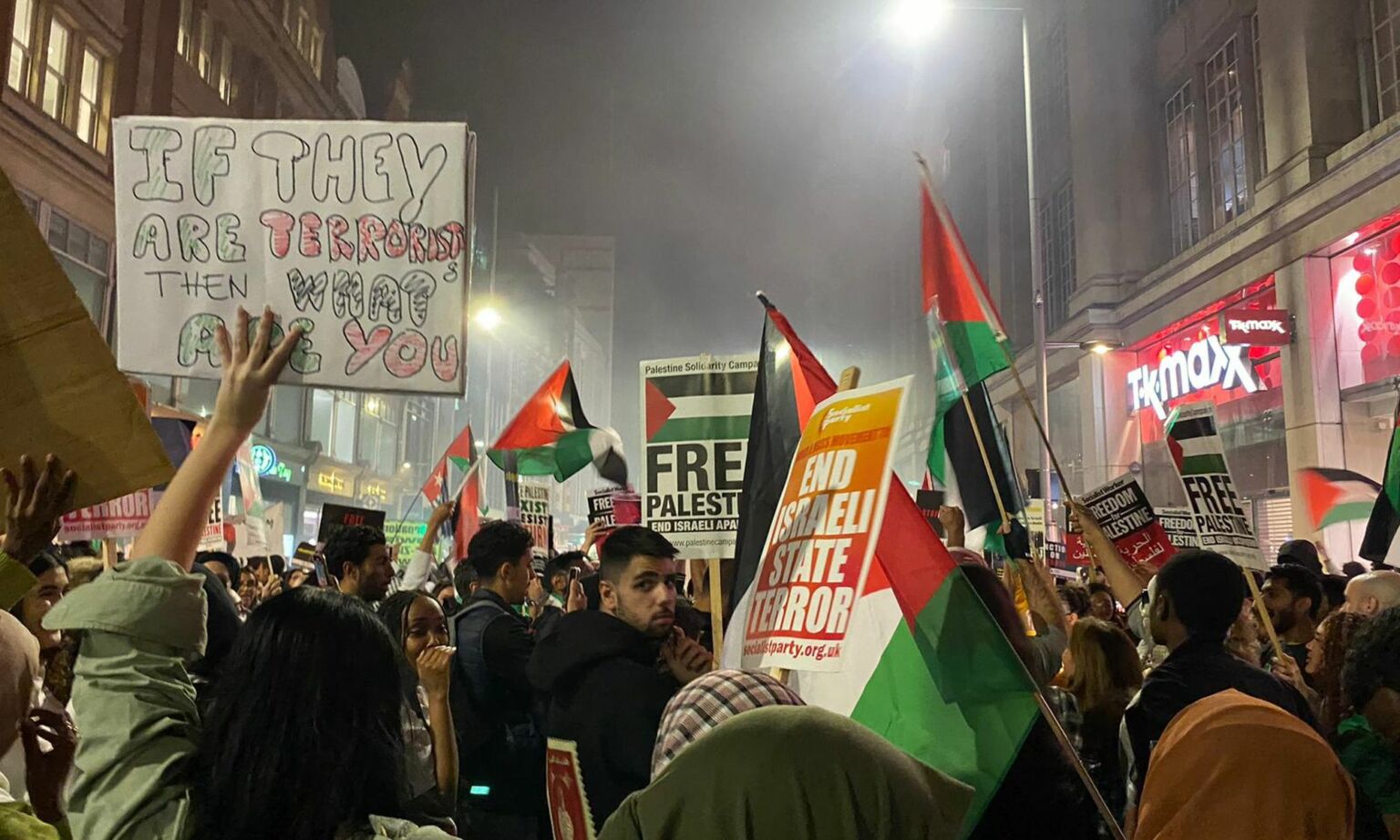 Protesters were repeatedly calling Israel a terrorist state.
The Arabs in Palestine, Laith told me, 'have a very long history [in the region] that goes back much further than Israel's'. A nearby preacher echoed his words: 'I care about who belongs to the land. I care about who speaks the language.' It was difficult to miss the grim subtext to these comments. These people aren't advocating for a peaceful resolution to the conflict. They want a state free from Jews.
This wasn't an anti-war protest – or a pro-Palestine demonstration. It was a celebration of a pogrom.
Thomas Osborne is an intern at spiked.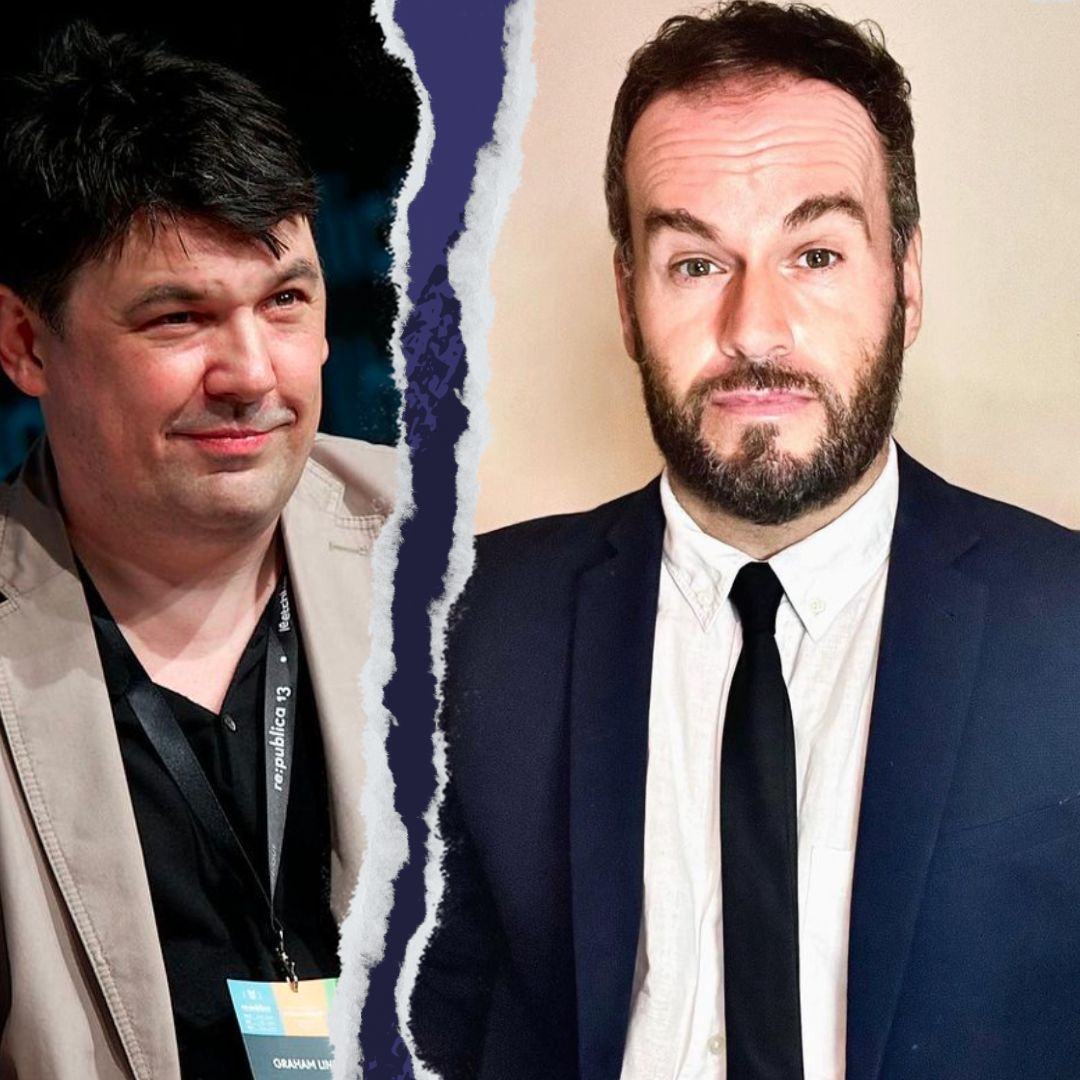 Graham Linehan and Brendan O'Neill – live and in conversation
ZOOM EVENT
Tuesday 17 October – 7pm to 8pm BST
This is a free event, exclusively for spiked supporters.
To enquire about republishing spiked's content, a right to reply or to request a correction, please contact the managing editor, Viv Regan.