We must confront the new anti-Semitism
If we look the other way now, we surrender the right to call ourselves a civilised nation.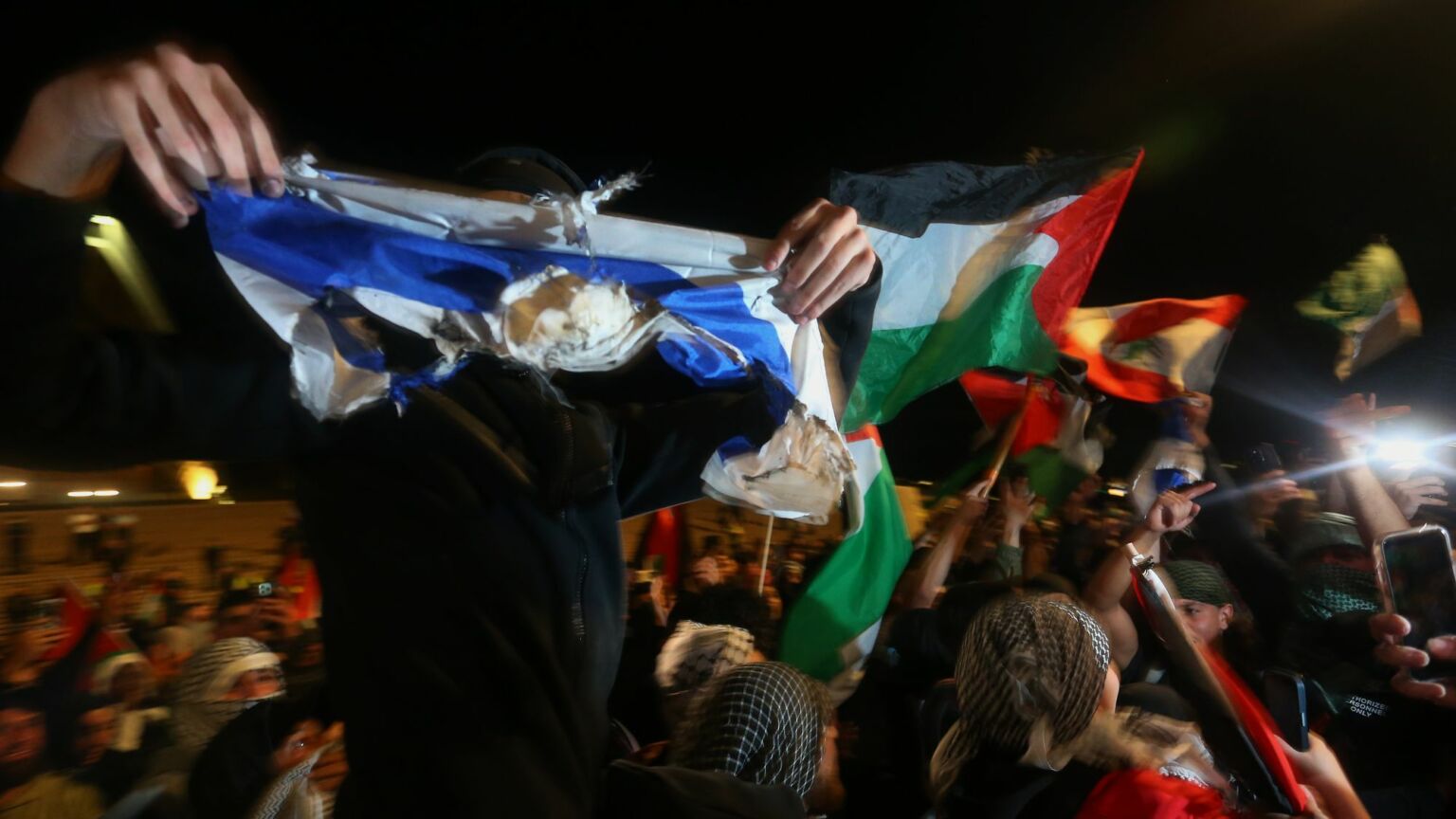 The world's oldest hatred has made a grotesque comeback. In Israel, bodies are still being found following Hamas's barbaric incursion into its southern territory. More than 260 corpses have been recovered from the now infamous music festival where young people were gunned down, raped and kidnapped. In the tiny farming community of Beeri, 100 bodies have been found: 10 per cent of its population. It's been revealed that a Holocaust survivor is among those kidnapped by Hamas. Nine-hundred people, the vast majority of them Israeli-Jewish civilians, have been killed. Saturday is already believed to be the most deadly day for Jewry since the Holocaust. We have witnessed evil.
Now, on the streets of London, we are witnessing the celebration of that evil. Last night, thousands gathered near the Israeli embassy on Kensington High Street. An apparent mix of Islamists, SWP types and Goldsmiths first-years waved Palestine flags, set off fireworks, danced and chanted. 'Sometimes you have to fight, freedom isn't won just by words', said one protester, when asked by the Mail about Hamas's acts of barbarism. Another, handing out 'Free Palestine' merchandise, plainly told the reporter the attack was 'justified'. 'I do feel it's something the Palestinians support', he added. Chants of 'Allahu Akbar' rang out. As did 'From the river to the sea, Palestine will be free'. I can only hope some of them were just ignorant of what this slogan really means: which is the destruction of Israel, the ethnic cleansing of Jews. That's certainly what Hamas – whose founding charter fantasises about the murder of Jews and whose leading lights call for Jews to be beheaded – means by it. And last night, British citizens gathered in our capital city to mark that genocidal outfit's murderous spree through Israel, even squaring off against small groups of Jews who bravely went along to oppose them.
Just across London, in Golders Green, a kosher restaurant was smashed up and robbed on Sunday night. The police – in a statement that has raised eyebrows – have said they are not treating it as a hate crime. Perhaps it was also one big coincidence that someone sprayed the words 'Free Palestine' over the railway bridge in Golders Green that same weekend – a racist taunt masquerading as a liberation slogan. The most quietly heartbreaking story from recent days was a short email sent to the parents of pupils at the Jewish Free School in Kenton, telling them their children do not need to wear their blazers to school, bearing their school's badge, if it makes them feel safer, and reassuring them that school security measures have been ramped up.
Jewish schools already, as a matter of course, maintain a level of security that would surprise much of the population. It's a reminder that anti-Semitism remains among the most pervasive forms of racism to blight Britain, and yet it is among the least discussed or understood. Jews account for 0.5 per cent of the British population, but are the victims of a quarter of all religiously motivated hate crimes. Google 'Jewish graves desecrated UK' and you'll see reams of cases you've probably never heard of. Earlier this year, a Jewish cemetery in Rochester, Kent was vandalised for the eighth time in 10 years. Last year, 30-year-old Abdullah Qureshi was found guilty of religiously aggravated grievous bodily harm and assault after he travelled down to north London, all the way from Dewsbury, just to punch Jews. He managed to attack three, including a 14-year-old boy, during his flying visit.
Every time the Israel-Palestine conflict flares, British Jews steel themselves for more of this hate – they are held collectively responsible for the crimes, real or imagined, of the Israeli government. But what has become abundantly clear this week is that this really isn't about Israel. This is about Jew hatred, pure and simple. Anti-Zionism is now just the mask anti-Semitism wears, and the disguise is fooling no one anymore. Chanting genocidal slogans. Openly celebrating Hamas. Openly mocking the dead. Taking to the streets in glee before their bodies are even cold. The sickening scenes in recent days have about as much to do with Palestinian rights as those scumbags who drove around London in 2021, as Israel and Hamas were exchanging missiles, chanting: 'Fuck the Jews… Fuck their mothers… Rape their daughters.' (A grim foreshadowing of the horrors of last weekend.)
If we do not confront this hatred, we surrender the right to call ourselves a civilised nation. We must stand in solidarity with the Israelis under assault by Hamas's terrorism and with the British Jews being menaced by Hamas's gloating British cheerleaders. We must oppose anti-Semitism in all the tumorous forms it now comes in – from its Islamist to leftist varieties. And we must ask some searching questions about how we ended up here – where some British citizens are so filled with hatred, or so marinated in propaganda, that when fascists attack the Jewish State their immediate response is to take to the streets and rage against the Jewish State.
First, we need to talk about integration. The vast majority of British Muslims will have no truck with the Jew hatred spilling out on to our streets. But to ignore the issue of Muslim anti-Semitism while Muslim Brits chant 'Allahu Akbar' and praise an Islamist group that has just slaughtered Jews, all for fear of being called names, would be beyond shameful. Now more than ever, we need to embrace a politics of universalism aimed at binding all Brits, of all backgrounds, together. We need to champion freedom and tolerance. And we need to junk the genuinely racist notion that these values are somehow alien to our British Muslim brothers and sisters.
Second, we need to challenge the Islamist grievance politics that is being promoted by unseemly influencers to our Muslim youth – often to kids from families who have zero connection to such extremism. Instead, the British state seems intent on pushing its own brand of identitarianism, encouraging young people to seek refuge in religious or racial victimhood. This must stop now.
Third, we must refuse to allow the woke left – and the harebrained dregs of the old left – to pose on the moral high ground ever again. This past week has shown, beyond doubt, that what passes for the radical left is now completely beyond saving. It has become an inversion of everything it once stood for. It is tolerating anti-Semites in the name of anti-imperialism; taunting the most menaced of minorities in the name of anti-racism.
Above all, we need to challenge the ideologies that have fuelled the new anti-Semitism. From radical Islamism, with its dreams of wiping Israel off the map, to conspiratorial thinking, the fuel for anti-Semitism for millennia, to identitarianism, positing racial conflict as the means to liberation, to Israelophobia, the bigoted conviction that Israel is the most evil nation on earth, the insurgent ideas of our age all point towards one thing: Jew hatred.
We need to fight this hatred. And British gentiles cannot leave it to British Jews to do so alone. As the late Jonathan Sacks, the former UK chief rabbi, once put it: 'The victim cannot cure the crime. The hated cannot cure the hate. It would be the greatest mistake for Jews to believe that they can fight it alone. The only people who can successfully combat anti-Semitism are those active in the cultures that harbour it.' It shames us all that the UK, in 2023, is harbouring the world's oldest hatred once again.
Tom Slater is editor of spiked. Follow him on Twitter: @Tom_Slater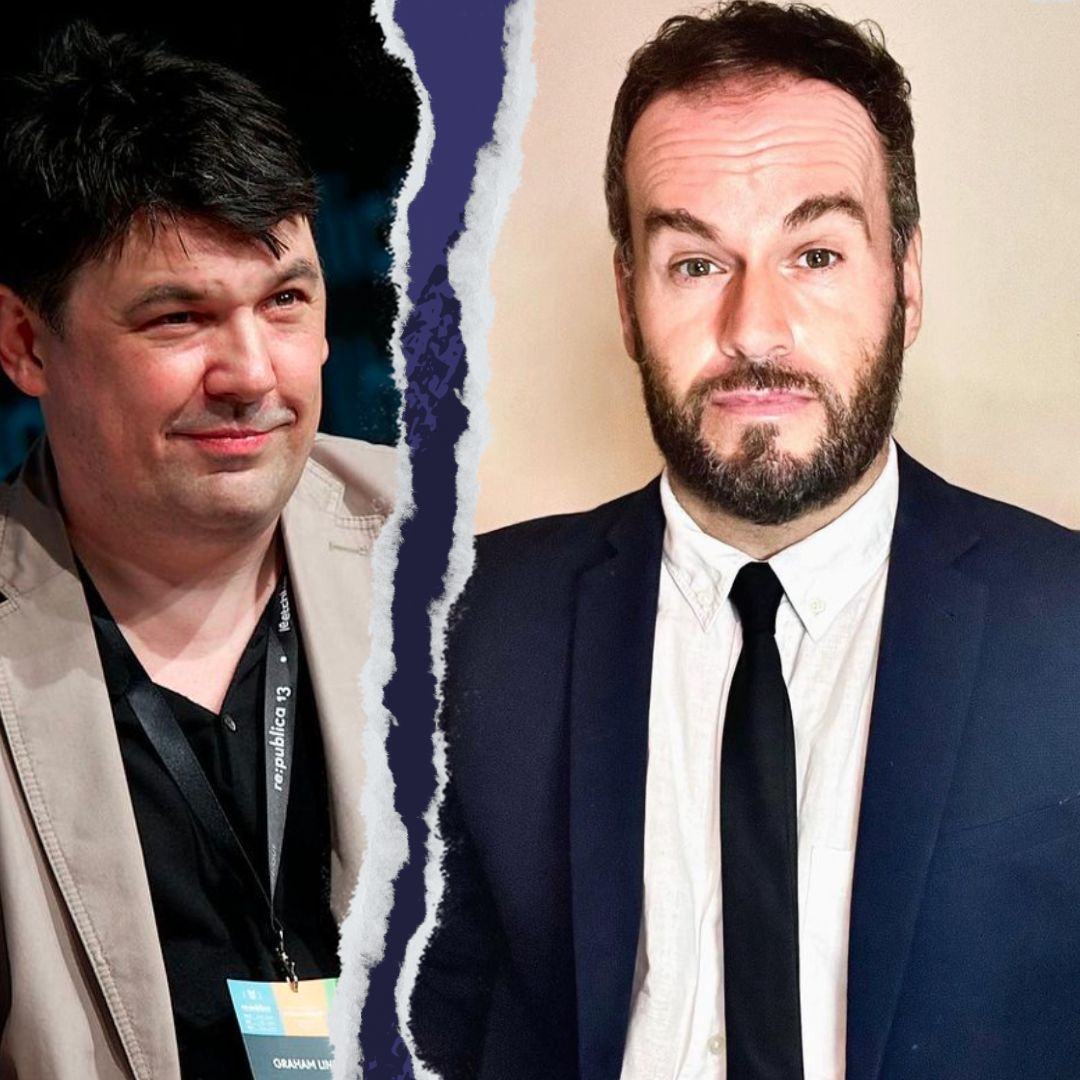 Graham Linehan and Brendan O'Neill – live and in conversation
ZOOM EVENT
Tuesday 17 October – 7pm to 8pm BST
This is a free event, exclusively for spiked supporters.
To enquire about republishing spiked's content, a right to reply or to request a correction, please contact the managing editor, Viv Regan.