Just Stop Oil's most miserable stunt yet
Ruining a performance of Les Misérables marks a new low.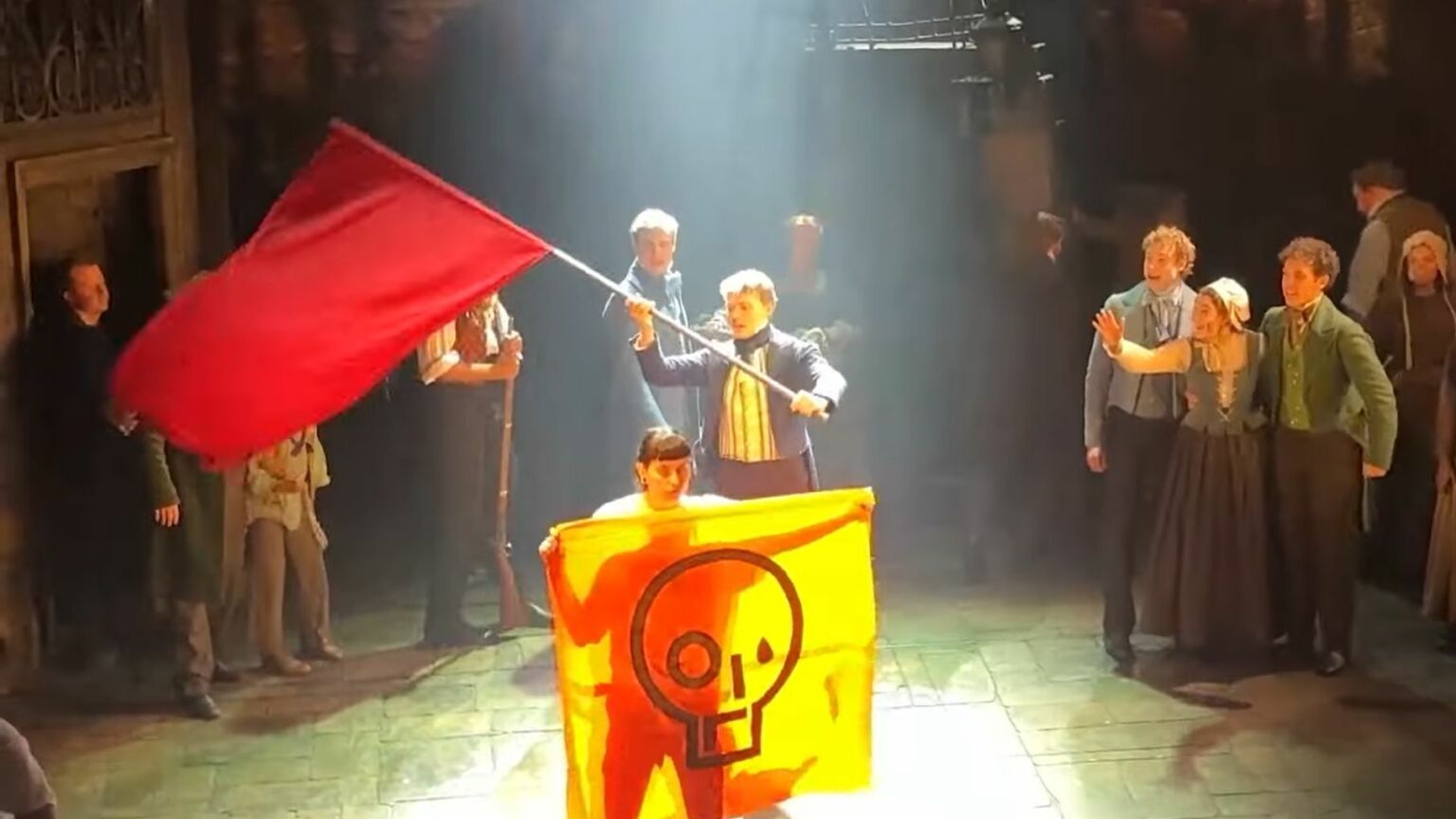 Eco-extremist troupe Just Stop Oil has once again disrupted the smooth running of civilised society to remind us of the coming climate catastrophe.
This time, these silly middle-class twats chose Wednesday evening's performance of Les Misérables for their latest piece of performance politics. And once again, they did so in order to demand that we all stop enjoying ourselves, just as they have done at art galleries, the tennis and, indeed, some traffic lights on the North Circular.
On this particular occasion, JSO activists achieved their disruption through the medium of glue, attaching themselves to the stage at the Sondheim Theatre right in the middle of Les Mis. Less Victor Hugo than Victor Uhu.
Miserable indeed were the targets of JSO's theatre of the absurd – namely, the audience, who were promptly sent home. Some had no doubt gone to considerable expense in the hope of getting away for a few stolen moments of entertainment in the middle of our supposed oil-driven orgy of ecological desecration.
After all, it's not cheap, this theatre lark. There's the cost of transport, the smart-metred babysitters, the inedible vegan wraps and the glossy content-free programmes (why do they contain so much baffling and inconsequential CSR messaging, and the CVs of half a dozen lighting engineers?). And then there's the spatula-lidded ice cream at prices per ounce undreamt of by medieval saffron merchants and the warm gins and tonic that might be the ones you have paid for. It is, in short, a racket – something that does not escape theatre-goers' notice. And then, just as the punters feel the familiar swell from the orchestra pit, as Les Mis's strange incoherent stew of emotive warbling and melodic insurrection carries them back to a simpler time of death, dysentery and despair – bang. Some cunt's glued himself to the stage.
The reaction of X, formerly known as Twitter, has been divided. There were those who smugly declared that, were they to have been in the audience, they would have welcomed an interruption to such a shop-worn plodding entertainment. And then there were those who noted with wry amusement the 'genius' of interrupting a musical about protest, with an actual protest. 'What fearful symmetry!', they scoffed. JSO had confronted the pampered bourgeoisie in the circle and stalls with their own hypocrisy. In other words, this sort of thing: 'Yeah if this was during Cats or something it wouldn't be as clear, but getting annoyed that "evenings were ruined" because of a protest during Les Mis is the most tone-deaf thing I could ever imagine.'
Yes, fancy wanting to enjoy a stage musical set in revolutionary France, and yet be unwilling to have the evening ruined by some slack-jawed dorks in orange jumpsuits demanding that you cease drilling in the Marianna Trench.
Readers may be surprised to learn that, thanks to a friend's generosity, I have not only seen Les Misérables – quite recently and on the front row, too – but furthermore I bloody loved it. Of course, nothing brings that extra pinch of zest like a free ticket. But I do think Les Mis is a very effective machine for subtly altering one's brain chemistry for a couple of hours.
Trying to make a rational case in prose for stage musicals is like trying to explain why Donald Trump's speeches are cleverer than they sound. They are designed to short-circuit everything rational, every defence you have spent a lifetime erecting. David Hume would get it, as of course did Noël Coward. Or indeed, whoever said, 'Music expresses that which cannot be said and on which it is impossible to be silent'. Which it turns out was Victor Hugo.
Back in 1985, when Les Misérables debuted in the UK, critical reviews were initially negative. The Observer's theatre critic, Michael Ratcliffe, dismissed it as 'a witless and synthetic entertainment'. Well, we all know how that turned out. So, perhaps the JSO protests will also one day come to be seen as classics, incisive and authentic, and ahead of their time, and my contempt will look as hollow as Ratcliffe's does now.
But in the meantime, take a gamble on Les Mis. Odds are it will do you no harm at all. It might even melt your hearts, if not the polar ice caps. Just remember to bring a large bag of dry roasted from Costcutter and a hip flask for the interval. And if you so much as catch a whiff of glue, a citizen's arrest is perfectly within your hard-won rights.
Simon Evans is a spiked columnist and stand-up comedian.
Picture by: YouTube / The Mirror.
To enquire about republishing spiked's content, a right to reply or to request a correction, please contact the managing editor, Viv Regan.