The backwardness of Just Stop Oil
These art-gallery stunts have put the miserablism of green politics on full display.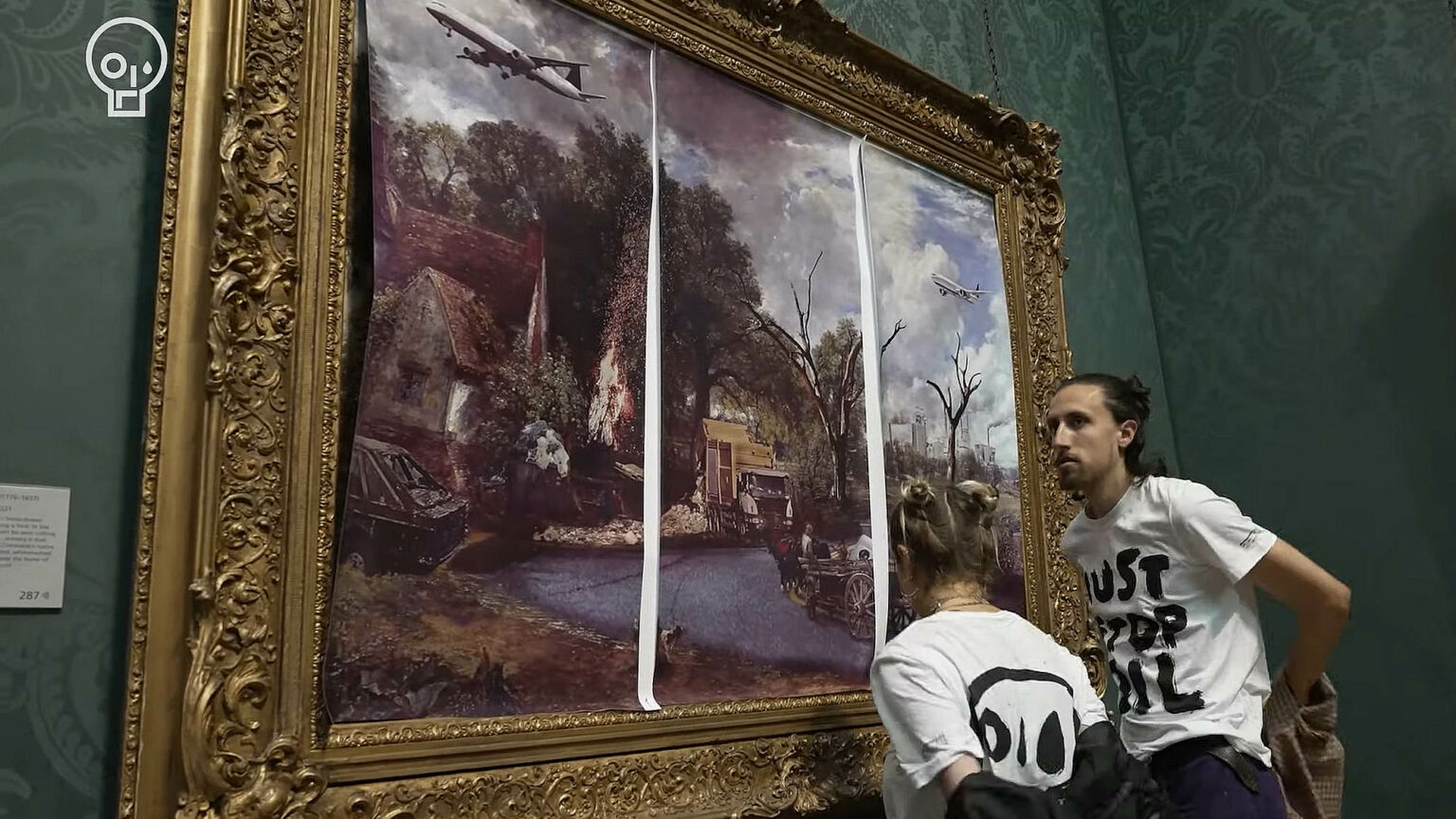 In their latest bid to force us all to pay attention to their demands, eco-activists from campaign group Just Stop Oil have come up with a new direct-action gimmick – glueing themselves to great paintings.
On Tuesday, protesters headed to the Royal Academy, and superglued themselves to a copy of Leonardo Da Vinci's The Last Supper. This followed a similar stunt last week at London's Courtauld Gallery, where protesters stuck their hands to the frame of Vincent van Gogh's extraordinary Peach Trees in Blossom (1889).
Media-grabbing direct-action stunts have long been eco-protesters' favoured way of imposing their unpopular agendas on the rest of us. This lot is no different. Just Stop Oil is demanding a complete halt to any new oil and gas exploration, which, according to one glum activist, amounts to 'a death sentence on future generations'.
Just Stop Oil activists have clearly decided that sticking themselves to cultural objects is a good way to make hectoring speeches and shoot viral Twitter videos without being dragged away by pissed-off members of the public (as happened to XR protesters when they tried to hold up London Tube trains in 2019).
Targeting cultural institutions has yielded results for eco-activists before. Regular anti-oil protests at the Tate, for example, seemed to prompt BP not to renew its sponsorship deal in 2016 (although BP blamed the decision on a challenging business environment). But that is not enough for the eco-zealots. Now they want art institutions to bow even further to their demands. 'If the directors of this gallery really believe that art has the power to change the world', said one activist at the Royal Academy, 'then I demand that they claim that power, close and refuse to open until the government commits to no new oil'.
These demands for art venues to commit to a green agenda are more than a little ironic. Many cultural institutions have already capitulated to the groupthink of environmentalist catastrophism, and have turned themselves into quasi-activist platforms. That is why Just Stop Oil targeted the old-fashioned, blue-rinse art venues of the Royal Academy, the National Gallery and the Courtauld. Most public art galleries elsewhere are already preaching the gospel of climate crisis.
Right now, for example, the Serpentine Galleries' 'Back to Earth' exhibition features artists, designers and architects 'responding to the climate crisis'; the Barbican's current show, 'Our Time on Earth', wonders 'how we can live on the planet in a way that doesn't destroy the very ecosystems we need to thrive'; and Tate Liverpool's current exhibition, 'Radical Landscapes', is about 'activism, trespass and the climate emergency'.
There is a reason why many art galleries have become mere mouthpieces for such one-sided alarmism. It is easier to pontificate about the climate collapse from the safe space of art galleries and social media than to engage with the public directly. After all, climate protesters know that their shrill demands are unpopular – not least because we are currently having to deal with the disastrous consequences of following the Net Zero agenda, in the shape of rocketing fuel prices and a cost-of-living crisis.
Art galleries should be free to show whatever art they choose. And if they want to show art that addresses big social issues, that's fine, too. But they should admit that there is a democratic debate to be had on the challenges of climate change, and that those with the shrillest voices do not necessarily have all (or any) of the answers. After all, it takes only a few moments reading Just Stop Oil's manifesto to realise how confused it is. It states that to end fossil fuel use by 2030 'will require massive investment in clean technology, renewables and energy storage'. But where will the energy and materials to build all that technology, insulation and storage come from, as fossil-fuel supplies totter and prices soar? Just Stop Oil has no answers.
But then Just Stop Oil isn't really interested in a rational, democratic and well-managed transition from fossil fuels to a more prosperous, more energy-intensive (probably nuclear-powered) society. It is really only interested in taking society backwards. It wants us to make do with less and accept eco-austerity.
On the same day as the Royal Academy superglue-action, Just Stop Oil's orange-clad doom-mongers were also at the National Gallery, gumming themselves to the gilt frame of John Constable's bucolic masterpiece, The Hay Wain (1821). Before they did so, they overlaid it with a photoshopped version, which showed the supposed horrors of modernity – rubbish trucks, smokestacks, tarmacked roads and, of course, jet airliners. That image captures what eco-activists think of modernity. They see all of the gains, from flight to energy production, only in terms of rubbish and pollution.
The Hay Wain is an apt choice for Just Stop Oil. It reminds us, despite its idyllic pastoralism, of what the world was like before the industrial revolution: parochial, small-minded, unproductive and labour-intensive. It was a world of short-lived lives, poverty and ignorance. And it is the world eco-catastrophists want us to return to. This is a vision we must reject.
JJ Charlesworth is an art critic and editor at ArtReview.
Picture by: YouTube / Just Stop Oil.
To enquire about republishing spiked's content, a right to reply or to request a correction, please contact the managing editor, Viv Regan.