A smoke-free England is an unfree England
Rishi Sunak's cigarette ban marks the final, depressing triumph of the nags and the killjoys.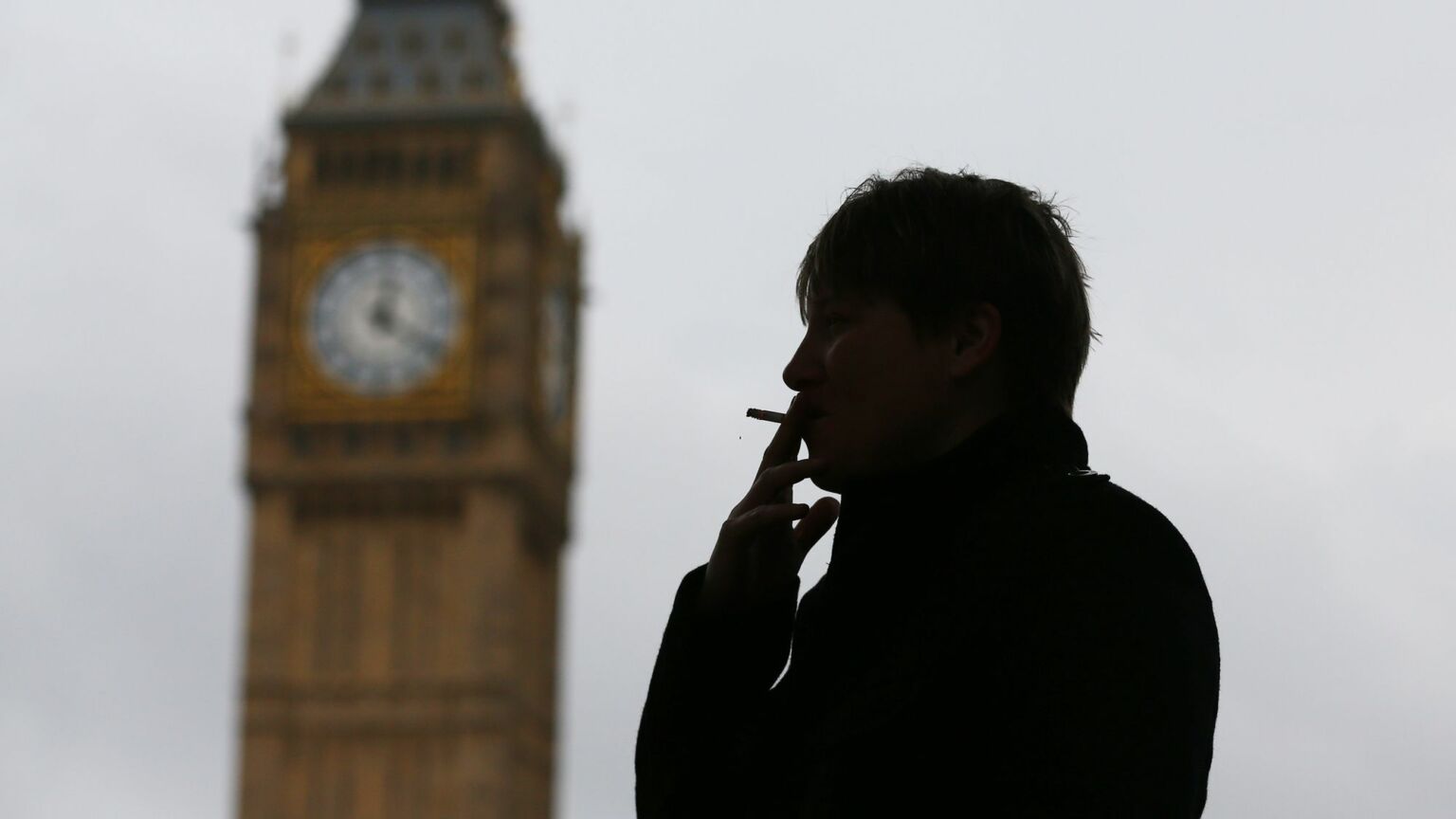 So now we know what Rishi Sunak stands for. Banning fags. That his big announcements from his Tory Party conference speech were abandoning a high-speed-rail project and ushering in the prohibition of cigarettes is a neat reminder that what technocrats like Sunak lack in political vision they more than make up for in petty authoritarianism.
In this, Sunak has proven himself yet another successor to New Labour – the party that relinquished control over the Bank of England only to seize control over pubs' smoking policies; which rescinded its responsibilities to manage the economy only to assert its right to regulate our lifestyles. That Sunak genuinely seems to see stopping today's young people from ever smoking as some sort of legacy speaks to how much politics has shrunk since the Third Way conquered all before it.
We can only hope the policy collapses under its own absurdity. Sunak, taking his lead from New Zealand, wants to usher in a kind of escalator to prohibition. The smoking age will be raised by one year, every year, ensuring no one born after 2008 will ever legally be able to buy cigarettes. So, a few decades hence, we'll be able to enjoy the spectacle of a 45-year-old begging a 46-year-old outside a corner shop to get him a pack of Rothmans. Mock-ups of 'Challenge 75' badges are already doing the rounds on social media.
Depressingly, prohibition is now firmly the direction of travel – and not just in this country. New Zealand, in a galaxy-brain move, is also radically reducing the nicotine content of cigarettes, at the same time as slowly raising the smoking age. Which might just be the dumbest idea public-health officials have ever come up with, in a very crowded field. Those hoping to get their hit of perfectly harmless nicotine will be able to inhale barely any, while still enjoying all that sweet, sweet tar, which is of course what actually kills you. It's essentially an incentive to chain smoke.
Who'd have thought prohibition would make such a comeback, 100 years after the Americans proved, so conclusively, what a dreadful idea it is? Well, anyone who has been paying attention. Despite the outright lies of the anti-smoking lobby this was always the goal. The writing has been on the wall since at least 2007, when New Labour introduced one of the world's most draconian smoking bans. It was never about protecting bar staff from second-hand smoke, as was claimed at the time. If it was, as Christopher Snowdon points out, the state wouldn't also have banned passengers from smoking on open-air train platforms – or workmen from smoking in transit vans, even when no one else was in them: 'Tobacco control isn't about tobacco. It's about control', he writes.
The smoking issue is where all parties' principles – and sense of proportion – go to die. If Labour returns to power at the next election, as is widely expected, we'll end up with 16-year-olds being handed the right to vote, but deprived of the right to ever smoke a tab. (Shadow health secretary Wes Streeting has been calling for a New Zealand-style crackdown for months.) Labourites think our spotty youths should be free to choose who to put in office, but not free to choose what to put in their own bodies. Smokers, at just 13 per cent of the population, are a minority whose rights Labour is apparently desperate to take away. Now, the Conservatives – the supposed party of personal responsibility – have beaten them to it, albeit with a free vote to assuage its handful of ineffectual libertarians.
The war on smoking has always been fuelled by two things. First, the triumph of illiberal liberalism over the British political class. John Stuart Mill has been junked. The great Victorian philosopher of liberalism said we should be free to say whatever we want and do whatever we like, provided our actions don't harm anyone else. Now, not only must we be protected from our own actions, but others must be protected from our hurty words as well. The second? Snobbery. The visceral disgust middle-class busybodies reserve for smoking only reflects their more general disgust for the people who tend to smoke – poor and working-class people whose tastes are apparently so ghastly they simply can't be allowed to satisfy them in peace.
That brief period in which the Tories seemed at least curious about becoming a more interesting, populist party – aimed at 'levelling' working-class people 'up' rather than just pushing them around – appears to be well and truly over. If, indeed, it ever really began. But something much more important seems to be over, too. Namely, an England of tolerance, of live and let live, in which we accepted that people are free to go their own way – perhaps even preferring pleasure over longevity, as much as that might appal the powers-that-be.
We're also losing the England of David Hockney, our greatest living pro-smoking advocate (and a pretty good painter, too), who should always get the final word on these matters: 'Longevity shouldn't be an aim in life; that to me seems to be life-denying', he wrote in UnHerd last year. 'Smoking for me is a deep pleasure and 1.1 billion people in the world seem to agree… But we need more people to defend it, otherwise the bossy boots will win in England.' This week, they finally did. And we're all the poorer for it.
Tom Slater is editor of spiked. Follow him on Twitter: @Tom_Slater
To enquire about republishing spiked's content, a right to reply or to request a correction, please contact the managing editor, Viv Regan.