The left will miss Rupert Murdoch
Who are they going to blame now for the world's problems – and their political defeats?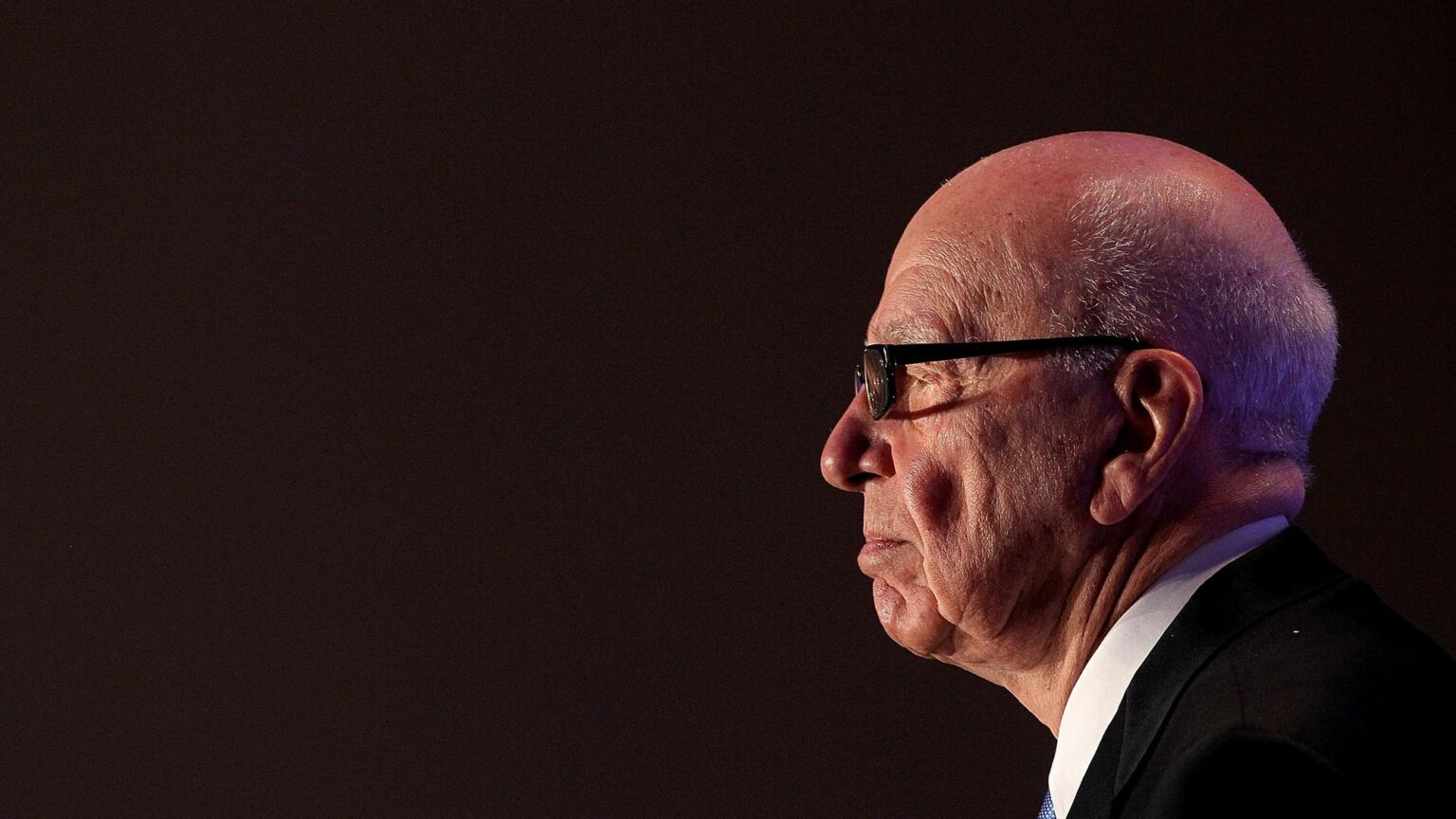 Rupert Murdoch announced late last week that he is stepping back as chairman of both News Corp and Fox. The media mogul's many enemies responded with a predictable snort, summed up by the verdict from the New Republic, house journal of the American left. 'Rupert Murdoch made the world worse', its headline declared, before wishing him 'Good riddance' and wringing its hands that 'there is no undoing the damage he has done'.
But make no mistake, most on the liberal-left will miss Rupert Murdoch. He is the hate figure that they have held responsible for most of the world's ills and for all their political defeats over recent decades. Who is the left going to blame for its troubles and strife if Rupert the Bogeyman is no longer around?
It would be hard to think of a crisis that has not been held to be Murdoch's fault. As proprietor of tabloid newspapers such as the Sun, the News of the World and the New York Post, and then of TV news channels Sky in the UK and Fox in the US, he has often been depicted as a sort of real-life Bond villain, somehow responsible for everything that has gone wrong in the world from the Iraq War to global warming. And he has been blamed for every big setback the left has suffered, from the Labour Party's string of electoral defeats to the vote for Brexit and the election of Donald Trump.
As an Irish Times review of the Rupert-phobic BBC's relentless hit job, The Rise of the Murdoch Dynasty, had it a few years ago: 'Don't blame Rupert Murdoch for Covid-19. But everything else…'
So, who are the left and the liberal establishment going to blame for all their troubles now? Or are they about the face up to their own responsibility for repeatedly losing the arguments and failing to build an effective alternative? Don't hold your breath.
Whatever anybody thinks of Murdoch, there is no doubt that he has been a pioneer and a catalyst in the development of popular journalism in both newspapers and television. And there is no word the woke elitists hate more than 'popular'. That's why they celebrated Murdoch's decision to close the Sunday tabloid, the News of the World, at the height of the 2011 phone-hacking scandal. Not because they were so outraged by claims of hacking (unless it was done to them), but because they would love to have seen every tabloid closed down. To these leftists, press freedom is nothing but a diabolical liberty.
Those who declare their hatred of the Murdoch-style, popular mass media are ultimately expressing their coded fear and loathing of the populace, the masses, who consume it. They believe that media barons such as Murdoch can fool the ignorant, gullible masses into doing and voting as they are told. Well, how else could you possibly explain why Labour kept losing to the Tories? (Except, of course, when the Murdoch press supported Tony Blair.)
It is telling that much of the left-wing press has long portrayed Murdoch as a 'puppet master' and accused him of manipulating our democracy. The left's derogatory view of the demos, the people, is made all too explicit here. Puppet masters, after all, can only really manipulate brainless wooden-headed marionettes that they dangle on strings.
Murdoch's enemies are now celebrating his resignation from various corporate boards as a sign of the decline and possible break-up of his media empire. See, they point out, didn't he have to sell most of his TV interests to Disney, because even a billionaire cannot compete with media mega-giants such as Netflix? But does anybody seriously believe that the new generation of woke media corporations has no political agenda, or does not hold its audience in contempt? That's considered okay, of course, because unlike the history-making Rupert Murdoch, these new media firms are on the 'right side of history'.
It might be hard to think of somebody as influential as Murdoch – still courted by wannabe political leaders such as Labour's Keir Starmer – as being an anti-elitist. Yet he is clearly on the outside of the woke establishment today. In the statement he released last week, announcing his 'new role', Murdoch pledged to be 'involved every day in the contest of ideas', at a time when 'the battle for the freedom of speech and, ultimately, the freedom of thought, has never been more intense'. The little-reported section continued insightfully:
'Self-serving bureaucracies are seeking to silence those who would question their provenance and purpose. Elites have open contempt for those who are not members of their rarefied class. Most of the media is in cahoots with those elites, peddling political narratives rather than pursuing the truth.'
Back in 1986, as a freedom-loving, young, left-wing journalist, I stood on the picket line outside Murdoch's Fortress Wapping, during the bitter industrial dispute in which he broke the power of Britain's traditional print unions (and introduced the modern printing methods that all of his critics and competitors soon followed). Some 37 years later, I have far more in common with the worldview expressed in Murdoch's statement than with the leftist elitists who have long since abandoned freedom of speech and thought. Of course, some radical cynics might claim that this is only because I have 'taken the Murdoch shilling' by daring to write for The Times and the Sun, and having my books on free speech and democracy published by HarperCollins. But then such truly money-obsessed cynics, as Oscar Wilde had it, know the price of everything and the value of nothing.
The coverage of Murdoch's semi-retirement has been full of too many clunky references to Succession, the hit HBO series about an ageing media mogul and his warring, brattish offspring. There is one scene from Succession, however, that sticks in my mind. When his son, Kendall, tries to deliver a moral diatribe about all the terrible, reactionary things that the father has supposedly done, Logan 'Rupert' Roy defiantly responds that, 'I am a great revolutionary!'. The real Rupert Murdoch has been rather more of a world-shaking revolutionary than the infantile Murdophobes whose idea of radical politics is to blame the bogeyman for their shortcomings.
To enquire about republishing spiked's content, a right to reply or to request a correction, please contact the managing editor, Viv Regan.