The cluelessness of Neil deGrasse Tyson
Why is the prominent astrophysicist in denial about biology?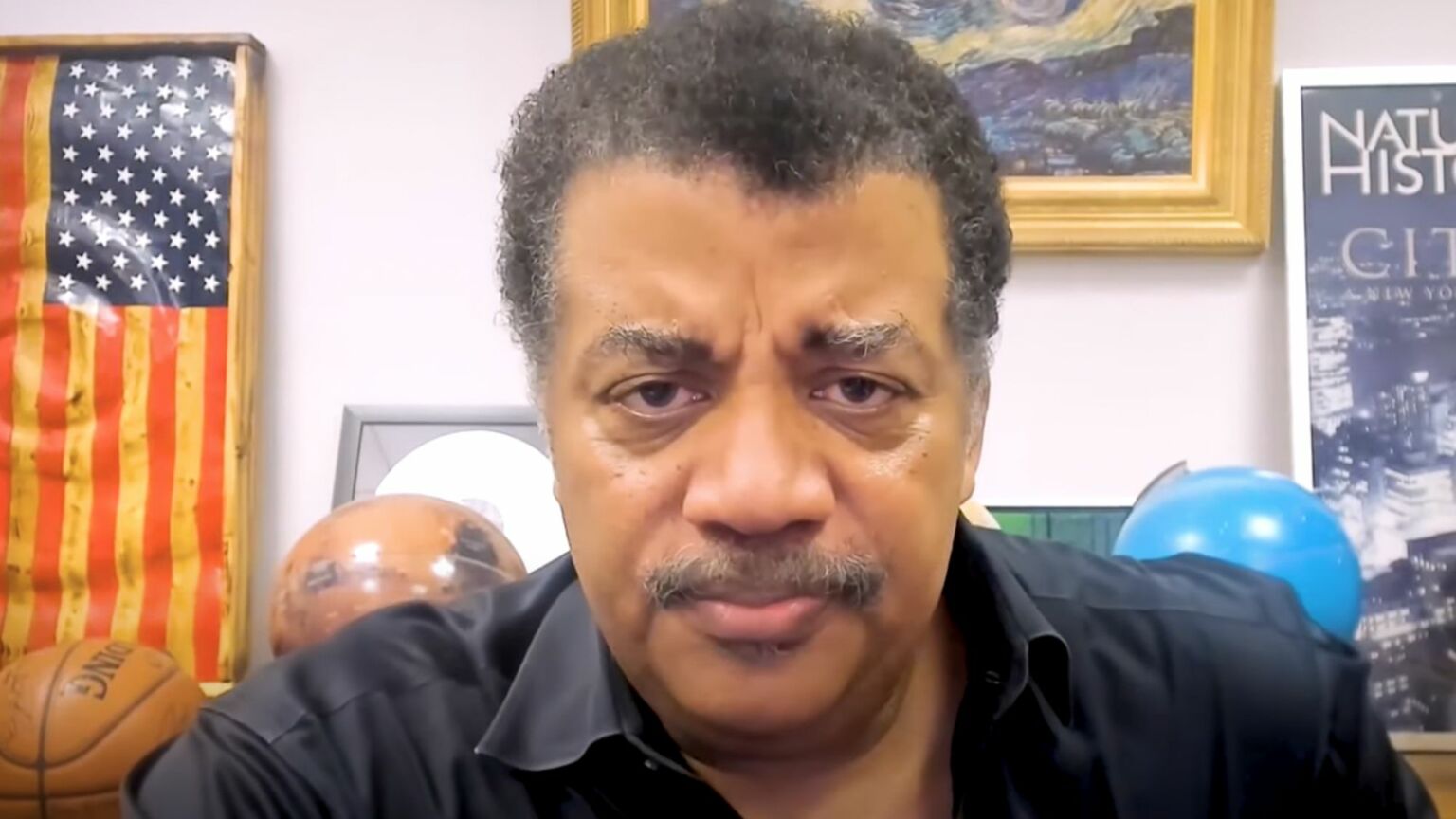 Celebrity astrophysicist Neil deGrasse Tyson spoke last week to the Triggernometry podcast. He sought to clarify certain controversial remarks he had made in a recent TikTok video about the trans debate. What he ended up clarifying, instead, was the degree to which either motivated reasoning or perhaps cognitive decline has impaired his ability to think.
There is a particular kind of American science populariser or (to use Tyson's preferred term) 'educator' that seems particularly prone to fall into this trap. They can often be identified by a waistcoat, or a quirky bow tie. A few years ago, it was Bill Nye the Science Guy. His Netflix series, Bill Nye Saves the World, featured a cringe segment about the gender 'spectrum', in which he insisted that sex is not binary (it really is). Even worse was the rap it included about 'sex junk' that precipitated a spike in eye-bleach sales that could be seen from the moon.
Prior to the Triggernometry episode, Tyson had previously suggested that gender is largely a matter of how you feel when you wake up in the morning. Tomorrow, he suggested, he might feel '80 per cent male'. It's also about how you choose to express that feeling to the world, such as through long hair and make-up, or by wearing a 'muscle shirt'. I certainly know how confusing I find it when my wife wears one of those.
This is all fine of course. One can disagree, but it's simply a question of re-defining the word 'gender' to refer to cultural semiotics rather than biological reality. It's wordplay.
The issue is whether this meaning of gender – as essentially signifying an inner feeling and mode of expression – should be regarded as the decisive one when using words like 'woman'. This then determines who has access to certain spaces, events, dressing rooms, shortlists or sporting world records that relate to that category.
My sense is that, as always, Britain was for many years operating a perfectly workable fudge on the trans issue, which was as invisible on a day-to-day basis, as was appropriate given the tiny number of individuals to whom it applied. A polite fiction was observed and, in return, no one pushed their luck. There would be the occasional person in a ladies' lavatory with unusually large hands, but no one was getting hurt.
The trouble started when someone decided to break cover and dash for the goal line, hoping to decisively touch down the idea that 'transwomen are women' once and for all.
Tyson seemed to think the trans debate was still just about the dressing-up box. But, as host Konstantin Kisin made clear during their conversation, no one wants to restrict what people wear. The point made by most critics of the trans movement is that protected sex-based categories have been established for good reasons. If these can just be sidestepped, like a legal Maginot Line, by the simple expedient of marching through the Ardennes of 'feelings' and 'self-expression', then that can do serious damage to society and to women's rights, in particular.
Confronted with these objections, Tyson blinked as if hearing them for the first time, like Trump hearing of the death of RBG. And then, as a man who has spent his entire adult life contemplating the vastness of interstellar space, he indulged in some good ol' fashioned American blue-sky thinking.
Why, he wanted to know, are we so defeatist and defensive about these problems? They are unsolved, but not unsolvable, he emphasised. All the debate requires is a little lateral thinking, he suggested. If we can put a man, of either sex, on Mars, surely we can overcome a few administrative wrinkles on Birthing Parent Earth?
He then gave his answer to the 'bathroom' conundrum, which involved removing the issue of gender altogether and for all bathrooms to become omni-gender. Ta-ra! Efficient, certainly. And I am sure this would work every bit as well as the ongoing project to eliminate shoplifting in many American cities by decriminalising it. (Another US innovation we seem keen to roll out in the UK.)
It was Tyson's reaction to biological men competing in women's sporting events that I thought most inventive, and which drew the most online attention. Here, he went the other way entirely. His solution was again to remove separation by gender, but instead 'slice the athletic universe' into any number of other intersectional categories. These might be based on hormone ratios, weight, age… shoe size, etc – almost anything but the one proven, easily identified and workable binary distinction between adults that has served us so well until now.
These new categories would, apparently, make sports fair once and for all – an insight gleaned from Tyson's days as a high-school wrestler, which operated using strict weight categories. This would be preferable, he said, to taking the 'older view of the world and [forcing the] modern emergent conduct of people to fit that'. The word 'people', there, is doing a lot of heavy lifting – one of the events that would be first to be sliced, presumably.
Tyson's proposal does certainly throw up at least one interesting question – just how 'fair' does sport need to be? We all enjoy seeing athletes that have combined good genetics with tough training regimes, endurance, courage and a soupçon of luck to become elite. We are aware that this process is not exactly 'fair'. The exact combination of factors varies depending on the sport. And not every inequality can be mitigated. But splitting humanity into two halves does at least increase the total number of those who might feel it worthwhile to compete, and those who are able to imagine themselves involved. It also minimises the number of women and girls in A&E on a Thursday afternoon.
Start teasing apart all those elements, and matching them up in order to eliminate 'luck' and make things 'fair', and you might very quickly salami-slice 'the athletic universe' into a discontinuous arrangement of individual events, winking in and out of existence, from which no sense of an actual sport would be discernible at all. One could have a series of swimming events, like boxing matches, substituting 'wingspan' for weight. Cyclists could be arranged into categories depending on the size of their hearts and their tolerance for pain. Rowers by just how boring they are in what remains of their social life. And so on.
The truth is we have perfectly good ways of categorising elite sports already. By sex, age and, when appropriate, weight. But that's pretty much all we need. It's the minimum number of slices that could be applied to sport to make competition meaningful, and to minimise fractures and concussions.
Speaking of which, might I gently suggest that Neil deGrasse Tyson report to his local A&E, ASAP? I think he might have had a bump on the head.
Simon Evans is a spiked columnist and stand-up comedian.
To enquire about republishing spiked's content, a right to reply or to request a correction, please contact the managing editor, Viv Regan.