Why can't Britain build anything?
Major infrastructure projects like HS2 are being strangled by our byzantine planning laws.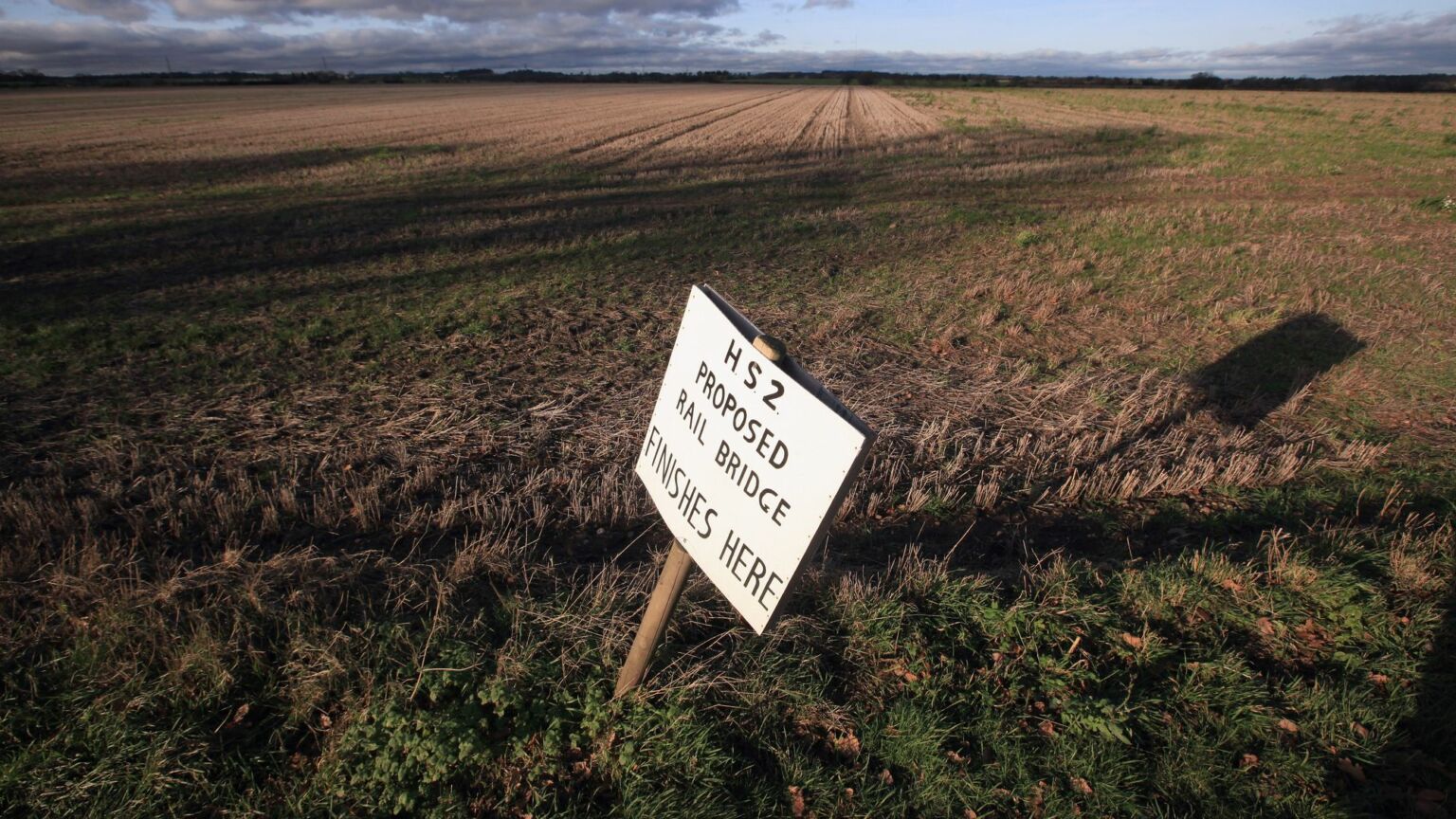 Britain's planned high-speed rail link, HS2, is under further threat.
The original plan was for HS2 to run from London to Birmingham in the West Midlands, and then to Manchester and Leeds in the north. There's not much left of that original plan. In 2021, the eastern leg connecting Birmingham to Leeds was abandoned on grounds of excessive costs. And it's now being reported that the government might soon scrap the second stage of the rail project, connecting Birmingham to Manchester, on similar grounds. This leg has already cost the state £2.3 billion. But scrapping it now could potentially save £34 billion in the long-run, apparently.
When HS2 first got the go-ahead in 2012, it was hoped that it would bring huge economic benefits to the long-neglected north. The fact that it will now likely never reach the north, let alone deliver any economic benefits there, is devastating. The management of the project has been atrocious. Never-ending delays have forced workers to bury two hugely expensive tunnel-boring machines. Uncertainty surrounding the project continues to put thousands of high-value manufacturing jobs at risk.
Sadly, what is happening to HS2 is all too typical of other infrastructure projects in Britain. Time and again, major construction schemes in the UK prove to be far more expensive and unwieldy than those undertaken by all other countries of comparable wealth and size.
Even the UK's successes fare badly in comparison with similar projects elsewhere. London's brand-new Elizabeth Line, for example, cost the taxpayer an astonishing £1.4 billion per mile. This makes it the second-most expensive metro system per-mile in the world, behind only the New York City Subway. It is six times more expensive per mile to build an underground line in Britain than it is in Spain – and it's twice as expensive to do so here than in France or Italy. And all three outperform us on rail electrification, which makes trains cheaper and more reliable to run.
So why does Britain find it so difficult to undertake large-scale infrastructure projects? Why are they so much more expensive than in other parts of the developed world? And why do they take so long?
The answers are complex. But the root of the problem lies in our byzantine planning system. From the Town and Country Planning Act 1947 onwards, local councils have assumed an ever greater degree of control over what can and can't be built. This hasn't just empowered bureaucrats with an aversion to urban growth. It has also increasingly empowered eco-zealots, allowing them to bog down infrastructure projects in constant consultations and interminable legal struggles over environmental regulations.
Take the Lower Thames Crossing, a road project connecting Kent to Essex, which is due to wrap up in 2031 at an estimated cost of £8 billion. The government has already spent a quarter of a billion pounds on the planning application alone. For context, that's more than double what the Norwegians spent to build the Laerdal road tunnel, the longest of its kind in the world.
There is, of course, nothing wrong with citizens wanting to preserve their local communities and using planning consultations to do so. But too often Britain's planning laws and environmental regulations cater to a dangerously narrow spectrum of interests. And so there comes a point when these laws and regulations stand in the way of anything getting built at all.
Sadly, the governing classes seem to have given up on building. UK prime minister Rishi Sunak scrapped local housing targets last December. Welsh first minister Mark Drakeford suspended all road-building projects in Wales two years ago. And now it seems that HS2 will barely extend past Birmingham, if it even gets there.
Yes, HS2 is a bloated, terribly managed project. It'll be a miracle if it ever escapes Greater London. But no one should celebrate its potential demise. It's a sign that, thanks to harsh planning laws and regulations, Britain isn't really building very much at all. That needs to change.
Thomas Osborne is an intern at spiked.
To enquire about republishing spiked's content, a right to reply or to request a correction, please contact the managing editor, Viv Regan.