There's nothing 'homophobic' about the word 'homosexual'
Owen Jones and his fellow gender cultists forget that biological sex is fundamental to sexuality.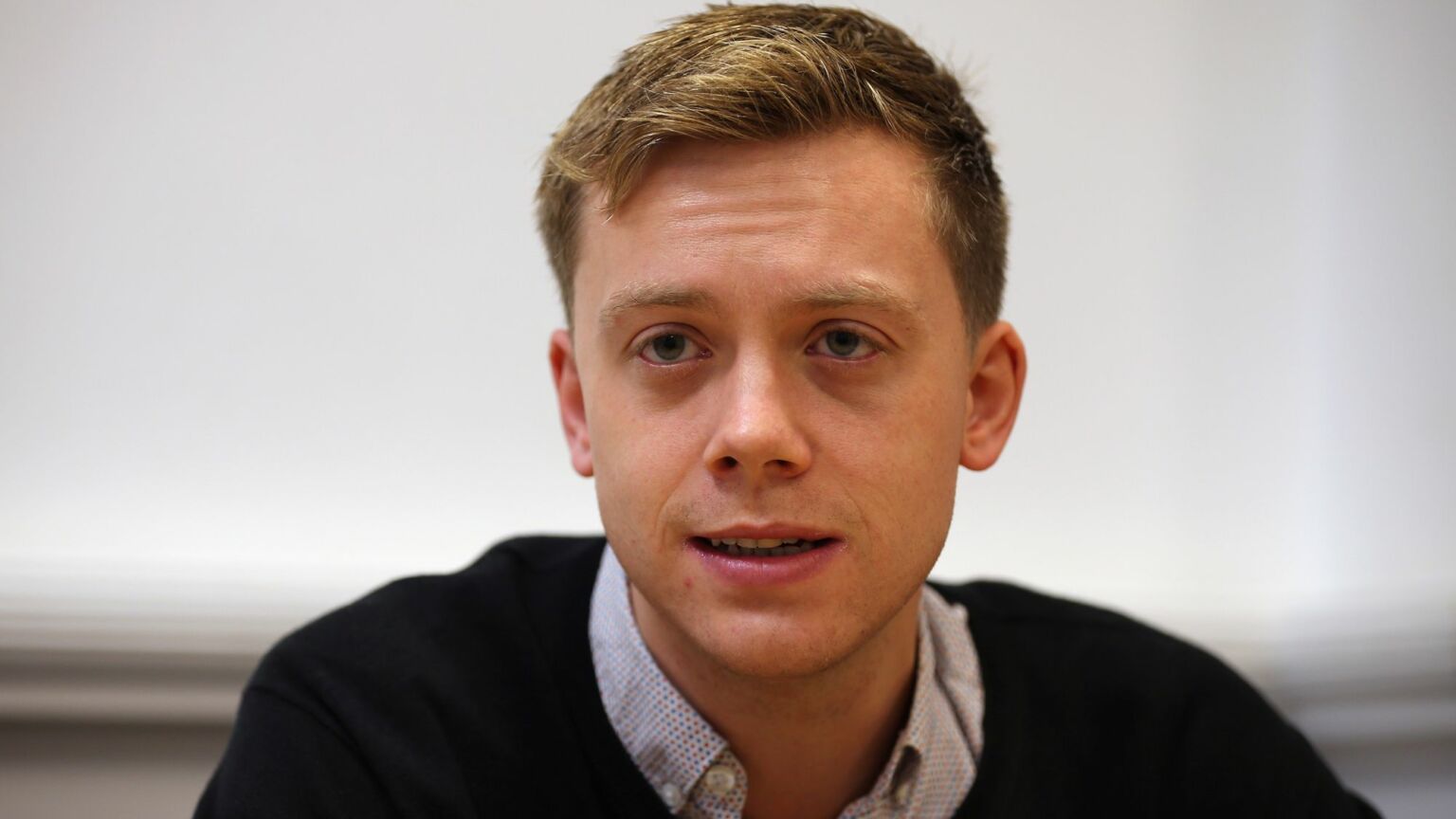 It is very irritating even to have to consider Owen Jones. He is best simply ignored. A left-wing friend of mine is convinced the Guardian columnist is a 'state asset'. I scoff at her confidence in this belief, but you sometimes have to wonder: was there a whispered approach during a bop one night at University College, Oxford back in 2004?
Because if you were tasked with undermining the British left, you couldn't make a better fist of it than Jones. He encapsulates all the worst stereotypes of the 20th-century bourgeois leftist – he's tribally blind, petulant, obsessed with lost causes, an apologist for tyrants, working from false premises for spurious reasons, forever sniping at middle-aged, gender-critical women while styling himself as a Sir Galahad.
Occasionally, Jones is instructive, however, and we can learn through him if not from him. This weekend was one such occasion, when he told the world through the medium of X (formerly Twitter) that 'someone who unironically describes gay people as "homosexual" is almost certainly homophobic'. 'Frankly, if anyone described me as a "homosexual", I would regard that as one of the most obvious red flags imaginable', he added in one of many follow-up posts.
Before I get to the substance of Jones's argument, a side issue. 'Homophobia' is the really infelicitous – one might almost say problematic – word here, rather than homosexual. It now covers, like its cousin racism, such a wide range of negative actions – from overlooking someone to murdering someone. 'Community' is another silly word. There is a homosexual population, yes. But the idea that we are a homogenous homosexual mass, popping in and out of each other's kitchens as we sing show tunes, is ridiculous. Nobody would refer to the 'heterosexual community'. Lil Nas X and David Starkey may both be gay, but they have nothing important in common. Strange as it may sound, homosexual men are very diverse in every way. It's almost as if we are like real people.
Now, Owen is partly correct when he says, 'There is a reason gay activists agitated for "gay" to replace "homosexual" – literally decades ago!'. This was because the word homosexual sounded medical and forbidding back then, and was used in the wording of unpleasant laws.
But some of us are being forced to use the term homosexual again now. This is because nobody in the 1970s ('literally decades ago') could possibly have anticipated that 'gender identity' could become a thing. Our ancestors surely cannot be blamed for this. They expected life in 2023 to be all cities on the moon, hover cars and silver hot pants, not Guardian journalists proclaiming that men can be lesbians or court reports using the words 'her penis'. They could not have known then that 50 years on the word 'gay' would be used to 'include' kinky straight men who enjoy gatecrashing lesbian bars, or straight women fetishising homosexual boys and men to the extent of wanting to 'be' them.
As Jones says: 'The only gay people trying to reclaim "homosexual" are doing so to exclude trans people.' Yes, it does exclude these people – ie, mainly straight men and women – from the wonderful world of homosexuality. It is quite astonishing to the aged like myself that straight people now want in on all the fun when they used to want to throw harpoons at us, but my point still stands.
Worse still, we now have the whole LGBTQetc alphabet to contend with. Amusingly, you will sometimes see individuals described as being 'LGBTQ+', or even describing themselves as such, for instance, as 'an LGBTQ+ man'. Can you be all of those things at the same time? This is a bit like describing a cow as 'a cow-horse-chicken-window-volcano+ bovine quadruped'.
Gay just won't do either. It has become a word that refers to a particular 21st-century cultural expression in the wealthy capitalist West. Homosexual is back, and today it sounds bracing and also quite naughty, sexy and brisk. Whereas gay has, as it always did, a feeble cadence, which lends itself to its retooling by noughties kids to mean pathetic or weak. Gay sounds flimsy and camp, because that's what it originally meant even before it referred to homosexuals. It reeks of Greenwich Village in March 1971. But that world, sadly, is gone.
The term homosexual is necessary again because it acknowledges the reality of sex and refutes the nonsense of gender. Because sex is important, and the differences between the two human sexes and the three human sexual orientations are important, particularly in the clarity of law. Even the Oxford English Dictionary has quietly shifted its definition of homosexuality back to the original form to acknowledge the importance of sex. It recently removed the last two words here: 'The quality or characteristic of being sexually or romantically attracted exclusively to people of one's own sex or gender.'
Yes, homosexual was the word once used by retired generals in nasty letters to the Daily Telegraph in 1970. But guess what, Owen, as your little tribe are forever fond of telling us: language evolves, babes.
Gareth Roberts is a screenwriter and novelist, best known for his work on Doctor Who.
To enquire about republishing spiked's content, a right to reply or to request a correction, please contact the managing editor, Viv Regan.