Would the law treat a 'TERF' so leniently?
The case of Sarah Jane Baker exposes the trans lobby's capture of the criminal-justice system.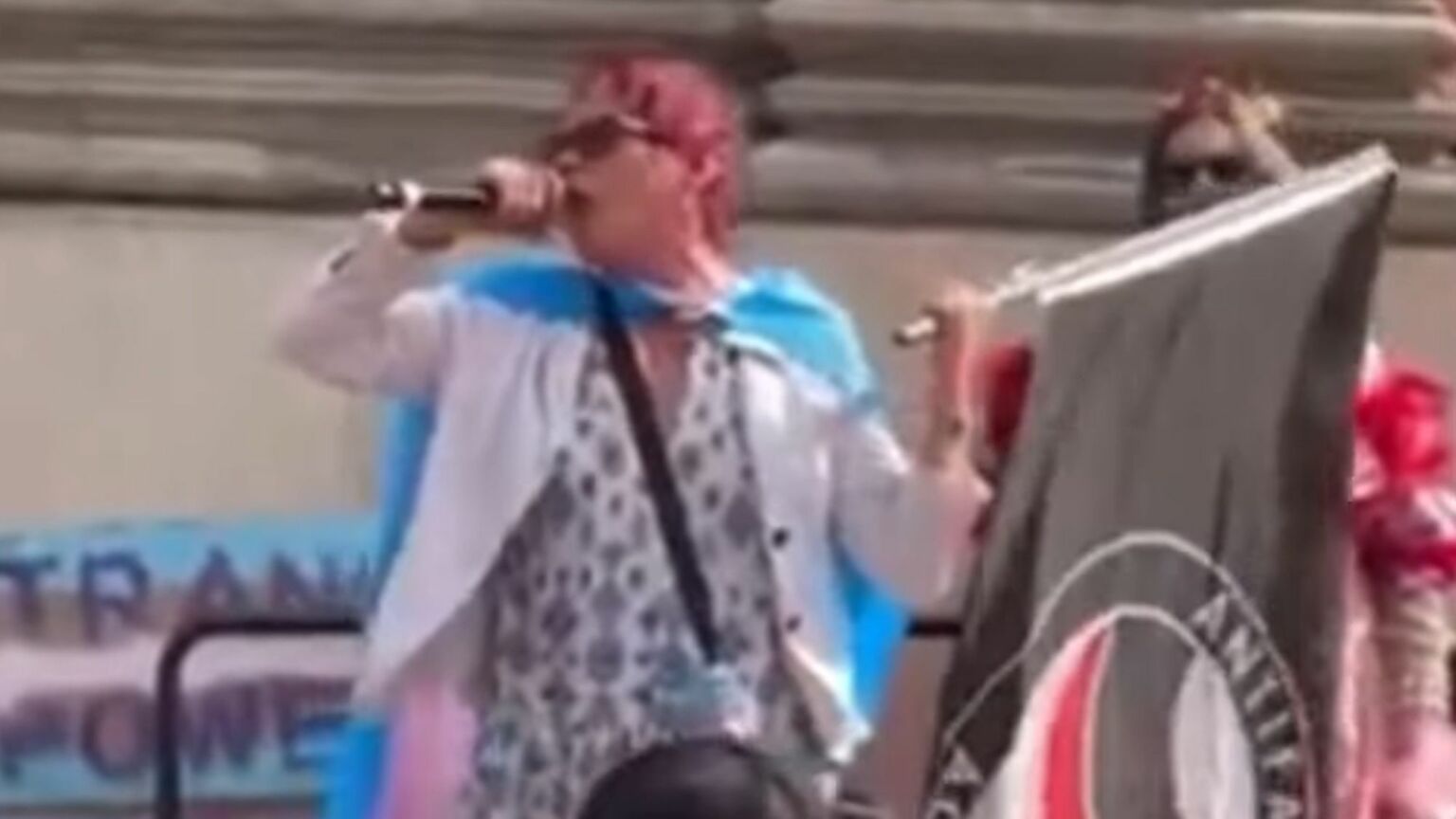 Back in mid July, the police charged transwoman Sarah Jane Baker with inciting violence. Earlier that month, Baker, who was out on licence while serving a life sentence for attempted murder, kidnapping and torture, took to the stage at the 'London Trans+ Pride' march. From there, the violent convict let rip: 'I was going to come here and be really fluffy, be really nice and be really lovely and queer and gay and laugh. But if you see a TERF [trans-exclusionary radical feminist], punch them in the fucking face.'
It was certainly a horrible, misogynistic speech. But last week, the City of London Magistrates Court ruled that it was not criminal speech. Deputy chief magistrate Tan Ikram accepted Baker's defence that he was only seeking 'publicity', not to encourage actual acts of violence against gender-critical feminists.
The verdict is no doubt the right one. The crime of incitement – of, in this case, 'intentionally encouraging the commission of an offence' – ought to be interpreted incredibly tightly, lest we further restrict free speech. Indeed, it would be useful to adopt the standard of the US Supreme Court, which defines incitement as speech both intended and likely to cause imminent illegal action. It's the act of telling someone holding a gun to kill someone. A speech act, in other words, that can be seen to clearly cause a violent action.
So, from the perspective of free speech, the sight of a British magistrate judging that this case of clearly inflammatory speech was not incitement is a welcome one. Or at least it ought to be. Because it's difficult to shake the feeling that if the defendant had said something similar about some other group – say, trans people – then the magistrate would not have been nearly so lenient.
After all, over the past few years, we've seen the UK's criminal-justice system move with uncharacteristic speed and efficiency to curtail and criminalise the speech of gender-critical women. We've seen these women arrested, detained and interrogated for hours over pseudo-crimes such as 'misgendering' or 'deadnaming' someone online. We've seen disabled women dragged through the courts for the heinous offence of distributing stickers asserting the biological truth that 'Women don't have penises'. And we've seen the police visit feminists in their homes merely for arguing that gender self-identification could be exploited by male sex offenders to get access to vulnerable women. Essentially, we've seen women persecuted by the law merely for speaking their minds.
Contrast the determination and alacrity with which the law pursues 'misgenderers', 'deadnamers' and 'transphobes' with the rather more relaxed attitude it has displayed towards Baker. (A man, it should be borne in mind, who is subject to a life sentence for the attempted murder of a fellow inmate he attacked while serving a prior sentence for kidnapping and torturing his stepmother's 19-year-old brother. In other words, a man with considerable 'previous'.)
Baker, remember, told a crowd, 'if you see a TERF, punch them in the fucking face' on 8 July. When a complaint about the speech was first made to the Metropolitan Police, a sergeant decided that a violent convict advocating violence against women didn't warrant any further action. In fact, it would take an intervention from the home secretary to prompt the police to finally take action four days later, on 12 July, when Baker was arrested and later charged. And now the laxness with which the law was enforced has now been matched by the leniency with which a judge has applied it.
The whiff of double standards is strong here. Even more so when one considers that Tan Ikram, the very same magistrate who cleared Baker of any speech crimes, was not so understanding when it came to West Mercia policeman James Watts. In June 2022, he found Watts guilty of sending grossly offensive messages by a public-communication network, after he sent a string of racist memes on WhatsApp. He gave Watts a 20-month jail sentence. Watts' messages were certainly vile. But then so was Baker's advocacy of violence against women who disagree with gender ideology, for which he got off scot free.
The Baker case reveals a justice system that is totally captured by the trans lobby. Despite Britain's draconian hate-speech laws, it seems that you can actually be as vile, hateful and violent as you please, so long as your hate is directed at an approved target – namely, those supposedly uppity women who are trying to defend their rights.
Tim Black is a spiked columnist.
Picture by: YouTube / the Telegraph.
To enquire about republishing spiked's content, a right to reply or to request a correction, please contact the managing editor, Viv Regan.