What the Burning Man 'emergency' reveals about the class divide
How did a handful of rain-soaked hipsters command so much more attention than genuine disaster victims?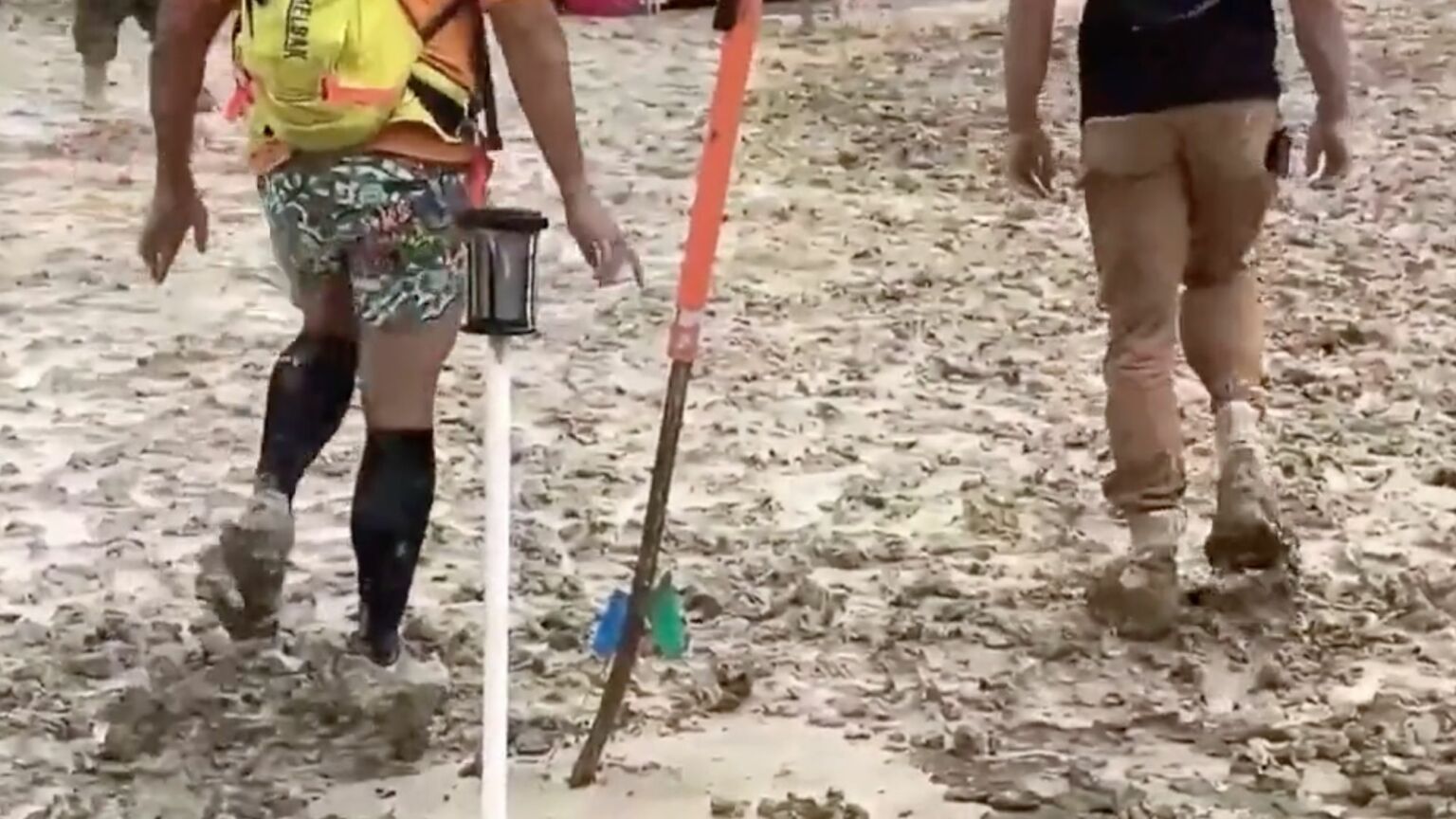 Finally, US president Joe Biden has found a crisis that actually interests him. A mass-emergency event has, perhaps for the first time in his presidency, managed to elicit a speedy response from the leader of the free world.
Was it a toxic train derailment that poisoned the water of a small blue-collar community? Er, no. Was it a raging fire that killed a still-unknown number of residents in a historical indigenous island community? Also no.
It was Burning Man – the orgiastic pilgrimage undertaken by Silicon Valley utopians, Instagram influencers and rich kids, and which has become something of an obsession among young people from the most privileged demographics in the Western world.
Burning Man has a sort of Mad Max meets OnlyFans aesthetic. It's a festival where tech bros and conceptual artists go in search of spiritual breakthroughs in the desert, and then post videos on social media saying things like: 'Shh! What you're about to hear may change your life forever. Whatever you think it is, it's more. Or it could be nothing at all.' Cool!
Last week, however, torrential rain transformed the event into a giant mud puddle, through which the 70,000 attendees could barely walk. Burning Man is usually known for a particular type of hedonistic partying that fancies itself as enlightened, in tune with nature and connected to a higher consciousness. Burning Man 2023 was more like a training exercise for the coming 'climate apocalypse' that its attendees are supposedly so worried about.
Thanks to the rain, Burning Man changed, at least temporarily, from techno-hippie playground to a locked-down mud wasteland, where people reportedly 'lashed out' at each other as they faced an eight-hour wait to leave (although two celebrities, Diplo and Chris Rock, managed to make a speedier escape by hitching a ride on the back of a pick-up truck).
According to the New York Times, the heavy rain began last Friday. Tragically, one attendee is reported to have died. Although, according to the local sheriff, the death does not appear to be weather-related.
Thankfully, President Biden had the situation fully in his grasp, and did not leave the nation in suspense as to what would be done with the tens of thousands of liberal concert-goers. On Sunday, as he was leaving a church service in Delaware, he was asked if he had heard about the situation at Burning Man. Pausing a moment to address the question, before stepping into his vehicle, he answered: 'Yes, we are in touch with the local people, [we are] paying attention, [we are going to] get everybody out.'
The contrast with past actual disasters could hardly be starker. Last month, weeks after a fire tore through the town of Lahaina on the Hawaiian island of Maui, destroying homes and killing scores of people, reporters asked Biden a similar question as he headed home from a day lounging on the beach. 'No comment', he replied.
I'm not saying that the president of the United States, especially not a man of the people such as Joseph Robinette Biden, would stoop so low as to pay attention to the middle-class professionals trapped for a few days in the mud, while ignoring working- and lower-middle-class victims of much bigger disasters. But it does raise awkward questions as to why Biden was so quick to reassure the nation over the fate of Burners – as devoted festival attendees are known – when so many questions remain unanswered about Hawaii, several weeks after the disaster.
Ten years ago, an emergency incident at a festival would not have been a political issue. The trapped attendees traipsing through thick, sticky mud to escape would have garnered some sympathy from the general public. But in these tough times, when ordinary Americans are struggling to put food on the table, there is probably not much sympathy to go around for attendees of a festival who seek 'purposeful discomfort', only to find precisely that on arrival.
These times being what they are, social media were abuzz with rumours about the 'real story' of what was happening at Burning Man. Conspiracy theories claimed that the camp was suffering an Ebola outbreak, and that government agencies were sealing the place up. Thankfully, for now, it seems like the worst that happened was a bunch of well-off kids got stuck in the mud for a few days, bravely making do with only spotty cell phone coverage. As it turns out, the Instagram influencers held up remarkably well.
Come to think of it, the floods at Burning Man are a pretty accurate representation of contemporary America. We may still not know how many Lahainians died, but at least most of the rich kids of Burning Man got out okay in the end – safe in the knowledge that the US president had their back.
Jenny Holland is a former newspaper reporter and speechwriter. Visit her Substack here.
To enquire about republishing spiked's content, a right to reply or to request a correction, please contact the managing editor, Viv Regan.