Canada's Orwellian assault on the past
The elites are rewriting history and could soon criminalise those who object.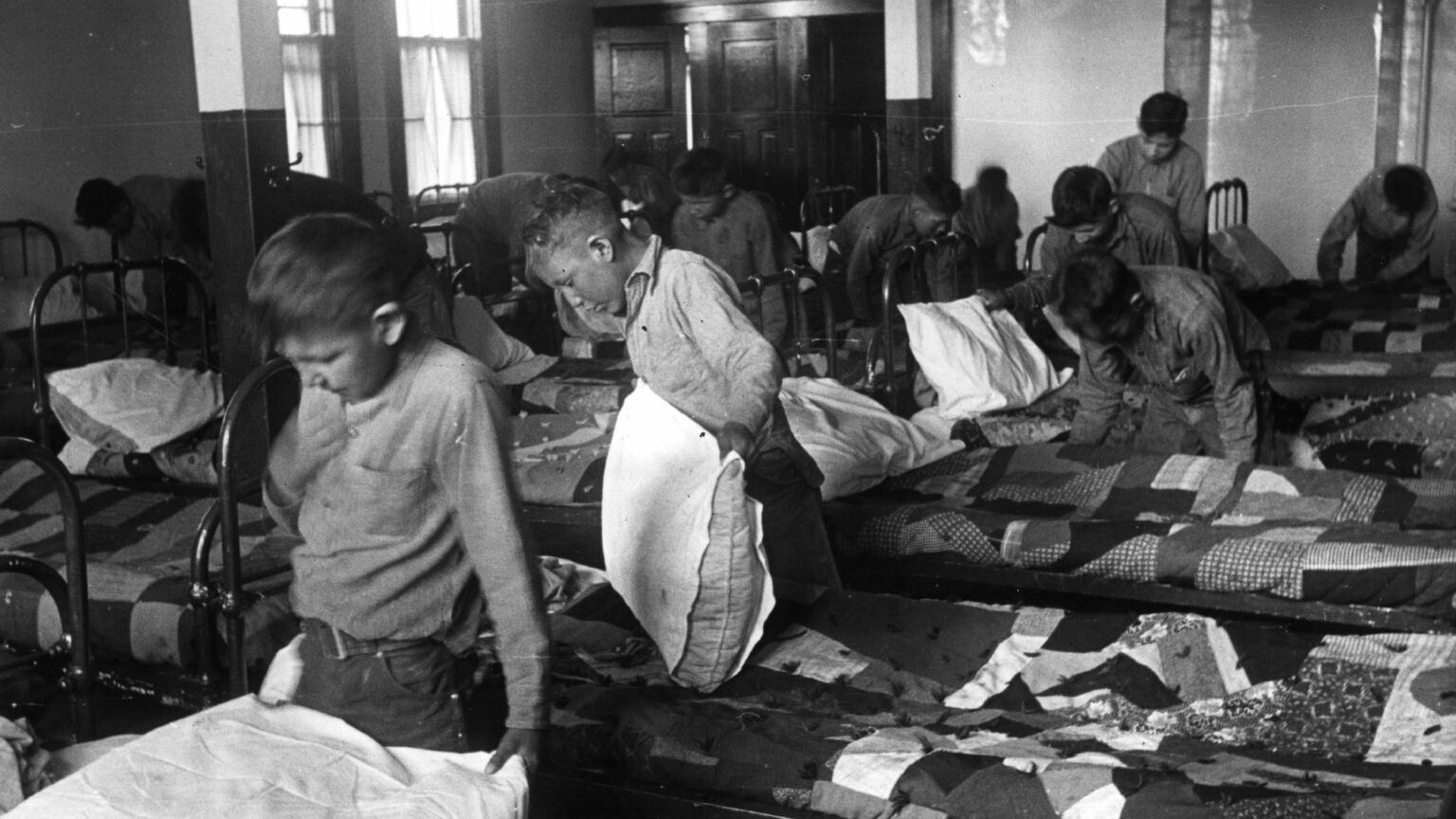 Two years ago, Canada was rocked by claims that mass unmarked burial sites had been discovered near its infamous 'residential schools'.
In May 2021, the Tk'emlúps te Secwépemc First Nation announced that ground-penetrating radar (GPR) surveys had revealed the unmarked graves of 215 children near the former site of the Kamloops Indian Residential School. Residential schools were set up in 1883 to ensure that Inuit and First Nations children were educated and assimilated into Canadian society.
The last school was closed in 1996. They had long been accused of mistreating their pupils. But the discovery of 'mass graves' suggested these institutions had been involved in crimes of a wholly different order. The Kamloops story understandably shocked the nation. Prime minister Justin Trudeau called on flags to be lowered, and for Canada Day to be used as a time for national reflection. Amnesty International demanded criminal proceedings. And China called for an investigation into human-rights violations against indigenous people in Canada at the UN Human Rights Tribunal in June 2021.
The story of the unmarked graves at Kamloops prompted further searches for unmarked burial sites near other residential schools. By the end of 2021, there were reports of hundreds upon hundreds of bodies buried near the sites of Brandon Indian Residential School, St Eugene's Indian Residential School, the Marieval Indian Residential School and the Kuper Island Indian Residential School.
But there is one big problem with all these reports. So far not a single body or set of remains has been found. According to one source, the 'mass grave' in Kamloops, which kick-started the scandal, is very likely to be a septic field. GPR surveys pick out regularly spaced soil dislocations. They cannot distinguish between a trench lined with clay tiles and a putative child's grave. Two years on, reporters now insert the term 'potential' before talking of 'graves of indigenous children'.
You could be forgiven for thinking that the absence of evidence might have prompted an interrogation of the residential-schools story. Or at least some self-reflection on the part of those who have pushed it so relentlessly over the past two years. But instead, politicians, academics and activists have doubled down on the claims. They are now accusing those questioning the reports of unmarked graves of 'denialism'. This is a blatant attempt to equate scepticism towards the existence of the mass graves with Holocaust denialism, which is against the law in Canada.
No one doubts that residential schools indulged in cruel practices. After 1920, these Catholic-run schools had taken to forcibly removing children from their parents. In some cases, they subjected them to abuse and mistreatment. But to claim that hundreds upon hundreds of children were slaughtered at these schools, and to provide no evidence for this, is a very different matter. It is right that these claims are questioned.
Yet Canada's political establishment does not want the claims questioned. It wants them accepted at face value, as truth. In October last year, Canada's House of Commons unanimously recognised the Indian Residential School (IRS) system as 'genocide'. Last month, a report from the Standing Senate Committee on Indigenous Peoples stated that 'denialism' is distracting 'people from the horrific consequences of residential schools, and the realities of missing children, burials and unmarked graves'. Chillingly, the report calls on the Canadian government to 'take every action necessary to combat the rise of residential-school denialism'.
Kimberly Murray, Canada's special interlocutor for missing children, unmarked graves and burial sites, has been especially forthright. In June, she attacked 'a faction of Canadians' that 'denies that the atrocities at residential schools ever happened'. She said that 'denialism is violence… denialism is hate', before adding: 'We must protect the truth.'
Elsewhere, New Democratic Party MP Leah Gazan has announced she wants to introduce legislation to outlaw denying the 'genocide' of residential schools. 'Denying genocide is a form of hate speech', Gazan declared. In response, justice minister David Lametti said he is open to 'a legal solution' to 'outlaw' questioning the residential-school narrative.
Those pushing the unmarked-graves story dismiss the absence of evidence as irrelevant. For instance, Sean Carleton, a historian and indigenous-studies scholar at the University of Manitoba, says that 'indigenous communities don't owe Canadians the bodies of their children'. He also calls on the media to 'cut off [critics'] oxygen', and to say: 'No, I'm not publishing that op-ed.'
The elites' response to those challenging the residential-schools narrative has been truly shocking. Two years on, there are clearly serious questions to be asked about the story. But rather than allowing an open pursuit of the truth, politicians, academics and activists are doing the very opposite. They are clamping down on dissenting opinions. And they're prohibiting any interrogation of the existing evidence.
This is a dangerous moment. In waging war on legitimate historical debate, Canada's elites are dismantling the foundations of a free society.
Kevin Yuill is the author of Richard Nixon and the Rise of Affirmative Action, published by Rowman and Littlefield.
To enquire about republishing spiked's content, a right to reply or to request a correction, please contact the managing editor, Viv Regan.