Labour's Eddie Izzard problem
Britain doesn't need another trans-activist MP.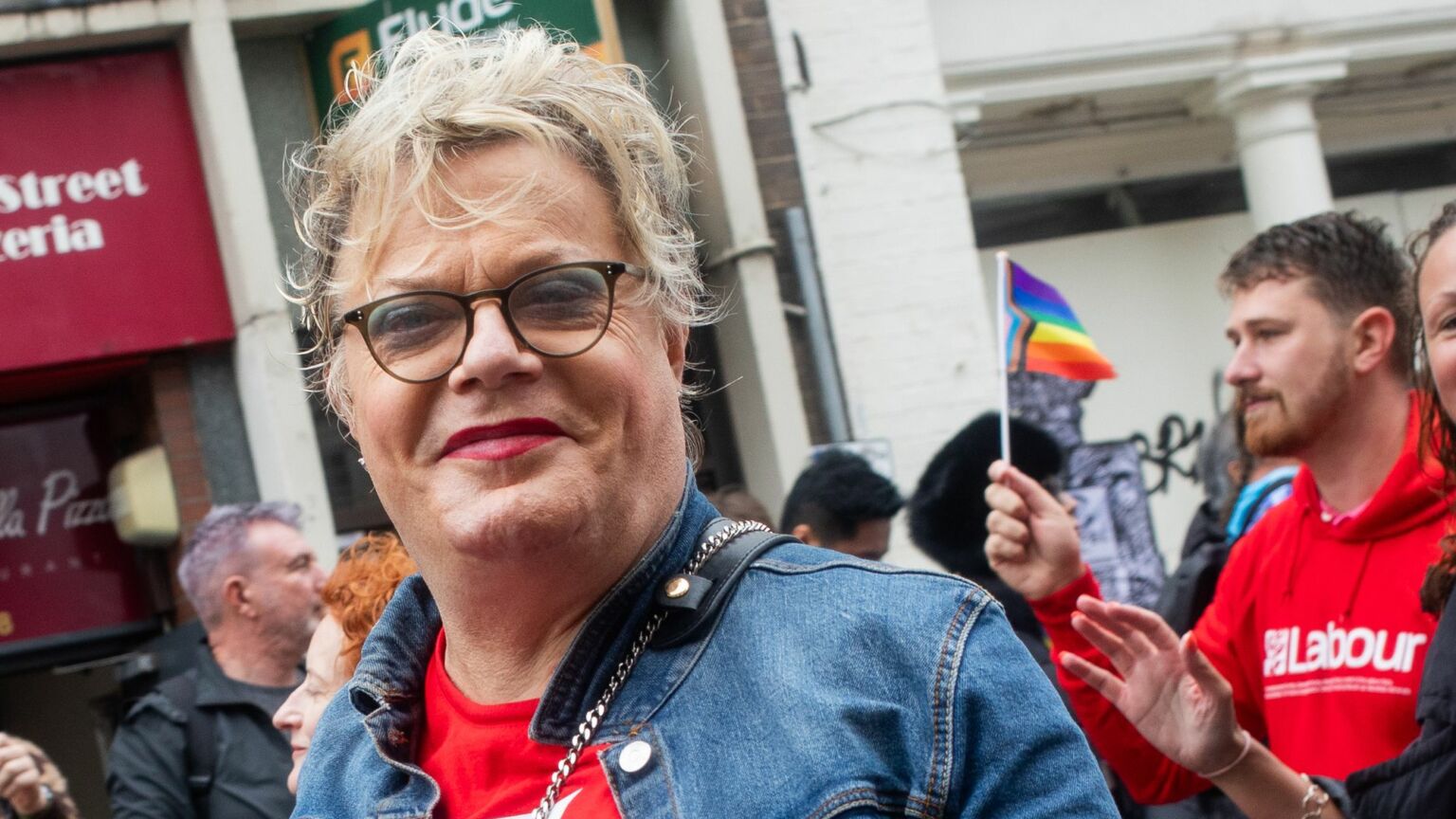 Eddie Izzard has thrown his trademark pink beret into the political ring again. On Friday, the trans-identifying comedian announced his intention to stand as a prospective parliamentary candidate for the Labour Party in Brighton Pavilion. This follows his failure to be selected for Sheffield Central last year.
It seems Izzard is so keen to represent Brighton that he has put himself forward even before the formal selection process has started. If he becomes the Labour candidate, he would be vying for a seat that's been held by the Green Party's only MP, Caroline Lucas, since 2010. (Lucas is stepping down at the next General Election.)
So why does Izzard think he's best suited to represent Brighton? In a campaign speech last week, he said that he is the 'latest in over 200 years of Izzards in East Sussex' and is proud of his 'roots' in the area. Tellingly, he claimed he had a similarly strong connection to Sheffield, having studied at university there. During last year's selection process, he explained that he wanted to 'support the city that has supported me'. It sounds as if his geographical roots are as fluid as his gender identity.
Should Izzard succeed in becoming Labour's candidate, this will launch a grenade into Labour HQ, reigniting a fractious debate over trans issues that leader Keir Starmer has tried desperately to put to bed.
Last year, Rosie Duffield, the Labour MP for Canterbury, said that she would rather be arrested than refer to Izzard as 'a woman'. In response, Izzard said: 'She has got to join the 21st century. She's got to catch up with the rest of us. The vast majority of the world is now moving forwards.'
Since then, the Labour Party itself has moved forward on the trans debate, just not towards Izzard's position. Two weeks ago, Starmer tacitly acknowledged that Duffield and other gender-critical feminists were right all along. He stated that a woman is an 'adult female' and ruled out gender self-identification under a Labour government. Having finally found the backbone to offend the gender ideologues with the truth, Starmer must have thought he'd be able to move on from the trans issue. But now, thanks to Izzard's political ambitions, the 'womanly willy' question will surely resurface to dog the Labour Party.
This is because Izzard is no longer the 'transvestite' he described himself as at the start of his career. Where he might once have cracked jokes about being a 'lesbian trapped in a man's body', he is now a deadly serious, full-on trans campaigner who identifies as a 'genderfluid transwoman'. In December 2020, Izzard announced he wanted 'to be based in "girl mode" from now on'. And he has recently started using the name 'Suzy' alongside Eddie.
Essentially, Izzard has transitioned from a carefree cross-dressing comedian to a scolding trans martyr. Rather than joking about his peccadillos, nowadays he tries to co-opt the pain of others to present himself as a put-upon victim. In 2016, he gave an interview to the BBC from a nail salon in South Africa, which he ended by quoting Nelson Mandela. As he spoke about the importance of having his nails done to his trans identity, he turned to graver matters: 'I've got boy genetics and girl genetics. We get obsessed by it in humanity… in Uganda they were trying to sentence people to death [for this].'
Of course, as is well known, the Ugandan state sentences people to death for being gay, which Izzard is not ('I fancy women', he explained in that interview). There are many genuine victims of Uganda's foul, homophobic laws. Not one of them is a straight British bloke with a penchant for skirts and nail varnish.
It is clear that Izzard now sees himself as a victim in all circumstances, even when he is clearly in the wrong. In his book, Believe Me: A Memoir of Love, Death and Jazz Chickens, he recalls going into a ladies' loo and encountering three teenage girls. The girls shouted at him: 'Hey, mate! Hey, mister!… Why are you dressed as a woman?' He says that he confronted and 'shouted' at his 'teenage inquisitors', at which point they 'screamed and ran off'.
Bizarrely, he seems to have shared this vignette in order to portray himself as vulnerable and brave. But most of us would recognise that it was the girls who were the brave ones here. They tried to set a boundary around a women-only space but were shouted at by a man for doing so. (Although, perhaps this thick-skinned lack of self-awareness makes him perfect politician material after all.)
The trans issue is not a trivial matter, as Izzard may soon discover should he ever become the MP for Brighton Pavillion. One of his potential constituents is a woman known as Sarah, who survived rape and childhood abuse. Last year, her request to attend women-only group-therapy sessions was denied by Survivors' Network, a Brighton-based charity. When she complained about the presence of a man at what she believed to be a women-only group, she was told 'we do not police gender' and was advised to seek support elsewhere. Except there was nowhere else in Brighton. So Sarah is now reluctantly suing the service. She has asked Izzard directly on social media for his views on her predicament, but he is yet to respond.
Should Labour end up with another trans-activist MP, this wouldn't just be a headache for Labour and Starmer. It could turn back the clock on women's rights and women's safety – just as it seemed that common sense was starting to win out.
Jo Bartosch is a journalist campaigning for the rights of women and girls.
To enquire about republishing spiked's content, a right to reply or to request a correction, please contact the managing editor, Viv Regan.