Eddie Izzard was born male and he will die male
It's time to stop playing along with the transgender delusion.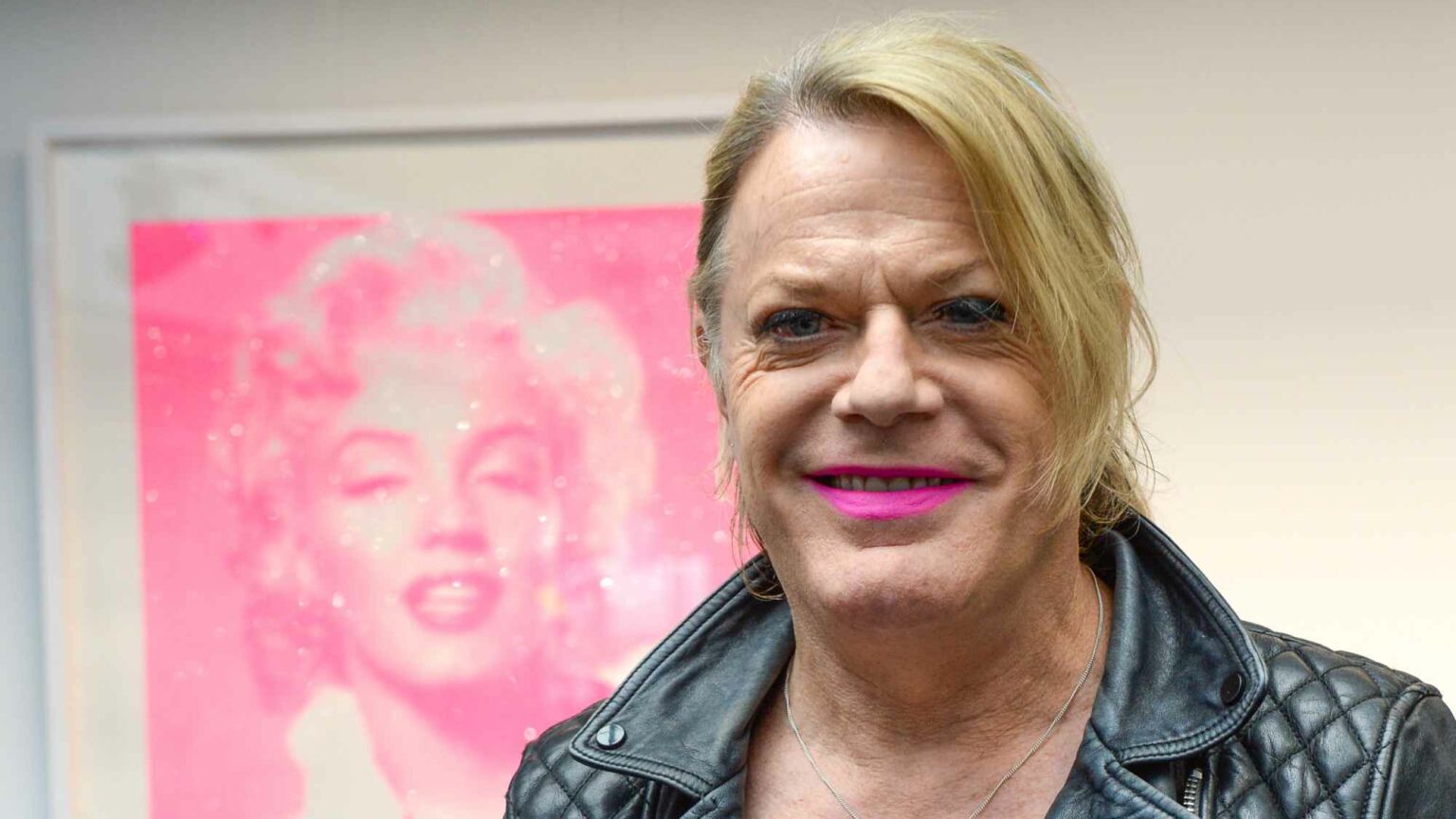 If you had told me five years ago that I would one day have to write an article explaining that Eddie Izzard is not a woman, I'd have thought you mad. And yet here we are, in 2022, so deep down the rabbit hole of gender insanity that it has become necessary to say that Mr Edward John Izzard, possessor of male genitalia, his entire body hardwired with the XY chromosome, is not a woman. He's a bloke. However 'fabulous' he might have looked in a 'floral dress' that 'flashed a hint of leg' at the premiere of that new biopic about Bowie – as the Express gushed – he's still a chap. No amount of pink lippy will change that. He was born male and he will die male.
Eddie Izzard is an adult human male. Every cell in his body is a dude's. If someone was to dig him up in a hundred years time and use his DNA to create a clone, guess what they'd end up with? Yep, not a she / her, not even a they / them (whatever that is), but a man. It has become necessary to say this because Mr Izzard now goes by the pronouns she / her (now that's misgendering), is widely referred to as female by the media, and has taken to using the women's loo. In short, trans lunacy now has such a chokehold on society and its institutions that all someone like Mr Izzard has to do is click his fingers and say 'I feel like a girl now' and the great and good will fall at his feet and intone: 'As you wish, Miss Izzard.' And in such unhinged circumstances, it becomes more important than ever to tell the truth. The truth in this case being that Eddie's a fella.
Izzard has been making waves over the past week for two reasons: first, because he wants to be a Labour MP, and second because he goes into women's bathrooms. A surreptitiously taken photo shows Izzard coming out of the ladies' loo at Crookes Social Club in Sheffield, where he was speaking at a Labour fundraising event. It's a shocking pic. We all know that men who fantasise that they are women go into women's bathrooms and changing rooms, pissing on the seat, freaking out young girls, and in some cases exposing their tumescent penises to unwitting women. What we used to call 'indecent exposure' but we now call 'trans rights'. But to see such an intrusion? Captured in all its shamefulness in a grainy mobile-phone shot? It felt disturbing.
That pic of Izzard leaving the ladies' made the obliteration of women's privacy by the delusional dick-swingers of the 21st century feel all the more real. It made me wonder what was going on in Izzard's brain as he took a leak or applied more blusher or whatever he was doing in that women-only space. Did it cross his mind, if only fleetingly, that it was morally wrong for him to be there? That women engaged in feminine hygiene might not want a bloke hanging about? Somewhere deep in his male soul he must know it is a deeply anti-social transgression for a man to go into a female WC. All men know this. A bloke can be absolutely hammered in a pub and still know that he mustn't set foot in the women's bathroom. That it would be a violation of women's freedom of association to behave in such a bovine fashion. That he would get it in the neck from the women therein and his own mates for committing such a sexist moral error. Has the man Eddie Izzard forgotten this?
Here's the thing: Izzard does know that blokes like him are not welcome in women's spaces. In his book, Believe Me: A Memoir of Love, Death and Jazz Chickens, he recalls the time he went into a ladies' loo in which there were three teenage girls 'smoking cigarettes'. The girls shouted at him: 'Hey, mate! Hey, mister!… Why are you dressed as a woman?' Good question. Izzard fled and the girls followed. He decided to 'confront' his 'teenage inquisitors' (you couldn't make this stuff up). He 'shouted' at them, at which point they 'screamed and ran off'. I think Izzard expects us to sympathise with him against the girls, but of course the girls were entirely in the right. They were reinforcing social boundaries and defending their right to privacy against a bloke dressed as a woman. And yet even after that episode, even after his presence in a female bathroom made girls scream, still Izzard invades women's spaces.
This is why the Izzard story matters. It isn't that he has forgotten the old social rules, prime among them being male respect for female privacy. No, it's that those social norms have been flagrantly, unforgivably sacrificed at the altar of gender identity. Female privacy, biological truth, even the sense of safety of girls – all now play a very distant second fiddle to the right of men to say 'I'm a lady' and to be treated as such. Mr Izzard's right to feel like a woman takes precedence over real women's right to live freely and privately. This is the trans ideology summed up – everything, the entire physical, social and scientific world, must be sacrificed to the therapeutic needs of men who think they're women. Sure, drunk blokes of old knew a woman's bathroom was a no-go zone – but today's blokes drunk on their own narcissistic and lunatic vision of themselves as 'women' recognise no such physical boundaries. How dare a social norm interfere with my gender expression?
That is what the photo of Izzard coming out of the ladies' really spoke to – that we now live in a world where validating the delusions of men is more important than respecting the reality of women's lives. The Izzard story captures how misogynistic the trans worldview has become. A couple of years ago he announced that he was switching to 'girl mode'. But womanhood is not a 'mode'. It is not a 'fashion or style in clothes, art, literature, etc', which is what 'mode' means. Womanhood is real. It's a biological, social, relational and cultural reality of which Izzard has zero experience. Imagine if a white man said he was switching to 'black mode'. We'd see that as offensive for sure. The media fawning over 'Miss Izzard' also exposes the sexism of the trans ideology. Not only do newspapers uncritically, bizarrely refer to Izzard as 'she / her' – they also obsess over 'her' apparently 'fabulous' dresses and boots and legs. He 'flashed a hint of leg', so he must be a woman! Remind me what century this is?
Then there's the fact that it's now a risky business for women to say 'Eddie Izzard is a man'. Labour MP Rosie Duffield has been getting sexist flak, yet again, for saying at a Labour fringe event last week that Izzard isn't a woman. Social-media snitches will grass on any woman who uses male pronouns for Izzard. These squealers are essentially pleading with the billionaire oligarchs of Silicon Valley to silence bitches who are disrespectful towards men. Because that's another thing the feelings of men who identify as women take precedence over now – freedom of speech. Enough is enough. Freedom is more important than Eddie Izzard's feelings. And that includes the freedom to correctly gender Mr Izzard as male, the freedom of women to have their own spaces, and the freedom of teenage girls to tell blokes like Eddie to fuck off out of their toilets.
Brendan O'Neill is spiked's chief political writer and host of the spiked podcast, The Brendan O'Neill Show. Subscribe to the podcast here. And find Brendan on Instagram: @burntoakboy
To enquire about republishing spiked's content, a right to reply or to request a correction, please contact the managing editor, Viv Regan.