America's racial politics has no place in British schools
UK primary schools are indoctrinating kids into critical race theory.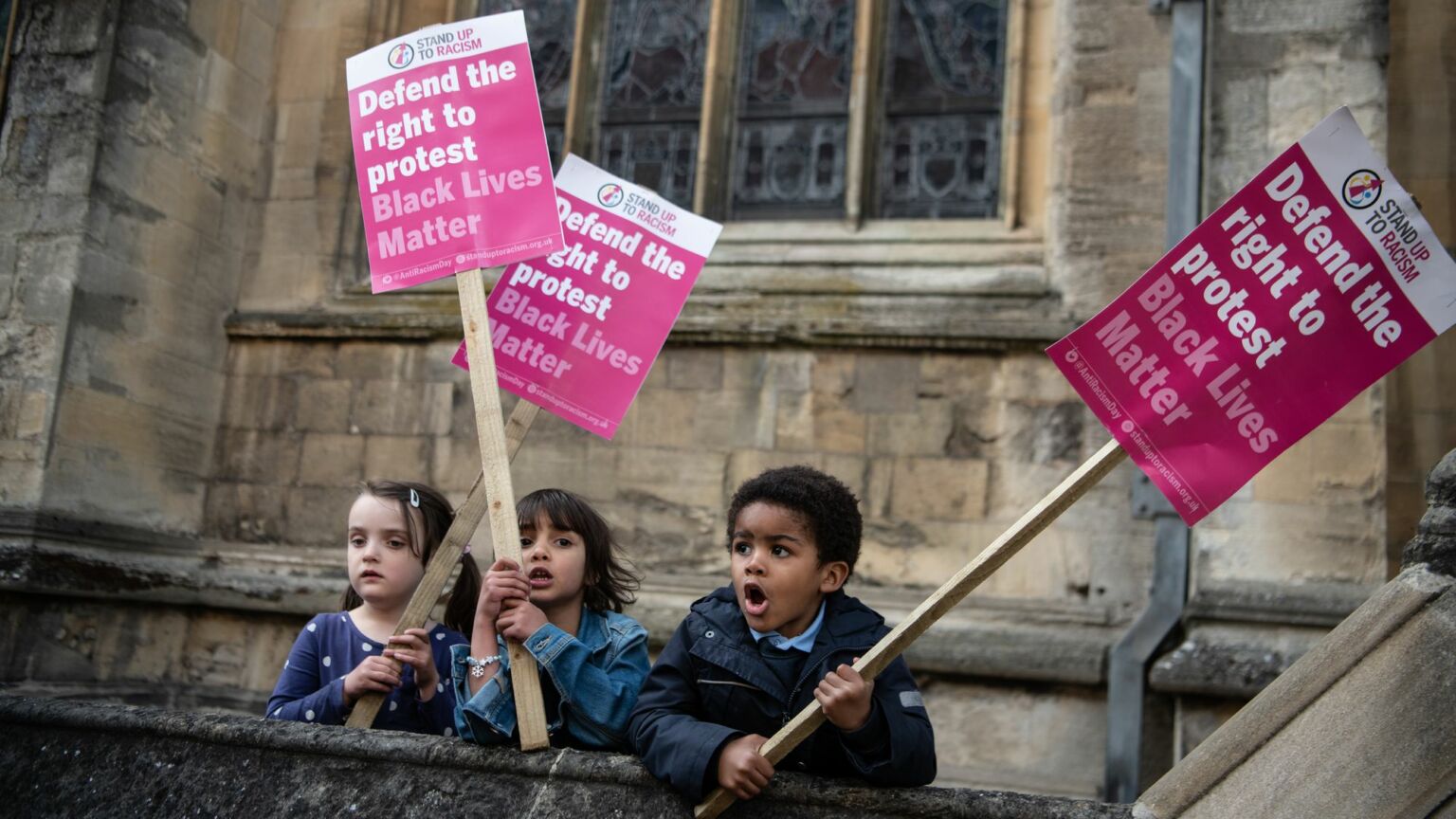 America's toxic racial politics is now finding its way into the British school system – including our primary schools.
According to a report in The Times this week, thousands of British schools have been given guidance and training tools on how to teach children to be 'anti-racist'. Materials produced by the Key, which works with more than 13,000 UK schools, encourage teachers to think that children are 'never too young' to talk about race.
Many of the ideas in the Key's resources are grounded in critical race theory. This is the theory that racism is deeply entrenched and institutionalised in Western society. For instance, the materials claim that all white children have 'white privilege', regardless of their class background. One of its infographics claims that white kids, including those as young as five, are 'strongly biased' to prefer their fellow white kids to children of other races. In contrast, other racial groups, such as black and 'Latinx' kids, display no racial preferences, it claims.
The word 'Latinx' gives the game away here. This gender-neutral form of Latino / Latina has been widely adopted in radical identitarian circles in the US. This is despite the fact that only two per cent of actual Latinos identify themselves as Latinx. In any case, unlike the US, the UK does not have a substantial Latino or Hispanic population. It is absurd to use such language in resources aimed at British pupils.
Shockingly, the Key is just one of many companies providing schools with so-called anti-racism resources that take their cue from US-style critical race theory. A recent report by campaign group Don't Divide Us (DDU) found that there are almost 50 such organisations operating in the British school system. DDU director Alka Sehgal Cuthbert has condemned the promotion of critical race theory in British schools, describing them as 'incompatible' with an egalitarian and democratic society.
Critical race theory emerged from US law schools, drawing inspiration from the Black Power and radical feminist movements of the 1960s and 1970s. At the heart of critical race theory is the belief that past racial injustices have not yet been overcome. Slavery and segregation, in particular, are said to still define the black American experience. What's more, according to advocates of critical race theory, policies and laws that are colourblind or race-neutral only serve to disguise racial injustice, empowering whites at the expense of African-Americans.
Needless to say, there is a great deal wrong with this theory. It treats black and white people as racial monoliths, dividing them into camps of 'oppressed vs oppressor'. By blaming all disparities between ethnic groups on racism, it ignores the influence of family background, migratory history and cultural values in social and economic outcomes. And in order to bolster the narrative of 'white privilege', it simply ignores the recent socio-economic success of many black immigrants to America, particularly those from west Africa.
In other words, critical race theory doesn't stand up to scrutiny even in the American context. It makes even less sense when applied to British race relations. For one thing, the UK has never had a system of institutionalised segregation. Even 80 years ago, Britons were opposed to racial segregation. When US troops were stationed at Bamber Bridge in Lancashire during the Second World War, attempts by American commanders to enforce segregation in the local pubs were met with fierce resistance. Britain had its own problems with racism, of course, but eliding our history with America's helps no one.
What's more, in British schools today, ethnic-minority students are thriving. Ideas inspired by critical race theory cannot account for the fact that multiple non-white groups perform better than their white-British peers in their GCSEs. And while American intersectionality views the 'white male' as the most privileged and advantaged group in society, white British boys actually have some of the lowest educational outcomes – especially in left-behind parts of north-west England.
Schools can and should play a role in building social cohesion and bringing racial groups together. But there are few worse ways to go about this than by importing divisive and toxic ideas from the US, and then teaching them as fact.
It is time to stop the rot – we need to kick critical race theory out of our schools.
Rakib Ehsan is the author of the forthcoming book, Beyond Grievance, which is available to order on Amazon.
To enquire about republishing spiked's content, a right to reply or to request a correction, please contact the managing editor, Viv Regan.