How the left learned to love the banks
The Nigel Farage banking scandal has exposed the 'progressive' left as the stooges of the elite.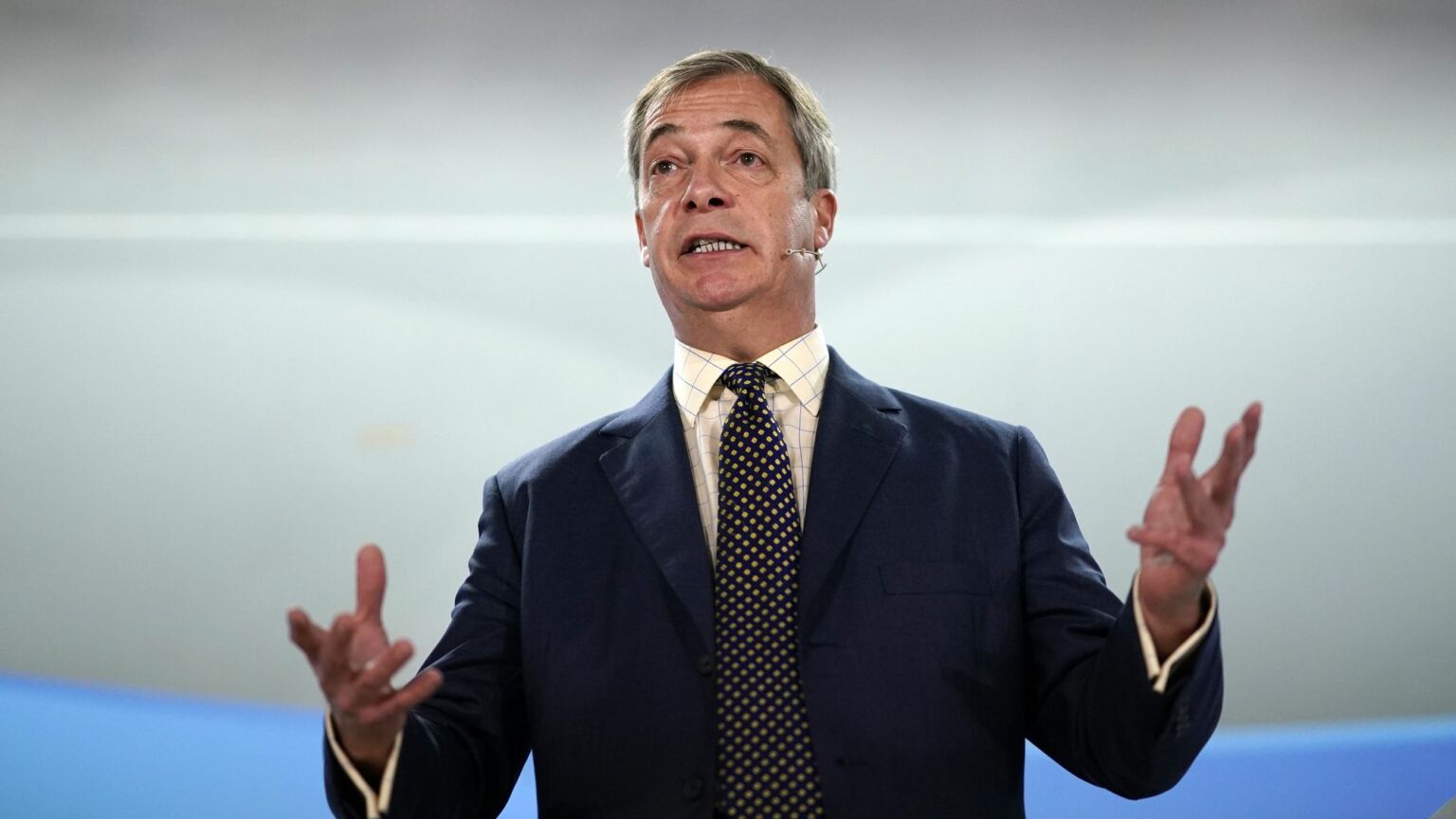 As the reaction on social media has suggested, and as polls have confirmed, those of a leftish disposition are far more supportive of Coutts's decision to strip Farage of his bank account. In fact, some on the liberal left see no issue whatsoever with banks discriminating against customers for their political views. Journalists, comedians and even Labour politicians have downplayed, mocked or sought to justify this act of corporate censorship. Those of a right-wing and small-c conservative persuasion, on the other hand, have tended to be far more critical of the Coutts's behaviour.
What a curious state of affairs. Today, it is self-styled 'progressives' who seem to be the most steadfast supporters of bankers, while those on the political and cultural right tend to be their greatest detractors. But this is no aberration. The Farage affair reflects a significant political transformation – namely, how the woke left has come to love global capitalism, and how conservatives have come to hate it.
This role-reversal has its origins in the 1990s, when a new variety of liberal-left politics took hold. This politics put aside questions of class conflict, and instead said that 'the personal is political'. This was reflected in the rise of political correctness and virtue-signalling. It has since evolved into woke politics, which has now become the dominant ideology among the establishment. It was only a matter of time before capitalists began to realise that there was money to be made from this hyper-progressive mood – hence the more recent emergence of woke capitalism.
Evidence of this was seen only a few weeks ago during Pride Month. Throughout June, every corporation was eager to display the Progress Pride flag – a symbol of fealty not so much to gay rights, but really to trans ideology. Coutts's Pride celebrations were especially enthusiastic. It adorned the entire front of its London headquarters in rainbow colours.
It was this corporate woke imperative that lay behind Coutts's desire to be rid of Farage. As a dossier compiled by Coutts staff confirmed, his 'publicly stated views' were at odds with the bank's 'position as an inclusive company'. Indeed, as a staunch Brexiteer and GB News presenter, he is the epitome of what the woke oppose. This is also why today's so-called progressives have been so supportive of Coutts against Farage. Many on the liberal-left regard tuned-in corporations as a bulwark against opinions they dislike.
How different things were only a few decades ago. The 1990s and 2000s, for instance, were characterised by anti-capitalist and anti-globalisation demonstrations throughout the West. Popular books, such as Naomi Klein's No Logo, captured the spirit of the anti-capitalist left around the turn of the millennium. Then, after the 2008 financial crisis, young leftish campaigners took to the streets to berate the 'one per cent' – those super-rich bankers who had crashed the global economy – on the streets of New York and London. Today's left-wingers, on the other hand, can't get enough of corporations, so seduced are they by modern capitalism's ostentatious woke protestations.
Meanwhile, many conservatives find woke capitalism exasperating. The fact that businesses have embraced this oppressive ideology has made capitalism appear aloof, if not downright hostile, to their concerns and interests.
Wokeness is not the only thing that has made the right more suspicious of capitalism, however. For traditional conservatives, capitalism in its positive incarnation meant – or ought to mean – your local shopkeeper, your local bank, run by businessmen with a stake in the community. But ever since capitalism went global in earnest in the late 20th century, it has become uprooted, remote and indifferent to local concerns. Capitalism today is run by and for the gilded 'Anywhere' class, as described by David Goodhart in The Road to Somewhere. The modern capitalist elites no longer have any allegiance or affection for their own countries, towns or cities. Nor do they have any obligations to their home nations, thanks to the opening up of global markets.
Conservatives now tend to associate globalised capitalism with jobs being outsourced abroad, with cheap labour undercutting wages at home and with the erosion of national cultures. The 'progressive' upper middle class, in contrast, rejoices at the arrival of cheap labour for their companies or their households.
This is why it's the conservative middle and lower-middle classes, and indeed the Brexit-voting working class, who are most suspicious of the capitalist elites today. They have been spooked by the Farage affair because it has exposed what they already suspected – namely, that members of our overclass have become a law unto themselves. That the elites are exerting their financial power to impose their ideology on the rest of us. And that basic democratic norms, like free speech, are being eroded as a result.
It is very hard to fathom what's 'progressive' about all that.
---
The whiteness of the woke
In our racially neurotic times, why is there no furore over the fact that Just Stop Oil activists all seem to be posh and white? This would be considered 'problematic' if it were any other group. There would be demands for quotas and for unconscious-bias struggle sessions. But here there is silence. The lack of diversity among eco-activists is not even discussed, let alone complained about.
Perhaps it's because this collection of irritating, posh, upper-class whites is precisely the same demographic that runs the BBC and staffs the Guardian. Maybe it's all too embarrassing for our media elites to draw attention to.
---
The debanking of Michael Garage
Michael Garage, broadcaster and former leader of the UGUV party, recently had his bank account cancelled by the PatWest bank. A source from the bank claimed it was because he didn't have sufficient funds in his account. But in this exclusive exposé of the dossier PatWest compiled on Mr Garage, we can reveal the real reasons why his account was closed.
First, as a youth, Garage used to voice his support for the reinstatement of the Austro-Hungarian Empire. PatWest found this 'unpalatable' and 'inappropriate'.
Second, during meetings at his local branch of the Habsburg Youth, Garage was taped singing such inflammatory pro-Austro-Hungarian songs as 'Mein schönes Krankenhaus' and 'Wo ist mein alter brauner Schuh?'. PatWest found this 'unwittingly Turkophobic'.
Third, while singing in German, Garage would often confuse his 'der', 'die' and 'das' – proof, said one PatWest insider, of his 'low-information brain'.
Fourth, at restaurants, Garage was overheard requesting 'serviettes' to accompany his 'tomato ketchup'. Verdict: 'Irredeemably suburban.' He would also ask directions for the 'lavatory', and rhyme 'hyperbole' with 'superbowl'. 'The essence of vulgarity', surmised PatWest. 'An odious little man.'
Fifth, Garage had suggested on television, in regard to the trans debate over toilet usage, that the solution was to introduce three categories of public lavatory: 'Men', 'Women' and 'Miscellaneous'. Also, his pet name for the Guardian opinion section was 'Komment Macht Frei'. PatWest judged his irreverent, knockabout humour to be 'unbecoming' and 'gauche'.
Sixth, when leader of UGUV, Garage would routinely exclude party members who weren't sufficiently Eurosceptic as they didn't 'align to the party's purpose and values'. PatWest found such exclusionary behaviour to be 'non-inclusive'.
Seventh, owing to his non-inclusiveness, which conflicts with PatWest's commitment to inclusivity, Garage had to be excluded. 'It's the only logical solution', the document said.
'What a wretched and peevish fellow is he', the bank's assessment concluded. 'A shower. An absolute shower.'
Patrick West is a spiked columnist. His latest book, Get Over Yourself: Nietzsche For Our Times, is published by Societas.
To enquire about republishing spiked's content, a right to reply or to request a correction, please contact the managing editor, Viv Regan.