Nigel Farage has landed a blow against woke capitalism
The Coutts 'debanking' scandal has exposed the authoritarian instincts of our capitalist elites.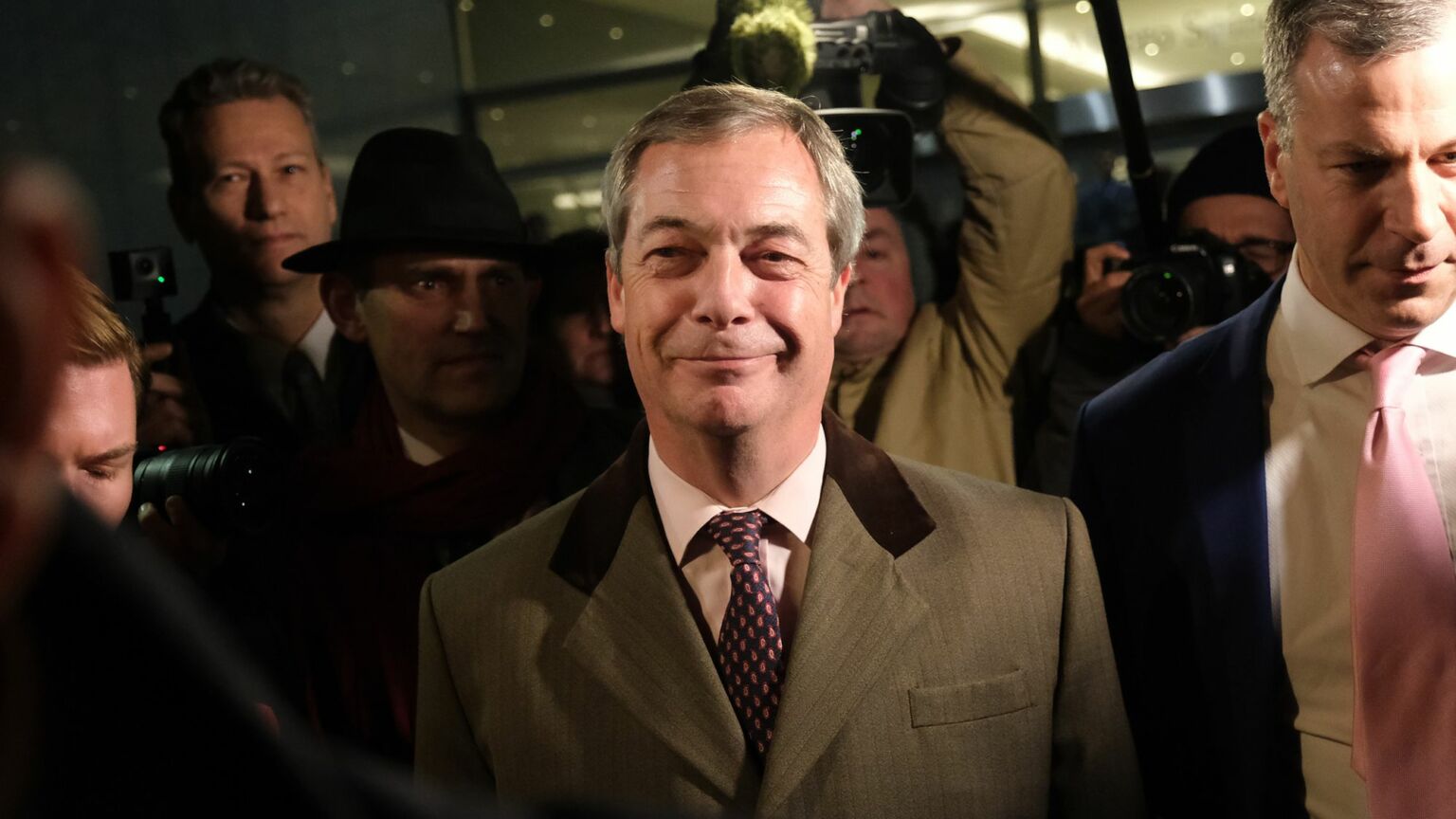 Dame Alison Rose, the chief executive of NatWest bank, has resigned. Having confessed yesterday to divulging Nigel Farage's private banking information to a BBC journalist, Rose initially appeared to have the backing of her board. But when government ministers expressed 'significant concerns' about her continuing in post, her departure became inevitable. NatWest owns Coutts, the exclusive bank where Farage held his accounts. And since a 2008 bailout, NatWest is 39 per cent owned by the British state, so the views of the Treasury matter.
The battle between Coutts and Farage shows us the problems that lie at the heart of woke capitalism. The fact that Rose's position was at first assumed to be safe, despite her having breached customer confidentiality in a spectacularly public manner, barely scratches the surface. Of far greater concern is the fact that Farage had his Coutts account withdrawn in the first place.
Last month, the GB News presenter and former Brexit Party leader announced that the bank he had been using for more than 40 years had closed his personal and business accounts without any explanation. Rose briefed the BBC, which repeated her misleading claims uncritically, that the decision to close his account was not political and he had simply fallen below Coutts's minimum wealth requirements. Then, last week, an internal dossier made clear the extent to which Farage's political views were being monitored and recorded by Coutts – despite those views being lawful and, in his backing for Brexit, having the support of a majority of the population.
Farage's case seems to be the tip of the iceberg when it comes to political bank closures. Since he went public, others have come forward to report similar treatment. There's the Reverend Richard Fothergill who responded to a request for customer feedback from the Yorkshire Building Society by saying he disagreed with its promotion of transgender ideology during Pride month. He was told his views were 'not tolerable' and that his account would be closed in 14 days. There were also the Halifax customers who were told last year that they could take their custom elsewhere if they don't approve of staff wearing pronoun badges.
In today's increasingly cashless society, losing your bank account is no minor inconvenience: it makes it almost impossible to live anything approaching a normal life. Being denied a bank account is a serious punishment and those running our banks know this. They clearly think that alongside looking after our money, their role is to act as moral arbiters policing the public's views.
This willingness to punish customers deemed to hold the wrong views casts a new light on the emphasis banks and other companies place on equality, diversity and inclusion. All the nice-sounding buzzwords and staff training courses seem designed to exclude those with the temerity to disagree with the establishment-approved outlook. Behind the rainbow flags and pronoun badges lies a ruthless authoritarianism.
We have got used to companies like Nike throwing themselves behind Black Lives Matter and cosmetics firms using bearded men to advertise their women's beauty products. We all know that businesses like Ben and Jerry's are as keen to sell virtue as ice cream. Yet the revelation that banks are more interested in pushing woke values than discussing interest rates seems to have taken some by surprise.
In truth, banks have long been a driving force of woke capitalism. This is not because they've been overtaken by pink-haired interns. The decision by Coutts to collect evidence of Farage's political opinions is symptomatic of a far deeper shift.
When making a profit is considered morally dubious, capitalists seek an alternative sense of purpose. Woke values provide a cut-and-paste framework that is useful to an economic and social elite. Woke ideas present themselves as 'progressive', but they pay no attention to class inequalities. In other words, rainbow bunting does more than make banks look pretty: it signals elite virtue while also, importantly, hiding a deeper economic malaise. It acts as a multicoloured sticking plaster on the insecurities that lie at the heart of today's capitalist class.
The problem we face is far worse than just hypocrisy. It's not that elite bankers don't really believe in, say, trans ideology. The problem is they do – even if it comes at the expense of making money. Coutts was happy to lose Farage's custom as doing so would allow it to maintain its aura of virtue.
By going public and pursuing his case, Farage has done us all a favour. He has exposed the hypocrisy of the rhetoric around 'ethics' and 'inclusion' that's now constantly employed by banks. He has shone a light on the cosy relationship between high-level bankers and BBC journalists. He has revealed the anti-democratic politicisation of the most fundamental parts of our daily lives. He has shown the banks to be at war with their own customers. And he has exposed the moral rot of those on the left who prefer to side with elite bankers than defend principles such as free speech and democracy.
Farage has dealt an important blow against woke capitalism. But it will take far reaching cultural and political change to fully turn the tide. One test will come next June. For Pride month 2024, will Coutts once again adorn its entire building in rainbow flags? I wouldn't bet against it.
Joanna Williams is a spiked columnist and author of How Woke Won, which you can order here.
To enquire about republishing spiked's content, a right to reply or to request a correction, please contact the managing editor, Viv Regan.