Barbie is a glorious hot-pink mess
Greta Gerwig takes on Woke Inc in the summer's most unlikely blockbuster.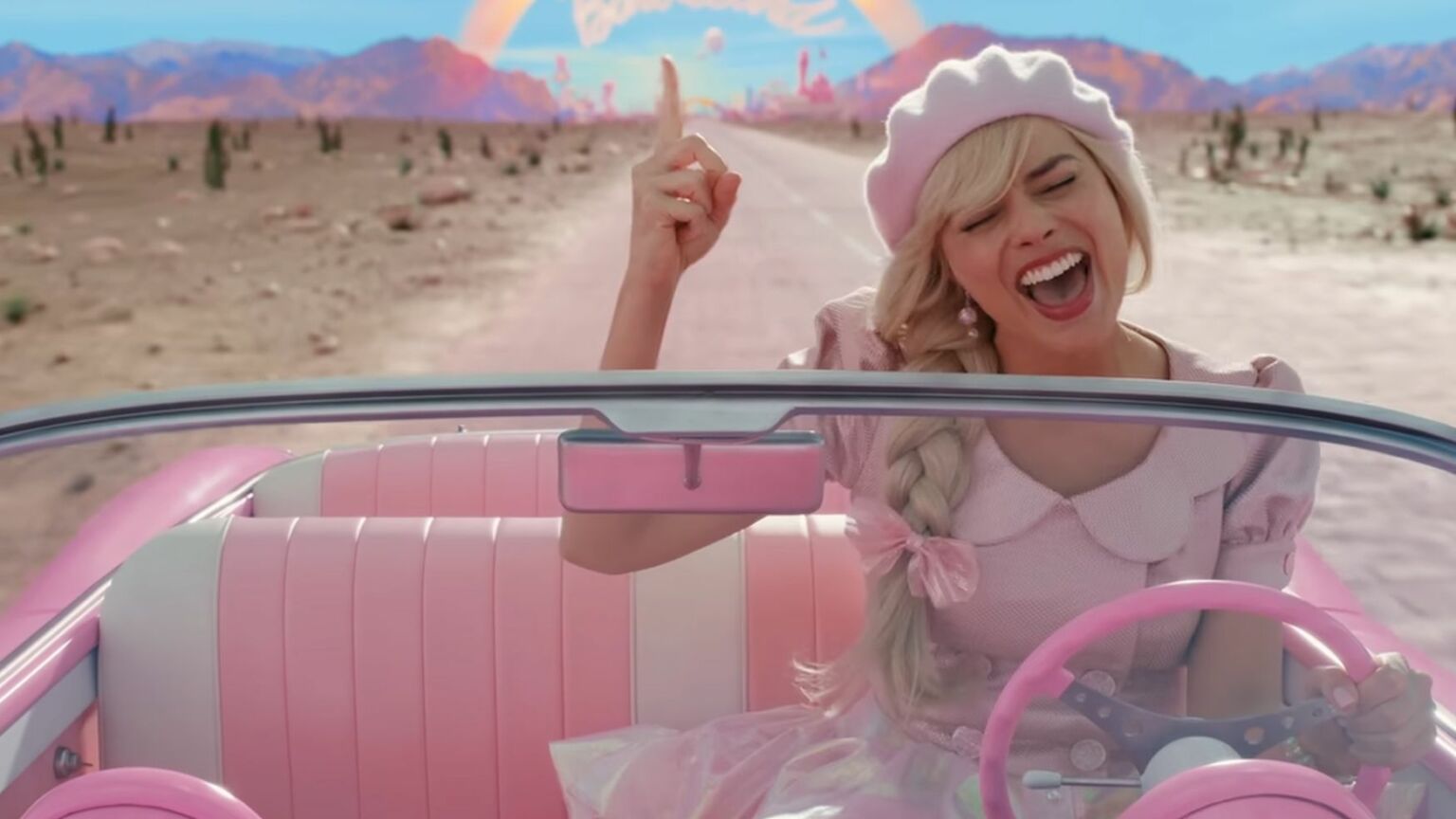 Heavily promoted months ahead of its release, Barbie has been a masterclass in luminous pink marketing. Above all, it was trailed as a toy-based blockbuster with a big difference. That difference being the presence of whip-smart indy director Greta Gerwig behind the camera.
Those worried that Gerwig might struggle with the happy-plastic subject matter needn't have worried. Barbie looks fantastic. The 'Barbie Land' sets are stunning – featuring a riot of intense, electric colour and shiny plastic. And then there is the 'stereotypical' blonde Barbie herself, in the dazzling human form of Margot Robbie. She gets the doll's glassy, Stepford Wife stare just right.
It's clear from the start this is not The Lego Movie. At the beginning, Gerwig draws attention to the cultural antipathy towards Mattel's now infamous toy. Helen Mirren's narrator tells us how the Barbie doll, this icon of 'consumer capitalism', has been blamed for 'holding back women for 50 years' – for reinforcing gender stereotypes and upholding impossible beauty standards. In the 21st century, the narrator tells us, 'everyone hates Barbie'. The plot then allows Gerwig to start taking apart this argument.
Barbie, you see, is suffering feelings of dread and anxiety. Her friend, 'Weird Barbie', a cartoonishly mutilated doll played by Kate McKinnon, says that these are human thoughts. To resolve them, Barbie will have to enter the parallel human world. And so Barbie, with Ryan Gosling's Ken in tow, does precisely that.
It's in this human world that Barbie meets the other chief protagonists: single mum and Mattel admin assistant Gloria, played by America Ferrera; and Gloria's stroppy teen daughter, Sasha, played by Ariana Greenblatt. And just to highlight the contrast with Barbie Land, Gloria and Sasha live in down-at-heel Santa Monica.
Gerwig uses Barbie's adventures in the human world to take on the key ideas of a certain stripe of feminism. According to this largely academic worldview, women are oppressed by their cultural and media representations and by 'gender socialisation', exemplified perhaps by the 'stereotypical' blonde Barbie herself. The solution according to this feminism is to diversify and change the media representation of women in order to improve their lives. Indeed, Mattel itself has adhered to this view, by moving beyond the blonde Barbie doll, and introducing doll lines featuring all ethnicities, shapes and sizes.
But Gerwig's Barbie subverts this view. Through its depiction of Gloria's struggles, it shows that it is material reality, not fictionalised representation, that is holding women back. In Barbie Land, the girl dolls are repeatedly smashing the glass ceiling. But this positive representation is not having much of an effect in the human world, where women are being held back by rather more mundane, material constraints. Barbie exposes the absurdity of demanding better representation of women in books, movies and TV, only for children to still find their mother doing all of the laundry.
The tension between the pink utopia of Barbie Land and the less-than-perfect human world also provides the opportunity for plenty of well-honed gags. In these moments, Barbie still feels like a Gerwig indy film, with wry, acute observations spun into very funny jokes. Anyone who liked Gerwig's Mistress America will enjoy the wit on display in Barbie, including the sly digs at Californian mores.
There are also timely pot shots at corporate woke 'values' and virtue-signalling. Radical identitarians are shown to be indistinguishable from corporate suits. At one point, the film even suggests that 'the patriarchy', as a catch-all explanation for women's struggles, is as fantastical as Barbie Land itself.
Gerwig clearly has a lot to say on the gender wars and identity politics. But, at points, she struggles to find a coherent way to express her ideas. While critics have argued that Gosling's Ken steals the show from Robbie's winsome Barbie, in truth, his Robin Williams-style Ken-ergy is often just distracting. Moreover, the narrative section that involves Ken discovering the patriarchy in the real world, and then trying to instate it in Barbie Land, is far too heavy-handed. At points, it threatens to capsize the film entirely.
Nevertheless, Barbie is worth watching. Smart and funny, and sometimes incoherent, Barbie is a hot-pink mess of a film.
Neil Davenport is a writer based in London.
Picture by: YouTube / Warner Bros. Pictures.
To enquire about republishing spiked's content, a right to reply or to request a correction, please contact the managing editor, Viv Regan.