It's a heatwave, not the end of the world
The truth is that global warming could be good for humankind.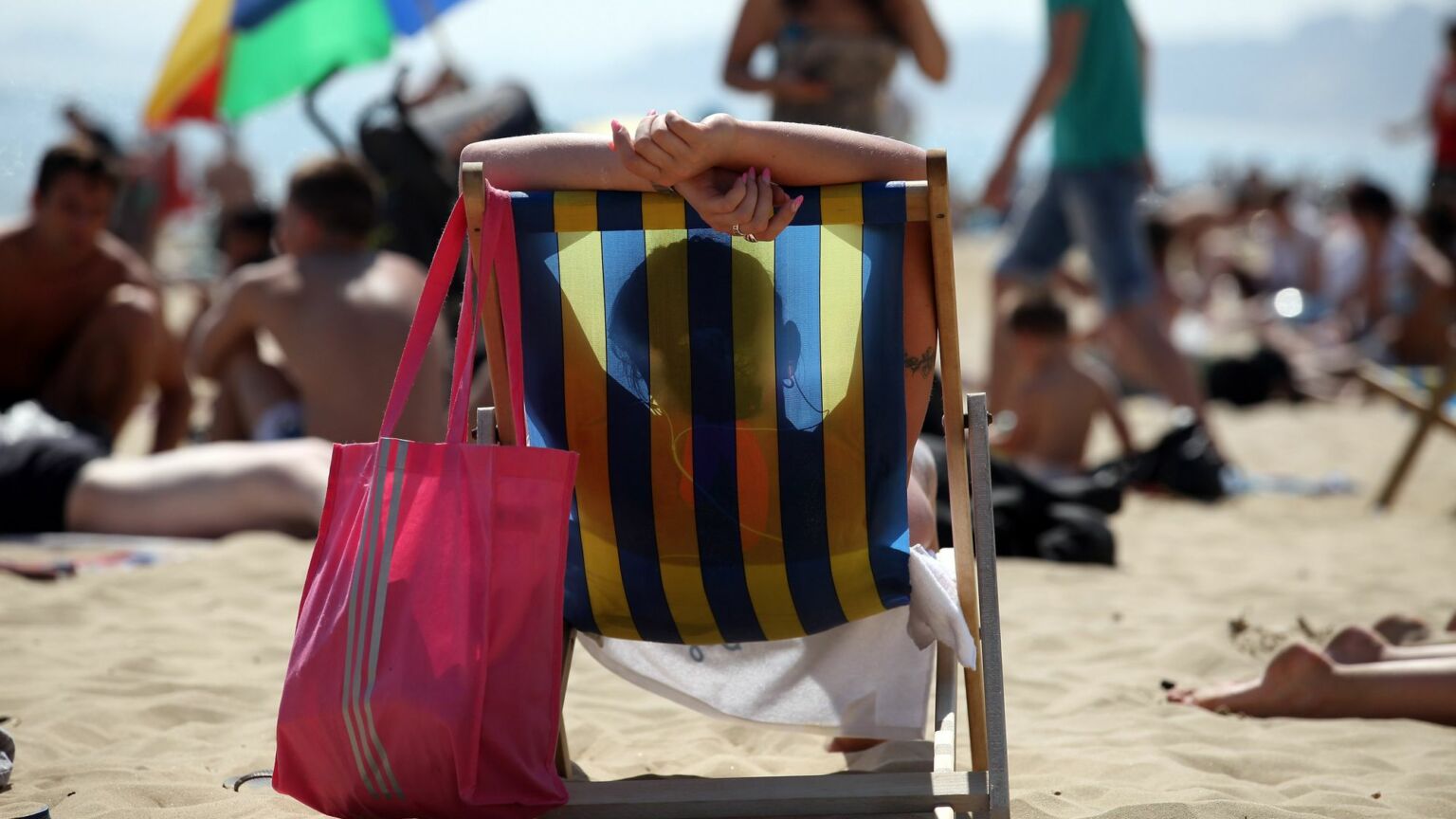 Hold the front page: it's hot in Greece. Italy, too. And – if you can believe it – in the south of Spain. Blaring sunshine on the Costa del Sol in the middle of July – will wonders never cease? Reading the newspaper coverage of this sunshine, you could be forgiven for thinking it was unheard of. That the Mediterranean had never sweltered before. That the streets of Athens and beaches of Alicante had never baked in the midday heat. 'Italy swelters', 'Holiday hell', 'Unbearable', scream the headlines, as if a most unusual calamity, unknown in the annals of time, had struck southern Europe.
Everyone needs to calm down. It's a heatwave, not the end of the world. Yes, it's hot. Temperatures are surpassing 40C in parts of Greece, Italy, Spain, Croatia and Turkey. It was 41C in Seville this week. It might reach 48C on some Med islands, including Sicily and Sardinia. 'Some scientists believe', says the Washington Post, that we're witnessing Europe's hottest days in 125,000 years. The last time it was this hot there were 'hippopotamuses in the Thames', says a breathless BBC. I'm taking it all with a pinch of salt. Right now I'm looking at a New York Times report from 8 August 1933 which said two cities in Spain had just experienced temperatures of 42.5C. It was like a 'steaming cauldron', apparently. Heat is as old as time.
Strikingly, that old New York Times piece was a tiny column on page 14 of the paper. Summer wasn't frontpage news in the early 20th century, no matter how hot it got. It is now. The totally dog-bites-man story of scorching weather in southern Europe is being reported in apocalyptic tones. The word 'hell' abounds. 'Deadly', too. It's an 'apocalyptic round of heat' and it's 'pounding the continent', says the Mirror. Europe is 'boiling in sweat', we're told. Not all of Europe. It's pissing down in Britain. Where's our global warming?
Even the name of the heatwave is designed to conjure up visions of hellfire and torment. Cerberus, it's called, after the three-headed hound from hell of Greek mythology. Subtle. Extreme storms tend to get normal names – Storm Doris, Hurricane Laura – but heat in July is named after a beast from the abyss. It makes it impossible to have a rational discussion. The name Cerberus cajoles us into thinking of the heatwave as a retributive inferno. 'Hound-from-hell heatwave sweeps across [Europe]', as one headline puts it. The language dictates the thought. Just uttering the name of the wave gives credence to the ahistorical idea that it's an End Times event. 'Cerberus's inferno', newspapers cry.
Indeed, in Dante's Inferno Cerberus torments sinners by tearing them apart. How apt. For this heatwave is viewed by our cultural elites as yet another of Mother Nature's punishments of sinful mankind. The melting temperatures are down to climate change, apparently, which is to say: it's our fault. Every heatwave in recent years has been interpreted by the hysterics of the misnamed intellectual classes as a 'heat apocalypse' brought about by man's hubristic industrial behaviour. '[It] seems like End Times – and it's our own damned fault', said one observer of the 'heat of late'. No wonder the mad dog Cerberus has come from the Underworld to boil us alive in our own sweat.
Every weather event now gets folded into the misanthropic narrative that says humanity has gone 'too far' and is being avenged by the Earth. Every flood, storm and rush of heat is marshalled to the neo-medieval claim that the heavens are divinely displeased with our marauding species. Weather is never just weather anymore. It's a portent, a sign, a lashing out. 'Nature is sending us a message', leading greens say. Nothing better captures the irrationalism of our times than the rehabilitation of the ancient belief that natural calamities are a punishing visitation from a higher force. God, Gaia, Cerberus – someone's reprimanding us.
Amid all this madness it can be difficult to speak the truth about heatwaves. But we must try. The first truth is that there have been heatwaves forever, long before modernity. Bald's Leechbook, a guide to health compiled in the 10th century, advised people to avoid summer's 'boiling heat and the venomousness of the air'. There was a mega-drought in northern Europe for 37 long years between 1437 and 1473. There was burning sunshine in parts of Europe in 1616, leading to a 'great heat' and 'dried-up rivers'. What caused those 'heat apocalypses'? Factories, 4x4s, airplanes? It is a testament to the new clerisy's doomerism and narcissism that they think our weather is without earthly precedent.
The second truth about heatwaves is that people are pretty good at dealing with them. Yes, high heat can be uncomfortable, sometimes dangerous. In the main, though, we know what to do. Ancient Romans took to 'earth houses' to dodge the flaming sun. Medieval peasants wore wide-brimmed hats and started work early in the morning on the hottest of days. Even pasty Brits in scorching Seville this week will have a fabulous time if they cover their heads, drink lots of fluids and avoid physical exertion. Everyone knows this. It's in-built info. Whisper it: heatwaves are fun if done right.
Then there's the third truth, the most unutterable one: it's possible that the rising heat of recent years is good for us. For here's the thing: extreme cold kills far greater numbers than extreme heat. Every year in England and Wales between 2000 and 2019 there were on average 800 excess deaths 'associated with heat' and 60,500 excess deaths 'associated with cold'. Around 2,500 people die from heat in the US and Canada every year, compared with around 113,000 from cold. Even in India deaths from cold hugely outnumber deaths from heat. Globally, around 300,000 deaths a year are the result of heat, 1.7million the result of cold.
Why don't we hear about all these cold deaths? The reason is as straightforward as it is callous – because the suffering of these freezing folk, most of whom are elderly, doesn't lend itself to the political narrative about dastardly mankind setting the planet on fire. These victims of cold are an inconvenience, grit in the eye of the climate ideology, and thus they're subtly erased. And yet, as Bjorn Lomborg points out, if cold is the major temperature killer, then surely the warming of our planet will reduce deaths in the round? Right now, he says, the warming of our planet 'reduces more deaths than it causes', possibly saving '100,000 lives each year'. That might change, if things get really hot. But for now, let's welcome the reduction in cold deaths, even as we prep for future heat.
If things are getting hotter, we should mitigate the consequences. It really is that simple. And we know how to do it. More air-conditioning, more open public swimming baths, more electric fans and fresh drinking water. This is how the US halved its heat deaths over the past 60 years even as its number of hot days increased – by deploying tech to the great task of cooling people down. The idea that our response to hot weather should be to beat ourselves up over modernity and wind back industrial society is preposterous and undoable. Instead, enjoy the sun and fortify for the future. And Cerberus, don't forget us – it's miserable in London.
To enquire about republishing spiked's content, a right to reply or to request a correction, please contact the managing editor, Viv Regan.