Australians have no truck with this racial identity politics
The Aboriginal 'Voice to Parliament' initiative is ugly and divisive. Aussies see right through it.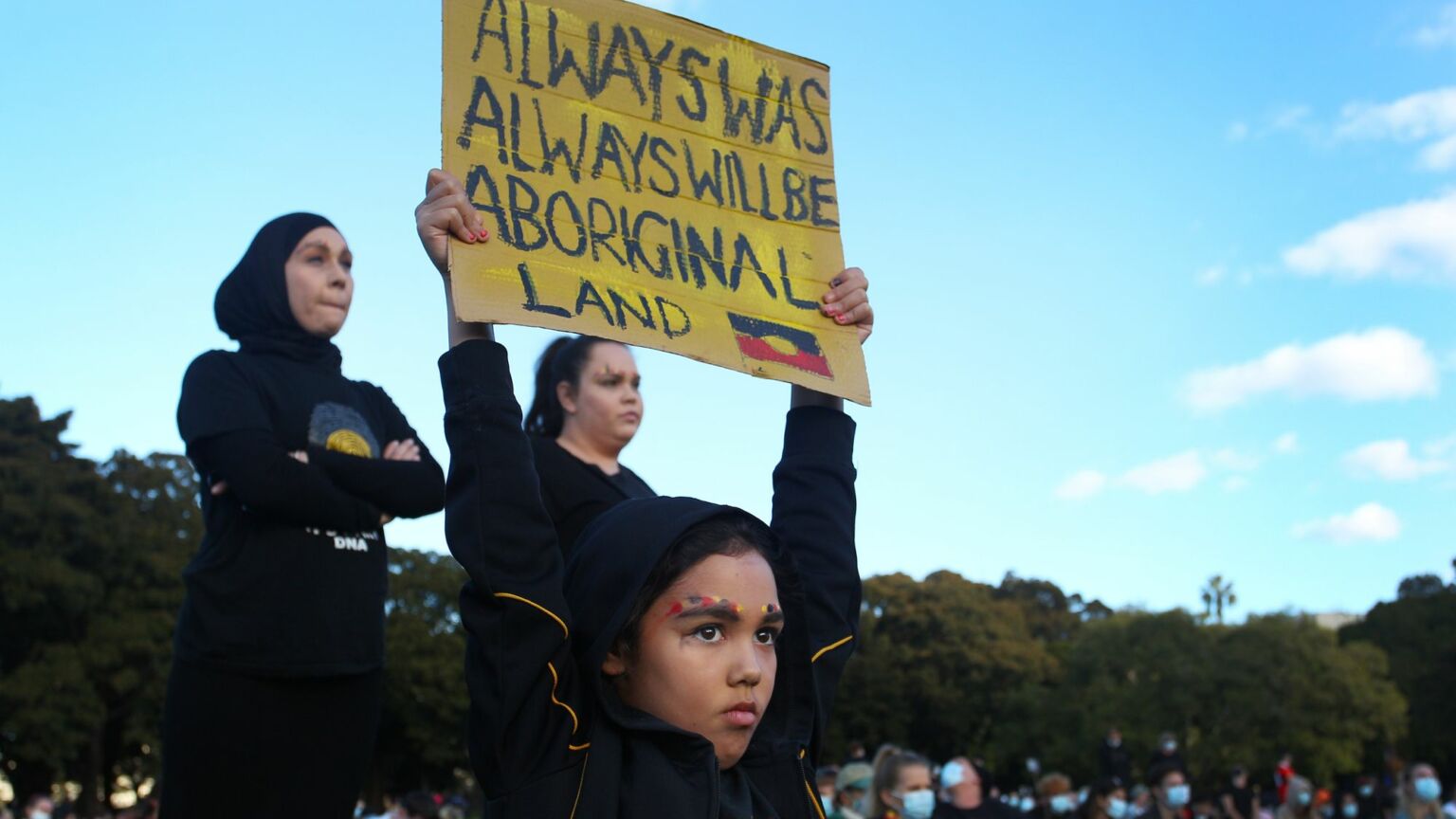 Few Australians harbour nostalgia for the days of 'White Australia', when racial discrimination applied to immigration policy. The policy was quietly abandoned with little fuss in the 1960s. Around the same time, the last traces of discrimination against Aboriginal citizens were removed from the Australian constitution – a move supported by a referendum majority of 90.7 per cent.
More than half a century later, the citizens of this institutionally colourblind country are being asked to sanction the return of a race-conscious constitution, thanks to an initiative known as the 'Voice to Parliament'. A referendum later this year will decide if Aboriginal and Torres Strait Islander Australians should have a special body, or 'Voice', to represent their views to the federal parliament. Labor prime minister Anthony Albanese says that the Voice won't be a third parliamentary chamber, but it will undoubtedly be the next best thing. 'It would be a very brave government' that rejects the Voice's advice, he said.
At the start of this year, the referendum proposal seemed certain to pass. Yet recent polling points to a comprehensive defeat. Support has fallen from a peak of 65 per cent last September to 38 per cent in polls this week. A successful referendum must be approved by a majority of Australians in a majority of the six states. The No vote is now leading in four of them.
Albanese's campaign started to go wrong when, last year, he invited Shaquille O'Neal to become an ambassador for the cause. The retired American basketball star, born and raised in Newark, New Jersey, has almost nothing in common with Aboriginal Australians except the colour of his skin. What this revealed is that the campaign for the Voice has little to do with the experiences and challenges of Aboriginal Australians. The real driving force behind it is the insidious spread of the Black Lives Matter ideology, imported from America. This simplistic black-and-white narrative says that Australia is institutionally racist and this can only be corrected with racially conscious policies.
The force gathered behind the Voice is phenomenal. The Yes campaign is sitting on tens of millions of dollars in unspent funds, with backing from an impressive range of corporates, including mining giants Rio Tinto and BHP. It has been endorsed by every significant sporting body and individually by most sports clubs. But the twin forces of celebrity and money have been unable to halt the slide in support.
The steady fall in support is mirrored by a rising anxiety among proponents. They are now starting to worry about what the rejection of the Voice will mean for Australia's international reputation. 'The eyes of the world are upon us', wrote one commentator last month. Dipping his nib into the well of clichés, he added: 'History is calling on us. It is a test for all Australians. We must not fail.'
Albanese suffered the same pangs of national self-doubt in a recent Sunday morning television interview. '[A Yes vote] will send a signal to ourselves and to the world that we're a mature nation that is coming to terms with the fullness of our history', he said. 'It will make us feel better about who we are as a nation.'
Albanese's argument was perfectly pitched to cement the support of the hand-wringing elites in their inner-urban conclaves. It was strikingly out of key, however, with the broader public mood, where most people already feel pretty damn good about Australia. This feeling is particularly strong among the 30 per cent of Australian citizens who are born overseas. That should come as no surprise, since these citizens have made a conscious choice to start a new life in Australia.
The strong opposition to the Voice proposal from immigrants has unsettled strategists for the Yes campaign, who imagined there would be a sense of fellow feeling among all groups of ethnic minorities. Instead, they have encountered the very opposite. There is a profound sense of unease that one group should be granted special privileges purely on the grounds of their race. This is not the deal immigrants signed up for when they raised their right hands to swear allegiance as Australian citizens. The principle of citizenship means that an immigrant who received his certificate five minutes ago deserves the same respect as someone whose ancestral roots date back thousands of years.
Colonial guilt is foreign to non-British migrants, who have formed the majority of overseas-born Australians since the early 1960s. The notion that the children of, say, postwar Italian migrants should take the rap for the assumed wrongs of early British settlers is patently absurd. But contradictions and hypocrisies like this are impossible to avoid once the complexity of human society is reduced to a black-and-white question of oppressor vs oppressed – and where we relitigate historical grievances about events that happened long before any of us were born.
Where non-Aboriginal Australians are made to feel guilty for crimes they have not committed, Aboriginal activists feel empowered to seek 'justice' for suffering they did not experience. The 'Blak rep body' (sic), as trade-union leader Thomas Mayo describes the Voice, will permit indigenous leaders to seek reparations from the Commonwealth for stolen land and the harm caused by colonial institutions. Aboriginal people will be able 'to punish politicians that ignore our advice', he said. 'That is where the power comes from.'
Such rhetoric has been widely adopted by the media elites, including by commentators on the national public broadcaster, the ABC. ABC federal political reporter Dana Morse recently spoke of 'the genocide of Aboriginal people that is ongoing today' on a recent discussion programme (no such genocide is occuring of course). Political commentator Niki Savva wrote: 'While it is not true to say that every Australian who votes No in the Voice referendum is a racist, you can bet your bottom dollar that every racist will vote No.'
The overreach by Voice advocates is putting voters off. Their suggestion that voting No is a mark of racism or ignorance has already had a similar effect to Hillary Clinton's denunciation of Donald Trump voters as 'deplorables' in the US, and to the Remainers' moral condemnation of Brexiteers in the UK.
Support for the Voice to Parliament is unlikely to have hit the low water mark yet. If there is a margin of error in the polls, the benefit surely flows to the No campaign. That was apparent during the Brexit referendum and the 2016 US presidential campaign, when many voters were shy to own their politically incorrect positions in public.
Belatedly, the leaders of the Yes campaign are reading the writing on the wall. They are changing tack by removing celebrities from the front line of the campaign and are instead recruiting what they claim to be authentic indigenous voices. According to a Yes campaign source quoted in the Daily Mail, the campaigners have concluded that Australians don't like to be told what to think.
The protracted debate is rapidly exhausting Albanese's stocks of political capital, barely a year after the Labor Party ended three terms of centre-right government. Having been elected with less than a third of the popular vote, Albanese cannot afford to take chances. He must remind himself that he was not elected on a mandate to assuage our historical guilt or to atone for the sins of the empire. Australians outside the Canberra bubble are not losing sleep about what Guardian or Economist leader writers might think of them. With inflation stubbornly high, power prices soaring and worse economic times ahead, the prime minister must prioritise the practical challenges facing all Australians – which, of course, includes the 3.2 per cent who identify as indigenous.
Putting race back into Australia's constitution would be a truly backwards step. The public can see this. Why can't our leaders?
Nick Cater is executive director of Menzies Research Centre and a columnist with the Australian.
Correction: An earlier version of this article suggested that Senator Lidia Thorpe was an outspoken supporter of the Voice, however, she has since come out to campaign for a No vote.
To enquire about republishing spiked's content, a right to reply or to request a correction, please contact the managing editor, Viv Regan.