When did the left become pro-riot?
There is nothing progressive about the violence in France.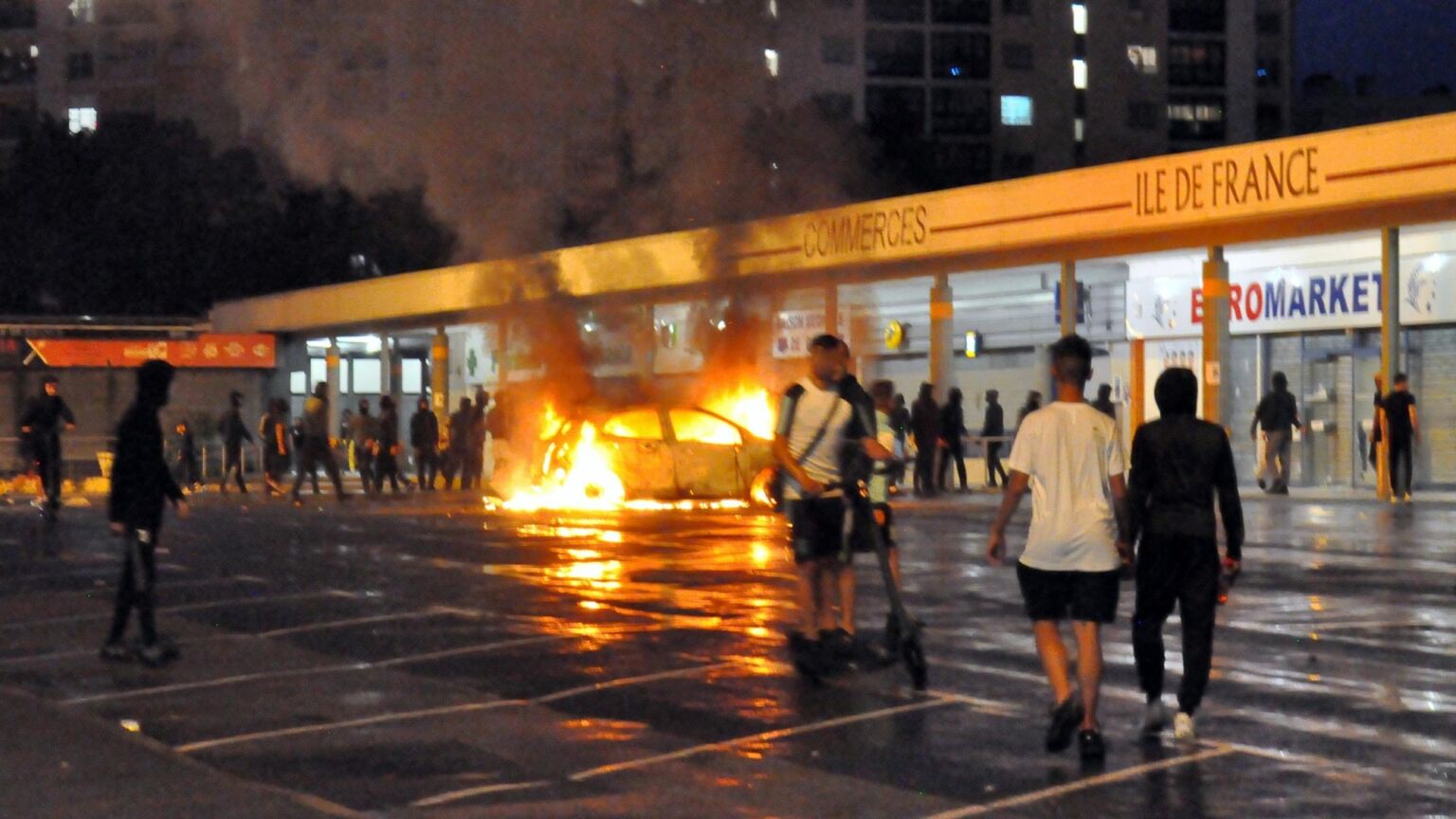 France is in flames. With over two thousand arrests, more than four thousand vehicles set ablaze, hundreds of buildings ransacked and the attempted murder of a suburban mayor, the past six days of riots have been some of the most violent and destructive in decades. They have already exceeded the damage caused by the three weeks of intense rioting in Paris in 2005. The burning and looting continued throughout last night, although on a much smaller scale, with 150 arrests compared with over 700 on Saturday night.
The unrest began when news emerged last Tuesday that an unarmed teenager, Nahel Merzouk, had been shot by police at point-blank range following a car chase in Nanterre, a suburb of Paris. Footage of the altercation spread quickly on social media. A protest that day, outside the local police headquarters, turned violent. Demonstrators destroyed bus stops, set cars alight and threw fireworks at the police. Riots quickly spread beyond Nanterre, to Marseille, Lyon, Toulouse, Strasbourg and elsewhere. They even reached Belgium and Switzerland, as well as France's overseas territories, Réunion and French Guiyana, where a man was killed by a stray bullet. Over 45,000 additional police officers have been deployed across France to try to put a lid on the unrest.
The police killing of Nahel has been quickly folded into a racial narrative. The 17-year-old was of Algerian and Moroccan descent and lived in a troubled housing estate. His death has widely been interpreted as an expression of police racism – of how French people from migrant backgrounds living in the banlieues (suburbs) are treated by the state. Inevitably, it has been branded 'France's George Floyd moment', a nod to the police killing that set off America's Black Lives Matter unrest in 2020. (Whatever problems exist in France where policing and race are concerned, importing the American identitarian script will help no one.)
The consensus in France is overwhelmingly opposed to the rioting and violence, of course. But there have been some on the left who have sought to justify or excuse the destruction, to treat it as a legitimate response to police racism or deprivation – just as some American leftists responded to the BLM riots. Most notably, Jean-Luc Mélenchon, the left-wing firebrand and leader of France Insoumise, hit out at the 'guard dogs… calling for calm'. 'We are calling for justice', he insisted on Wednesday. (He later condemned the attempted murder, on Saturday evening, of Vincent Jeanbrun, mayor of Parisian suburb L'Haÿ-les-Roses.) Talking heads have described the rioters as a 'self-organised, politically conscious social movement', fighting against a 'social system… maintained by racism'. The international media, including the BBC, have continually referred to those burning cars, looting shops and attacking public transport as 'protesters', as if these riots were marches that got out of hand.
To talk of this unrest as a protest is completely inappropriate – it speaks to how clueless and detached much of the left has become. Revolution and social change are not on the lips of these rioters. The tragic killing of Nahel, in the words of his own grandmother, has become an 'excuse'. His family are utterly dismayed at what is being done in his name. An initially peaceful protest demanding justice for Nahel in Nanterre, led by his mother, was attended by just over 6,000 people on Thursday – a small proportion of the tens of thousands who have been on the streets rioting across the country.
Apologists claim that the rioters are consciously attacking 'economic targets', emblems of the capitalist order, as they ransack everything from Nike stores to Lidl supermarkets. In truth, they are mainly setting fire to their own communities. While there have been clashes with police on Paris's famous Champs-Élysées, the vast majority of the trouble has been concentrated in some of France's poorest neighbourhoods. Rioters themselves have admitted to having no political aims. 'I made a huge mistake… I was caught up in the euphoria', one typical rioter told a judge last week. Besides, the average age of those arrested is just 17 years old, some have been as young as 13. It is absurd to call this a conscious, radical campaign.
All this talk of 'rioting for justice' recalls those other large-scale riots in 2005. That unrest was initially sparked when two teenagers were electrocuted to death as they tried to hide from the police in an electrical substation. Three weeks of rioting followed and three civilians were killed in the chaos. 'Like today, [the rioters of 2005] were not advancing any political project', says philosopher Pascal Bruckner. While naive observers saw a 'proletarian revolution', one rioter memorably said his demand was for 'money and girls'.
In 2005, there was a palpable rejection of French institutions and the authority of the state. But this was a rejection characterised by nihilism, destruction, thrill-seeking and violence – not some revolutionary opposition to the status quo. The tendency to make excuses for this behaviour, or to project a political script on to it, Bruckner argues, has since gained legitimacy on the French left – thanks to the now common accusation that everything about France, from its policing to its school system to its economic model, is 'systemically racist'.
People are fond of (mis)quoting Martin Luther King, saying that 'riots are the language of the unheard' (MLK never actually endorsed or called for rioting). But this mantra makes little sense in the context of the past week. For one thing, mainstream politicians, from President Emmanuel Macron downwards, condemned the 'inexplicable' and 'unforgivable' killing of Nahel almost as soon as the video footage emerged. The policeman who shot him is facing charges of 'voluntary homicide'. While there is no doubt that French police have got away with brutality in the past, the demand for justice here is already being heeded.
Inequality, deprivation and the living conditions in France's troubled banlieues are of course legitimate grounds for protest and agitation. Housing conditions are atrocious. Jobs are scarce, especially for young people. And while many complain of heavy-handed policing from an almost militarised police force, some of the most deprived housing estates have actually been abandoned to lawlessness. As a result of all this, many from France's migrant communities feel totally disconnected from their rulers and the authorities. This has bred a suspicion that is often mutual.
But these riots are doing nothing for those in the banlieues. They are only adding to the difficulties experienced by those who live there. While an attack on a town hall might be dressed up as a protest against the state, vandals have also firebombed local libraries, health centres and supermarkets. Rioters are attacking the infrastructure and services that their own communities rely on. It is the poor, particularly those from migrant backgrounds, who will suffer most from these outbursts of violence. To suggest that these rioters in some way represent the five million residents of the banlieues is beyond insulting. The vast majority are as horrified by the carnage as anyone else.
It's strange that this even needs to be said but there is nothing progressive about mindless violence and criminality. Still, this isn't the first time that sections of the left have confused riots for a revolution. We saw this during the London riots in 2010, when youths burning down their own high streets was dubbed an 'insurrection' against Tory austerity. We saw this with the BLM riots in the US, too, where a mix of low-life criminals and Antifa lunatics torching and looting minority-owned businesses was presented as a 'fiery but peaceful protest' against police brutality. In truth, they were the most costly and destructive riots in American history.
Only those utterly disconnected from the lives of ordinary people could see such violence as in any way positive, let alone as the authentic voice of the downtrodden. There's something both shameful and pathetic about these armchair radicals getting a vicarious thrill out of all the looting and burning, all from the safety of their own plush neighbourhoods. The grim rise of riot apologism speaks to the yawning distance that now exists between the left and the people it pretends to speak for.
To enquire about republishing spiked's content, a right to reply or to request a correction, please contact the managing editor, Viv Regan.