The empire of hurt feelings
Islamic countries are trying to force the West to respect Muslims' 'feelings'. We must resist this therapeutic imperialism.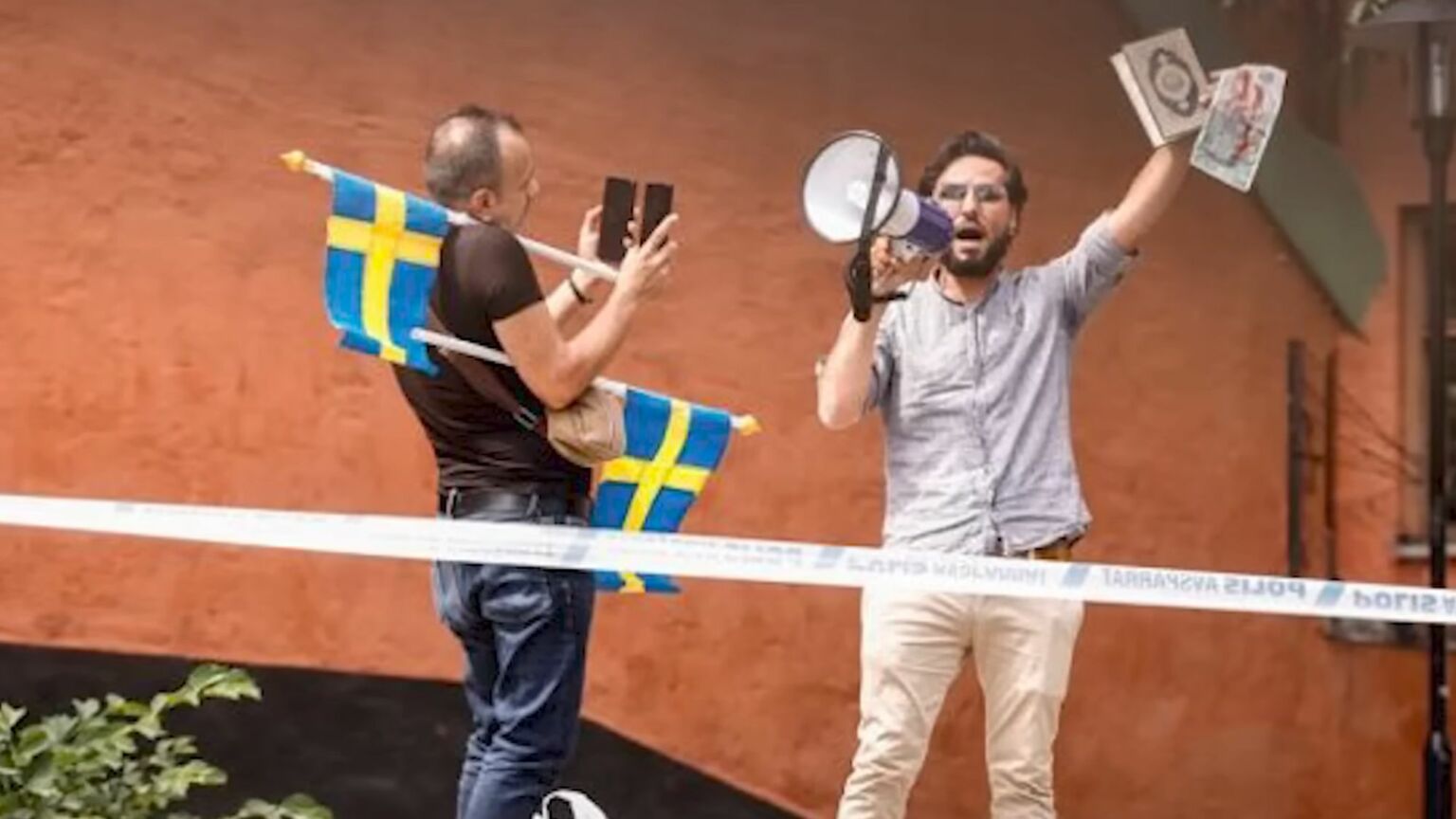 Where is the solidarity with Sweden? The foreign embassies of our democratic ally are under attack. The walls of its embassy in Baghdad were breached by hundreds of angry protesters last week. Other Muslim nations issued stinging rebukes against the Swedes. Morocco summoned Sweden's representative for a dressing-down. Jordan reprimanded the Swedish ambassador over what it called Sweden's 'racist' behaviour. Iran said it will not send an ambassador to Sweden. And Turkish president Recep Tayyip Erdogan slammed Sweden's 'arrogance', saying this wicked nation promotes 'Islamophobia' under the guise of 'freedom of thought' (not content with destroying freedom of thought in his own country, now he wants to undermine it in Sweden, too).
What did Sweden do to earn such insults? It gave someone permission to desecrate a copy of the Koran. It was one Salwan Momika, an Iraqi immigrant in Sweden, who said he wanted to express his less than flattering opinion on Islam's holy book by ripping it up and setting it on fire. So last Wednesday, on the Muslim holiday of Eid al-Adha, he and another person gathered outside the central mosque in Stockholm and did just that. There is some confusion over exactly what they had permission to do. They were allowed to insult the Koran but not set it aflame, the police are saying. So Mr Momika has now been put under investigation for incitement to hatred. Sweden's prime minister, however, says the burning of the Koran was 'legal', if 'not appropriate'.
What is far clearer is the fury in the Muslim world. Numerous nations have denounced Sweden for being 'hostile to Islam'. Strikingly, they've mainly used the identitarian language of 'offence' and 'Islamophobia'. Sweden is 'racist' and 'irresponsible', said the government of Iraq. It gave the green light to a 'manifestation of Islamophobia', said Jordan. It has hurt 'the feelings' of 'Muslims around the world', said Kuwait, sounding like a woke student official who disinvites any controversial speaker who's ever made a 'hurtful' comment about Islam. Egypt's foreign ministry let slip the real agenda of these intolerant regimes, however: it damned Sweden for its 'crimes of blasphemy'.
Here, in plain language, was the real charge being made against Sweden: that it is a sinful nation, insufficiently respectful of Islam and its tenets. And it deserves punishment for its 'crimes', apparently. Turkey, which is already frustrating Sweden's application to join NATO over earlier incidents of Koran-burning, has now issued Sweden with an ultimatum. 'If you do not show respect to the religious beliefs of the Republic of Turkey or Muslims, you will not receive any support for NATO from us', said Erdogan last week. In short, to join the club of NATO, Sweden must first take the knee to Islam and forbid its residents from ever making scurrilous utterances about this religion.
This is an intolerable demand to make of a sovereign nation. What we are witnessing in the Muslim world's attack on Sweden, and in particular in Erdogan's gross act of religious blackmail, is a kind of empire-in-reverse. It is an empire of hurt feelings, where the traditionally weaker nations marshall the language of pain, the culture of grievance, to try to force their worldview on to a member of the Western club. To those of us who believe in national independence, it is as intolerable for an alliance of emotionally fragile Islamist countries to dictate to a free nation like Sweden as it was when Western nations once sought to 'civilise' the rest of the world through colonialism and Christianity.
So, again: where's the solidarity? Sweden has been put through the wringer. It has been globally defamed as hateful. It has been told that it will not progress in the global order until it stymies the free speech of its citizens and residents. You can either have freedom of speech or the respect of the international community, but not both – that, essentially, is what the petty tyrants of Turkey and beyond are saying. Those of us who support freedom should insist that Sweden experience no retribution whatsoever for granting one of its residents the freedom to demean the Koran.
We can argue, of course, over whether it is 'appropriate' to burn the Koran. But we can surely agree that having the right to burn it is a free-speech matter. I don't particularly like it when people set fire to the Stars and Stripes, being a fan of the American republic. And yet, as the ACLU says, the freedom of flag desecration is central to a people's 'fundamental right to express approval or disapproval of [their] government'. Likewise, the freedom of Koran desecration, the freedom of blasphemy itself, is central to people's right to express disapproval of Islam. One wonders where the left is in this discussion. Surely they support the right of an immigrant to give voice to his deeply held convictions, even if that includes contempt for the Koran? I do. I believe immigrants in Sweden and across Europe should enjoy the same liberty of expression as those of us who were born here.
Of course, Sweden helped to make this rod for its back. In fact, countries across Europe, by institutionalising the profoundly illiberal idea that criticism of Islam is a species of bigotry, left themselves open to attack by this empire of hurt feelings. Often, Muslim nations exploit the unreason and unfreedom of the West itself to drive home their insistence that 'blasphemy' against Islam be curtailed as a crime. From the Danish cartoons controversy of 2005 to the Charlie Hebdo bloodbath of 2015 to the various instances of Koran-burning in Sweden over the past year, it is often Western liberals who first wring their hands over 'insults' against Islam, before Islamist nations chime in a little later and say: 'Yes, that is ungodly. Crush it.' Hence why so many Muslim leaders have used the woke language of 'Islamophobia' and 'hurt feelings' to reprimand the Swedes – they're exploiting the West's own ideologies to try to further wound the West. Their empire of hurt feelings gains its power from our own yellow-bellied fear of hurting certain people's feelings.
Sweden, for a while, was one of the worst offenders on this front. It was extraordinarily reluctant to discuss the social problems caused by an ideology of multiculturalism that encouraged ethnic and religious groups to do their own 'equally valid' thing rather than seeking to integrate them into Swedish society. The Swedish elites, and others, refused to be honest about the impact such top-down relativism was having on this once widely admired social democracy. Even as gang crime, largely Muslim riots and unheard-of forms of violence became a serious problem in Sweden – in 2020 alone there were 200 explosions and 360 shootings – European observers said: 'Everything's fine in Sweden.' It was a lie. Then Swedish PM Magdalena Andersson tried to break the cowardly impasse last year when she said we now have 'parallel societies in Sweden' and that integration has been 'too poor, at the same time as we have experienced very substantial levels of immigration'. Whether her intervention was too little, too late, remains to be seen.
And yet, right now, Sweden must be defended against the libels and threats of other nations. Turkey, Jordan, Egypt – none has the right to dictate to Sweden which forms of expression it may permit, and which it must outlaw. No nation should meddle in the liberties of another. Down with all empires, including the new therapeutic caliphate that imagines it has the right to force all of us, wherever we live, to love Islam.
Brendan O'Neill is spiked's chief political writer and host of the spiked podcast, The Brendan O'Neill Show. Subscribe to the podcast here. His new book – A Heretic's Manifesto: Essays on the Unsayable – is available to order on Amazon UK and Amazon US now. And find Brendan on Instagram: @burntoakboy
Picture by: YouTube / Hindustan Times.
To enquire about republishing spiked's content, a right to reply or to request a correction, please contact the managing editor, Viv Regan.