Nigel Farage and the corporate war on dissent
If we allow banks to unperson people, we open the door to tyranny.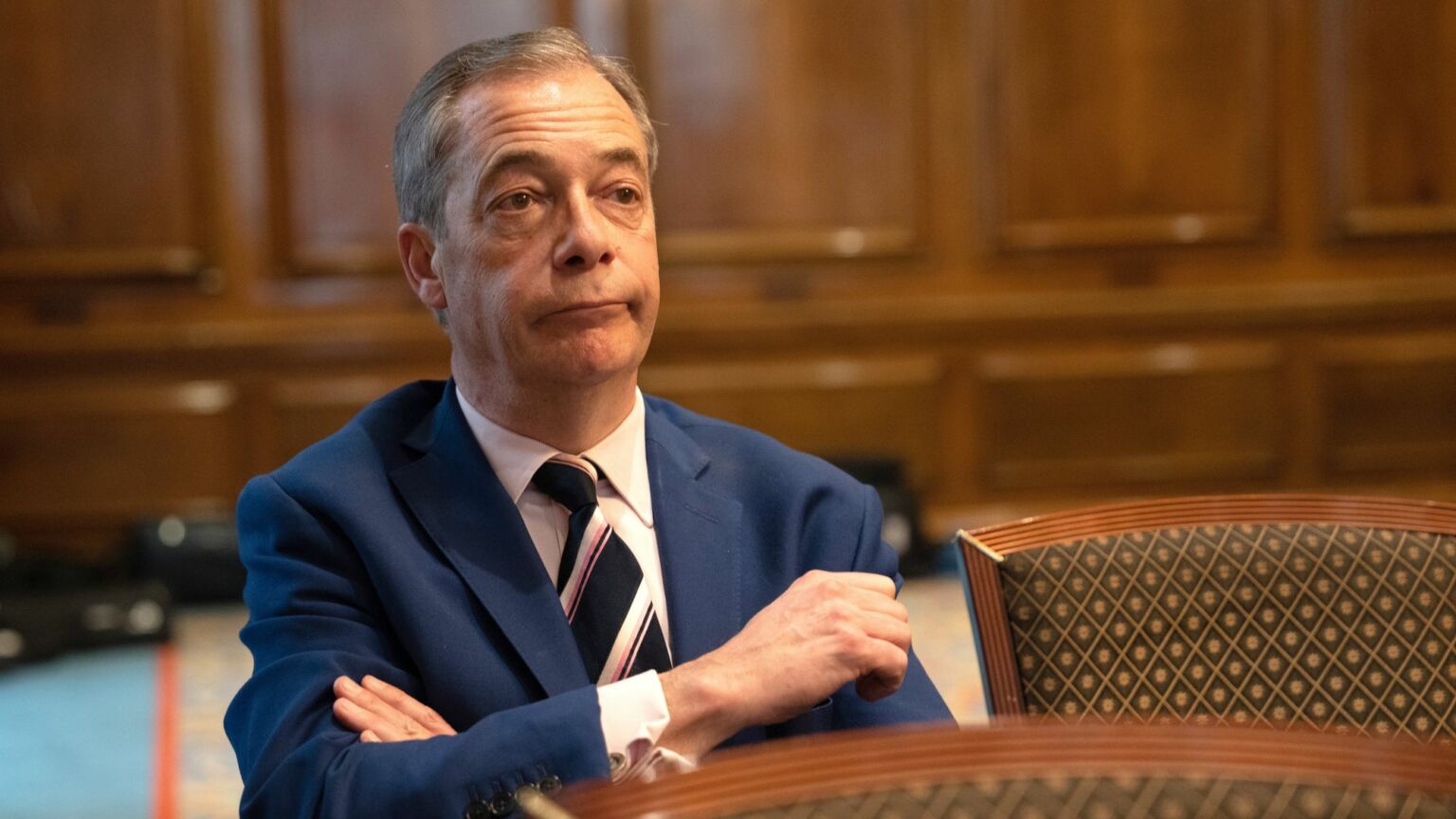 Nigel Farage, broadcaster and former leader of the Brexit Party, has made a striking allegation. In a video he posted on social media yesterday, Farage claims that two months ago his bank of more than 40 years suddenly announced that it would be closing his personal and business accounts – without offering any proper explanation as to why.
After many calls, emails and letters, he says that all he could get out of his bank was that it was dropping him as a customer for 'commercial' reasons. Stranger still, when he tried to set up an account elsewhere, he was rebuffed. By seven separate banks, he says.
Shortly after he went public yesterday, Farage claims his bank (he has decided not to name it 'for now') called him up, offering him a personal but not a business account with one of its affiliates. He has refused and says unless things change he may well have to leave the country.
Farage has aired a few theories as to why this might have happened. The corporate world, he says, will never forgive him for Brexit. (Which is absolutely true, whether or not that had anything to do with this.) He has also pointed to the 'politically exposed person' regime, which means politicians and other public figures are subject to extra checks to guard against foreign influence and bribery.
Defamatory comments from his opponents, he argues, may have led the banks to be overly cautious in their due diligence. He singled out Labour MP Chris Bryant, an anti-Brexit zealot and chair of the Standards Committee, who defamed him in the House of Commons last year, using parliamentary privilege to make a demonstrably false claim that Farage was given £548,000 by Russia Today.
There is a lot we still don't know about this case, and we await to hear the other side of the story. But some combination of the above is certainly plausible, whereby institutional Remoanerism, bureaucratic checks and conspiratorial smears about Farage and his associates being in hock to the Russians led to him being shown the door by people who probably didn't want his business anyway.
What I do know is that those who are snarking on Twitter about Farage's predicament – either openly celebrating the news or reflexively suggesting he has made all of this up for clicks and publicity – are being, to put it politely, incurious and, to put it less politely, unfathomably dumb. Never have liberals and leftists been so blasé about allegations of corporations trying to crush dissent.
There have been a string of cases now in which payment services have closed the accounts of anti-woke and anti-lockdown figures, with little warning or explanation. Last year, PayPal closed three accounts associated with journalist and campaigner Toby Young simultaneously. With some irony, this included the account of his anti-censorship organisation, the Free Speech Union. UsForThem, a group that campaigned against Covid school closures, also had its account suddenly closed at around the same time.
Any suggestion that Young or UsForThem were secretly engaged in some dodgy financial activity was quashed when PayPal reinstated their accounts, following a huge social-media backlash and interventions from MPs and government ministers. No explanation was forthcoming, but Young says he was originally told he had breached PayPal's 'Acceptable Use Policy', which alongside the usual, uncontroversial stuff also prohibits 'the promotion of hate, violence, racial or other forms of intolerance'.
What precisely constitutes 'hate' is impossible to define at the best of times. But in an era when identitarian ideology has overrun elite institutions, when spurious allegations of bigotry are the go-to weapons of woke activists, when saying 'women don't have penises' is now treated as a potential police matter, it is a particularly censorious standard. It now seems to mean anyone who dissents.
What began with Big Tech is beginning to spill over into the old banking world, too. Coutts, go-to bank for the rich and royal, now has a clause in its terms and conditions allowing accounts to be closed if the holder engages in what it calls 'discriminatory conduct'. No definition of said conduct is given on its website. (Incidentally, it was reported in 2019 that Farage banked with Coutts.)
A new and terrifying front is being opened up in the culture wars. Where once you could be deplatformed for refusing to toe the establishment line, now you can be defunded, debanked, financially unpersoned – deprived of the means of doing business or just living a normal life. Those dismissing this threat now – because it isn't happening to them yet and they don't much like those it does appear to be happening to – will have no right to complain when it bites them later.
Tom Slater is editor of spiked. Follow him on Twitter: @Tom_Slater_
To enquire about republishing spiked's content, a right to reply or to request a correction, please contact the managing editor, Viv Regan.