Labour is now the party of the House of Lords
Never mind abolishing the Lords – Keir Starmer now wants to use it to run the country.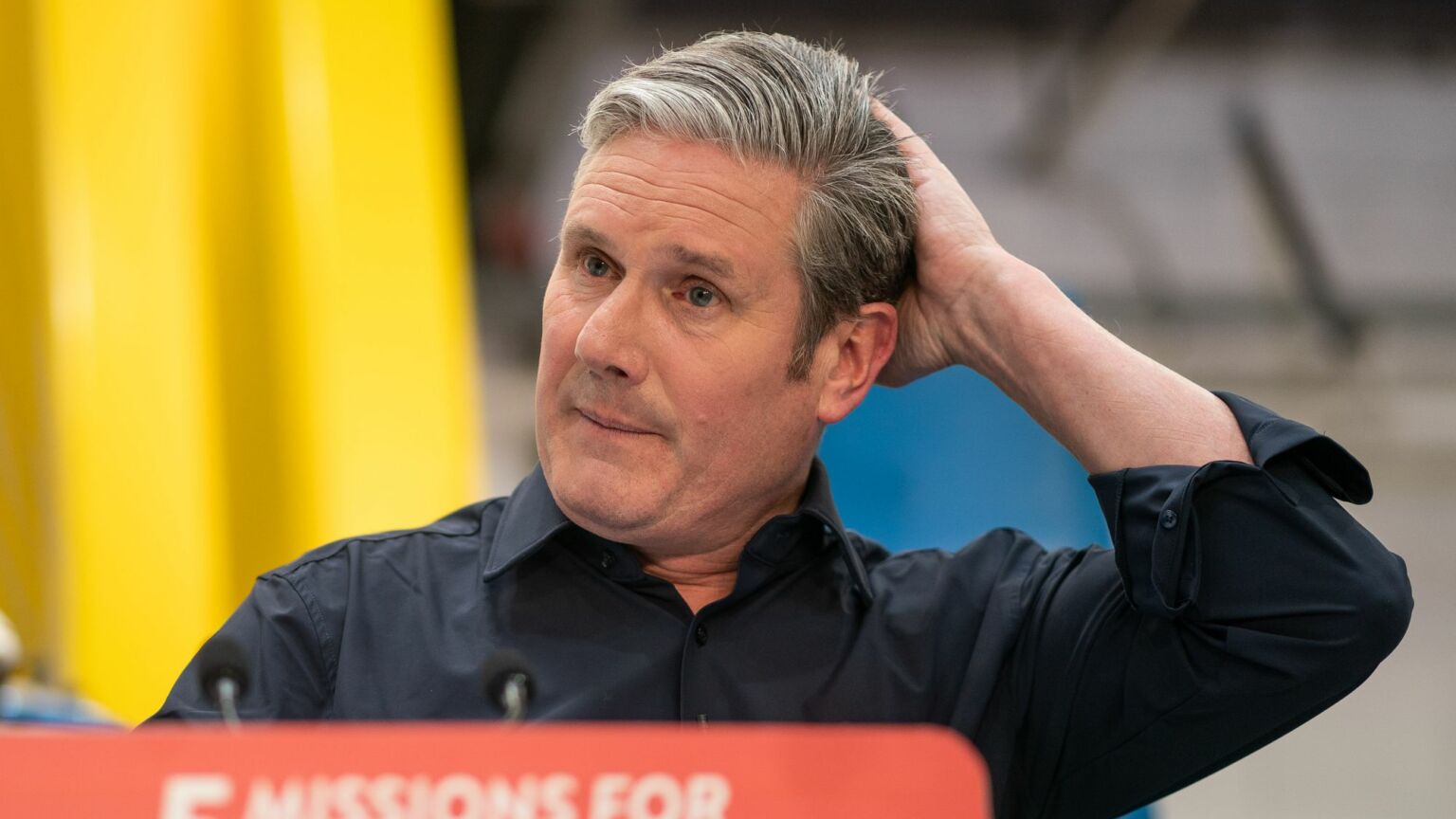 In principle, UK Labour leader Sir Keir Starmer has pledged to abolish the unelected House of Lords. In practice, Starmer is now planning to appoint an army of new Labour peers – not so they can vote to abolish the anti-democratic Lords, but so he can use its powers to run the country. In the Labour leadership's eyes, the House of Lords appears to have transformed almost overnight from an anachronism to be torn down to an instrument of modern democracy.
We have become used to watching Starmer flip-flopping, backsliding and generally reverse-ferreting on his policy promises. Now we are being treated to the spectacle of Sir Keir actively pursuing a policy that directly undermines the one radical pledge he claims to stand by. It might seem a bizarre state of political affairs. But then getting involved with the strange world of the Lords always brings out the worst in British politicians.
The Times reports that, if Labour forms a government after the next General Election, Starmer intends to 'flood' the House of Lords with newly appointed peers to help pass Labour's programme of laws. It has struck various observers that this rather seems to go against the grain of Starmer's headline policy announcement from only a few months ago, that he would abolish the Lords during his first term as Labour prime minister.
Labour has only just finished denouncing former Tory prime minister Boris Johnson's final honours list, which included appointing seven new life peers. Particular ire was reserved for the peerage Boris granted to Charlotte Owen, a previously unnoticed 29-year-old political aide, who will become the youngest life peer. Now Starmer wants to send in a flood of new Labour peers who will have won exactly the same number of votes as Ms Owen: zero.
The whiff of hypocrisy is such that even the embattled Scottish National Party has felt emboldened to crawl back on to the moral high ground and look down on Labour. One SNP MP scoffed that Starmer's party is 'up to [its] old sleekit tricks again!'.
The sheer number of peers that Starmer aims to appoint is bad enough. Senior Labour sources told The Times that Starmer would want to install 'dozens of them at least'. Other incoming governments in recent times have sought to do likewise, filling the upper house with their own stripe of peer. New Labour prime minister Tony Blair appointed 55 Labour life peers in his first two years in government (1997-8), while Tory PM David Cameron went further still in 2010, installing 47 new Conservative peers alongside 24 more for his Liberal Democrat allies in the coalition government. Starmer may even want to beat those numbers, further inflating the already grotesquely bloated roll-call of more than 800 lords.
Even worse than the quantity, however, is the quality of the new peers Labour apparently wants. Labour sources are at pains to emphasise that Starmer doesn't intend to appoint even more retired MPs and ageing party donors. Instead, he is seeking a new generation of peers who would be 'eager to play an active role' in the Lords. Baroness Angela Smith of Basildon, Labour's leader in the Lords, has defended Starmer's plan by insisting that he is 'looking for people who are interested in doing a job of work, or from a particular area of expertise'.
The baroness says that as if it's a good thing. In fact, those who look upon the Lords as 'a job of work' are the most dangerous peers of all. Labour wants to appoint technocrats and self-important experts who won't be content to sit about in the Lords' subsidised bars collecting their daily allowance, but who will insist on actively interfering with the process of democratic politics. Given that Starmer is also looking for younger peers to replace the ageing Blair-era cohort, twentysomething policy wonk Charlotte Owen could be the role model for Labour peers rather than a Tory exception.
Labour says that its new appointees will have to support the party's policy of abolishing the Lords. But what would that matter? It is now clear that they won't be invited to vote on that issue anytime soon.
There is also not as big a contradiction in Labour's Lords policy as first appears. The common fact in both strands is contempt for democracy. Abolishing the House of Lords is of course a democratic necessity. But as Joanna Williams explained on spiked last year, Labour's original plan to replace the Lords with a devolved 'house of the nations' – dreamt up by arch technocrat Gordon Brown – sounds just as bad as the Lords itself. Either way, the future of democracy is at risk in Labour's hands.
Speaking of which, we can also be fairly clear what the new Labour peers would be voting for. Labour house journal the New Statesman reports that, contrary to Starmer's public claims to accept Brexit, Labour's pro-EU supporters 'have been given assurances its Brexit position will soften'. Throughout the battle for Brexit, the House of Lords has been the last redoubt of the Remainer establishment. Now it looks like a case of meet the new lords, same as the old lords.
In a remarkable admission of how far these lords are removed from reality, Labour's top peer, Baroness Smith, even had the nerve last week to complain that her fellow peers were 'embarrassed by the publicity' surrounding Boris's new appointments. They would rather be left to get on with the business of subverting democratic politics away from the public gaze. The entire House of Lords remains an embarrassment to British democracy, whoever is appointed to sit in it.
Mick Hume is a spiked columnist. The concise and abridged edition of his book, Trigger Warning: Is the Fear of Being Offensive Killing Free Speech?, is published by William Collins.
To enquire about republishing spiked's content, a right to reply or to request a correction, please contact the managing editor, Viv Regan.