The cult of veganism
We should celebrate the demise of this puritanical movement.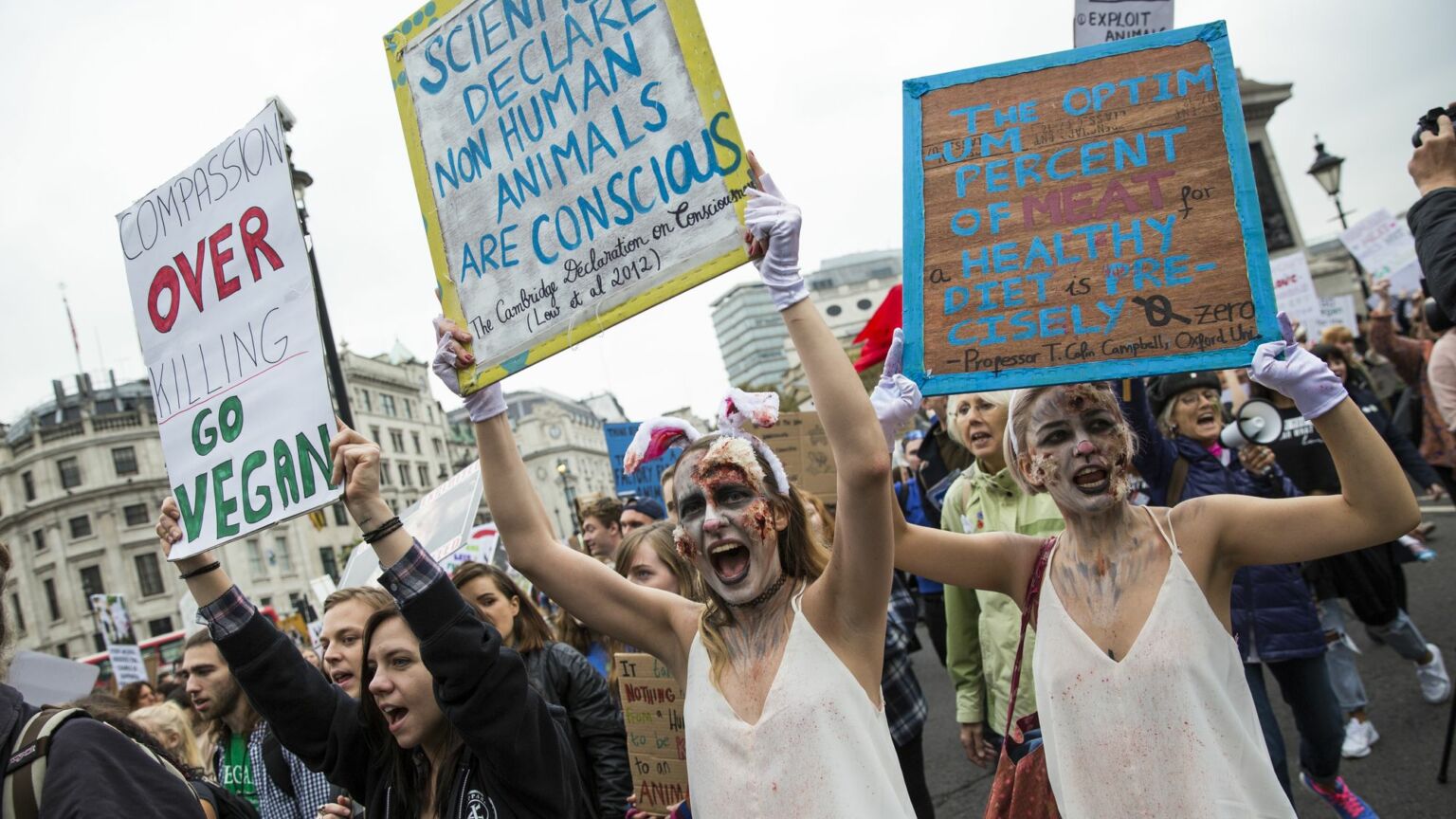 Has the cult of veganism reached its sell-by date? If recent headlines are to be believed, the answer is yes.
Over the past few years, there has been an explosion of vegan processed food appearing in supermarkets. A growing number of the population also claims to be vegan. But there are signs this trend could be going into reverse. Demand for animal-free food and drink products has collapsed over the past year. One casualty is Swedish oat-milk firm Oatly, which has recently withdrawn its dairy-free ice cream in the UK. Another is the Yorkshire sausage-making company, Heck, which has scaled-down its vegan-friendly range from 10 products to two. Smoothie-maker Innocent discontinued its dairy-free range earlier this year. Supermarket sales of meat-free products fell by £37.3million between September 2021 and September 2022, according to the consumer intelligence firm NielsenIQ.
There seems to be two main reasons. Rising inflation has been cited as one cause, as consumers have scaled back on branded and luxury eatables. Plant-based processed foods are generally more costly than the meat and dairy products they purport to replace. Another explanation is that producers of vegan food may have overestimated the size of the market for veganism, and now they are having to readjust to reality.
Whatever the reasons, we should welcome the retreat of the cult of veganism. And I use the word cult deliberately, because veganism greatly resembles not so much a lifestyle choice, but a way of life itself. It's a faith that resonates with today's puritanical and conformist mood.
And I should know, as someone who became a vegetarian in 1996 and has not eaten meat since. Sure, my decision aroused some mockery and derision back then, but vegetarianism had mostly stopped being regarded as weird by the mid-1990s. Ever since then, most of the opprobrium and scolding we vegetarians face comes from vegans, largely because we continue to eat eggs, cheese and milk.
For vegans, nothing must be consumed or worn that derives from animals or insects – even if there is no killing or discernible harm involved. Anything else is a feeble cop-out. Their way of thinking is absolute. In this respect, the best exemplars of the vegan movement are the animal-rights fundamentalists, PETA, whose members are well-known for their shrill, exhibitionist narcissism. Their message is simple: they are better people than you.
It's no surprise that veganism was turbo-charged in the mid-2010s, when wokery captured the minds of so many – when absolutist, extreme thinking, and the competition to be purer than the next man or woman, took over. The trans movement echoes this rush to extremes. It demands the transformation of your entire body. Indeed, bodily self-mutilation and mortification of the flesh have long been practised by religious fundamentalists.
Race is no longer regarded with nuance and ambiguity, as it was under the pre-woke liberal consensus. Instead, racial differences have come to be seen in absolutist terms, as that of black victim vs white oppressor. As a consequence, we now view history as an infantile morality tale between demonic Europeans and saintly souls from everywhere else. Through the 'decolonisation' of education and the destruction of statues, history is purged of impurities. Institutions seek to cleanse themselves with public displays of self-flagellation. Take this week's 'rehang' of the Tate Britain's collection which, as one critic notes, seem designed to express disapproval of the classic works on display.
The desire to appear pure and righteous manifests itself most clearly on university campuses, where students are clamouring to gag unclean, undesirable speakers. This isn't merely typical youthful groupthink. It is a 'purity spiral' in action, where each participant seeks to prove themselves more virtuous than the others.
Some have recently predicted that wokery will soon burn itself out, or be pushed aside by more pressing issues, such as the cost-of-living crisis or war. This is probably wishful thinking, but there are some signs that woke could be on the wane. For instance, this week there has been an unprecedented display of support from Oxford University students for the principle of free speech. Vicious attempts to prevent gender-critical feminist Kathleen Stock from speaking at the Oxford Union have so far come to nothing.
Perhaps the decline of veganism also illustrates a growing recognition that you don't always have to live religiously. You don't have to adhere to a neat, black-and-white creed, where blasphemers and infidels are excommunicated and cancelled. Life is messy and complicated, and there's nothing wrong with accepting that.
---
There's no such thing as 'good' racism
A theatre in East London has faced a backlash after it urged white people to stay away from a forthcoming production. The Theatre Royal Stratford East has planned a 'Black Out' performance of Tambo & Bones on 5 July so that a black-only audience can enjoy it 'free from the white gaze.'
Among those to pour scorn on the event is Wanjiru Njoya, a senior law lecturer at the University of Exeter, who criticised the idea that there is 'good racism' and 'bad racism'. 'If white people did a show and excluded black people for one night only, there would be an outcry', she told The Times.
She is right. There can only be 'good racism' if you are a utilitarian and you believe that the liberties and rights of individuals can be sacrificed or compromised for the greater and longer-term good. This utilitarianism is what underpins positive discrimination or affirmative action.
The problem with utilitarianism is that, by its own logic, minorities will always suffer, because the needs and wishes of the majority will overrule. How ironic that those claiming to speak for ethnic-minority people now employ utilitarian arguments.
Conversely, those who believe that all racism is bad recognise that we are all individuals, all actual, living, breathing, feeling people – and not just pawns in a culture war.
---
Why all writers fail
The late Martin Amis was stoical about his fading reputation in the 21st century. As he once told an interviewer: 'There's a one-word narrative for every writer. For [Christopher] Hitchens, it was "contrarian". For me, it's "decline".'
Nearly all writers come to regard their life as a failure, to one degree or another. So it was gracious and honest for Amis to accept this with dignity and candour. It's a sad lesson in life that most of us must face this inevitability. But it's also a healthy one: to remember to live in the here and now, and to forgo dreams of achieving posterity.
Patrick West is a spiked columnist. His latest book, Get Over Yourself: Nietzsche For Our Times, is published by Societas.
To enquire about republishing spiked's content, a right to reply or to request a correction, please contact the managing editor, Viv Regan.