The rainbow racket
The Rainbow Honours Awards showcased everything wrong with the trans lobby.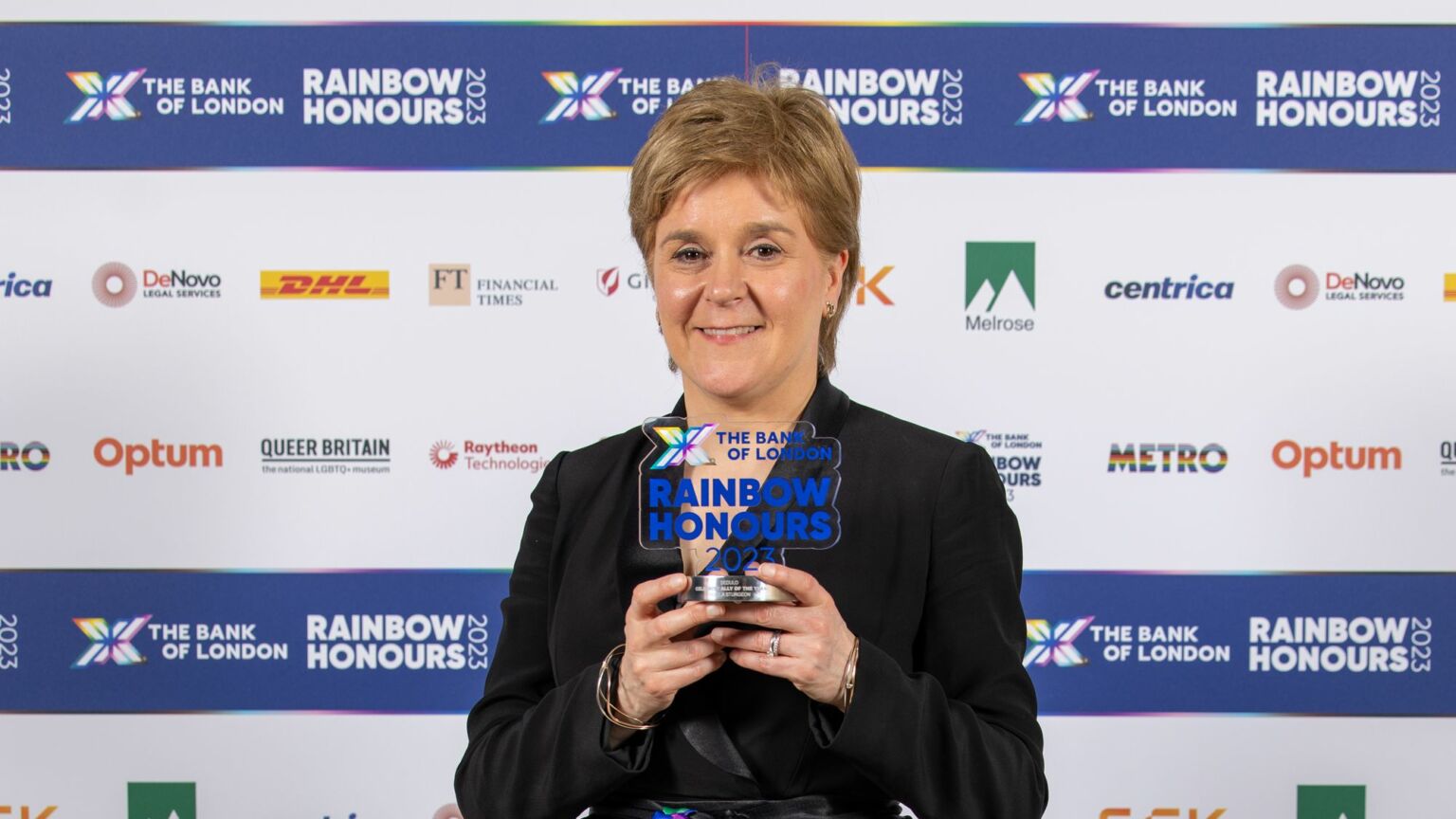 It's late May and we're almost halfway through the LGBT awards season. This now lasts all year, pausing only to let LGBT+ History Month, Transgender Awareness Week, International Day Against Homophobia, Biphobia and Transphobia (IDAHOBIT) and Trans Day of Remembrance squeeze themselves into the spotlight.
Last week, we had the Rainbow Honours Awards 2023. This brought together the great and the good – and Vanessa Feltz – to celebrate LGBT something or other. If it felt spookily similar to the Burberry British Diversity Awards in March, that may be because that too gave out numerous gongs to trans activists who believe lesbians can have penises. Also, both awards shows were organised by Linda Riley, publisher of Diva magazine and a former director of the Jack the Ripper Museum in east London, which has been accused of 'glorifying' the infamous killers' murders.
These LGBT events, now thoroughly awash with trans activism, are carnivals of victimhood. They all feature heart-breaking sob stories about LGBT suicide rates, bullying, self-loathing, violence, bigotry and oppression. In the real world, there has never been a better time to be gay, trans or even nonbinary (whatever that means). But these awards shows are designed to weaponise victimhood for political ends. In this case, for the cause of 'trans rights'.
Predictably, the award for best charity went to Stonewall. Stonewall may have been founded to fight for gay and lesbian rights, but it is now effectively a trans-activist organisation. It backs trans people who deceive others into having sex with them. Its director has compared lesbians who don't want to sleep with men to anti-Semites. And it claims that two-year-olds can know whether they've been born in the wrong body.
This year the Rainbow Honours Awards were held in the Natural History Museum in London, which costs up to £72,000 to hire. The irony is that earlier last week, the Natural History Museum came under fire from the liberal press for hosting a dinner for the right-wing National Conservatism conference. They speculated that it was funded by 'dark money'.
Perhaps the liberal press should have scrutinised the money men behind the Rainbow Honours Awards a bit more. Among those empowering activists who believe 12-year-olds should be given puberty blockers include two giant pharma firms and, bizarrely, Raytheon, one of the world's leading arms manufacturers. The main sponsor was a rather curious financial firm, the Bank of London. In June last year, its accounts showed a loss of £48,000. As a result, financial regulators ruled that it can hold no more than £50,000 in customer deposits and provide payment services of no more than £1,000. The Times reported the Bank had just £100 in cash as of the end of August 2022. Perhaps it is self-identifying as a bank?
I suppose we should be grateful that the Rainbow Honours Awards wasn't sponsored by the usual LGBT paymaster – HSBC, which tends to throw money at Pride events, presumably to distract from its various scandals. HSBC once took $880million from the most brutal of the Mexican drug cartels, the Sinaloa. It also helped finance Syrian despot Bashar al-Assad.
This year's Rainbow Honours 'celebrity ally' award went to former Scottish first minister Nicola Sturgeon. Presumably, this was in recognition of her sterling work getting male rapists and murderers incarcerated in women's prisons, under the banner of gender self-identification. She is a true ally of trans rights if ever there was one.
The sad truth is that the Rainbow Honours Awards exemplifies what's gone wrong with the LGBT lobby. It has prioritised trans ideology over gay rights. And it now indulges in expensive self-promotion, while snuggling up to questionable politicians and financial interests. This is a dumb, regressive lobby that serves nothing but itself.
Malcolm Clark is a TV producer.
To enquire about republishing spiked's content, a right to reply or to request a correction, please contact the managing editor, Viv Regan.