Keir Starmer: our next nanny-in-chief?
Labour's proposal to ban cigarettes is illiberal and insane.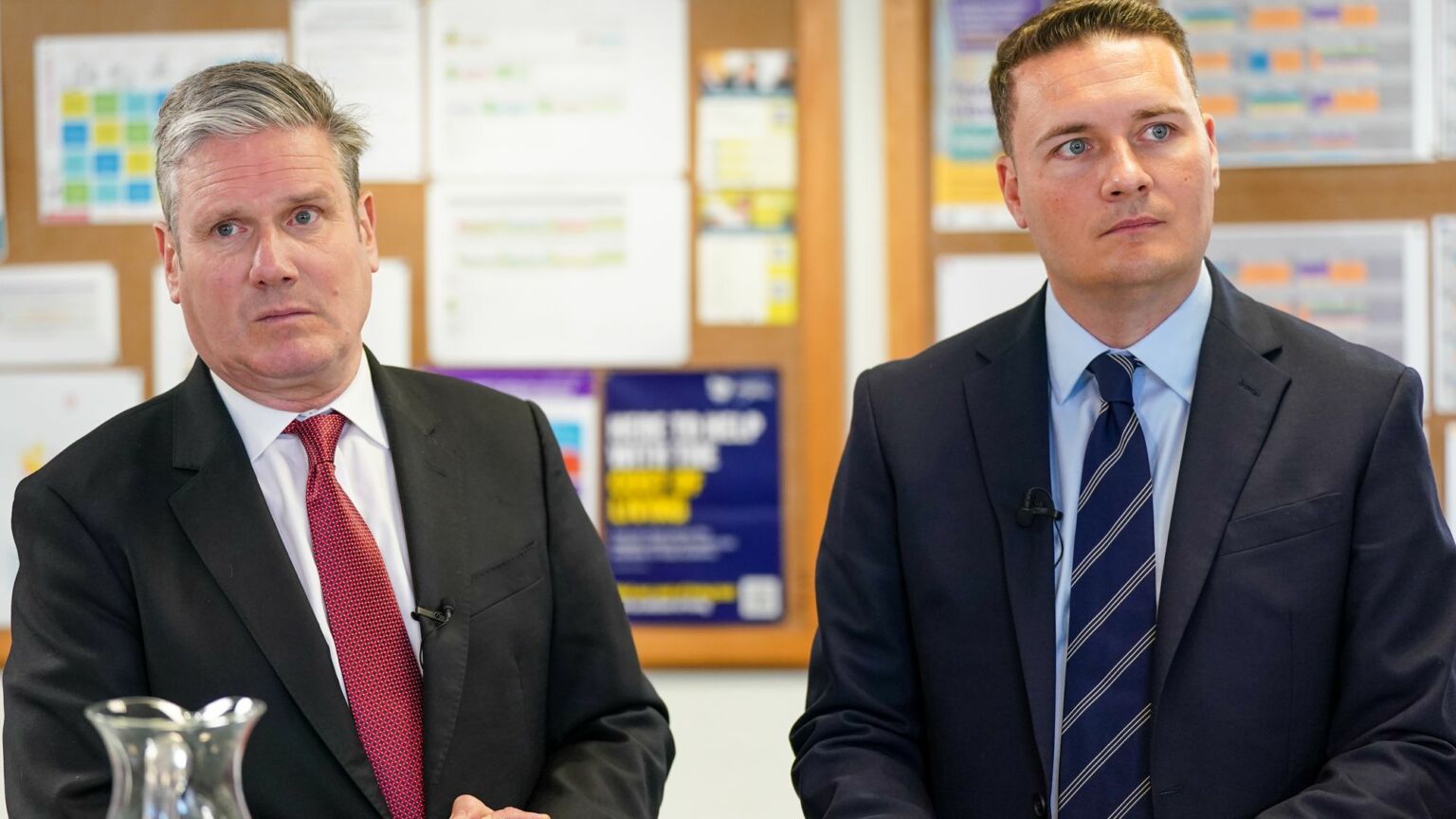 Judging by Labour's lead over the Conservatives in the polls, Keir Starmer's strategy of having no opinion about anything is working a treat. He knows that if he comes up with an unpopular policy, his ratings will drop. And if he comes up with a popular policy, the Tories will nick it. So, quite rationally, he has settled on the maxim 'if in doubt, say nowt'.
Sir Keir keeps his party on a tight leash. Wayward MPs have been cast into the wilderness and Labour successfully fought this month's local elections with the apparently novel strategy of 'No more piss-poor candidates'. The intervention last week from Labour MP Rachael Maskell, who called for a 10mph speed limit on residential roads, shows that Starmer still has work to do to tame the loony left. But no one questions his desire to present a moderate front in an attempt to win back working-class voters.
It is therefore curious that one of the few policies he has allowed to be flown up the flagpole is the total prohibition of cigarettes. More curious still is that this highly controversial idea is being proposed by Wes Streeting, the shadow health secretary, whom Corbynistas consider to be to the right of Ann Widdecombe. Streeting first announced that he was in favour of 'phasing out the sale of cigarettes altogether' back in January. This doesn't seem to have led to a bollocking from the leader's office, as he was on the Today programme last week confirming his position:
'The question for me on the New Zealand-style smoking ban isn't whether it's desirable, because I think, in policy terms and in terms of public opinion, interestingly, I think there is an appetite and a policy driver there to do it… In practice, is it going to work? Because it would be a great headline, and certainly a great signal of intent from the Labour Party.'
Streeting seems to believe that prohibition is a self-evidently sensible policy, so long as the public can be persuaded to row in behind it. Never mind the rights of Britain's seven million smokers. It would make 'a great headline' and that's what really matters.
The idea that banning cigarettes would be a 'great signal of intent from the Labour Party' is intriguing. What, exactly, does Labour intend to do when it gets into office? Assuming that Starmer is who he says he is today, rather than who he told the membership he was during the leadership contest in 2020, he will not be seizing control of the means of production. Given the state of the public finances, he says he will not go on a spending splurge, either. This does not leave much room for fundamental changes to society, except in the areas of identity politics and lifestyle regulation.
The Blairite ideology that has dominated the past quarter of a century sees the main point of politics as enacting a series of bans, each one more intrusive than the last. That the appeal of a ban on cigarettes crosses party lines was demonstrated when former Tory chancellor George Osborne made his own call for the prohibition of tobacco earlier this month. Politicians like nanny-state legislation because it doesn't cost much to introduce and it gives them a 'legacy' to look back on. And, in a country where one in five people want nightclubs and casinos to be closed forever, politicians can rely on the vocal support of a misanthropic minority. All they need is for the sensible majority to remain silent.
Nevertheless, implementing actual prohibition takes things up a notch and will be opposed by many people who supported all the other anti-smoking policies. The spirit of individual liberty is diminished in 21st-century Britain, but there are still plenty of non-smokers who don't see why other people should be banned from smoking. Non-smokers will not be eager to make up the £12 billion shortfall in tax revenue this would entail, And no one wants to deal with the inevitable crime wave from a ballooning black market. As for smokers themselves, they will naturally be opposed to prohibition, with the exception of the self-hating minority who need a 'commitment device' to force themselves to stop.
The New Zealand anti-smoking policy that inspired Streeting has been much misunderstood. People have focused on the plan to raise the smoking age by one year every year. This appears to lock in the rights of existing smokers to continue smoking, thereby reducing consumer resistance to the plan. But this is a sideshow. The real prohibition is the removal of nicotine from cigarettes. The New Zealand government is also cutting the number of tobacco-retail outlets from 6,000 to 600. All this has been legislated for and will happen soon.
Cigarettes without nicotine are obviously pointless. The only way to get real cigarettes will be to source them from the black market, and that is exactly what smokers will do. Despite being in the middle of nowhere and having a population of just five million, New Zealand already has a growing problem with tobacco smuggling. This will go nuclear once cigarettes are effectively banned.
The consequences of prohibition in New Zealand are unlikely to differ greatly from the consequences of prohibition historically. Whatever happens, the outcome will not be known until well after the next UK General Election. In the end, I would be surprised if the cautious Keir Starmer puts 'banning cigarettes' in his manifesto. It is nevertheless interesting – and telling – that the idea has an instinctive appeal to a senior member of the shadow cabinet and that Sir Keir has not told him to shut up about it. A signal of intent indeed.
Christopher Snowdon is director of lifestyle economics at the Institute of Economic Affairs. He is also the co-host of Last Orders, spiked's nanny-state podcast.
To enquire about republishing spiked's content, a right to reply or to request a correction, please contact the managing editor, Viv Regan.