The shallowness of anti-Trumpism
Joe Biden's flip-flopping over the US-Mexico border reveals an elite bereft of principles.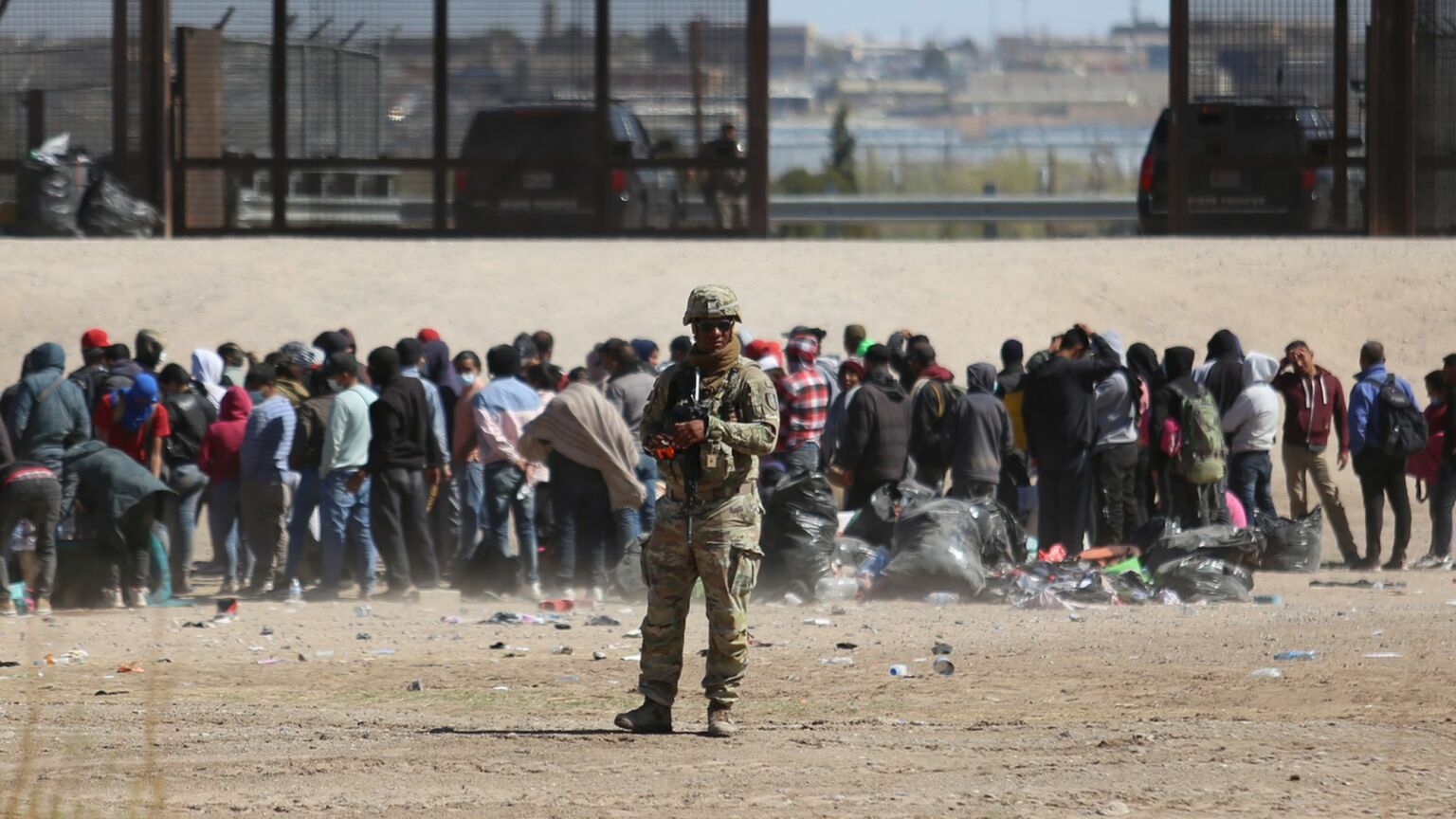 Have you noticed that when Donald Trump does something, it's 'fascism', yet when Joe Biden does the same thing, it's 'politics'?
Consider troop deployments to the US-Mexico border. In October 2018, President Trump caused hair-tearing angst among liberals across Christendom when he sent 5,000 troops to the border to deal with what he called an 'invasion' of illegal immigrants.
What a 'virulent melange of nationalism and authoritarianism', thundered the New Republic. It even whispered the f-word. In sending soldiers south, it said, Trump was making his 'closing argument to voters' ahead of the midterm elections the following month, and that closing argument was: 'fascism'. Esquire was equally irate. It is the 'hallmark of authoritarian regimes' to march troops around in such a cynical, political fashion, it argued.
Fast forward five years and now it's President Biden doing 'fascism'. He is sending 1,500 troops to bolster resources at the southern border ahead of an 'expected surge' of migrants. They'll join the 2,500 National Guard members who are already there assisting border agents. That adds up to 4,000 heavily armed men and women, just a thousand shy of Trump's virulent, nationalistic strongman show five years ago.
And yet the media discussion this time round could not be more different. You'll search fruitlessly for pained denunciations of Biden as a fascist. Alexandria Ocasio-Cortez has not flown down to blub for the cameras. Yes, there is criticism of Biden's 'militarisation of the border', but it is free of the historically illiterate hysteria that accompanied the liberal rage against Trump's troop deployment. One Democratic senator, Bob Menendez of New Jersey, is reported to have 'ripped' Biden for his border plan. Ripped? What did he say? Brace yourselves: he called it 'unacceptable'.
There you have it. The same policy can either be a vile act of semi-fascistic authoritarianism or just unacceptable, depending entirely on who's enacting it. Once again we see the staggering double standards of the liberal elites' performative anti-Trumpism. Trump acts tough, it's the 1930s again. Biden acts tough, it's okay, he means well.
Performative anti-Trumpism is not only an irritating part of the media chatter about America's border crisis. In many ways it is responsible for the border crisis right now. Pretty much Biden's only selling point to the electorate in 2020 was that he was Not Trump. He was the yin to Trump's yang, the virtue to Trump's vice. And one of the issues on which he was most keen to display his Not Trumpism was the border.
To signal his virtue – to the liberal media, to the graduate elites who make up the Dems' core base – Biden dismantled many of Trump's border measures. And the result has been as depressing as it was predictable: not a more liberal, sensible border policy, but disarray. Rarely have the destabilising consequences of elevating theatrical displays of virtue over rational policymaking been so clearly exposed.
Biden's posting of 1,500 more troops to the southern border is itself a desperate effort to manage the fallout from his own anti-Trumpism. The Biden set agitated against Title 42, a Trumpite policy that allowed the government swiftly to expel undocumented migrants. This was a Covid-era policy, introduced in early 2020, justified to prevent the spread of coronavirus in the US. Thanks to Biden, it is due to expire on 11 May and the authorities are expecting a 'new surge of migrants'. Hence the extra military manpower.
Everyone knows that the removal of Title 42 will lead to an influx of migrants that America is not prepared for. State leaders are in a state of panic. 'Title 42 is the one thing standing between us and utter chaos', says the Republican senator for Utah, Mike Lee. From the other side of the aisle, the Dem mayor of New York City, Eric Adams, says he is in 'urgent need [of] help' to deal with the thousands of new migrants NYC should expect post-Title 42. Adams is perplexed that, 'with the expiration of Title 42 just days away', the federal government still hasn't 'shared [its] plans' for how it will accommodate new arrivals.
You don't have to buy into the febrile talk of 'utter chaos' to recognise that it is strange, and unsustainable, for the Biden administration to further dismantle border controls without making plans for eventualities. Clearly, advertising his virtue matters more to Biden than such trifling matters as border security and working out what to do with incoming migrants. The military might he's sending down south is essentially a corrective to his own breastbeating anti-Trumpism.
This has been the case time and again in Biden's approach to the border. He virtuously dismantles Trump's 'evil' border measures and he's then forced to introduce border measures of his own to soften the consequences of his own performative virtue. Even in relation to Title 42, Biden has alternatively postured against it and expanded it. 'I don't like Title 42', he said in January, winning the love of the right-on he so tragically covets. And yet his administration also renewed Title 42, perhaps recognising that correct-think is all well and good but it doesn't police borders. As CNN put it, Biden 'publicly decries Title 42' while 'repeatedly turn[ing] to the Trump-era policy as a tool to manage a spiralling situation at the border'.
It's the same with 'The Wall'. During the presidential campaign, Biden said he would build 'not another foot' of the wall between Mexico and the US. He is Not Trump, you see. On his first day in office, he halted the wall's construction. Cue chattering-class praise. And yet he quietly reversed course. As The Economist put it, his sudden discontinuation of the wall left 'glaring gaps' along the border, and eventually Biden agreed to fill them in. Virtue crashed against reality yet again.
Then there was Trump's 'Remain in Mexico' policy. This forced aspiring migrants to await the outcome of their applications south of the border rather than in the US itself. Biden reversed this, too. But later, he reversed his own reversal and reintroduced 'Remain in Mexico'. Why? Because his administration 'failed to enact any necessary accompanying measures or preparation to ensure the reversal would be successful', in the words of the Daily Beast, hardly Trump lovers. The Daily Beast nailed it: 'Political virtue-signalling becomes self-defeating when accompanied by governmental incompetence.'
So Biden bashes Trump's wall, then builds more of it. He laments Title 42, then enforces it. He reverses 'Remain in Mexico', then reinstates it. The end result is neither a more sane immigration policy nor a stricter immigration policy, but no policy at all. Just a yawning vacuum of leadership. Posturing where there should be policymaking. Virtuous preening where there should be political clarity. A nation whose leader is more concerned with exhibiting his own moral rectitude than with securing the national territory will soon discover what instability means.
The current border crisis tells us a larger story, then. It confirms America is governed by an elite so bereft of principles and ideas that it cannot say what it is for, only what it is against. We are Not Trump, we hate The Wall, we loathe you deplorables, this narcissistic establishment cries, with not a second thought for the chaotic impact their performative virtue is having on everyday life.
To enquire about republishing spiked's content, a right to reply or to request a correction, please contact the managing editor, Viv Regan.