John Mortimer and the fall of the permissive society
The creator of Rumpole of the Bailey remained a steadfast defender of liberty to the end.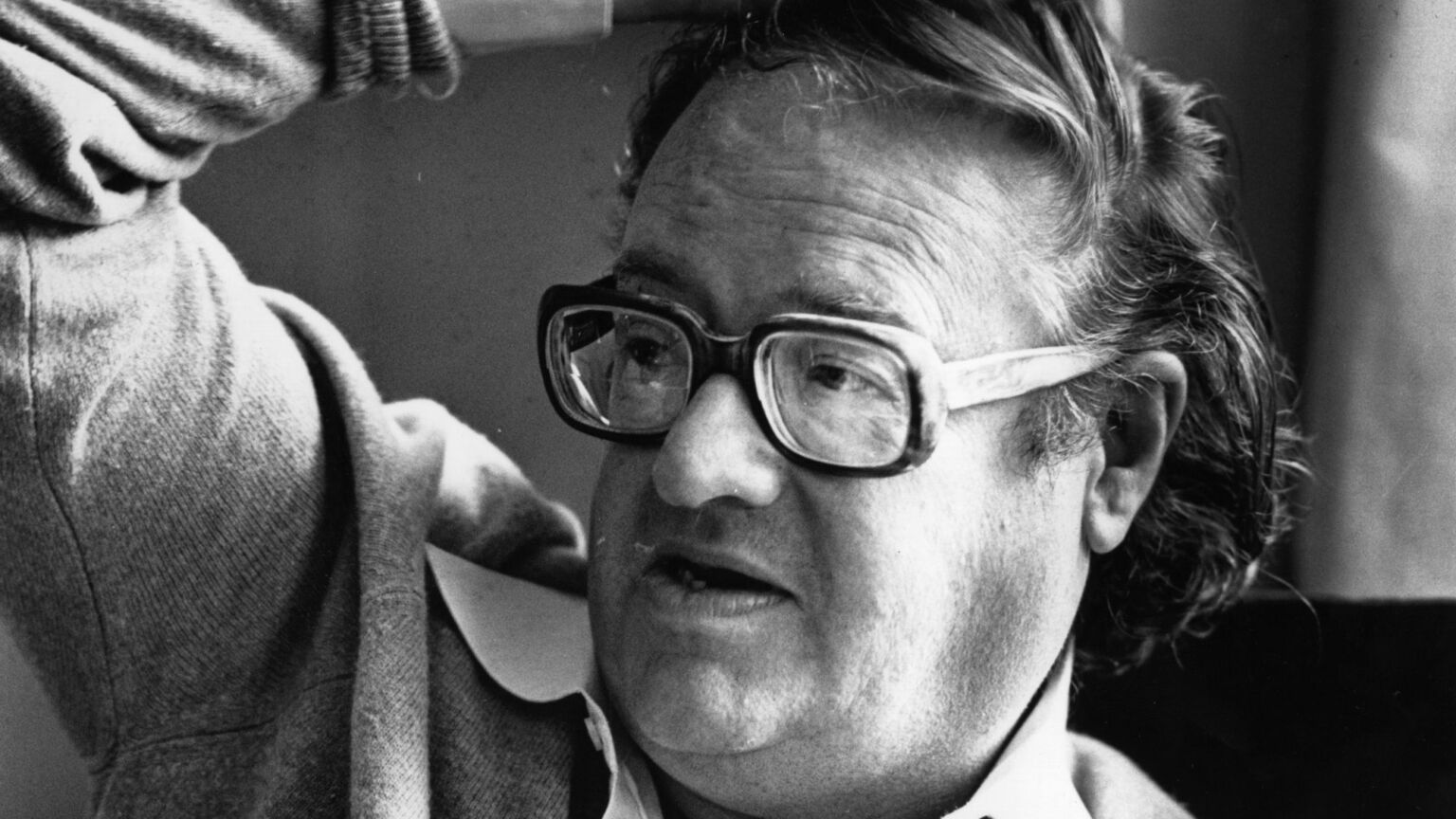 You could make the case that the Britain of the late 20th century was largely a creation of the late John Mortimer, born 100 years ago last week.
The world knows him best as the writer who gifted us the sublime Rumpole of the Bailey. But in Mortimer's day job as a barrister, the portly, womanising Old Harrovian played a major role in ushering in what used to be known, rather quaintly, as the 'permissive society'.
When he wasn't raking in cash from his writing work – for books, TV shows and lucrative newspaper columns – Mortimer was an outspoken left-libertarian and England's foremost defence counsel when it came to 'dirty-books trials'.
He had the writing bug since childhood. But, in a concession to his father (a prominent divorce lawyer immortalised in his play, A Voyage Round My Father), he studied law at Oxford in the early 1940s. In the end, he excelled in both spheres at the same time.
Mortimer's first foray into the freedom-of-speech minefield came in 1967. A prolonged and graphic rape scene in the American novel, Last Exit to Brooklyn, led to a successful obscenity case against the publisher in England (egged on by a Tory MP who had brought the book to public notice). Though Mortimer considered Last Exit to Brooklyn wretched in private, his eloquence in leading the appeal eventually overturned the conviction.
Shortly afterwards, in a 1968 magazine article, he set out his guiding philosophy. Would-be censors, he wrote, 'assume that the world is full of sillier, weaker, more suggestible people than themselves'. They yearn for a hierarchy, he said, of 'the cultured and informed who know best, and the dim, silent majority from whom bad books must be kept'.
In the decades that followed, Mortimer frequently crossed swords with the anti-smut campaigner, Mary Whitehouse. He would end up playing a prominent role in some of the most culturally significant censorship cases in British history.
In 1971, during the notorious Oz trial, he failed to convince an Old Bailey jury that the underground magazine's 'schoolkids issue' – edited by youngsters and featuring a cartoon of Rupert the Bear with an enormous erection – was nothing to get upset about. The case was ultimately thrown out on appeal.
Five years later, helped by his regular travelling circus of expert witnesses, he successfully extolled the literary merits of Inside Linda Lovelace – a book about the Deep Throat porn star that police had seized in Soho.
Time and again, Mortimer's whimsical, articulate manner won juries around. But Whitehouse got the better of him in 1977, when she privately prosecuted Gay News over a poem describing a centurion's sex acts with the crucified Christ in graphic detail. This was the last blasphemy conviction in British history.
Mortimer was achingly upper-middle class and privileged, with a habit for serial adultery that might well be described as callous. But his commitment to social reforms – doggedly working to improve the lives of women, gays, lesbians and ethnic minorities – was beyond question.
In the political world, that translated into an almost lifelong devotion to the Labour Party. His 1985 ITV series, Paradise Postponed, asserted that Britain had squandered the Attlee government's postwar socialist achievements. It represents his personal rebuke to Thatcherism – a philosophy, he felt, that amplified Conservatives' most heartless, narrow-minded qualities. This kind of goading prompted a rebuke from Tory industry minister John Butcher in the House of Commons. John Mortimer, he snorted, was 'an upmarket punk' who had 'made money for 15 years by eroding the confidence of the British'.
It's true that Rumpole of the Bailey, his signature TV franchise, embodies the kind of soft-left liberalism the television industry trades in. That said, it rarely strays into party politics. The moderately gritty pilot episode, in 1975, is a one-off BBC play, in which institutionally racist police frame a black teenage boy for murder. The stock-in-trade of the seven ITV series that followed, from 1978 to 1992, was the genteel, light-hearted mystery story.
The show's hero, Horace Rumpole, was not so much a self-portrait as an amalgam of three or four brilliant, eccentric barristers Mortimer had encountered. Over the years, though, the dishevelled Old Bailey hack became his alter ego. Rumpole embodied Mortimer's idealistic faith in the principles of British justice, his classical liberalism and sense of fair play (he did hold some reactionary attitudes, although these are played for laughs).
Big-hearted Horace, who seems to be permanently in his mid-sixties, isn't racist or noticeably homophobic, and he's a mentor to the small minority of female barristers in his chambers. He's world-weary and resistant to rapid change, as men of his age tend to be. And though he and Hilda – the battleaxe wife he labels 'She Who Must Be Obeyed' – aren't especially happy, they tolerate each other with just enough mutual regard to keep the marriage ticking over.
As Peter Hitchens once wrote, 'Rumpole is the nearest thing anyone has come to producing a rival to Sherlock Holmes'. This feat alone turned Mortimer into a national treasure, meaning his prose adaptations – mostly short stories of the 44 TV episodes, plus numerous BBC radio spinoffs from 1980 onwards – continue to sell. For the moment, at least, sensitivity readers show no interest in bowdlerising them.
It's only in Mortimer's later novels, written after temperamental Rumpole star Leo McKern had tired of the TV series for good, that Rumpole adopts an overtly political stance. The novels heaped scorn on Tony Blair's Labour government, which Mortimer grew to loathe for what he saw as its prissy and dangerous illiberalism. The last two Rumpole novels, published in 2006 and 2007, are indignant about overreaching anti-terror laws and anti-social behaviour orders, respectively.
Mortimer, a Kinnock man through and through, had been the subject of much ridicule in 1988 for co-founding the 20 June Group with Harold Pinter. Essentially, this was a group for Labour-supporting writers, counting Salman Rushdie, Germaine Greer, Ian McEwan and Margaret Drabble among its members. It was derided in the press as a talking shop for Champagne socialists.
The group soon descended into bickering and fell apart. Pinter told Mortimer's biographer, Valerie Grove, in the mid-Noughties: 'We all wanted a Labour government, and what a fucking shit-house that has turned out to be! I mean, give me Thatcher every time! At least she wasn't a hypocrite.'
For his part, Mortimer was worried that Labour was falling prey to suffocating political correctness. 'The arch enemy of all freedom' is how he described PC to journalist Auberon Waugh in 1994. Weeks after Labour's landslide victory in 1997, Mortimer was bemoaning its slide towards authoritarianism. It wants 'to send people to prison just for doing something you don't like', he said.
When the new prime minister invited Mortimer and his wife, Penny, to Chequers for dinner, Cherie Blair is said to have made matters even worse. Penny, a chain smoker, asked if she could smoke during drinks on the terrace. 'You can have just one if you must', Mrs Blair reportedly grimaced, 'but it's a disgusting habit'.
From that point on, Mortimer's alienation from Labour intensified. He joined Thatcher's sidekick, Norman Tebbit (who'd become a frenemy after Mortimer interviewed him), on the pro-foxhunting Countryside March through London. He wrote a sequel to Paradise Postponed that portrayed New Labour as more right-wing than the Tories. And he was, according to conservative author Frederick Forsyth, 'incandescent' about his old party's attitude to civil liberties. In protest, Mortimer wound up voting for the Liberal Democrats. He died aged 85, in 2009, following a stroke.
Was John Mortimer an old man stuck in the past, unwilling to adapt to the challenges of the 21st century? Perhaps. But those disillusioned voters on social media, who say 'I didn't leave the left, the left left me', would certainly have sympathised with his concerns.
David Ryan is a journalist and author.
To enquire about republishing spiked's content, a right to reply or to request a correction, please contact the managing editor, Viv Regan.