Humza Yousaf and the rottenness of the SNP
Even the party faithful are starting to turn against Sturgeonism.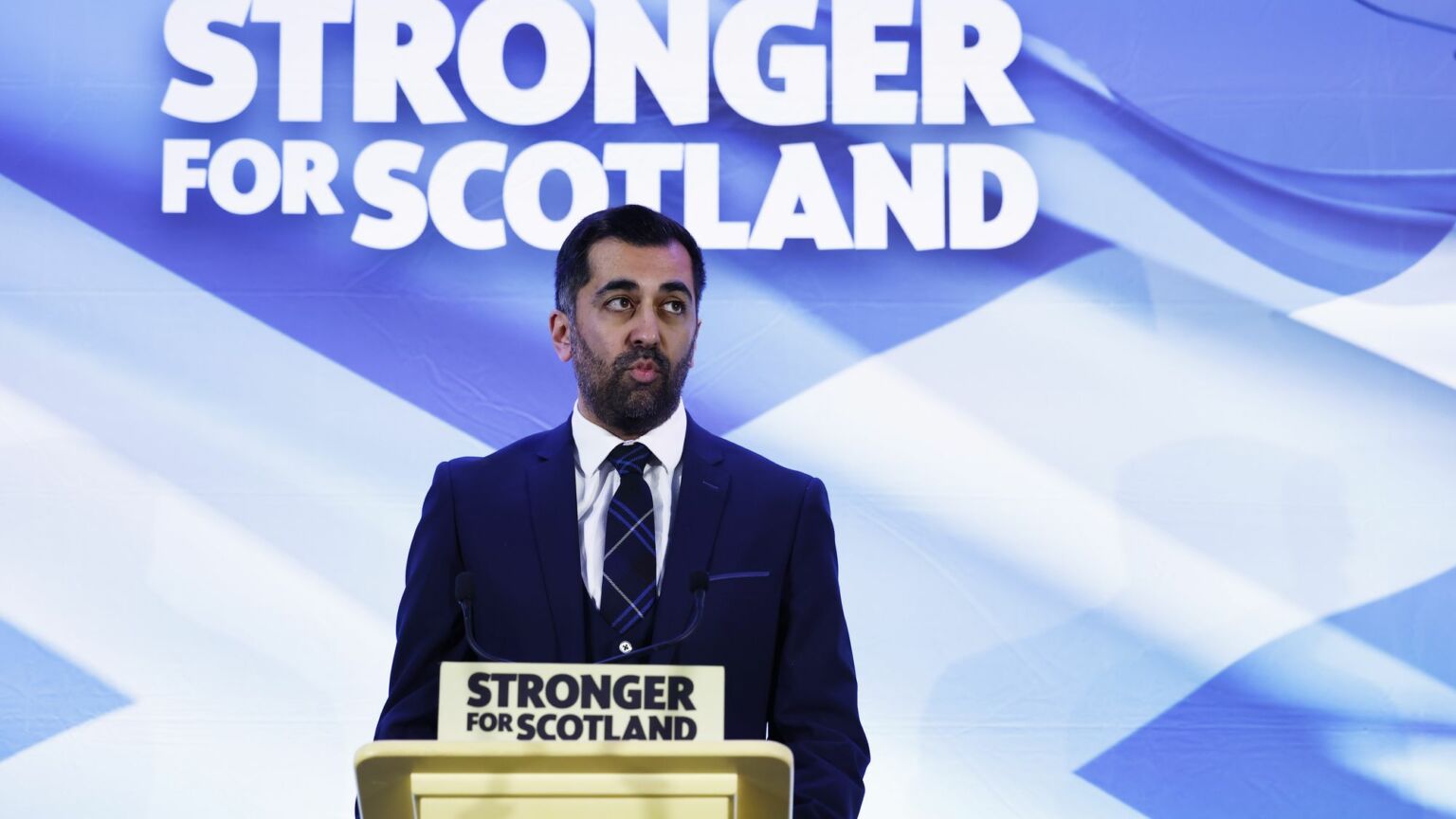 Humza Yousaf was supposed to walk the SNP leadership contest. The 'continuity candidate' had the overwhelming backing of the SNP establishment. He espoused all the same values and backed all the same policies as his near-sainted predecessor, Nicola Sturgeon. And yet, as today's leadership-race results show, a sizeable chunk of the SNP membership has not bought what Yousaf and the Sturgeonites were selling. The new SNP leader and incoming Scottish first minister had to rely on second-preference votes to beat out rival Kate Forbes, a candidate demanding a radical break from Sturgeon's legacy, by 52 to 48 per cent.
And who could blame those dissenters? The leadership race of the past few weeks has exposed the rottenness of the SNP on just about every front. It has revealed a party with an atrocious record in government. A party whose higher-ups are committed to madcap policies, like the hated Gender Recognition Reform Bill. A party wracked by allegations of dodgy dealing and mismanagement, with tens of thousands of 'missing' members and hundreds of thousands of pounds in 'missing' funds.
The narrowness of Yousaf's victory is even more striking given all the strings that have been pulled to tilt the result in his favour. SNP bigwigs have been accused of the most incredible skullduggery. For instance, many believe that the short timetable of the leadership race – offering just 17 days of campaigning between the nominations and the first day of voting – was designed to boost Yousaf's chances and hobble his less-recognised rivals.
While Sturgeon herself was keen not to be seen to endorse anyone, where she stood on this race is the worst-kept secret in Holyrood. One of Sturgeon's top advisers, Liz Lloyd, is even alleged to have contacted Yousaf's main rival, Kate Forbes, just days into the campaign, in order to 'put pressure on her not to run'. A few weeks later, Lloyd began advising Yousaf.
While Yousaf was favoured by the party machine, Forbes was demonised relentlessly by leading SNP figures. Her Christian beliefs were held up as effectively disqualifying her for the role of first minister. For her views on trans rights and traditional marriage, she was branded a religious fundamentalist who would drag Scotland back to the dark ages. This was despite the fact that Forbes' concerns about Sturgeon's gender reforms are shared by the majority of Scots. Plus, while she believes that marriage should be between a man and a woman, she made clear she had no desire to roll back gay marriage. It is refreshing to see that so many SNP members have refused to buy into the smears against Forbes, given the deeply intolerant campaign waged against her.
Perhaps the demonisation campaign should not have come as a surprise. Forbes was scathing in her assessment of Sturgeon's record. 'More of the same is not a manifesto', she said in a sly dig at Yousaf during one TV debate, 'it's an acceptance of mediocrity'. She was even more critical of Yousaf's ministerial record: 'You were a transport minister and the trains were never on time, when you were justice secretary the police were stretched to breaking point, and now as health minister, we've got record-high waiting times.' Thanks to Forbes' candidacy, the failures of the SNP establishment were given a much-needed airing.
The leadership race was also marred by several scandals engulfing SNP party managers. Nicola Sturgeon's husband, Peter Murrell, was forced to resign in disgrace as SNP chief executive earlier this month, after it was revealed his office had allegedly misled newspapers about the size of the SNP membership. We now know that the party has 72,000 members – more than 30,000 fewer than had been briefed to the media. Not long after Murrell's resignation, we learned that the police have been interviewing senior SNP figures, including the party treasurer, as part of a fraud inquiry into £600,000 that is said to have gone 'missing' from party coffers.
The tight result also suggests that SNP members are not nearly as woke as the party establishment imagines. Two of the three candidates – Forbes and Ash Regan – were explicit in opposing Sturgeon's gender-recognition reforms. Although Yousaf remains committed to self-ID, he did appear to backtrack at points during the campaign when under pressure. He suggested that he would only fight the UK government's Section 35 order, which blocked the Scottish bill from passing into law, if there is a strong chance he will succeed in the courts. And on the critical question of placing trans rapists in women's prisons, Yousaf suggested that the infamous double-rapist Adam 'Isla Bryson' Graham was probably not trans at all, inadvertently revealing a key flaw in letting people change gender via self-declaration alone. However, after winning the race, Yousaf has since doubled down on his trans zealotry, reaffirming his pledge to fight for self-ID.
Perhaps the only good news to come from a Humza Yousaf victory is that it makes the break-up of the UK just that little bit less likely. Support for independence has taken a hammering in recent weeks and months, especially thanks to Sturgeon's car-crash gender-recognition reforms. Under Yousaf, the campaign for Scottish independence will still be associated with all of Sturgeon's dreadful policies, except it will be led by a politician with none of her PR skills. Yousaf's approval rating among the general public is currently at minus 20 per cent. If a political communicator as effective as Sturgeon couldn't sell her vision of an independent Scotland, then no one should expect Yousaf to do any better.
In just about every area of politics, Yousaf is pledging more of the same, but worse. In the campaign, he promised to have Sturgeon on 'speed dial' to make use of her advice. In his victory speech today, he thanked Sturgeon for leaving him 'strong foundations to build on'. In reality, as this campaign has exposed, those foundations are more than a little rotten. Humza Yousaf may have won, but as the tight result shows, even the SNP faithful are having serious doubts about Sturgeonism.
Fraser Myers is deputy editor at spiked and host of the spiked podcast. Follow him on Twitter: @FraserMyers
To enquire about republishing spiked's content, a right to reply or to request a correction, please contact the managing editor, Viv Regan.