How we gave up on work
Lockdown and working from home have made us workshy and self-indulgent.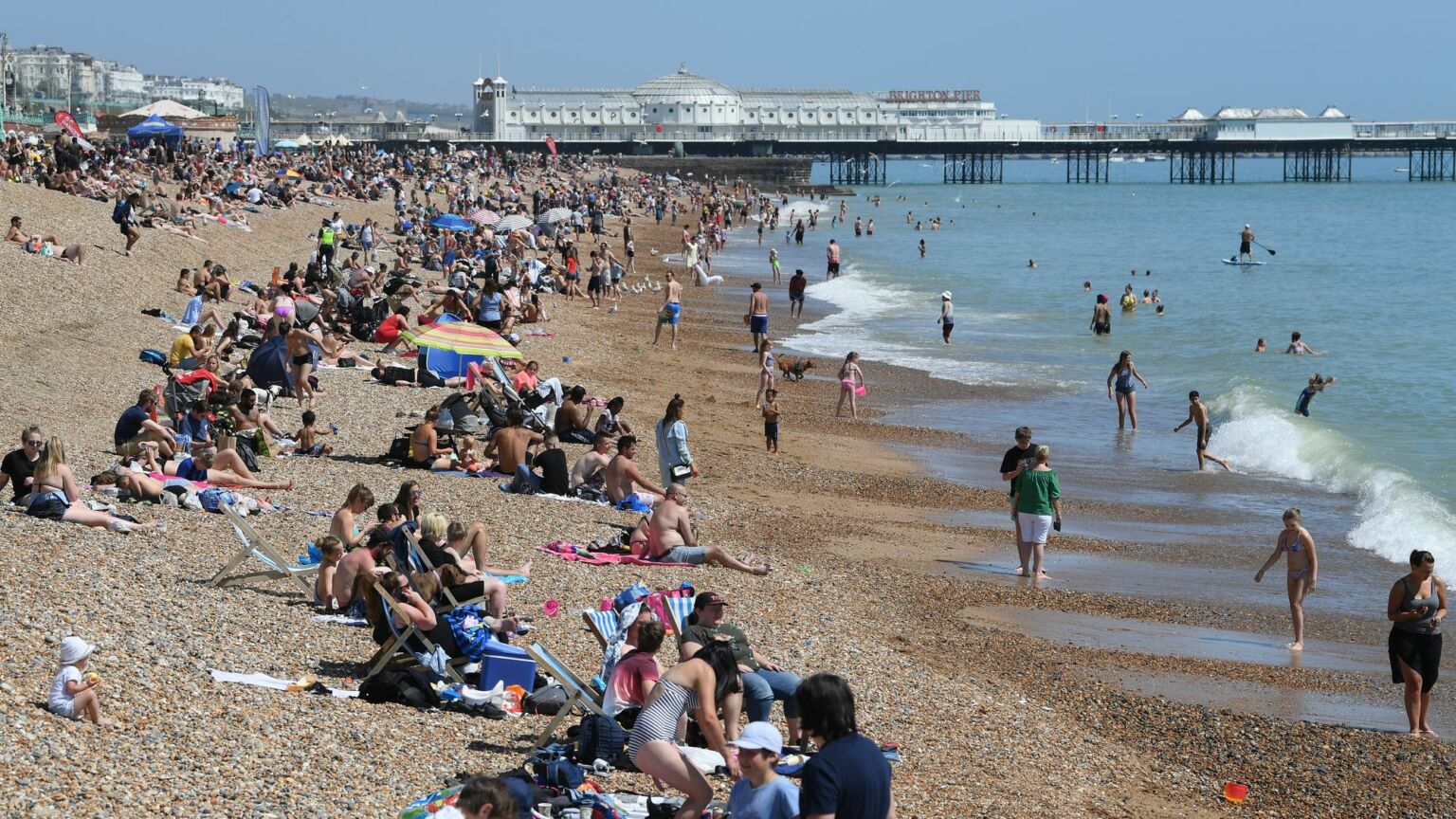 'A day at the beach' – meaning: 'A non-stressful, relaxing day – an easy day. When someone uses the idiom "a day at the beach", it means the project, task or event will be easy or non-challenging.'
I'll say. When I first moved from London to Brighton in 1995, it was partly for nefarious motives (chasing my girlfriend's younger brother), but partly because, at 35, I was finding London, the city I'd fetishised ever since I was a little girl in the West Country, boring. Yes, I know they say that he who is tired of London is tired of life, but I was tired of sitting in taxi cabs for around an hour trying to get from my Holborn home to the newspaper offices of Canary Wharf in order to lunch with my various bosses. I wanted to live somewhere where I would never be more than 10 minutes on foot from the nearest drug dealer – and Brighton fitted the bill beautifully.
I don't take drugs anymore, but I've never fallen out of love with my shimmering city by the sea, despite the teeming masses of wokers, the useless Green council and the presence of parliament's weirdest MP, Lloyd Russell-Moyle. One reason I was converted to Brighton, despite ambition being practically my religion for much of my life (not to mention the title of my bestselling dirty book), was that I felt like being lazy. How happy I was to quickly contract 'Brightonitis' – the process of being busy doing nothing, as one whiles away the summer days (and quite a few of the spring, autumn and winter ones, too) at the various watering holes and pleasure palaces along the seafront, interspersed with the occasional dip in the briny. Everything tastes better on the beach – chips, cigarettes, snogging.
So I wasn't too shocked to read that although nearly two-fifths of adults in England and Wales are 'economically inactive' – according to data released by the Office for National Statistics from the 2021 Census – this rises to more than half in many coastal areas. In Brighton at least, it's not the usual excuse of there being only seasonal work in seaside towns and cities either – all through the winter I've seen practically every other restaurant or bar I pass with 'WE ARE HIRING' signs in the window. But we Brightonians would rather play hooky, it seems.
I have to declare an interest here. I've only ever not worked from home twice in my life – once as a 15-year-old runaway, when for two blissful months I worked a 12-hour day selling scent in a shop on King's Cross Station, and then for a year when I bagged the coveted post of girl reporter at the then-hot New Musical Express. But when it soon transpired that the things I was keenest on doing in the workplace were sniffing speed during editorial meetings and encouraging various men I was having it off with to get into fist-fights over me, my editor thought I might be better employed staying at home and churning out hot copy. By the time I was 19, my days as a commuter were over.
I've been a published writer since I was 17 and I'm 63 now. Being a writer never fails to make the top-five dream job list – at the moment it goes pilot, writer, dancer, YouTuber, entrepreneur – simply because, so long as you meet your deadlines, you can more or less do it as and where you want. When I had extreme insomnia some years back (I called it 'Extra Life'), I would get up at 4am, write until 10, volunteer until 12, then skip out to lunch and entertain myself as I pleased for the rest of the day. If I'd have had to commute five days a week, even to a job I liked, I think I'd have gone bananas trying to get by on three hours' sleep a night for the best part of five years. So I'm circumspect about telling other people to do things I don't have to. I particularly loathe those pompous female newspaper columnists who are forever lecturing the Love Island kids that they should be training for a 'proper' job like being a teacher or doctor – well, why didn't you then? Because you like an easy life and getting your photo in the paper – just like the Love Island kids. The only difference is that you're plain and they're pretty – and you're old enough to know better than to preach one thing and do the other. (And BTW, this year's winners were a teacher and a childcare social worker.)
And yet I can't help believing that not working is bad for people – blame it on my Communist upbringing. 'He who does not work shall not eat', decreed Lenin in his 1917 work, The State and Revolution, a sentiment favourably repeated by the chirpy young sailor in the 1985 romcom, Letter to Brezhnev. His Liverpudlian girlfriend replies: 'It's a bit like that here as well.' But it's not like that anymore. If you don't work, you're far more likely to eat too much and get fat than starve. I know I am, lounging on my chaise longue all day dreaming up new ways to offend people. But then again, I am getting on for 64, have earned my living since I was 17, never taken state benefits, pay my taxes, do eight hours' volunteer work each week and plan to be productive until I drop down dead.
I understand why Jeremy Hunt made his heartfelt plea to middle-aged lotus-eaters at the start of the year: 'To those who retired early after the pandemic or haven't found the right role after furlough, I say Britain needs you. And we will look at the conditions necessary to make work worth your while.' And I get why, in last week's budget, the chancellor practically begged the 3.5million forty- and fiftysomethings now not working to join one of the new 'returnerships'. But good luck with that. Lockdown and working from home have changed the national psyche from one which was proud to keep calm and carry on to one which appears to believe that we are stressed-out semi-invalids who need Me-Time for approximately half our waking hours in order to avoid 'burnout'. In new data from LinkedIn, more than a third of employees said they would resign if they were told to return to the office full-time. Even kicking a ball around for a sheikh's ransom can be damaging, apparently; a new survey complains that many 2022 Qatar World Cup players suffered extreme mental and physical fatigue. Maybe they could kneel out of sympathy with themselves next time?
Closer to home, I've just heard on the radio a bunch of fiftysomethings whooping it up on a golf course: 'Of course people like doctors shouldn't retire early – but they've got skills. I don't!', chortled one cheery fellow before affirming that he would never go back to work. A 54-year-old woman agreed: 'The children are at university now and this is my time for myself, to travel and relax.' But it's not all bottomless brunch and ball games. For women as much as men, a life without work can be a lonely one. It was among the affluent housewives of the American suburbs in the 1950s when mass-prescription of tranquillisers first took place, which is now finding a terrible echo in the opiate epidemic in the US's post-industrial 'rust belt'. I remember my dad presenting me with a latchkey when I was eight because my mother was going back to work. 'People go mad if they don't work – and you don't want your mum to go mad, do you?', he explained. My mother was variously employed as a cleaner, a shop assistant and a factory hand and never enjoyed her work much. But the difference in her mental health when she was enjoying the camaraderie of the workplace contrasted dramatically with her depression as a housewife.
Back in the 1920s, F Scott Fitzgerald advised his daughter, Scottie, not to marry for money, but instead to work for her living, pointing out that her poor mad mother realised too late that 'work is the only dignity'. Today, the Love Islanders of both sexes invariably want a partner who has 'got their own thing going on… not just sitting around all day waiting for me to come home'. Clearly, we know instinctively that activity is better than inactivity. I don't think anyone's ever going to say on their deathbed: 'Damn – I wish I'd watched more daytime TV!' A 2005 study found that people who retire at 55 are 89 per cent more likely to die within 10 years than those retiring at 65. Even volunteers are 44 per cent less likely to die young, according to a 2020 Harvard study published in the American Journal of Preventive Medicine.
But then I return to my own lovely life and think it might be rather high-handed of me to scold those with less enjoyable jobs to get their noses to the grindstone, PDQ. Still, I can't help thinking a society in which we saw Yosser Hughes of Boys From the Blackstuff ('Gissa job!') as a sympathetic figure is preferable to one which seeks to emulate the Dowager Countess from Downton Abbey ('What is a weekend?'). If we in the West decide we really do prefer a work-free life, we'll end up sending our economy down the chute. And there won't be any sitting around smelling the roses then.
Julie Burchill is a spiked columnist. Her and Daniel Raven's Awful People – a play about sex, drugs, race, class and the culture wars – will debut in the Brighton Fringe Festival from 22 to 25 May. You can book your tickets here.
To enquire about republishing spiked's content, a right to reply or to request a correction, please contact the managing editor, Viv Regan.