Keir Starmer is no free-speech champion
The Labour leader's support for Gary Lineker is Premier League-level hypocrisy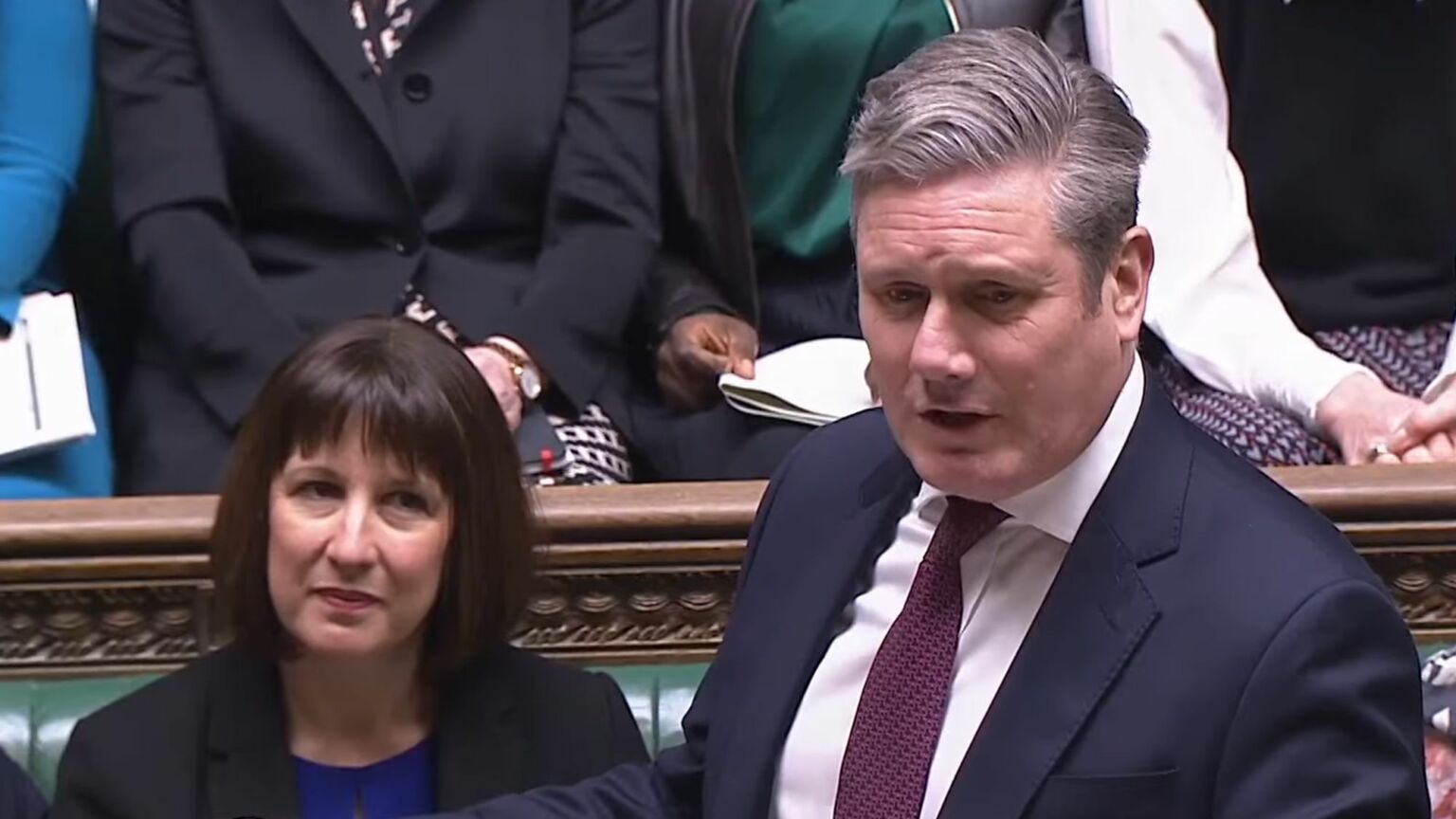 Perhaps there should be an award for the most gormless contribution to the debate around l'affaire Lineker, rather like the traditional Goal of the Month on the BBC's Gary Lineker Show (aka Match of the Day). If so, the competition for such a prize would be pretty stiff.
Yet in the last minute, just when they thought it was all over, a new star contender for Gorm of the Month has emerged from the packed field. Step forward Sir Keir Starmer KC, the Labour Party leader who is most pundits' pick as the UK's prime minister-in-waiting.
During many political contests, Starmer is known to prefer sitting on the bench and staying out of the fray, in the hope that his opponents will trip over their own bootlaces without him having to risk a tackle. On Wednesday, however, during Prime Minister's Questions in the House of Commons, the Labour leader leapt two-footed into the clash over football presenter Gary Lineker and the BBC.
Result: Sir Keir ended up exposing himself as a Premier League-level idiot and hypocrite on the top-of-the-table issue of freedom of speech.
Starmer wanted to get stuck into Conservative prime minister Rishi Sunak, after Tory MPs demanded that the BBC stand its ground against Lineker. They wanted the Beeb to face down its star man over his outrageously over-the-top tweet comparing the government's language around illegal immigration with Nazi Germany.
Last year, Sir Keir observed, Sunak 'said he wanted to protect free speech and stop No Platforming'. In which case, how did he feel about the 'campaign from [his] MPs to cancel a broadcaster?' The 'sight of them howling with rage over a tweet', said Starmer, 'desperately trying to cancel a football highlights show… should have been laughable'.
Starmer concluded what he no doubt imagined was a dazzling dribble through Sunak's defence with an attempt at a thunderous finish. 'Why doesn't he take some responsibility, stand up to his snowflake MPs waging war on free speech?'
Leave aside for a moment that it was actually Lineker and his fellow celebrity pundits who effectively contrived to 'cancel a football highlights show' at the weekend. Nobody needs a close-up VAR review to spot where Starmer has blatantly strayed offside.
For years, Labour MPs and supporters have insisted that woke cancel culture does not really exist, and is merely a cynical right-wing invention to penalise the left. Now Starmer apparently discovers that cancel culture is a big issue, accusing the Tories of trying to give Lineker a red card. As for scoffing at Tory MPs as 'snowflakes' for 'howling with rage over a tweet' – well, the Labour-supporting Twitterati invented that game. Starmer sounds like one of those dirty, diving footballers who insist that only their opponents ever commit fouls.
Starmer and his Labour Party are transparent free-speech fakers. They think we should be free to express any opinion, so long as they agree with it. In backing Lineker, Starmer is not siding with free speech, but with the views of the metropolitan elite he represents.
If a BBC presenter instead tweeted in support of Brexit or government immigration policy, or against trans ideology, they would soon find their freedom of expression being expressly denied by Lineker's leftie fan-club. Anybody who doubts that might recall Labour MP Rosie Duffield being barracked by her own 'comrades' in parliament, for daring to speak up for women's rights by welcoming the government block on Scotland's Gender Recognition Reform Bill.
Attacking the Tory government on free-speech issues ought to be an open goal. One Tory prime minister after another has consistently failed to fulfil their promise to stand up for freedom of expression and against cancel culture. Yet at every turn, it becomes clear that the prospects for free speech would be even worse if Starmer was in power.
Where defending free speech is concerned, Labour always manages the remarkable trick of turning an open goal into an own goal, by criticising the Tories for somehow being too liberal-minded. So, when the Conservatives draw up a poorly conceived law intended to protect freedom of speech and academic freedom in our universities, the Labour Party denounces this as offering nothing more than 'legal protections for hateful, harmful and divisive speech'. And when the government listens to critics of its Online Safety Bill, and rewrites the bit that would compel online providers to take down words deemed 'legal but harmful', Labour screeches that 'the government has bowed to vested interests, over keeping users and consumers safe'. It never seems to occur to the control freaks of Starmer's Labour Party that the British people – aka the 'users and consumers' of social media – might have a vested interest in defending our society's most important liberty, free speech. We don't need any lectures about it from Labour.
Starmer's Labour Party as a champion of free speech and convert to fighting against cancel culture? That really is 'laughable'. It sounds about as likely as Lineker and his celebrity chums on Match of the Day defending the right of football fans to sing 'naughty' songs about millionaire players, current or retired.
Picture by: YouTube / Sky News.
To enquire about republishing spiked's content, a right to reply or to request a correction, please contact the managing editor, Viv Regan.