The farmers fighting back against the irrational elites
Now French farmers have joined the tractor revolt against the laptop classes.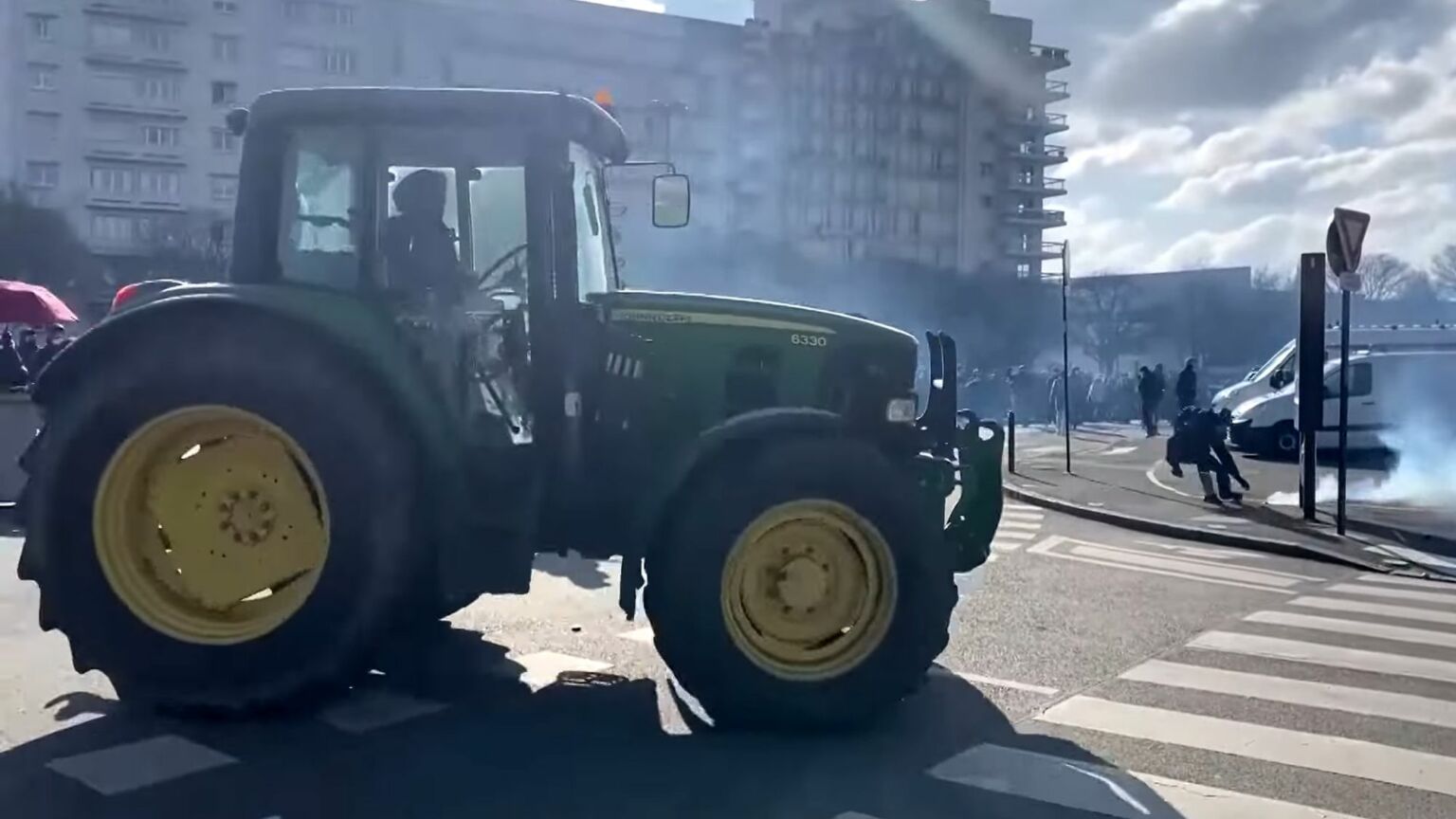 Nothing speaks to the madness of the modern elites better than their war on farming. Consider France. One day President Macron is telling the world to get serious about 'food security'. Post-Covid and with war raging in Ukraine, we must make sure food keeps being made and transported around the world, the French government says. Yet, at the same time, that same government, without missing a beat, is bringing in pesticide bans that could devastate sections of France's own agriculture industry. Which could even lead to the closure of farms. Behold the schizophrenia of the 21st-century establishment.
On Wednesday, hundreds of farmers drove their tractors through central Paris in protest at new pesticide restrictions. Don't worry if you haven't heard about this latest farmers' revolt on the continent – the tractor uprising against the laptop elites rarely makes the mainstream news these days. The farmers are furious over the government's ban on neonicotinoids, a chemical that kills insects that eat plants. Such insecticides are potentially harmful to bees, and so farmers will be forbidden from using them. And the fact that the ban will hit sugar-beet farmers particularly hard, potentially leading to the closure of sugar factories? Doesn't matter. Bees come first.
For sugar-beet farmers, neonicotinoids are essential for staving off yellows virus, a pathogen spread by sap-sucking insects that causes beet leaves to turn yellow and which can reduce crop yields by up to 50 per cent. The farmers who took to the streets of Paris this week are worried about a 'further decline in beet plantings' and, consequently, 'sugar-factory closures'. 'Macron is liquidating agriculture', one of their banners said. 'Save your farmer', cried another. As Reuters reported, the farmers believe the government's 'excessive pesticide curbs' run counter to its 'calls to boost food security in response to the Covid-19 pandemic and war in Ukraine'. And they're right.
The French clampdown on neonicotinoids sums up so much that is wrong with modern politics. The ban is a diktat from an unaccountable technocracy. It was under pressure from the European Union that France overturned its longstanding policy of allowing beet farmers to use neonicotinoids even though their use is forbidden elsewhere in the EU. Last month, the European Court of Justice decreed that France was behaving illegally and should immediately stop using these toxic substances that are bad for bees. So much for French sovereignty. With the stroke of a foreign judge's pen, beet farmers in France have had their ability to make a living thrown into jeopardy. No wonder so many working people feel they aren't in control of their own lives anymore.
The EU's callous issuing of a decree that will hurt hardworking French farmers echoes its antics in other member states. Dutch farmers have been in a state of revolt for almost four years now after the EU put pressure on the Dutch government to cut nitrogen emissions in the Netherlands in half by 2030. Such a mad, drastic policy would be devastating to farmers' livelihoods, potentially leading to the closure of 3,000 farms. Ireland is also being bullied by the EU to slash emissions by between 22 and 30 per cent, which Irish farmers believe could cost their industry €4 billion and 56,000 jobs. It isn't only in the unhinged oligarchy of the EU that farmers are being prevented from farming. Justin Trudeau wants Canadian farmers to cut nitrous-oxide emissions by 30 per cent by 2030. And who can forget the insanity in Sri Lanka, where the government's conversion to the eco-religion of organic farming, and its restriction on the importing of certain fertilisers, led to a staggering and dangerous downturn in agricultural yields.
We need to talk about the irrationalism of the global elites' hostility to farming. Last year, the UN estimated that 180million people are facing 'food crisis' right now, and yet various governments around the world are making it harder for farmers to grow food. What's more, banning an insecticide like neonicotinoids in yet another Western country – France – does not mean the world will become a 'cleaner' place. As this week's protesting French farmers pointed out, France will just end up importing more sugar beet from 'countries that allow neonicotinoids'. Slowly destroying farmers' livelihoods, and for what? Not for a world free of chemicals. That stuff will still be used, somewhere else, to make food French people will end up eating.
This cuts to the rotten heart of the elites' anti-farming agitation. Self-styled virtuous nations seem content to outsource the 'dirtier' aspects of farming to other countries, just as they're content to get coal from Africa or China. This means our morally pristine countries can wallow in eco-virtue, safe in the knowledge that the hard, filthy work of mining for coal or making sure sugar-beet crops don't get devoured by diseased insects is being done by other people in other parts of the world. Preserving our virtue takes precedence over preserving our industries and the jobs they create. Being eco-pure is more important to the new elites than the ability of working people, whether coalminers or beet farmers, to earn a living and contribute to society.
This is how estranged from reason and reality the 21st-century elites have become: in the crazy tussle between food and signalled virtue, they choose the latter. It's what happens when we're governed by the out-of-touch, by a cushioned pyjama class that rarely ventures out of its metropolitan bubble and whose every whim is met by an ill-paid precariat. We end up with rulers who know little, and care less, about how things are made; about the importance of agriculture to the continued existence of humanity; about the necessity of industry; and, most importantly, about the centrality of work to working people's sense of meaning and autonomy. Only an establishment that had completely lost connection with the material world of things and production and jobs could so cavalierly say, 'Let's close down a few thousand farms to save the bees'.
This is why the farmers' fightback matters. This is why we should cheer the revolt of the tractor classes against the laptop classes everywhere from Canada to France to the Netherlands. Because these people are fighting for more than their right to work and make food. They're also fighting to restore reason and sense to the otherworldly realm of technocratic rule.
Picture by: YouTube / Reuters.
To enquire about republishing spiked's content, a right to reply or to request a correction, please contact the managing editor, Viv Regan.