Just Stop Oil is not a terrorist organisation
Proscribing the eco-activist group would be a deeply authoritarian move.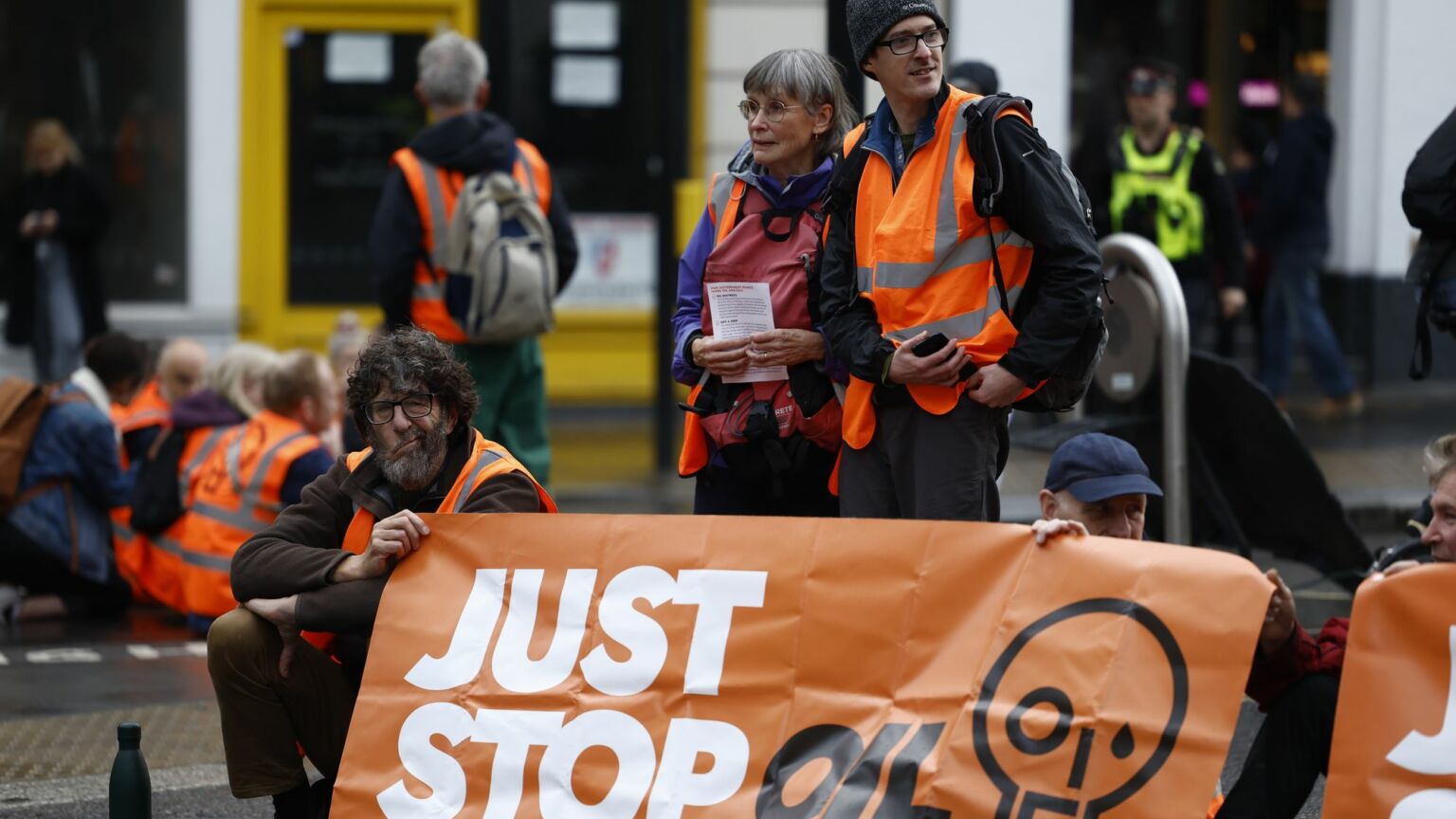 What to do with a problem like Just Stop Oil? The eco-activists' road-blocking exploits have been outraging the British public of late, especially as the police appear to be unwilling or unable to deal with them. Now, along comes Gareth Johnson, Conservative MP for Dartford, with a plan to sort them out once and for all.
Johnson raised the issue of Just Stop Oil (JSO) at Prime Minister's Questions last week. 'Will the prime minister consider making JSO a proscribed organisation so that they can be treated as the criminal organisation they actually are?', he asked. Rishi Sunak dutifully dodged the question.
Under the Terrorism Act, the home secretary has the power to proscribe an organisation he or she 'believe[s] is concerned in terrorism', as long as it is 'proportionate' to do so. Proscription, it goes without saying, is a very serious move. Once an organisation is proscribed, even expressing support for it becomes a criminal offence.
Proscribing JSO would put it among the likes of Islamic State and al-Qaeda. It should be clear to anyone that Just Stop Oil, annoying though it is, is nothing like those groups. For one thing, it is explicitly non-violent. And while it is certainly a reactionary movement, keen to usher in eco-austerity, it would be ungenerous to put it on a par with those who happily behead people.
Indeed, raising JSO activists to the status of terrorists implies a level of physical threat that this loose assortment of middle-class luvvies and pensioners clearly do not pose. Any attempt to clamp down on them wholesale risks vindicating the notion that they are a rebellious challenge to the elite, rather than a protest group that already has the backing of much of the great and good.
Of course, members of Just Stop Oil who commit crimes should be prosecuted. The right to protest is sacrosanct, but there is no right to glue yourself to a road for hours on end. The protesters know this – being arrested is part of their strategy. New recruits are made to sign a pledge upon joining, promising that they are happy to risk arrest.
We can deal with these protesters without resorting to extreme, authoritarian tactics. The police should do their job. Where bizarre legal hurdles prevent them from doing so, this should be rectified by parliament. We must not undermine civil liberties to deal with one irritating group.
Everyone is fed up with Just Stop Oil. Its tactics are criminal, and have been causing, as Gareth Johnson rightly put it, 'misery and mayhem' (as MP for Dartford, he would know). Its agenda is also moronic. But it is not a terrorist organisation. Anyone who believes in freedom should give any suggestions to the contrary short shrift.
Laurie Wastell is an intern at spiked.
To enquire about republishing spiked's content, a right to reply or to request a correction, please contact the managing editor, Viv Regan.