Why Brits are warming to Matt Hancock
The decent British public has risen up against the nasty Hancockphobia of the elites.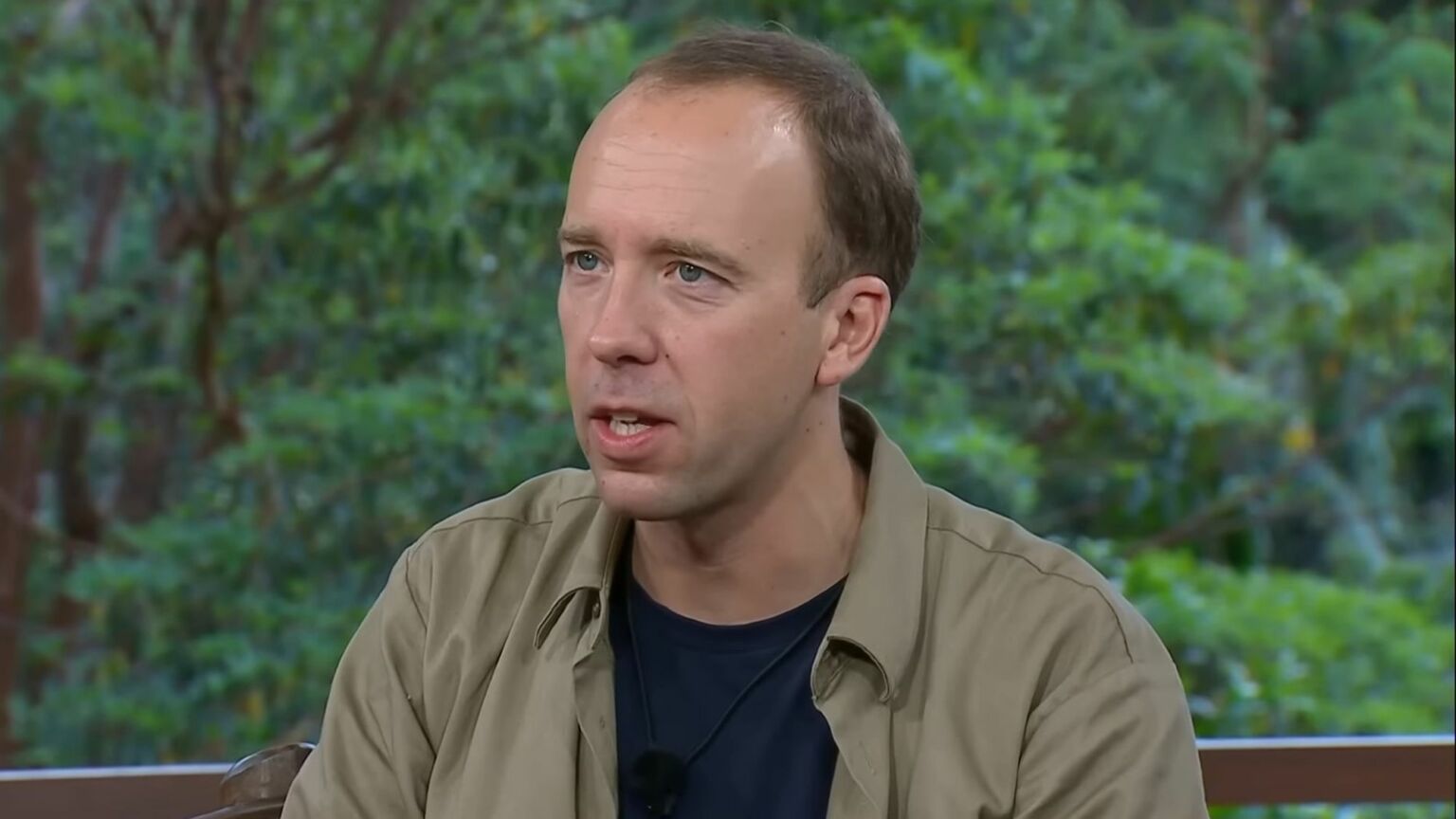 I love a plot twist. And this year's I'm a Celebrity… Get Me Out of Here! gave us a huge one. Those in the smart set assured us that Matt Hancock would finally get the drubbing he deserves. You could almost hear them licking their lips at the prospect of the former health secretary being put in the modern stocks and having all manner of gunk and insect life dumped on his dumb head at the behest of the vengeful public. Finally, Hancock will be humiliated! He will receive the retribution he so justly deserves! Only that isn't what happened. Au contraire, it is they who've been humiliated. The fashionable Hancock-haters. They might not have been forced to eat camel dick but they've definitely had to scoff a generous slice of humble pie.
Because it turned out that people quite liked Matt Hancock. He even got to last night's final, coming third behind young actor Owen Warner and the impossibly lovely footballer, Jill Scott, who won. Sure, Hancock was chosen by the public to do most of the early trials, meaning we saw the man who was in charge of the health of the nation during the Covid crisis tucking into a sheep's vagina, drinking blended mealworms, and getting doused in slime and custard and feathers. But if it really was vengeance that drove people to vote for Hancock to be subjected to the jokey daily debasements – I'm sceptical; I think people were just having a laugh – then that vengeance soon dissipated. Before long, viewers were complaining about what they saw as the bullying of Hancock by some of the other contestants, especially Boy George and TV journalist Charlene White, who sniffily asked Hancock why he was on the show and refused to stay in the RV with him. White was voted off first.
It isn't hard to see why Hancock is a controversial figure. He messed up as health secretary, especially with care homes during the pandemic. And it turned out he was getting his end away with his mistress while the rest of us were being firmly advised – by him! – not to mingle with people outside the ridiculous 'bubbles' we were forced to live in. 'You were grabbing booty, bruv!', as comedian Babatunde Aleshe said to Hancock in the jungle. But if Brits dislike a dishonest politician, it seems they dislike the vindictiveness of the elites even more. As one observer put it, the 'viewer complaints that [Hancock] was being bullied' are a reminder that 'Brits like an underdog'. We were told to seize this opportunity to persecute Hancock for the sins and screw-ups of lockdown, but instead we saw a nerdy, over-earnest trier being treated pretty shoddily by his campmates – not to mention the demented Tory-bashers of the Twitterati – and we didn't like it. The decency of the public thwarted the malice of the opinion-forming set.
What we've witnessed is the breaking of received opinion on the wheel of public opinion. The crashing of the media elites' delusional view of Mr Hancock as the embodiment of evil against the public's cooler, calmer view that things are more complicated than that. No, this doesn't mean the nation has been converted en masse to Hancock fandom. Many will still be pissed off at him for the Covid stuff, the affair, the very fact that a sitting MP took three weeks off to chow down on animal bollocks in the Australian jungle, all in an attempt to become more famous. But I do think many bristle at the elite fad for singling out certain individuals as incarnations of social and moral rot and then subjecting them to the neverending torment of Twitter-shamings and weekly aristocratic maulings by Marina bloody Hyde. It's just a bit shallow and mean, isn't it? Also, who could fail to be cheered on these cold winter nights by the vision of the irritating Chris Moyles being voted out of the jungle and crying: 'I'm gutted that Matt Hancock is more popular than me, what the bejesus is going on?'
So it's not only that people sympathise with an underdog, and Hancock was certainly that in the camp. It's also that we know that politics is too complicated a business for its crimes and bungles to be blamed on one bloke. Consider the care-homes scandal. That really was a scandal. But it isn't only Hancock who should answer for it. It's also SAGE and the government more broadly and virtually the entire media, all of whom spent early 2020 barking: 'Follow the science! Shut everything down! Free up the hospitals!' To single out Hancock is to overlook the most striking and distressing thing about the lockdown era: the sheer groupthink of the elites; their unabashed marshalling of the politics of fear; their harrying of dissenting voices. Hancockphobia doesn't only smack of meanness, then – it's also an ahistorical, anti-intellectual pursuit that ends up letting off vast swathes of the establishment for their fretful lockdown authoritarianism in favour of childishly crying: 'We hate Matt!'
The anti-Hancock mob is fuming that we dared to deviate from its instructions. Twitter is awash with hate for the thick masses following last night's I'm a Celeb final. This is 'why the British public should not be trusted with a vote', apparently. 'Gullible fucking idiots', is their diagnosis of the TV-watching throng. It's hilarious: they thought evil Toryism would be taken down a peg or two in that Aussie jungle, but in fact it's their cultural power that has been called into question. Their power to ignite witch-hunts, to march the masses to their drumbeat, to organise a public shaming of a politician in order to distract attention from their own shame at having uncritically supported such atomising, authoritarian measures. The shocking truth about Hancock is that he seems like a pretty nice guy. Sadly, the same cannot be said for some of his haters.
Brendan O'Neill is spiked's chief political writer and host of the spiked podcast, The Brendan O'Neill Show. Subscribe to the podcast here. And find Brendan on Instagram: @burntoakboy
Picture by: YouTube / I'm A Celebrity… Get Me Out Of Here!.
To enquire about republishing spiked's content, a right to reply or to request a correction, please contact the managing editor, Viv Regan.