The ghoulish exploitation of the Club Q shooting
Blaming gender-critical commentators for the atrocity in Colorado is morally repugnant.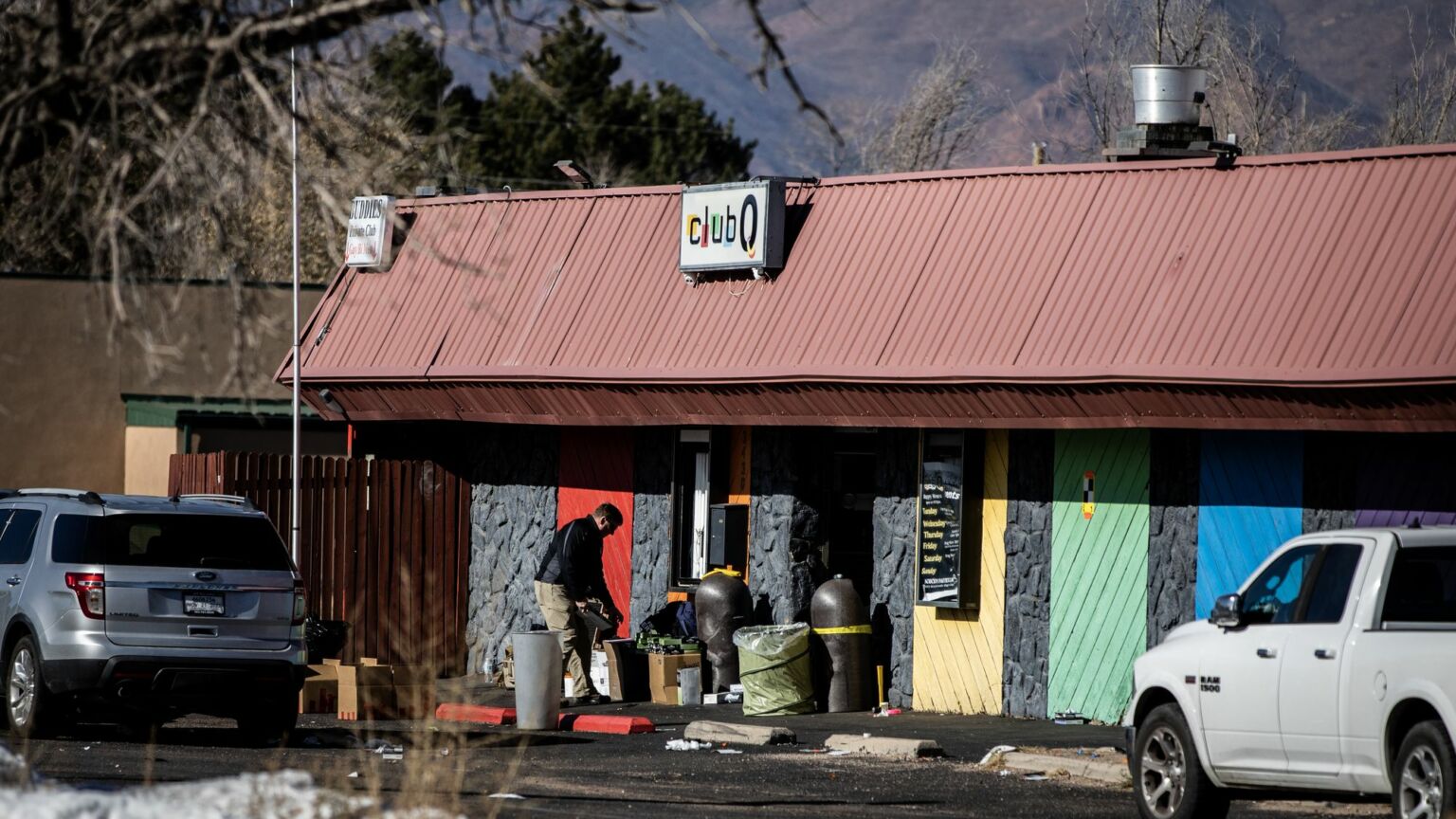 The Club Q shooting in Colorado Springs turns the stomach. Alleged gunman Anderson Lee Aldrich walked into the LGBT venue last Saturday night with a long rifle and a pistol. He killed five people and injured 25 more. He could have wreaked even more carnage had it not been for the remarkable heroism of army veteran Richard Fierro, who pulled the scumbag to the floor by the back of the ludicrous body armour he was wearing, before doing this to his face. Fierro says he was helped by another punter, who kicked Aldrich's rifle away from him, and by a drag queen, who proceeded to stiletto Aldrich in the head. I'm sure none of them will ever have to buy a drink in Colorado Springs again.
Aldrich was apprehended, bloodied but alive. He's facing five murder charges and five charges of committing a bias-motivated crime (aka a hate crime) causing bodily injury. In a twist many suspect is a troll, the 22-year-old Aldrich has since said he is 'non-binary', and should be referred to using they / them pronouns. Remarkably, many outlets are obliging him, while others are showing a scepticism they wouldn't otherwise extend to those who identify as plural. (That hypocrisy is a topic for another day.)
As a community comes to terms with a horrific attack, police and journalists are piecing together the backstory. Aldrich had what is often euphemistically called a 'troubled' childhood. His (since separated) parents both had problems with substance abuse and the law. His mother once reportedly faked a home invasion in a narcotics-fuelled quest for attention. His estranged father, Aaron Brink, a former MMA fighter, porn star and meth addict, was violent towards Aldrich's mother in the past. The alleged shooter changed his name to Anderson Lee Aldrich in 2015 to distance himself from Brink.
Attention has turned to what Aldrich's motives might have been. A neighbour says he heard him use gay slurs in the past. A clearly out-of-it Brink, when the media caught up with him this week, admitted to saying anti-gay things around Aldrich. Brink also said that when he got the call, informing him his son had shot up a gay club, he was at least relieved to learn his son isn't himself gay. Brink also expressed his sympathy with the victims, of course. As it stands, the shooting is being treated as a hate crime, but formal charges haven't been filed yet.
We'll learn more in the weeks and months ahead. But what we already know paints a picture of a warped and violent individual. Aldrich bragged about his array of weapons. Last year, he was arrested after a standoff at the house his mother was renting a room in. She called the police after he threatened 'to cause harm to her with a homemade bomb, multiple weapons and ammunition', according to a release from the local sheriff's office. Aldrich recorded a video of himself, seemingly relishing the situation, before turning himself in to police.
But that gaping opportunity to stop Aldrich following through on his violent fantasies was missed. For reasons that aren't at all clear, the case was never adjudicated, the charges were dropped and records were sealed, meaning his 2021 arrest wouldn't have appeared in any background checks. Colorado also has a 'red-flag law', which can temporarily stop people 'in crisis' from buying weapons. The mind boggles as to why it wasn't invoked in this case. (Though Aldrich may have bought the weapons he took to Club Q before his 2021 arrest.)
So what we have here is an unspeakable horror, born of a dark backstory, and quite probably anti-LGBT bigotry. But in the culture warring US that's not quite how the Club Q shooting has been received. No, it's been leapt upon as an opportunity to score points against political opponents – in particular, to accuse conservatives and gender-critical commentators of being responsible for murder. The bodies in Club Q were barely cold before some ghouls in politics and the media attempted to put them to work, to use them to demonise those they disagree with.
Take the comments made by Sarah Kate Ellis, president and CEO of LGBT media-advocacy organisation GLAAD. 'You can draw a straight line', she said, 'from the false and vile rhetoric about LGBTQ people spread by extremists and amplified across social media, to the nearly 300 anti-LGBTQ bills introduced this year, to the dozens of attacks on our community like this one'. In one fell swoop, words are blamed for violence, and extremists are lumped in with Republican politicians, legislating on issues of gender identity.
This sleight-of-hand is particularly outrageous when you remember what those contentious laws constitute. 'The trans community has faced an onslaught of anti-LGBTQ+ bills in America just this year', reads a report on the shooting on an LGBT news site, 'with some states banning gender-affirming care for minors'. So, if you think, as the majority of Americans do, that it should not be permitted to put children on puberty blockers, an experimental practice that can risk irreversible harm, then you too might have blood on your hands.
Our moral ire should be reserved first and foremost for the depraved Aldrich, who has ripped five people from their loved ones and left many more with life-changing injuries and the darkest of memories. But the political exploitation of this shooting is morally repugnant in its own way. On Twitter, activists are calling out prominent gender-critical feminists, demanding they recant and apologise. It seems that the culture war never stops for some people. If a shooting takes place and your first thought is, in essence, 'great, now I can stick it to those TERFs', your moral compass is severely screwed up.
This is all deeply censorious. It's a transparent attempt to demonise and silence gender-critical voices – to lump in genuine and widely held concerns about the excesses of gender ideology, particularly its impact on the rights of women and the welfare of children, with violent anti-LGBT bigotry. The not-so-subtle implication is that merely discussing these issues is dangerous – that trans-sceptical commentators and politicians are inspiring nutters to murder people. 'Shut up or people will die', is the take-home message here.
We've even got a term for it now, 'stochastic terrorism' – an attempt to give a faux-intellectual gloss to this most outrageous form of guilt-by-association. The term, according to a piece in Scientific American, refers to a process whereby 'ideologically driven hate speech increases the likelihood that people will violently and unpredictably attack the targets of vicious claims'. So apparently unpredictable is this process that you can accuse almost anyone of stochastic terrorism.
As censorious smears go, it really can't be beat. And we get a neat demonstration of that in the Scientific American article itself. It discusses the awful hammer attack on Paul Pelosi, husband of outgoing US House speaker Nancy Pelosi, by a man who had apparently been pickling in QAnon conspiracy theories about Satanic paedophiles running the world. The piece essentially tries to pin the attack on conservative commentator Christopher Rufo, because a few hours before the attack Rufo was on Fox News discussing what he sees as the 'sexualisation' of children via inappropriate drag shows. The article's author almost rivals the conspiratorial hammer man in his deranged, dot-connecting zeal.
This is where we're at now? The demonisation of anyone who dissents from woke orthodoxy gets grubbier by the day. It is bad enough that those critical of gender ideology have been reflexively smeared as transphobes, all for airing widely held and perfectly reasonable concerns. Now they're being blamed for murder. Speak your mind and you might as well be calling a hit. This is grotesque. This is using dead bodies and mourning communities to shut people up. It will do nothing to get justice for those slain and hurt in Club Q. It will only relieve the killer of responsibility, and corrode everyone's right to speak and think freely.
Tom Slater is editor of spiked. Follow him on Twitter: @Tom_Slater_
To enquire about republishing spiked's content, a right to reply or to request a correction, please contact the managing editor, Viv Regan.