Paul Pelosi and the violence we care about
The liberal media's double standards on political violence are horrifying.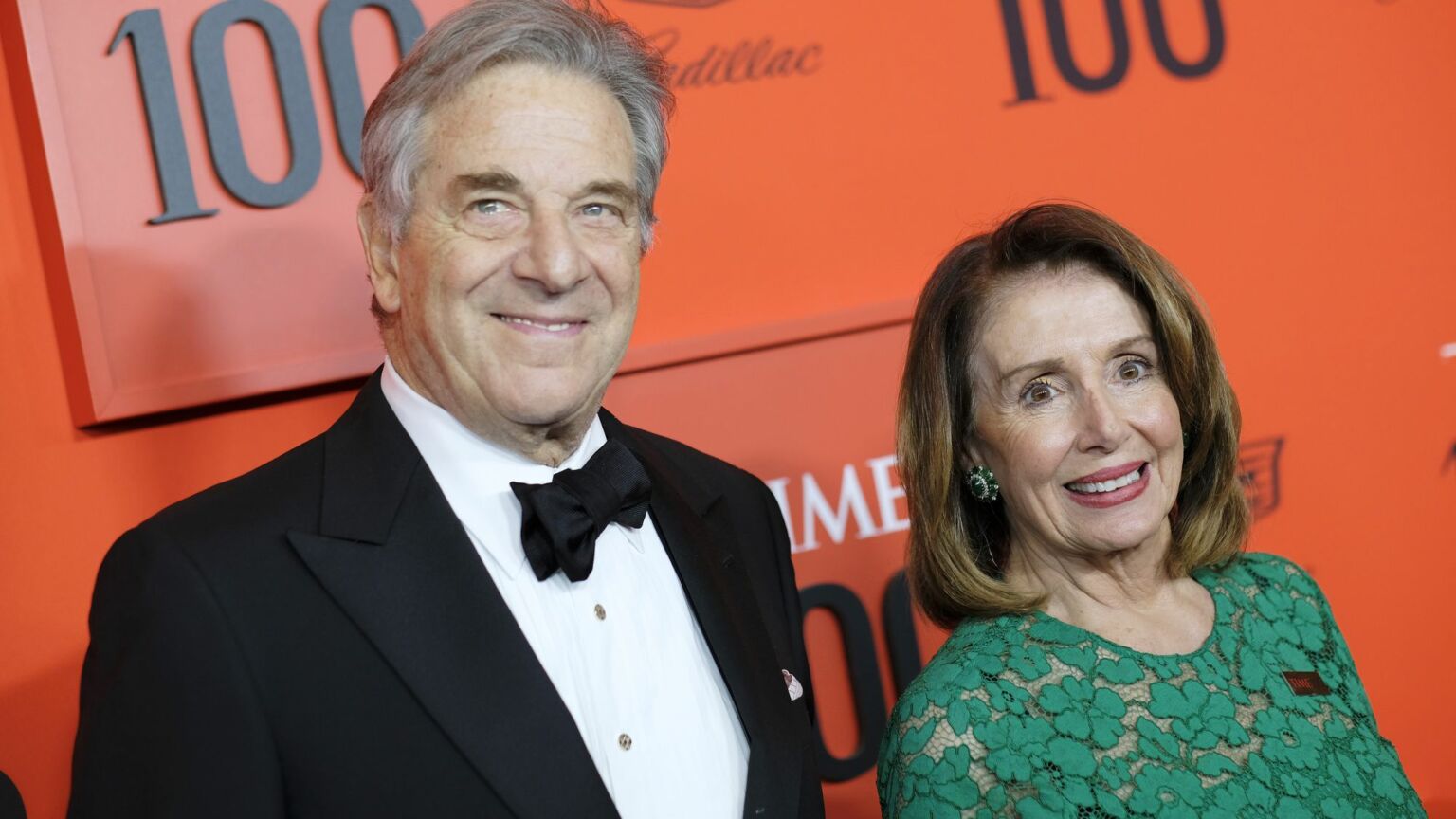 It was the mention of zip ties that got me thinking. Apparently the man who allegedly broke into the San Francisco home of Nancy and Paul Pelosi on Friday was carrying zip ties. A possibly crazed individual approaching the home of a powerful politician with plastic fasteners that can be used to bind a person's hands – it was both a nightmarish prospect and a familiar one, too. Wasn't another public figure in the US recently targeted by someone who had zip ties? And a gun, a knife, pepper spray and a crowbar? Yes. It was Brett Kavanaugh. But many don't remember that. Because thanks to the media, certain acts of political hate get less traction than others.
People are rightly horrified by what happened to Paul Pelosi on Friday. David DePape allegedly broke into the Pelosi home and yelled 'Where is Nancy?'. She wasn't there. DePape then allegedly attacked Mr Pelosi, who is 82, with a hammer. Pelosi suffered a skull fracture and is still in hospital, though he is expected to make a full recovery. This was a horrific assault on an elderly person, as well as seeming to have been motivated by a deep political animus. Sadly, it was not a one-off. There was a creepily similar incident at the home of Supreme Court justice Brett Kavanaugh in Maryland in June.
A 26-year-old man from California travelled to Maryland allegedly with the intention of murdering Kavanaugh. That's what he is charged with – attempted murder. He was armed with a tactical knife, a Glock 17 pistol, zip ties and other murderous paraphernalia. The difference between Kavanaugh's alleged tormentor and the man who allegedly broke into the Pelosi home is that the former failed to gain entry. He spied two US marshals close to Kavanaugh's home and called off his deadly mission. Kavanaugh was luckier than Paul Pelosi.
It is unquestionable that the assault on the Pelosi home has caused more waves and fury among the media elites than the mercifully thwarted attempted assassination of Kavanaugh did. The Kavanaugh incident swiftly faded from public consciousness. One observer wrote of the media's 'eerie silence' on Kavanaugh. It was pointed out that the 'attempted assassination of Brett Kavanaugh' was being downplayed by the New York Times the very day after it happened. On the NYT's homepage, the Kavanaugh story was 16th in order of importance, behind stories about the new Jurassic Park movie and Kelly Clarkson's singing skills. In that day's paper, it was on page 20. Nate Silver said it was 'crazy' that the targeting of Kavanaugh was not 'treated as a bigger story'. 'There's often more bias in which stories are deemed to be salient than how they're written about it', he said.
That is well said. Media bias is apparent not only in the information and takes that the media publish but also in what the media decree to be important in the first place. And it would appear that the targeting of a right-wing, pro-life justice is less important – a lot less important – than the targeting of the home of a Democratic, pro-choice politician. Politics is clearly at play here. Kavanaugh's moral outlook runs counter to that of the liberal media and coastal elites, and thus he makes for an unsympathetic character. Nancy Pelosi, on the other hand – she's the crusading Democrat the chattering classes love. An assault on her home moves the liberal elites profoundly.
It is out and out political bias. It is morally shady, too – surely we can agree that all violent strikes against public figures are equally bad, equally deserving of concern and condemnation? The inequality in the media heat over Kavanaugh and Pelosi cannot be explained by the fact that actual physical force was used in the Pelosi incident. No, it speaks to a deeper rot in establishment circles, to the sad fact that morality itself now seems to have been sidelined by the demands and interests of the culture war. Even violence is now made 'salient' only if a useful political message can be attached to it; only if the culture warriors of the legacy media feel that their worldview will gain from drawing attention to the violent incident in question.
The play always seems to be as follows: attacks on right-wing politicians are treated as one-offs, carried out by unhinged individuals; attacks on leftish or liberal politicians, in contrast, are treated as symptomatic of broader political evils, as brutal manifestations of political rhetoric itself. So no 'culture' was held responsible for the targeting of Kavanaugh. Even though his attempted assassination followed the leaking of the Supreme Court's decision to overturn Roe v Wade and intense media criticism of pro-life justices. Even though his home had been besieged by protesters just a month before the alleged assassination attempt. None of that was seen as a factor. Culture played no part. Move on.
The reading of the Pelosi incident could not be more different. 'The Republican Party and its mouthpieces now regularly spread hate and deranged conspiracy theories. It is shocking, but not surprising, that violence is the result', said Hillary Clinton. 'There were many hands on that hammer', said CNN's David Axelrod. Actor Rob Reiner said of the Pelosi attack that 'Donald Trump is 100 per cent responsible for this'. 100 per cent. Some culture warriors are so determined to indict the right for random acts of violence that they end up absolving the violent person himself of responsibility. There is a deeply censorious urge behind these claims that right-wing rhetoric causes violence. It is a slippery call for controlling what can be said in the public sphere, on the basis that if we don't then people will die.
Double standards always attend acts of violence now. When then Democratic congresswoman Gabby Giffords was targeted in a shooting in 2011, the prestige media pointed the finger of blame at Sarah Palin and various right-wing hotheads. Yet when a Bernie Sanders supporter opened fire at a charity baseball game in Virginia in 2017, hitting Republican congressman Steve Scalise, the prestige media acted as if it signified nothing at all, just insanity. They're blatant about it. After the Pelosi attack, the Huffington Post's White House correspondent, SV Dáte, said the people 'bringing up the left-wing nut who tried to kill Steve Scalise… are missing the point'. The 'former Republican president and current GOP leader [Trump] has been stoking political violence since 2015', he said: 'There is no [analogy] among Dems.' In short, when you speak, there's bloodshed; when we speak, there isn't. Your words stoke evil, ours do good.
The culture war has created a media sphere so bereft of objectivity that violence itself is only focused on if it is judged to be politically useful. Indeed, if it turns out David DePape is a hippyish right-on weirdo, as some are reporting, we might even see the Pelosi incident slowly fade from view. This attack confirmed what we all know: that there are wicked people out there. But it has also shone a harsh light on the immoralities of a media elite that judges violence according to whether or not it has some political utility. This hypocrisy on violence shames America's liberal establishment.
Brendan O'Neill is spiked's chief political writer and host of the spiked podcast, The Brendan O'Neill Show. Subscribe to the podcast here. And find Brendan on Instagram: @burntoakboy
To enquire about republishing spiked's content, a right to reply or to request a correction, please contact the managing editor, Viv Regan.