Who'd be a footballer today?
The weight of moral expectation on the England team is too much to bear.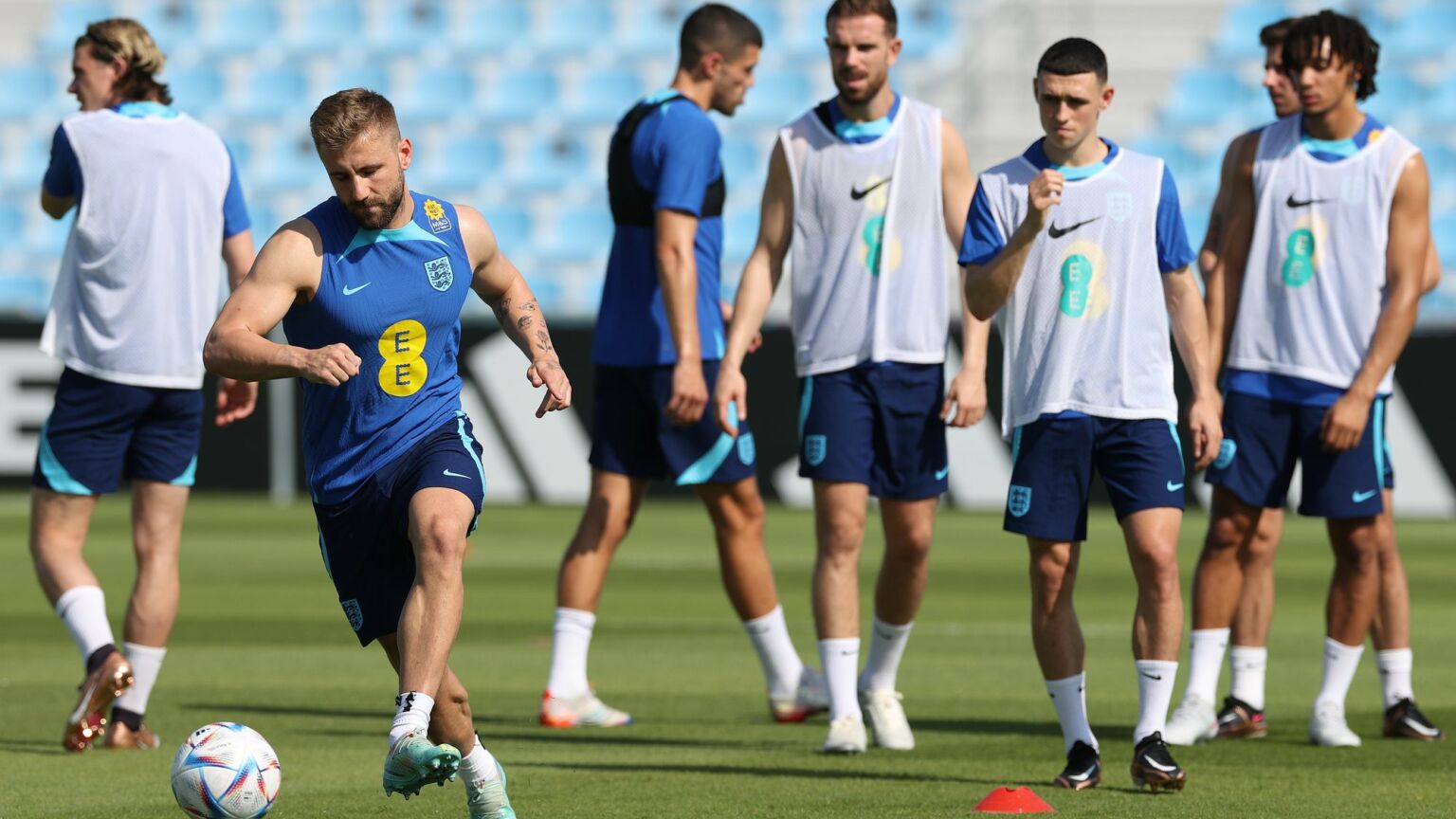 As this Sunday's opening ceremony of the World Cup draws near, it would be an exaggeration to say that all eyes are on Qatar. Plenty remain fixed on Ukraine, the smart meter, and the yawning chasm where our Friday-night beer money used to be.
But of those eyes that are diverted to the World Cup, many are scrutinising the teams as much for signs of courage and consistency off the pitch, as for skill and grit in front of goal. Our football stars will soon be operating in a country where a commitment to certain beliefs and causes, which are fashionable and high status in the UK, might not be so safely flaunted. It will be interesting to see how they hold up in the heat. Many are rather eager to see them fail.
So far, the potential clash of civilisations has yet to manifest. True, the England team have arrived in a Virgin jet with the very faintest of pro-LGBT provocations painted on its aero-glans. It features the words 'Rain Bow' (weirdly split and thus essentially meaningless) and a man trailing not a Pride flag, but a good old-fashioned Union Jack. If you peer very closely, he does have rainbow stripes on his trainers. But to be honest, I've seen bigger airline snacks. And apparently, the plane was chosen by Virgin, not the FA.
So, everything still to play for. But while I enjoy the spectacle of easy virtue-signalling hitting the hard wall of an actual patriarchy, I have a lot of sympathy for the players confronting this challenge, to be honest. As much as talent, graft and luck, it is always grace and nerve under pressure – revealed character – that form the subtext to a decent sporting tournament. In Qatar, that is as true off the pitch as on. And that is new.
There was a time, after all, when this stuff didn't matter in football. It wasn't part of the deal. Players weren't expected to be ambassadors for anything other than queen and country, and the national stock of brawn. Hell, the last time England hosted and won the World Cup – in 1966 if memory serves, though it has been ages and we hardly ever mention it any more – gay sex was still illegal in this country, too. 'Trans' was a typo for one of two possibilities in mass transit. And 'gender' was a system of harmless snares the continentals used to trip up any Englishman game enough to try to speak the lingo. Even in recent memory, the main inter-match concern was whether Gazza could be kept out of the kebab shop and whether Hoddle and Waddle could be stopped from making another single.
Now, though, there has been a huge culture change in football. Whether this is a truly grassroots phenomenon or appropriately astro-turfed, there is no doubt that the long march has now successfully mopped up the last few outposts of unreconstructed masculinity. Footballers are now woke and more on-message than Blair's cabinet ever were.
I doubt many individual players have had much of a say in this. Football has become yet another arena in which participants feel the need to visibly endorse liberal and progressive causes, in order to get along. Dissent is virtually unthinkable and even indifference to LGBT rights would be a hindrance to anyone hoping to be capped. Consequently, it has become impossible to separate sincerity from profile management in the sports industry.
In other areas of showbusiness, this has been a pretty smooth evolution. Showbiz has always been about testing the limits of a persona, of teasing and scandalising society's norms. Huge international megastars from Elton John to Freddie Mercury blazed the gender non-conforming trail decades ago, and David Bowie was experimenting with everything from fin-de-siècle androgyny to full blown transhumanism before Jordans Henderson or Gray were born. And baking was never that straight, either.
But entertainers were also able to make independent decisions as to whether or not to play Sun City or, more recently and questionably, Tel Aviv. You could still call it a world tour, even if you didn't visit Moscow or Riyadh. Musicians didn't have to forego effectively a once-or-twice-in-a-lifetime chance to appear on the world's biggest stage, just because some absurdly corrupt Swiss snake of a dishonest broker had decided to situate that stage in one of the world's most morally bankrupt (if regrettably solvent) regimes.
It's amusing, looking back, to think how little Qatar's treatment of sexual minorities registered as an objection to it getting the World Cup at the time. David Cameron had not yet announced his then-shocking determination to detoxify the 'nasty party' by legalising gay and lesbian marriage. Trans was not so much as a twinkle in its birthing parent's eye.
It was 2 December 2010. I remember it well. I was at the BBC at the time, on a team writing an end-of-year round-up satire show. And I genuinely thought, when I heard someone talking about Qatar hosting the World Cup, that they were discussing a possible sketch, sounding it out for plausibility. It rather suggested, as Tom Lehrer said of Henry Kissinger's Nobel Peace Prize, that satire was redundant if not actually dead.
Back then, there were so many other geophysical and cultural objections to Qatar getting the World Cup. There was the heat, and the fact that it would necessitate the tournament taking place in December, disrupting all the traditional European seasons. There was the fact that Qatar had no tradition of football, no sides worth mentioning, no stadiums, no fanbase, no grass. The fact that Qatar is generally described as 'illiberal' on camera, and 'medieval' once the mics are off, barely registered.
Qatar was technically eligible to host, of course, being part of the 'world'. And of course, money on the scale that this tiny diamond-encrusted tar pit boasts had barely to clear its throat let alone talk, before qualms were quashed and misgivings gave way.
Gradually, as the infrastructure for the winning bid was retroactively built, stories began to emerge of the mounting deaths of migrant labourers – the very kindest terms in which their contractual relationship can be described. An estimated 6,500 people died, according to some reports, though of course it is virtually impossible to be sure – a bad sign in itself.
All of this is too big a burden to place on the England lads' shoulders. They are not to blame. For those who aren't there to play, it's a slightly different story. Some have, in my view, acted with even less moral courage than one might have hoped. Whether David Beckham queuing up in the rain to see the queen's coffin will be enough to offset the moral carbon footprint of his contract as brand ambassador to this sorry state is another question. No doubt he's in negotiations with Phillip Schofield to see what can be done. And Gary Lineker, well, I expected no better.
We all know it stinks. We all know it's rotten. But I do not want to see the players squirm, or have to row back for 'diplomatic reasons', on the explicit approval they have voiced for causes many no doubt really believe in. Like most of us, Havel's greengrocers all, we are all just toeing the line in the hopes that we might be left to pursue our goals in peace. Let us hope they pursue theirs – and ours – with success.
Simon Evans is a spiked columnist and stand-up comedian.
To enquire about republishing spiked's content, a right to reply or to request a correction, please contact the managing editor, Viv Regan.