Does Madonna 'identify' as young?
Madge's nude TikToks suggest she has embraced today's fashion for denying reality.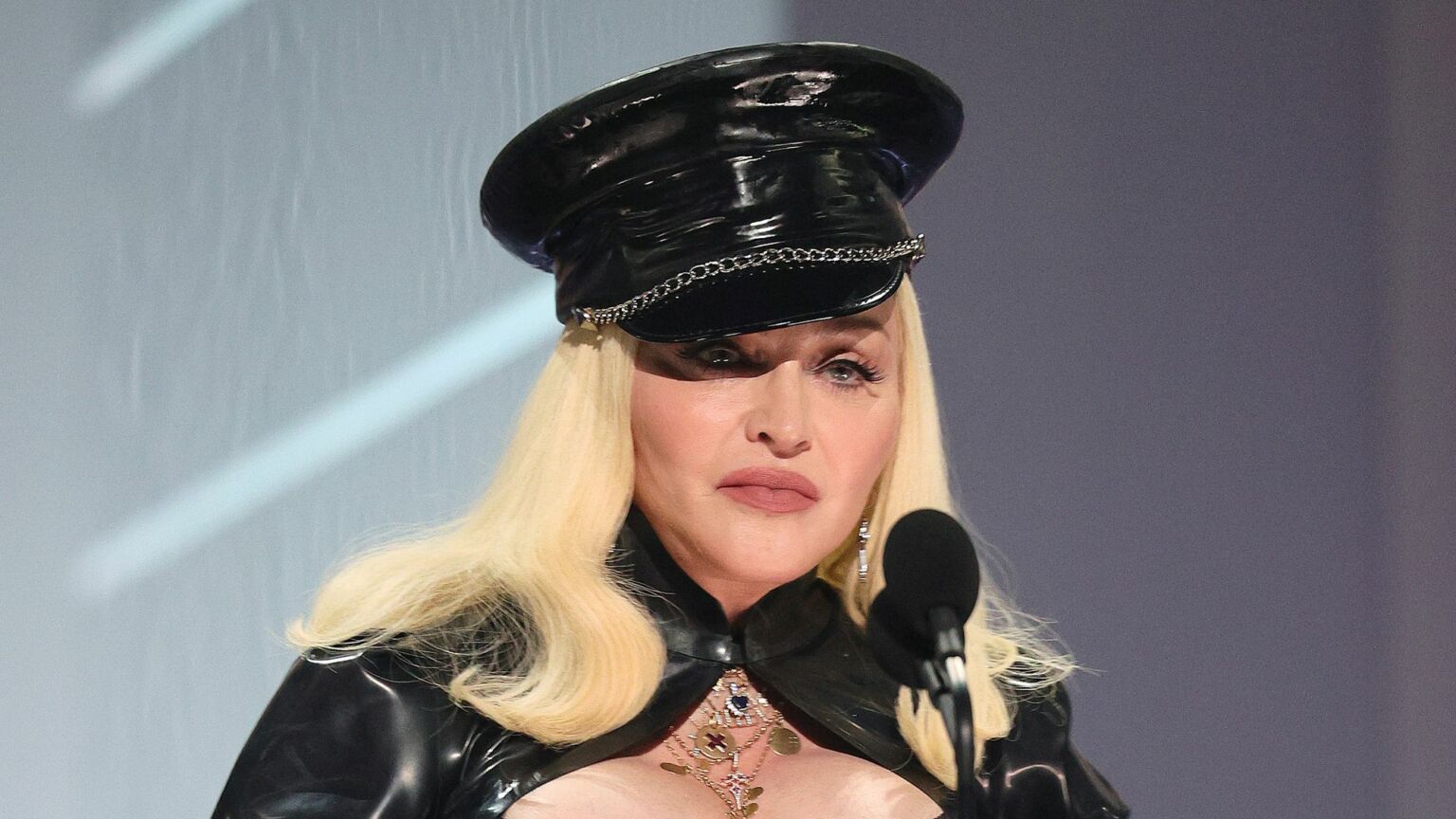 I've always preferred nasty women to nice girls. In the sexy-greedy 1980s, I was spoilt for choice. There was my main squeeze, Margaret Thatcher, and my sidepiece, Madonna Ciccone. Back when she came to public notice with her first single, 'Holiday', in 1983 when we were both 24, I wasn't used to hearing women as 'candid', shall we say, as me speaking in public. I especially liked the thing she said when someone asked her what she thought of those women's libbers, probably in the hope she would call them ugly man-haters: 'Oh, yes, I believe in everything they do. But I was too impatient. I had to do it for myself.' This was bra-strap feminism at its finest.
As her music got more mediocre, Madonna relied more on 'reinvention' – she became the Dr Who of pop, regenerating just enough to keep herself in the news, as the attention of strangers is the only thing this singularly self-disciplined woman has ever been addicted to. Her survival became the story itself. Just when we thought we had said everything we could possibly have to say about her, we would be having the Madonna convo all over again.
Is it okay to adopt Third World children? What's the youngest a cougar should go? 'Put it away!', we cried in delighted affront when she acted like a girl gone wild, but we didn't really mean it. We women who were young when she was young lived through and saw off all the other ages when women had to put it away – 30, 40, 50 – with Madonna as our marker of how long we could stay young. When we had to admit that she was no longer in her prime, we would have to take that onboard about ourselves. Lots of us feel young inside and find it hard to recognise the stranger in the mirror. How much more so must this be for Madonna, who had the whole world as her salad-days rumpus room?
But ever since she discovered TikTok, the clock has been ticking on quite how long even her staunchest supporters can keep squealing: 'You go, girl!' When she appeared there a few years back, it seemed a bit odd that one of the entertainment world's richest women would want to mime to her own songs for the delectation of millions – but hey, I'm not averse to thumbing through my Diana book when I'm drunk. However, when it became clear that her TikToking was something more than a diva's downtime scenery-eating, things got a little weirder.
A couple of weeks back it all went tits up – metaphorically and literally, considering how many 'tweaks' Madge has had. What once seemed risqué now appeared as a downright desperate attempt to be down wit' da kidz, as she posed on Instagram with her knockers out and a dildo in her mouth to promote luxury sex toys.
And in a lovely twist on a mum telling a teenage daughter that she's not going out dressed like that, the 64-year-old boasted that she was the first megastar to strip off in public, referencing her ghastly 1992 book, SEX. 'Now Cardi B can sing about her "WAP". Kim Kardashian can grace the cover of any magazine with her naked ass… You're welcome bitches', she wrote on Instagram. It's probably best not to challenge a 30-year-old rapper if you're at an age when a nice sit down is preferable to sex. And predictably Cardi B bit back: 'I literally payed [sic] this woman homage so many times… these icons really become disappointments.'
Undaunted, M had her bangers out again on Insta a few days later, with money-bag emojis covering her nips. Ostensibly, all this was about the re-merching of her SEX book and her Erotica album on their 30th anniversaries. But in reality, it's all about magical thinking, the biggest and silliest craze of our age. Madonna imagined that she was just being herself, business as usual, when she mimed the words to a rap song on TikTok last week: 'Have you ever been punched in your motherfucking face? What you say? Oh, you haven't? Alright, wait.' The fans had a different take: 'What happened to the real Madonna, the one that you can actually look at and say wow you are beautiful and talented?'; 'I used to love your music and creativity, please stop with these weird reels! It's getting dark and concerning now'; and 'I feel like everything I've ever known is just one big lie. This is soul crushing.'
So disturbing was the video that it led many onlookers to advocate an 'intervention' in response. Since then, far from retreating, she has twerked in lingerie, thrown a pair of pink knickers at a wastepaper basket while kind of claiming to be gay. She has also reignited an old feud with rapper 50 Cent, causing him to unchivalrously brand her 'grandma'. As she approaches her dotage, she has come full circle from the rebellious, motherless girl in Detroit, dreaming of winning the love of the world – or at least its attention.
Everybody is now talking about her again – and a lot of it is quite silly. Those aghast fans on Twitter claiming 'This is not the Madonna I know' – are they mistaking her for Karen Carpenter, perhaps? She's clearly still exactly the same Madonna, doing exactly the same things she did 30 years ago – exposing herself, expressing phoney 'attitude' and trying a bit too hard to keep up with all the latest trends. The only thing that has changed is she doesn't look like that Madonna anymore – from Marilyn Monroe to Marilyn Manson – beauty being the get-out clause in exhibitionism. (No one's ever going to complain about being flashed by Emily Ratajkowski.) Although it's clearly magical thinking on Madge's part to believe she can still act like a 24-year-old without mockery, you can't blame her for thinking she might be able to get away with it in a world where women can have penises. Her antics on TikTok are indicative of a wider refusal of a sizeable minority of people and institutions in the West to face the truth about ourselves.
Trans is the biggest example of magical thinking, but there's a lot of it about: men who identify as policemen stalking women; people who identify as doctors refusing to recognise the biology of women; men who identify as first responders leaving children to be vaporised; countries demanding trillion-dollar apologies for past crimes; television commercials that show betting as a joyous communal activity. It can have a comical side – a new energy drink, Prime, has become an internet sensation, leading to pre-teen children being mugged in playgrounds and a restaurant chain accepting unopened bottles in exchange for food. Carbonated water has become a currency – if that's not magical thinking, I don't know what is. Meghan Markle is the international figurehead of magical thinking – claiming to be an only child to the horror of her siblings, claiming to have had two weddings to Harry, and even claiming that South Africans celebrated her marriage in the streets as they did on the release of Nelson Mandela.
The opposite of magical thinking is stoicism, best summed up by the freed-slave philosopher Epictetus: 'If anyone tells you that a certain person speaks ill of you, do not make excuses about what is said of you, but answer, "He was ignorant of my other faults, else he would not have mentioned these alone".' To see ourselves as others see us – while taking into consideration that their observation may be clouded by envy or other impairments – is far more likely to bring long-term happiness than the desire to be validated by strangers. 'We are all PERFECT PERFECT PERFECT', repeat the young women in a current perfume ad. It's hard not to believe that anyone brought up on this all-must-have-prizes mush is in for a very rude awakening.
Regrettably, at the moment, such idiocy is ascendant. If the little boy said the emperor had no clothes today, he would be arrested for hate speech. We might mock the material girl for being past it – but in the age of magical thinking, she is right up there at the forefront of fashion once more.
Julie Burchill is a spiked columnist. Her book, Welcome To The Woke Trials: How #Identity Killed Progressive Politics, is published by Academica Press.
To enquire about republishing spiked's content, a right to reply or to request a correction, please contact the managing editor, Viv Regan.