Environmentalism has become a creepy bourgeois cult
Those deranged Just Stop Oil activists reveal the dangers of apocalypticism.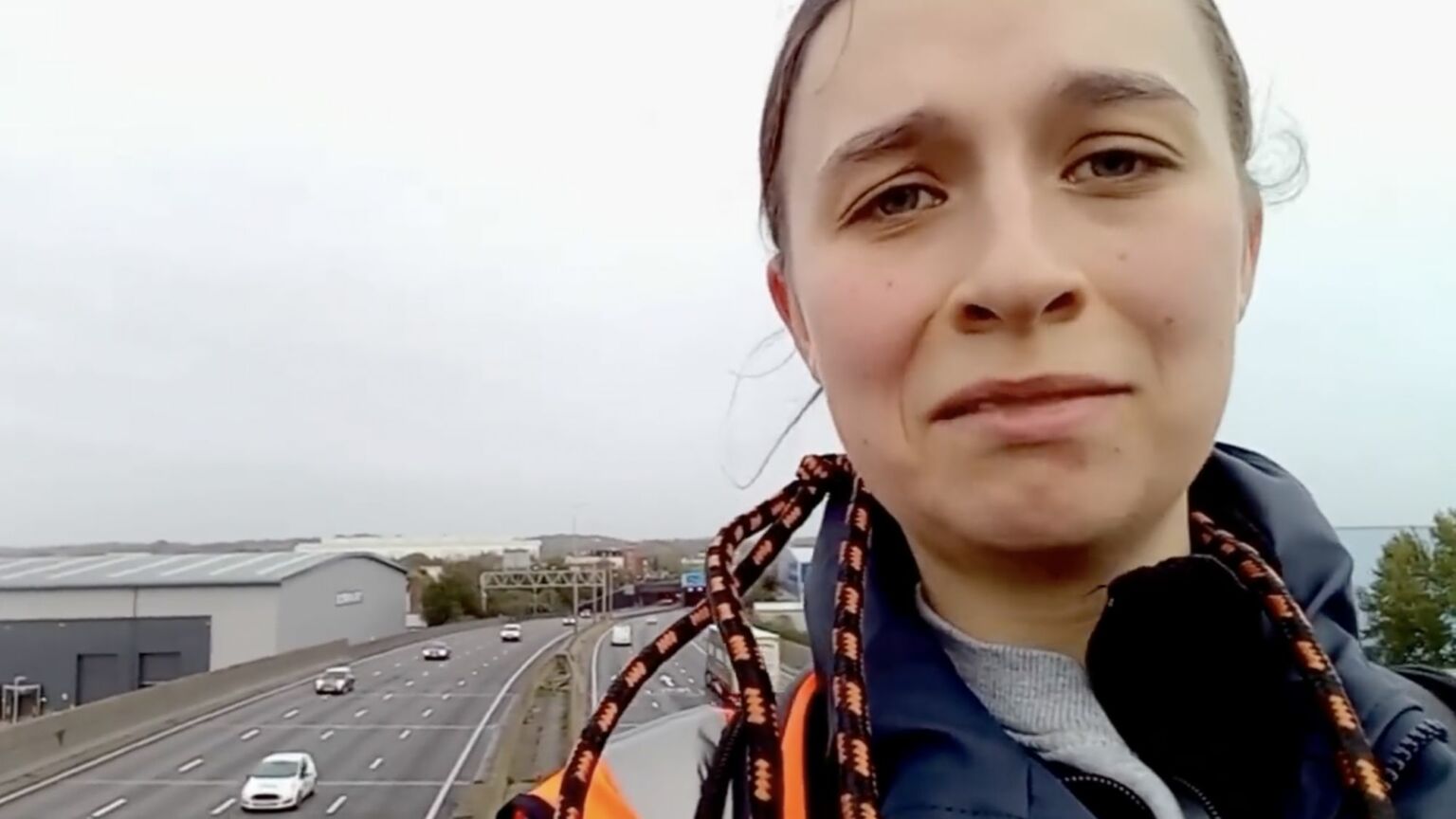 We need to stop calling Just Stop Oil a protest group. Protesters is far too positive a word to describe this strange assemblage of middle-class agitators, with their cut-glass accents and self-parodying bohemian names (shouts out to Indigo Rumbelow), who have been gluing themselves to roads and throwing soup at great works of art in an attempt to end oil and gas production. This thing is a doomsday cult, masquerading as a political campaign. There's really no denying it any longer.
Take the case of that 24-year-old woman who climbed up one of the gantries over the M25 this morning, in order to bring all the ignorant, carbon-spewing plebs to a standstill. She posted an unnerving video online. In it, she is fighting back tears. She gives vent to a seemingly sincere apocalyptic terror. 'I'm here because I don't have a future!', she says, in between sobs. She accuses the government of murder, of fuelling a 'climate crisis' she seems to be convinced is killing millions, for having the temerity to exploit oil and gas to keep the UK's lights on.
That what she's saying is alarmist nonsense should be obvious to anyone. The truth is almost the inverse of what she is saying. Thanks to economic development, fuelled by cheap and reliable energy, annual deaths worldwide from climate-related disasters have plunged by more than 95 per cent over the past century. She also implies that the floods in Pakistan are the fault of fossil fuels, even though those feted IPCC reports say there is insufficient evidence to show that climate change is making floods more frequent, lengthy or intense. What would be considerably more murderous would be for our government to shun reliable oil and gas supplies as the nation's pensioners head into a harsh winter, amid sky-high energy prices and talk of blackouts.
Such blithe disregard for the details reminds us that these people don't really care about climate change. They're hysterical about climate change. They're apocalyptic about climate change. They aren't taking to the streets, motorways and art galleries because they are convinced of a particular scientific view with regards to the environment and think something really ought to be done about it. They are in the grip of a fact-lite and doom-laden narrative that insists literally billions will die in short order, that the twentysomethings of today might not live to see their dotage, because of our damnable desire to live comfortable and free lives.
All of this is why environmental protest – with Just Stop Oil and the various other Extinction Rebellion offshoots to the fore – has become so much weirder in recent years. And that's saying something. Beyond all the crying and talk of having no future, there's also the setting of arms on fire, the pouring of human shit over memorials to Captain Sir Tom Moore, the throwing of soup over great works of art… it's all become rather visceral, iconoclastic, scatological. In a word, it's all become rather creepy. These are the acts not of future-oriented protesters keen to shape and change the world, but of cultists convinced that doomsday is almost upon us.
If you want to understand why those protesters are so hysterical, take a look at the output of Roger Hallam, the Extinction Rebellion co-founder and alleged brain behind Just Stop Oil. While Hallam has been formally excommunicated from XR following his comments about the Holocaust – in a 2019 interview, he appeared to downplay it as 'just another fuckery in human history' – he remains at the core of some of XR's single-issue front groups. And his writings and YouTube ramblings offer a startling insight into the cult's mindset.
Hallam paints a lurid picture of imminent 'social collapse' brought about by climate change. In one of his videos, cheerily titled 'Advice to Young People as they Face Annihilation', he offers up this image to young viewers:
'So what will happen is episodes where someone, a gang of young men, come into your house, they take your girlfriend, they take your mother, they put her on to the table, and they gang rape her, in front of you, and then after that they take a hot stick and they poke out your eyes and they blind you. That's the reality of the annihilation project that you face.'
He has also repeatedly said that six billion people (that is, the vast majority of the world's current population) will die this century due to climate change and the barbarism it will supposedly usher in – a claim he has so far been unable to back up when challenged.
Why block roads? Why alienate ordinary people? Why risk damaging a priceless work of art? Why pour your own shit over a monument to a recently departed national treasure? It all starts to make a tiny bit more sense when you get your head around the bleak, bizarre worldview of the cultists. If you genuinely believe this nonsense, that essentially the apocalypse beckons, then surely almost anything that might wake the 'sheeple' up is justified. And even if the cultists are doomed to failure, even if 'we're all fucked and we're all going to die', as Hallam is fond of putting it, well at least they tried.
I'm not one to liken these people to terrorists. To do so would imply a level of physical courage that they clearly do not possess. They are also explicitly non-violent. But none of that detracts from how dangerous and indeed creepy this eco-apocalypticism is. It replaces reason with quasi-religious fervour. It deems human flourishing as the enemy and austerity as the solution. It sees humans primarily as the defilers of the Earth, and of one another. Just Stop Oil may have tested the public's patience to destruction. But their intense, cultish fear of the future, and of humanity, is only the sharp end of a much more mainstream misanthropy. One that we really must resist, before it takes us down a truly dark path.
Tom Slater is editor of spiked. Follow him on Twitter: @Tom_Slater_
Picture by: Twitter / Just Stop Oil.
To enquire about republishing spiked's content, a right to reply or to request a correction, please contact the managing editor, Viv Regan.